Printer-friendly version
Have you ever had watermelon syrup?  Probably not, but it's something you should definitely try, because watermelon syrup makes the most amazing summery cocktails and homemade sodas.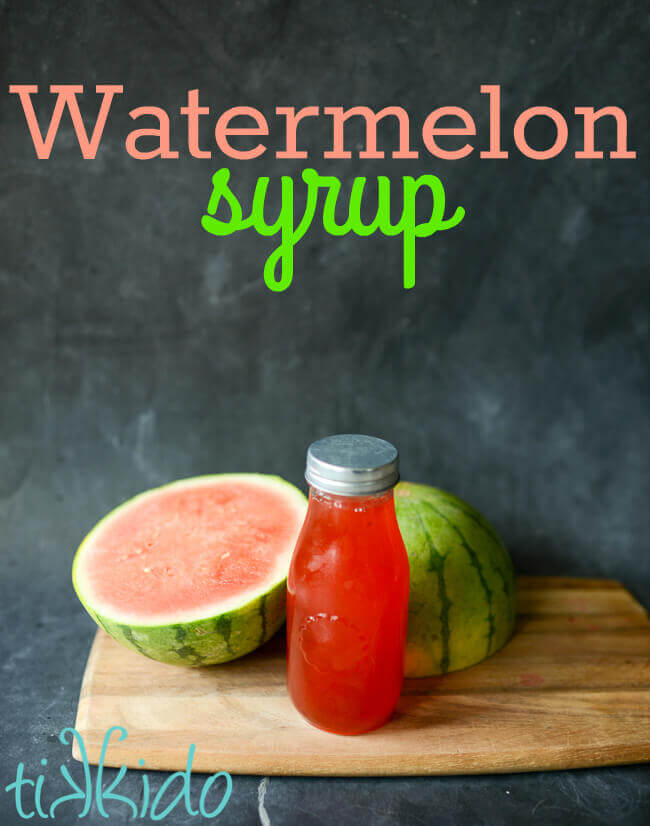 If you have a lot of watermelon, or just love watermelon, watermelon syrup is a fabulous treat to make with the fresh fruit.  It's amazing in homemade Italian sodas, or drizzled over vanilla ice cream, or on pancakes...  you get the idea.  It's all the flavor of fresh watermelon in a bottle.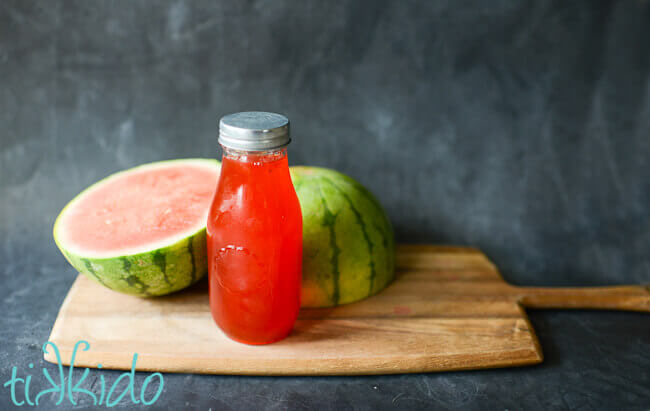 Homemade Watermelon Syrup Recipe:
4 cups fresh watermelon juice
one cup sugar
How to Make Watermelon Syrup
But how do you get the watermelon juice?  Start with whole watermelons (preferably a seedless watermelon).  Just cut into watermelon chunks, throw it in a blender or food processor, and strain the watermelon puree through a fine-mesh sieve.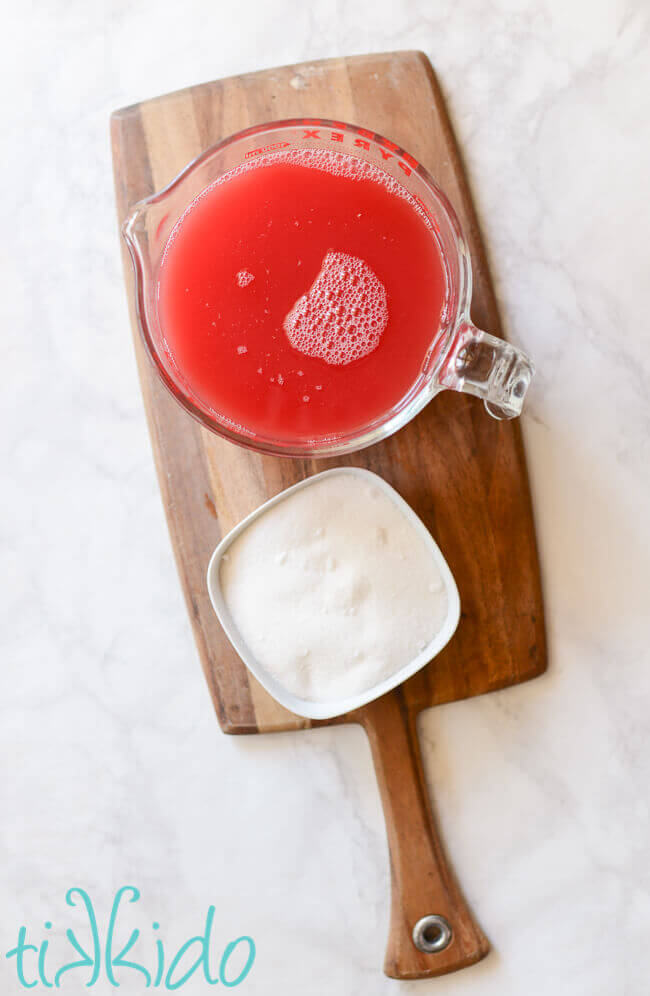 Ta-da--fresh juice from watermelons!  Isn't it such a beautiful, summery color?
A Note on Sweeteners in Watermelon Syrup:
If you don't want to use a cup of sugar in your watermelon syrup, you can use a neutral substitute, like agave nectar.  I would not recommend using honey, maple syrup, or brown sugar in this recipe, because those sweeteners would overshadow the wonderful watermelon flavor we're trying to capture.
You can omit the sugar entirely, if you'd prefer.  It obviously won't be as sweet, or as thick, but reduced watermelon juice on its own is absolutely delicious, too.  Sugar acts as a preservative, so watermelon syrup made without sugar won't last as long, even in the fridge.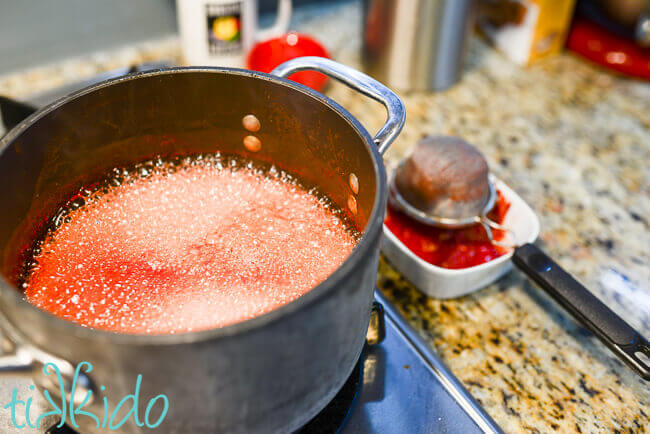 Combine the sugar and watermelon juice, and bring to a boil over medium-high heat.  Depending on the strainer you used earlier, you may notice solid material floating to the top of the mixture.  Use a fine mesh strainer to scoop it out.  Boil until the liquid is reduced by half.
Ideas for Using Watermelon Syrup
Use to make homemade watermelon soda by mixing the watermelon simple syrup with club soda or soda water. It makes the freshest, most summery soft drink you'll ever taste.
Use to make watermelon Italian cream sodas.
Pour over vanilla ice cream or use to make a watermelon milkshake.
Pour over fresh cut fruit to make an amazing summer fruit salad.
Use in cocktail recipes to make amazing, summery watermelon drinks.  Add it to your favorite margarita recipe to make an amazing watermelon margarita.  Or add a splash to your martini and make fabulously pink watermelon martinis.  The watermelon cocktail possibilities are endless with your own watermelon syrup!
Pour watermelon syrup over buttermilk pancakes.
Add watermelon flavor to iced tea by mixing the watermelon syrup in your favorite iced tea.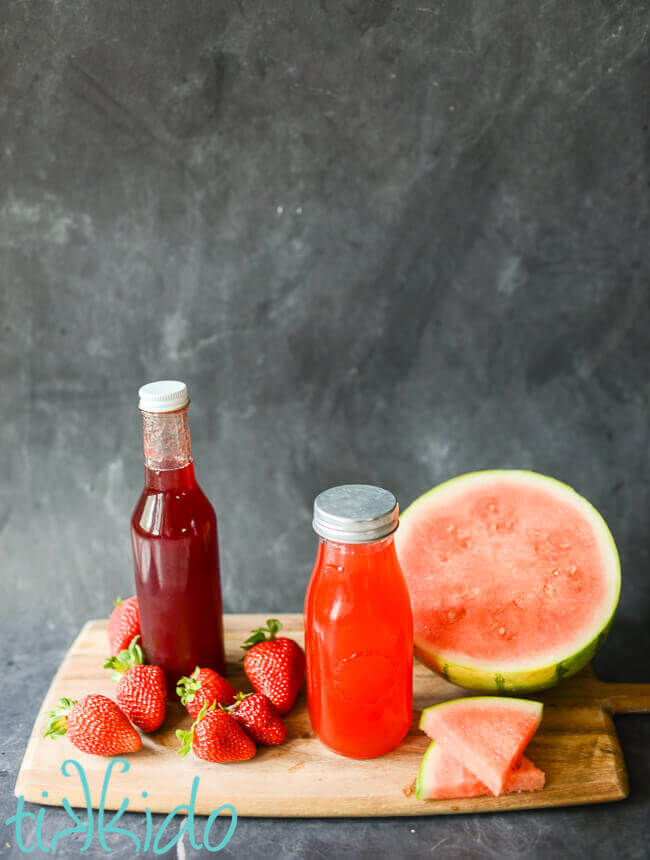 Let the syrup cool, and you'll have a vibrantly flavored watermelon syrup, ready for all sorts of summer deliciousness.  How would you use it?
Other Homemade Syrups You Might Like: