Printer-friendly version
Are you planning a movie night watching The Grinch, and want some fun Grinch food to serve while you watch?  Make these Grinch candy buttons!  This Grinch candy is inspired by classic, old-fashioned candy buttons--but with a fun Christmas twist.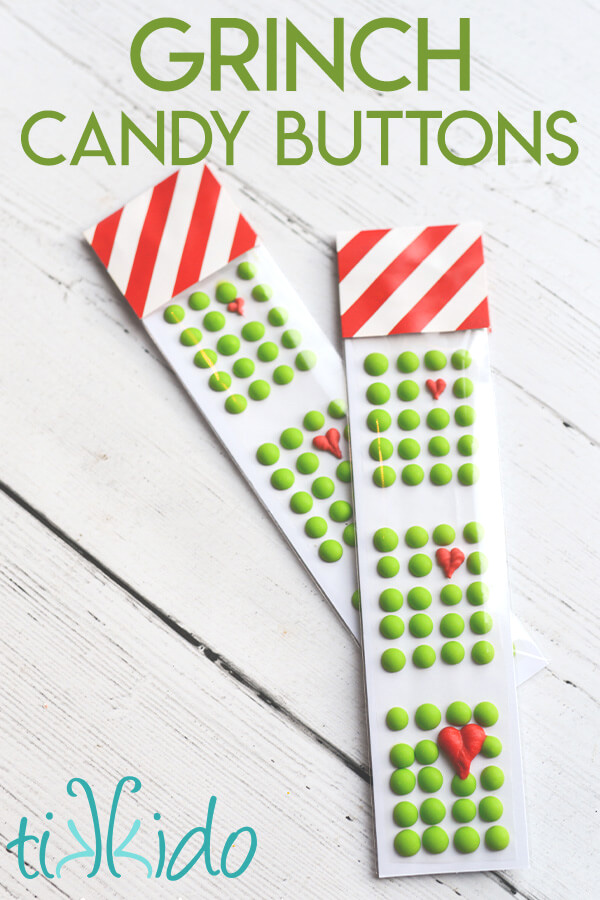 I love the classic Dr. Seuss book and 1966 cartoon, How the Grinch Stole Christmas.  So when I learned that our theme for today's Festive Christmas Ideas blog hop was Movies, I knew I wanted to make something fun and Grinch-themed! I've made homemade candy buttons before, and thought that it would easily adapt to a Grinch-themed Christmas candy version.  If you want to make even more Grinch treats, try this Grinch fudge recipe!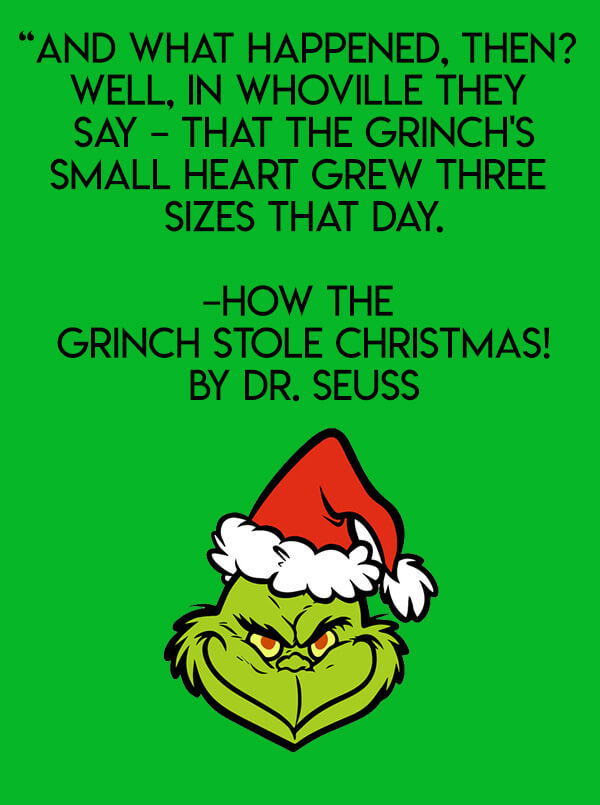 This classic quote from the book (and subsequent films) is what inspired my Grinch candy buttons.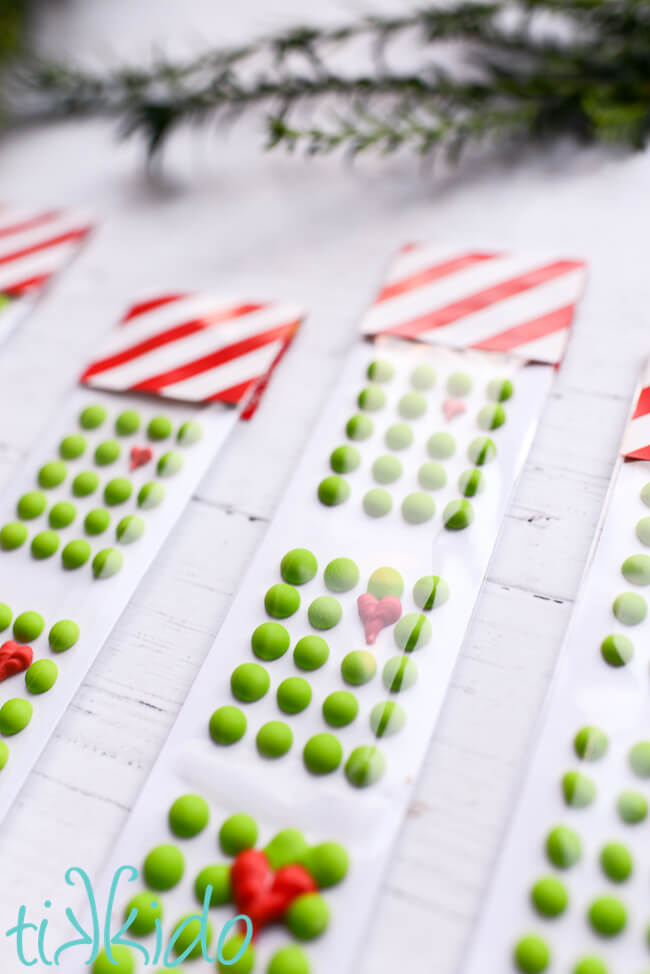 My Grinch hearts are always sweet and delightful, though, even at the smallest size!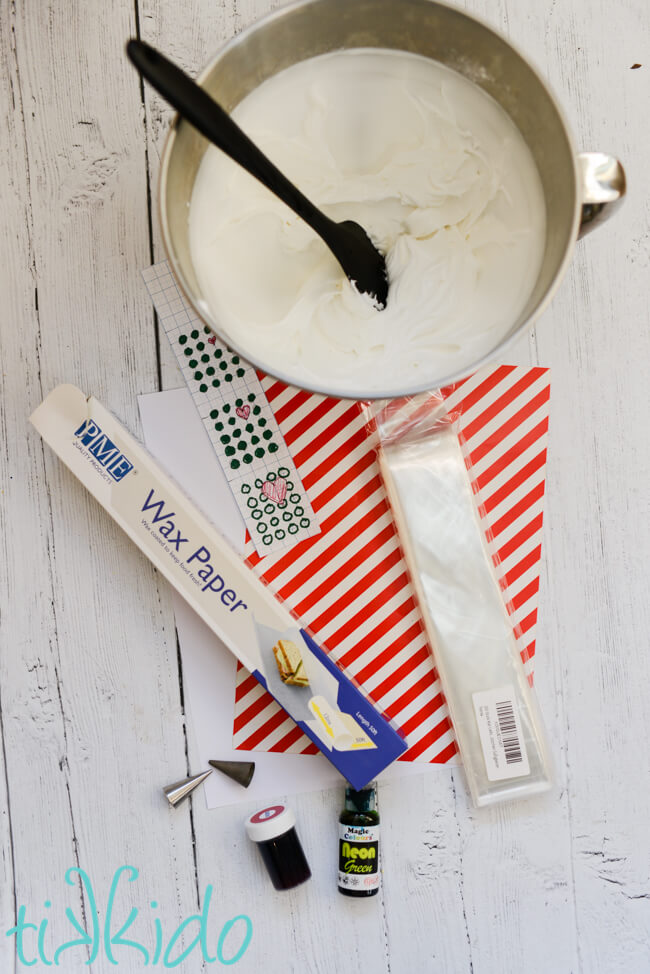 Materials for Making Grinch Candy Buttons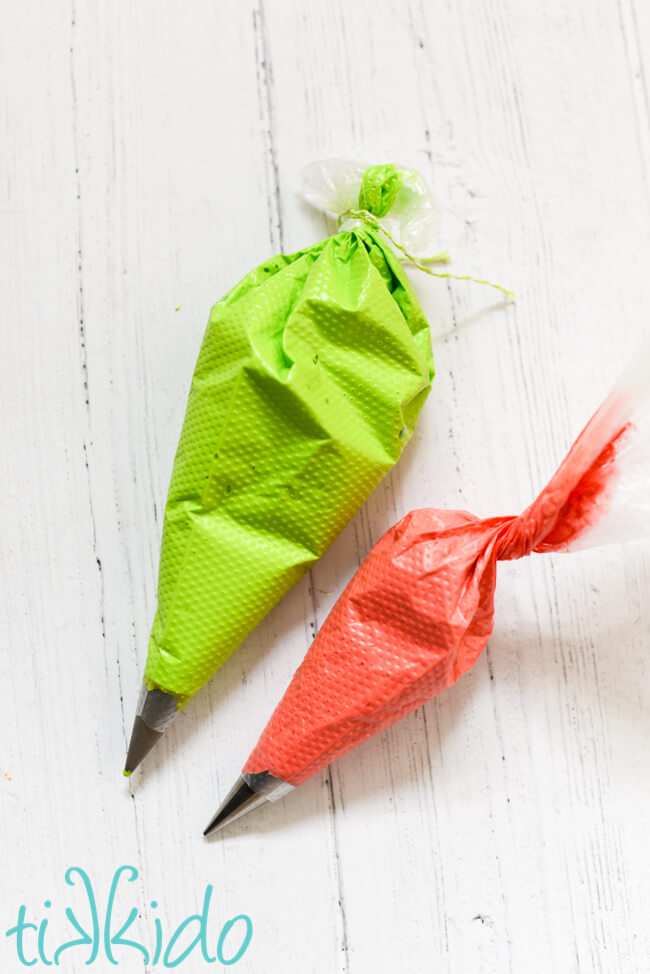 Mix up a batch of royal icing.  For this project, I only made a half-batch of the royal icing.  You don't need much to make a LOT of candy dots!
Color some of the stiff icing with red food coloring.  Don't worry about getting it SUPER red in the bowl; the color does intensify as it dries.
Thin a second quantity of royal icing to a flooding consistency, and color it with bright green food coloring (Americolor's Electric Green is my favorite).
Place icing in bags with round tips.  Keep the tips of the icing bags covered with a damp cloth when you're not using them, or the royal icing will dry and clog the metal tips.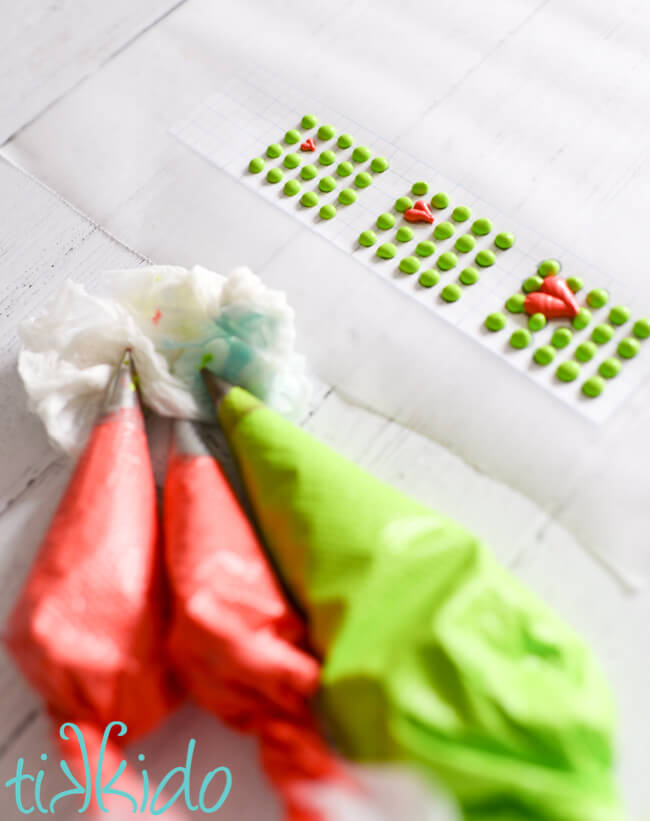 The green icing and one of the red icing bags had very small tips (Wilton 3), but after some experimentation making the red icing hearts, I decided that I needed a larger tip for making the largest heart, and made another icing bag with a Wilton 7 round tip.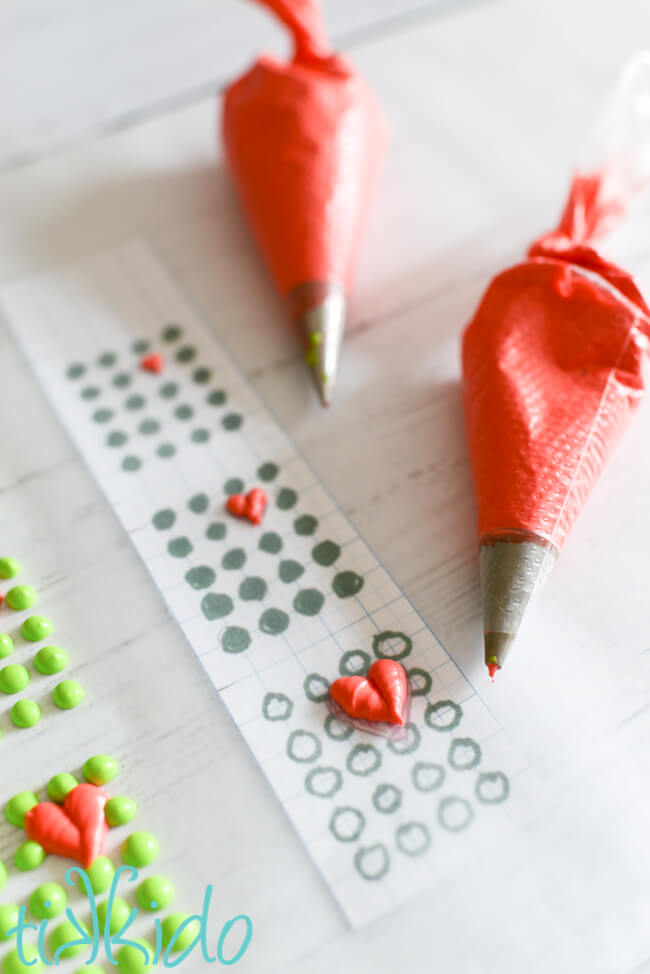 The first thing you need to do is make your template.  I didn't make a printable template for you, because it will really depend on the exact size of the treat bag you purchase.  Making the template is easy though, I promise.
I just printed out some free printable graph paper and cut it to the same size as my food-safe treat bags.  (Mine were 5cm wide.).  I sketched my design on the graph paper.  Be sure to leave at least an inch of space at the top of the graph paper with no icing!
Place a sheet of wax paper (NOT parchment paper!  It's too slippery and your dots will fall off!) on your work surface, and tape just one end down.  Taping one side of the paper to the table will keep the wax paper from sliding around as you pipe on the grid, but still allow you to reach underneath and move the template so you can pipe another set of candy dots.
Slide the template under the wax paper.
Pipe three red hearts, each one getting progressively bigger.  I used the small-tipped red icing bag for the two smaller hearts, and the larger tipped icing bag for the final, largest heart.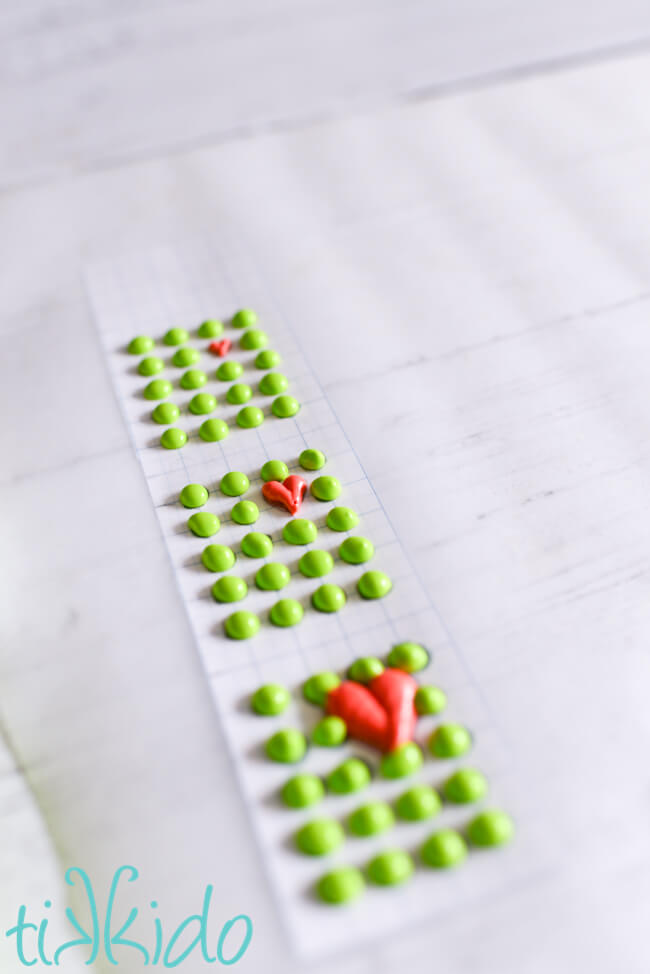 Then just use the thinner, green icing to pipe green dots around the red hearts, following the pattern you drew on on the graph paper.  Let dry for several hours (ideally overnight).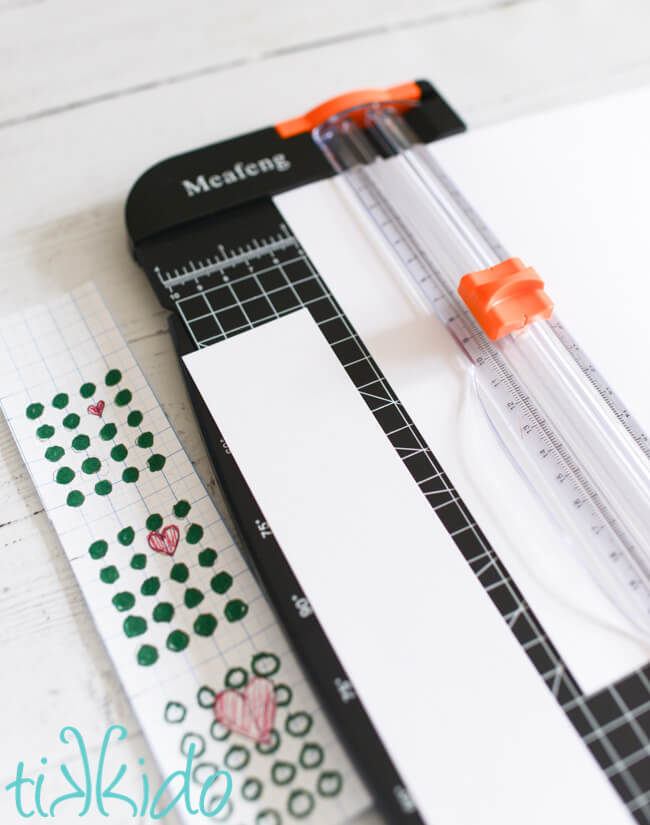 In the meantime, cut a piece of white cardstock as long as your treat bag, but just a bit narrower so it's easy to slide in.  The white cardstock will provide necessary support to the Grinch candy dots when you're packaging them up and giving them out.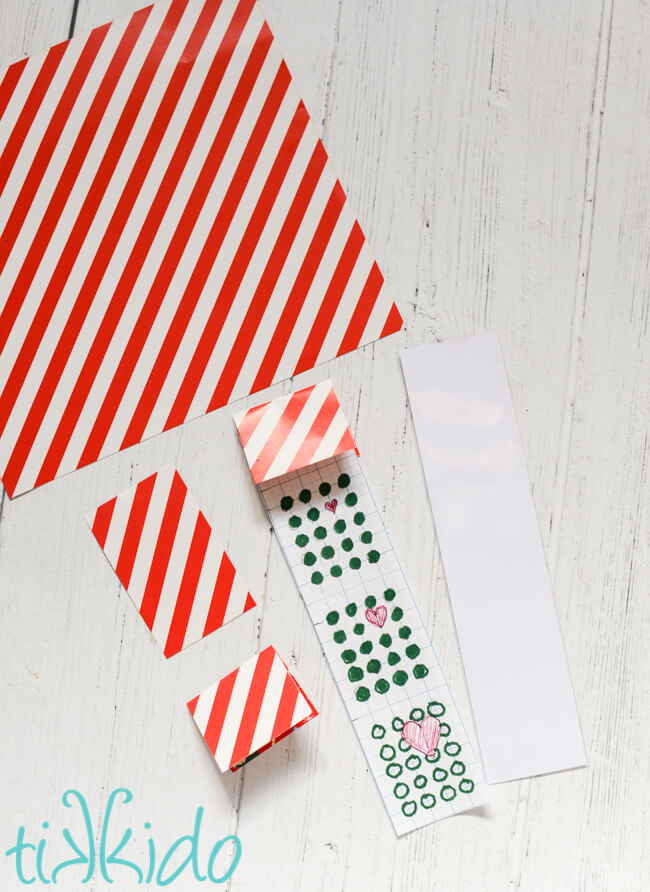 Cut a piece of Christmas themed scrapbook paper so that it covers the blank cardstock at the top of the bag.  Mine was 8cmx5cm, but again, yours will really depend on the size of the treat bag you're using.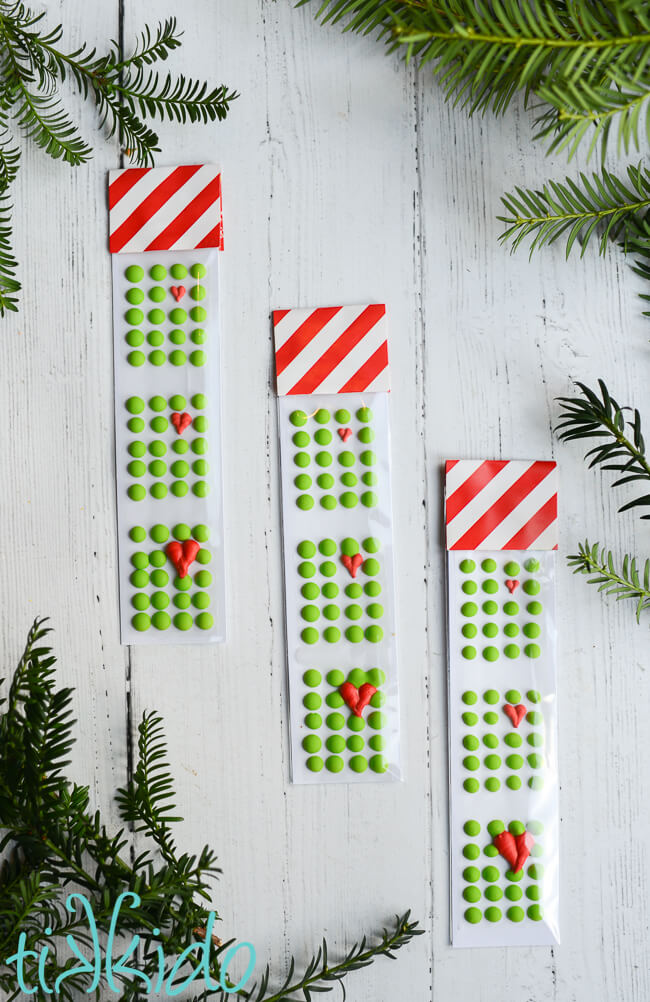 When the Grinch candy buttons are dry and hard, cut the wax paper and slide the candy buttons on top of the cardstock, right into the treat bag.  Use a low temperature glue gun to add the red-and-white striped paper topper to the candy buttons package.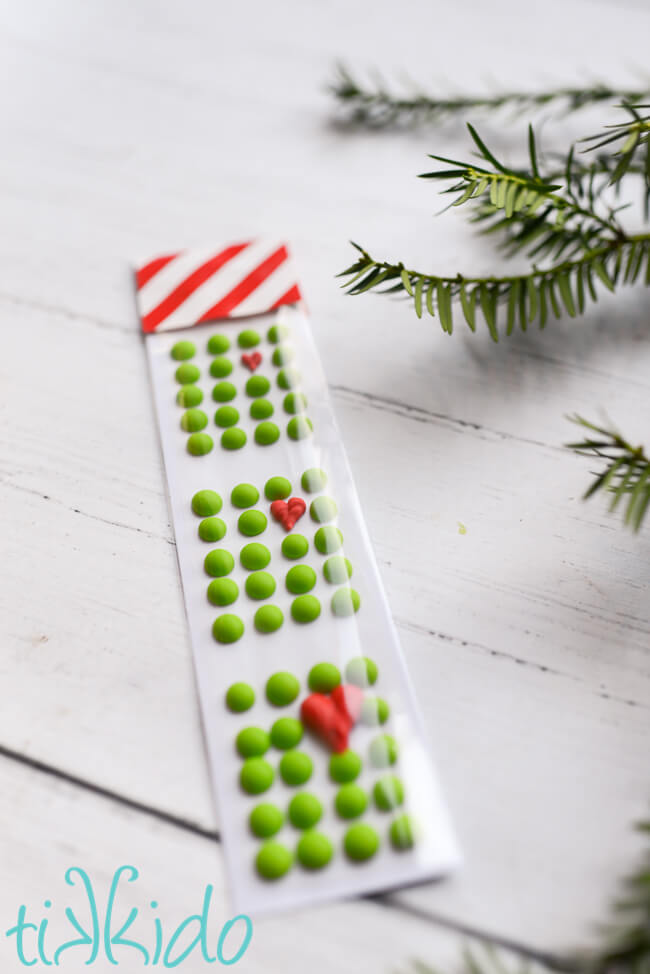 I think these would be a fantastic addition to a Grinch themed party!  
Other Christmas Movie Ideas from the Festive Christmas Ideas Blog Hop:

1. Rudolph the Red Nose Reindeer Movie Memory Game My Pinterventures
2. Easy Family Christmas Movie Night Snack Bar Intelligent Domestications
3. Elf Family Movie Night As For Me and My Homestead
4. Golden Era Christmas Movie Must Watch List The Aspiring Home

5. Christmas Movie Night Keto Charcuterie Board Little Vintage Cottage
6. Grinch Family Movie Night Coffee With Us 3
7. The Cutest Grinch Cupcakes From House To Home
8. My Top 5 Favorite Christmas Movies Blogghetti

9. Top 7 Family Friendly Christmas Movies An Alli Event
10. An Evening With Ebenezer Scrooge Holiday Movie Night Interior Frugalista
11. Santa Claus is Coming to Town Movie Night Simply Inspired Meals
12. Reusable Nightmare Before Christmas Gift Tags Craft Rocker

13. Movie Night DIY Postcard Activity Across The Blvd.
14. Christmas Movie Gift Ideas Polka Dot Poplars
15. Elf Leg Earrings Eye Love Knots
16. Romantic Christmas Movie Date Night Christmas Tree Lane

17. White Chocolate Christmas Puppy Chow Domestically Creative
18. Diverse Christmas Movies to Watch Purple Hues and Me
19. Unconventional Christmas Movies to Watch This Holiday Season Mom Home Guide
20. Hallmark Christmas Movie Bingo Game Creative Cynchronicity

21. Grinch Candy Buttons Tikkido
22. Hallmark Movie Christmas Pear Drop Cookies Domestic Deadline
23. Christmas Movie Marathon A Tradition To Love My Humble Home and Garden
24. How to Plan an Epic Christmas Movie Night Farm Girl Reformed

25. How to Make Buddy the Elf Snowball Dough Our Sutton Place
26. 20 Awesome Christmas Movies for Kids in 2020 Pretty DIY Home
Other Candy Button Tutorials You Might Like: