Printer-friendly version
Recycle cardboard into a charming gingerbread house Christmas garland this year! This DIY Christmas garland is easy to make with the free printable templates I used, and some paper and cardboard.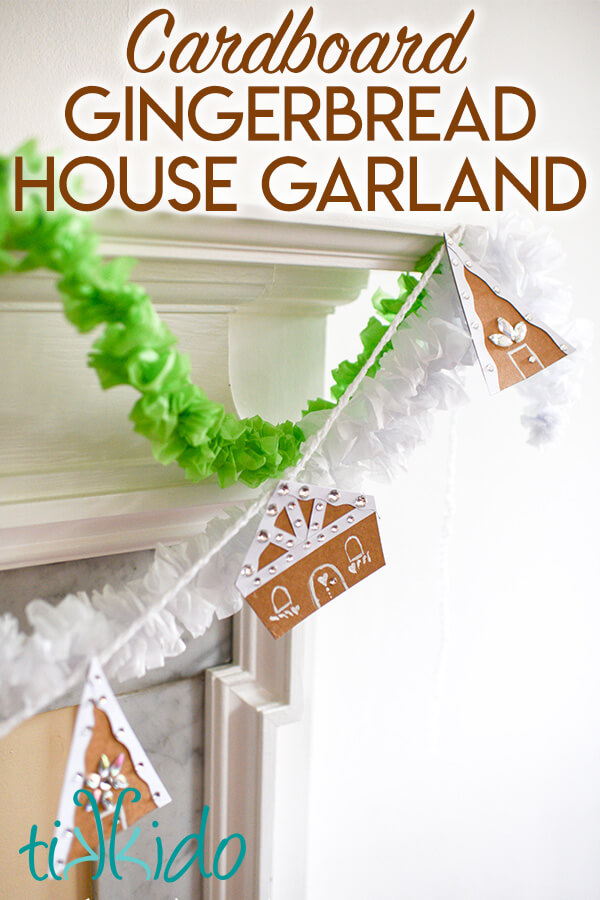 I love gingerbread houses!  I bake well over 100 every year (to give to students, neighbors, friends, and scout groups).  I've competed on Food Network's Holiday Gingerbread Showdown.  I wrote the Gingerbread for Beginners book.  So it's no surprise that I love gingerbread themed Christmas decorations, too!  That's why for today's DIY Decorations themed edition of the Festive Christmas Ideas Blog Hop, I decided to make myself a new gingerbread house Christmas garland--made from recycled cardboard!
Welcome back to year 6 of our Festive Christmas Event where we team up with a bunch of talented blogging friends to bring you a plethora of creative ways to celebrate your holiday season.
We will be baking some cookie recipes for you, sharing some party games, making some handmade gifts, doing some ornament crafting, and sharing our Christmas movies family fun. There will be breakfast recipes and as always our decorated Christmas Trees which is always a fun tour of homes.
You will find new ideas every Monday and Wednesday between Oct. 19th through Nov. 18th. Scroll all the way down to find all the ideas linked at the end.  Our theme today is DIY Christmas Decorations!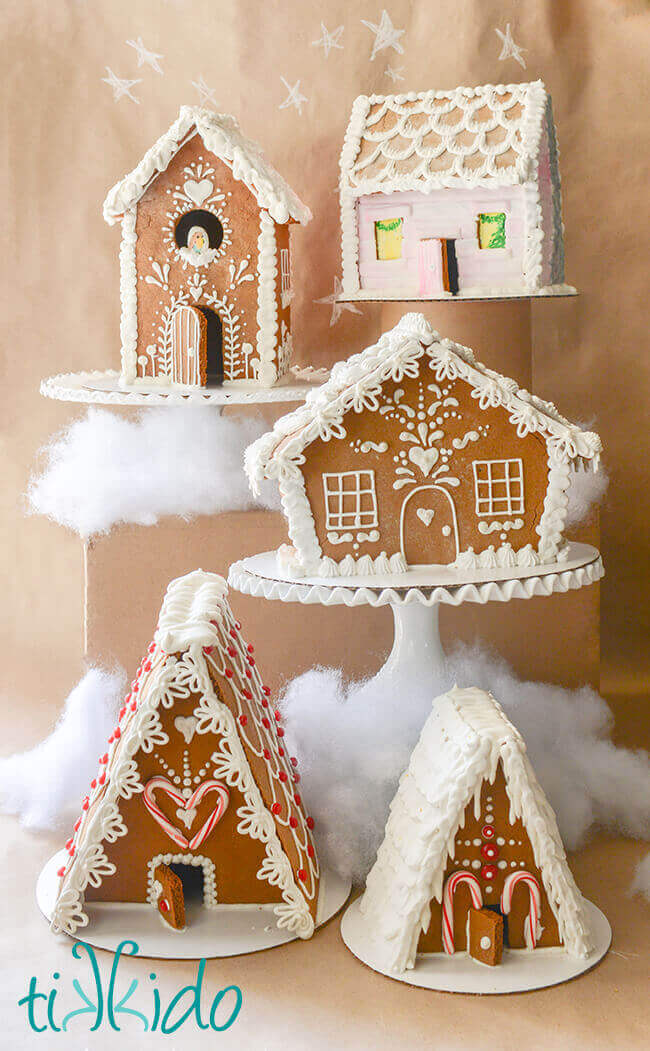 I've made a lot of different gingerbread houses over the years, but my two classic shapes are the A-frame and the chalet style.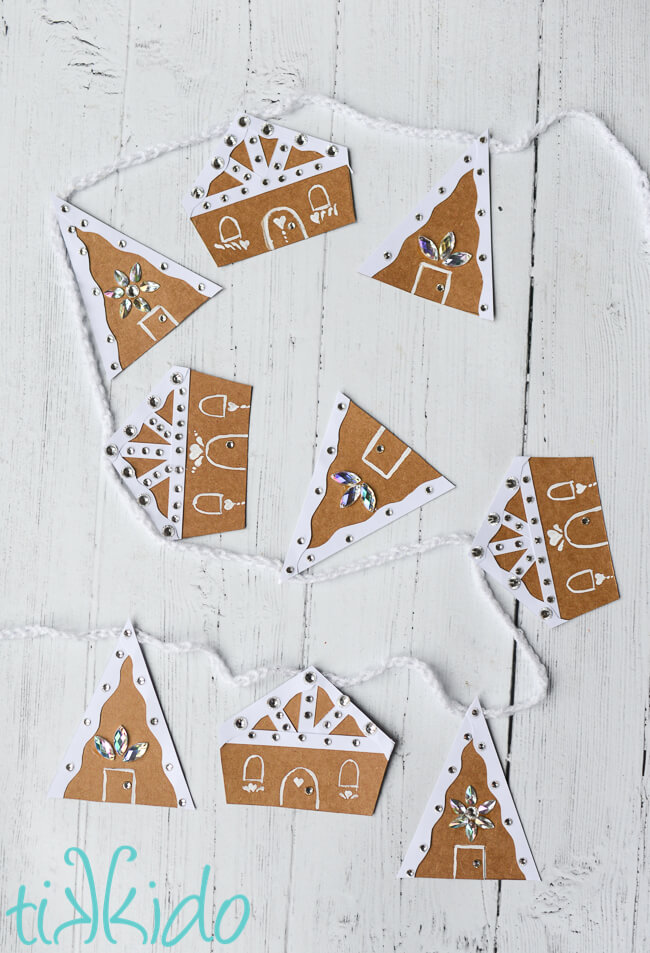 As you can see, those are the two shapes I chose to represent in my cardboard gingerbread house garland.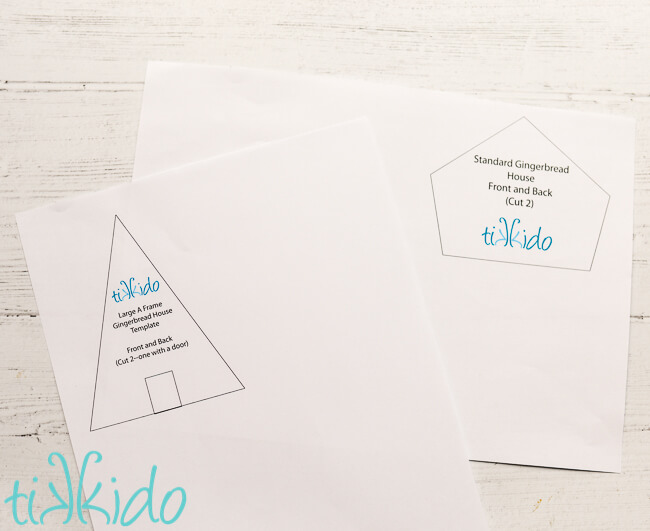 I actually used my A frame (find the printable template in this post)  and Chalet style printable gingerbread house templates (find the chalet style gingerbread house templates here) for this project.  I just printed and cut out the front of the house (not the sides, back, or roof), and I printed them at half size, 50%.
Printing a PDF at 50% is easy.  When you see the print preview screen (like the picture above), look for the area that says "scale" and change that to 50.  It might say "default" or "100" when you see it, but if you change it to 50, it'll print at half the normal size.
Materials for Gingerbread House Christmas Garland:
cardboard
printable gingerbread house templates
white paper
rhinestones
white paint
Print and cut out the gingerbread house templates, and trace on cardboard.  I used a thin cardboard box (a box that held Diet Coke cans, actually) for this project.  You can use any brown cardboard, but I liked using a thin cardboard.  It's sturdy enough for this purpose, but easy to cut with scissors.
Cut out the gingerbread house shapes from the cardboard.
Use white paper to decorate your gingerbread houses.  I used a low temperature glue gun to glue the paper pieces to my cardboard shapes.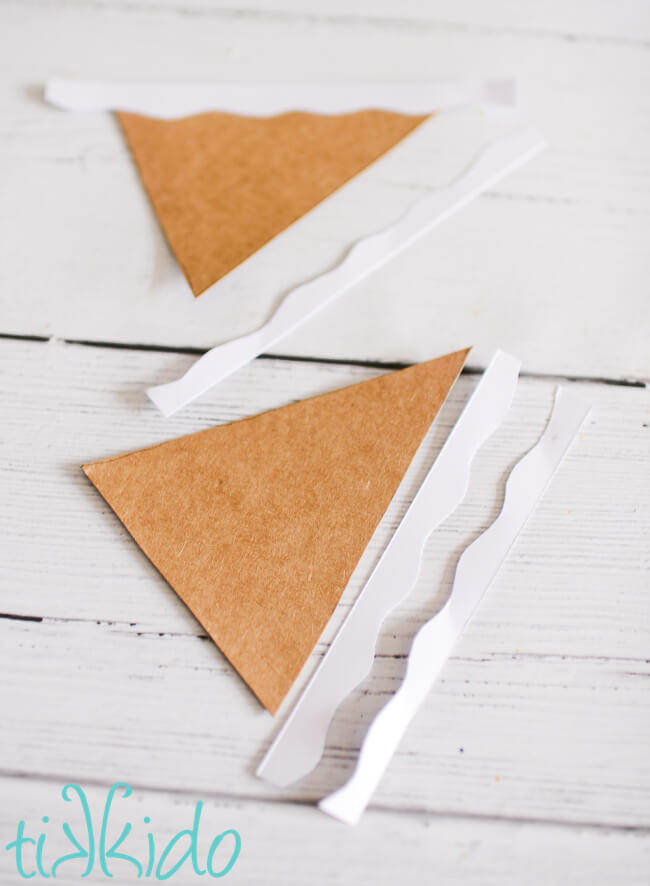 I found it easier to glue on a longer strip of white paper than I needed, and then trim off the excess, rather than try to cut the pieces of paper exactly to size.
I then glued on some rhinestones for some added sparkle.  I always use Aleene's Jewel-It glue whenever I'm gluing rhinestones.  It holds the rhinestones beautifully and dries clear.  It is WAY easier to use than a hot glue gun for tiny embellishments like rhinestones.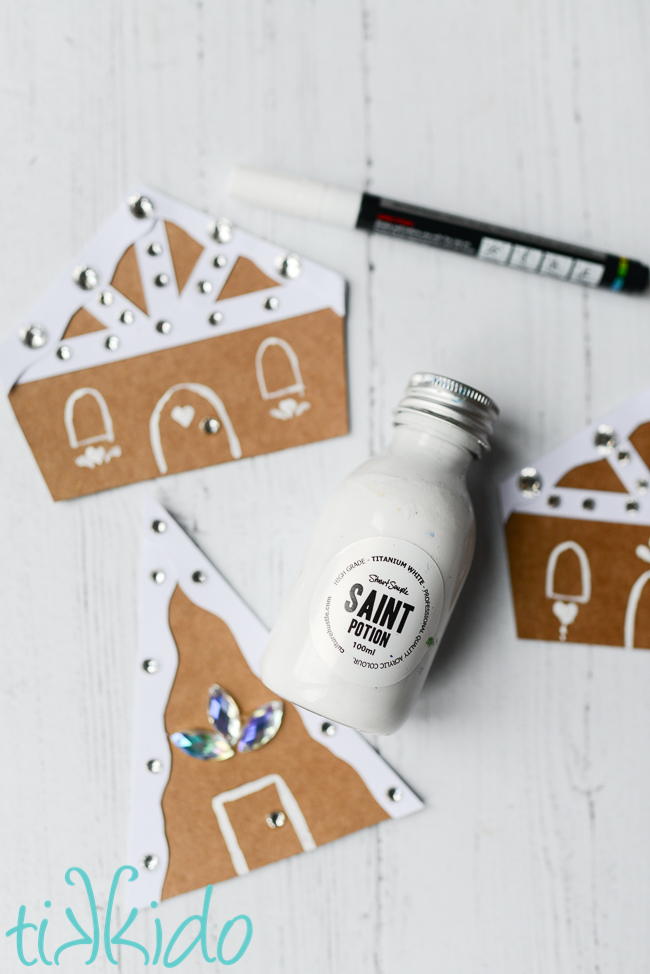 I originally bought paint markers to make the door and window decorations on my gingerbread house garland, but I discovered that those kinds of markers do NOT work well on porous material, like cardboard.  It just absorbed the paint, and even after three layers, looked faint and disappointing.  So I just pulled out my favorite white acrylic paint (if you're not familiar with Stuart Semple and his paints, do yourself a favor and check him out) and painted on the details with a brush.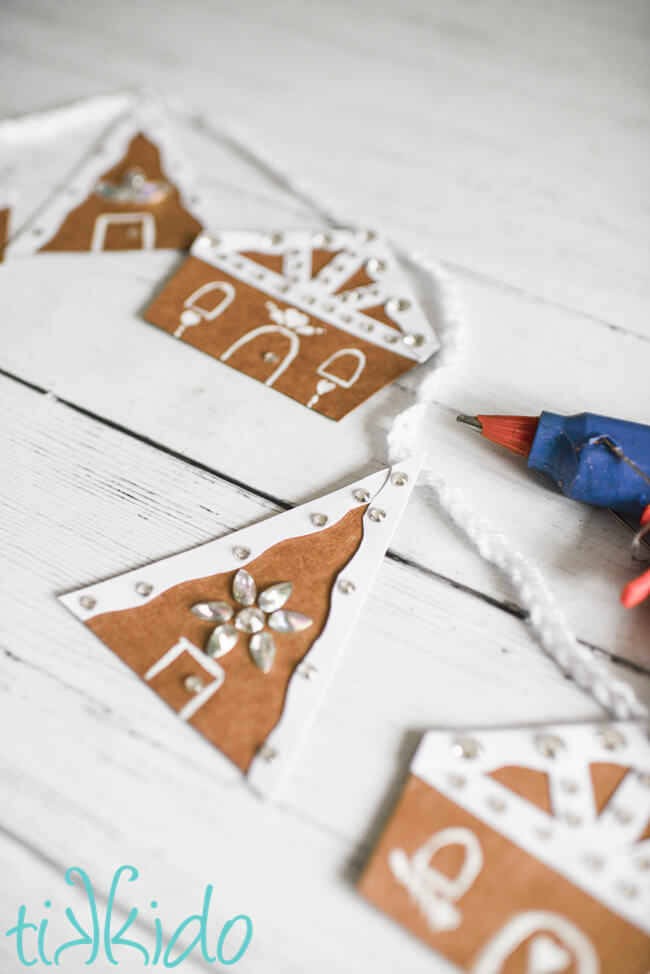 I only had very thin white yarn on hand, and I wanted the cord of my garland to be a little more substantial, so I made just a simple crochet chain.  I actually used my fingers to do it, since I don't crochet.  Check out the video for a demonstration of how I did that.  Or just buy chunkier yarn than I used!  
The cardboard gingerbread houses were jsut glued to the yarn with a low temperature glue gun.
I love how my new gingerbread house garland turned out!
I also think these little cardboard gingerbread houses would make absolutely darling gift tags.  I'm definitely going to work on that next.
Other DIY Christmas Decorations from the Festive Christmas Ideas Blog Hop:
Be sure to check out the other amazing Christmas Decorations from my fellow bloggers in the Festive Christmas Ideas Blog Hop.

1. Giant Animal Crossing Money Bags for Gifts My Pinterventures
2. Make This Festive Glittery Pom Pom Cone Christmas Tree Intelligent Domestications
3. String Art Trees As For Me and My Homestead
4. Wood Burned Ornaments The Aspiring Home

5. DIY Milk Carton Christmas Village Little Vintage Cottage
6. Ugly Sweater Wreath Coffee With Us 3
7. DIY Grinch Wreath From House To Home
8. DIY Wood Christmas Decorations Blogghetti

9. Easy Glamping Christmas Mantel Decor An Alli Event
10. Repurposed Cabinet Door Christmas Signs Interior Frugalista
11. Christmas Joy Decor Across The Blvd.
12. Free Christmas Printables Polka Dot Poplars

13. Neutral Farmhouse DIY Christmas Centerpiece for the Kitchen Pretty DIY Home
14. Decorating with Buffalo Plaid Christmas Tree Lane
15. DIY Red and White Christmas Wreath Domestically Creative
16. Tabletop Christmas Decor Purple Hues and Me

17. How to Decorate a Snowy Christmas Window Mom Home Guide
18. Dollar Store Picture Frame Snowman Creative Cynchronicity
19. Gingerbread House Christmas Garland Tikkido
20. Festive Mini Christmas Signs Domestic Deadline

21. How To Easily Make Farmhouse Christmas Ornaments My Humble Home and Garden
22. DIY Bell Christmas Garland Farm Girl Reformed
23. How to Make Easy and Whimsical Elf Movie Holiday Decorations Our Sutton Place
24. Red, White & Gray Christmas Entry Table Eye Love Knots

25. DIY Christmas Gnome Craft Rocker
26. Getting Ready for Christmas on the Trails Simply Inspired Meals
Other Gingerbread House Themed Crafts You Might Like: