Printer-friendly version
This recipe for sticky buns has it all--a delicious, tender homemade bread and tons of gooey, sticky, decadent and delicious caramel sauce covering every inch.  I like sticky buns with pecans, but if you can't do nuts, you can easily eliminate them and still have an absolutely amazing sticky bun.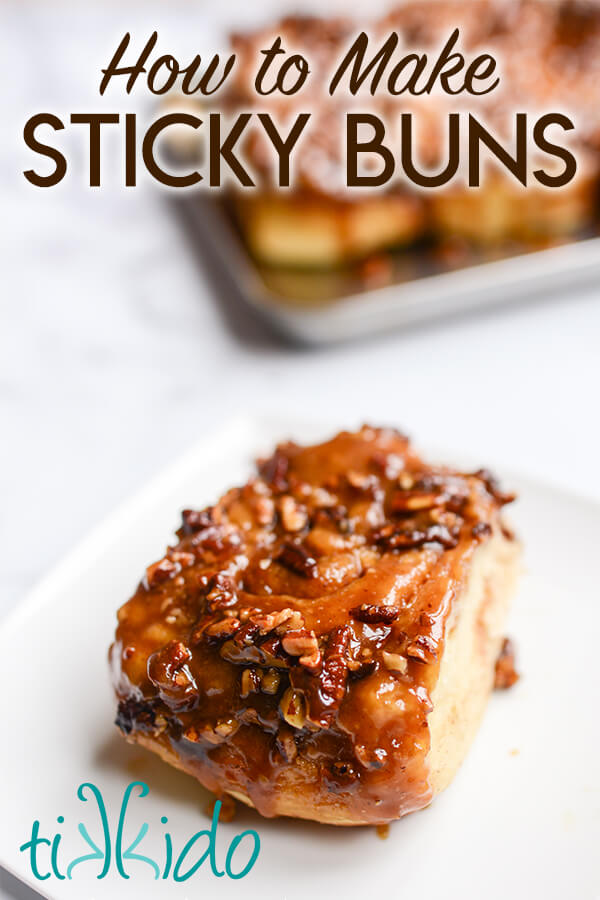 I created this sticky bun recipe for the Festive Christmas Ideas blog hop.  Our theme today is Christmas Breakfasts!

Welcome back to year 6 of our Festive Christmas Event where we team up with a bunch of talented blogging friends to bring you a plethora of creative ways to celebrate your holiday season.
We will be baking some cookie recipes for you, sharing some party games, making some handmade gifts, doing some ornament crafting, and sharing our Christmas movies family fun. There will be breakfast recipes and as always our decorated Christmas Trees which is always a fun tour of homes.
You will find new ideas every Monday and Wednesday between Oct. 19th through Nov. 18th. Scroll all the way down to find all the Christmas breakfast ideas linked at the end.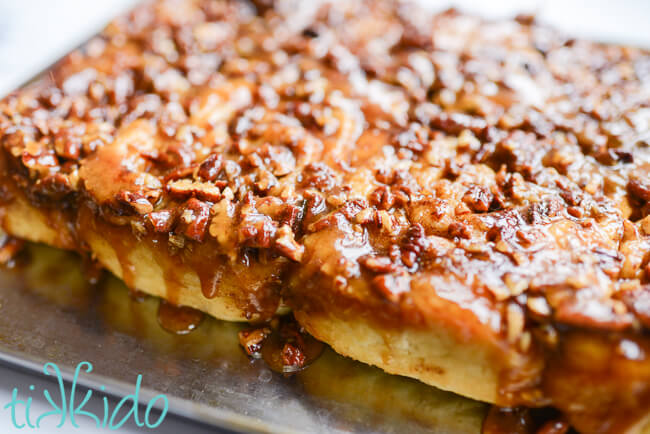 What are Sticky Buns?
Sticky buns are an ooey, gooey cousin to the cinnamon roll.  Like cinnamon rolls, they're made with a sweet dough that is rolled out, lathered in sugar and cinnamon and butter, and rolled up.  Regular cinnamon rolls are filled with a cinnamon sugar and butter mixture, but sticky buns intensify the caramel flavor by using a brown sugar and cinnamon mixture.   And instead of being left bare or topped with frosting like regular cinnamon rolls, the rolls are baked right in an amazing caramel sauce.  The whole pan gets flipped upside down after baking, leaving the glorious, oh-so-sticky and sweet mixture on what is now the top of the inverted rolls.
When making sticky buns, there are three major elements of the recipe:  the bread dough, the filling, and the sticky caramel sauce.  I've listed them all seperately below to make it easier for you to follow the recipe.  And if you want a one page, printable version of the recipe, you'll find it at the end of the post.
Part 1, Sticky Bun Bread Dough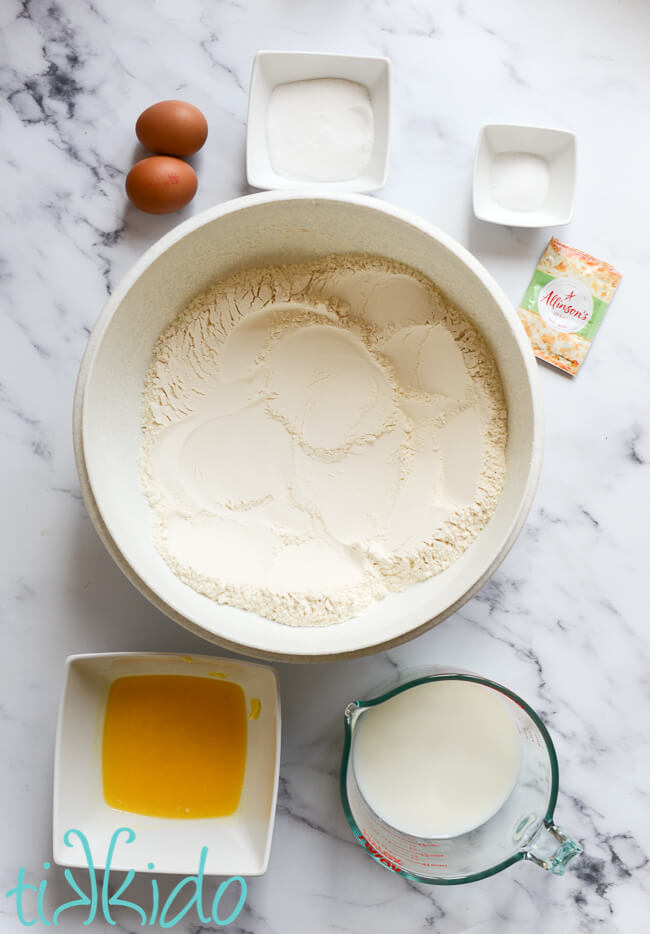 Pecan Sticky Buns Bread Dough Ingredients
4 1/2 cups flour
3/4 cup milk
3/4 cup water
1/3 cup sugar
1 teaspoon salt
1 package yeast
2 eggs, beaten
1 stick (8 Tablespoons, or 113 grams) of butter, melted (but this doesn't get added right away!)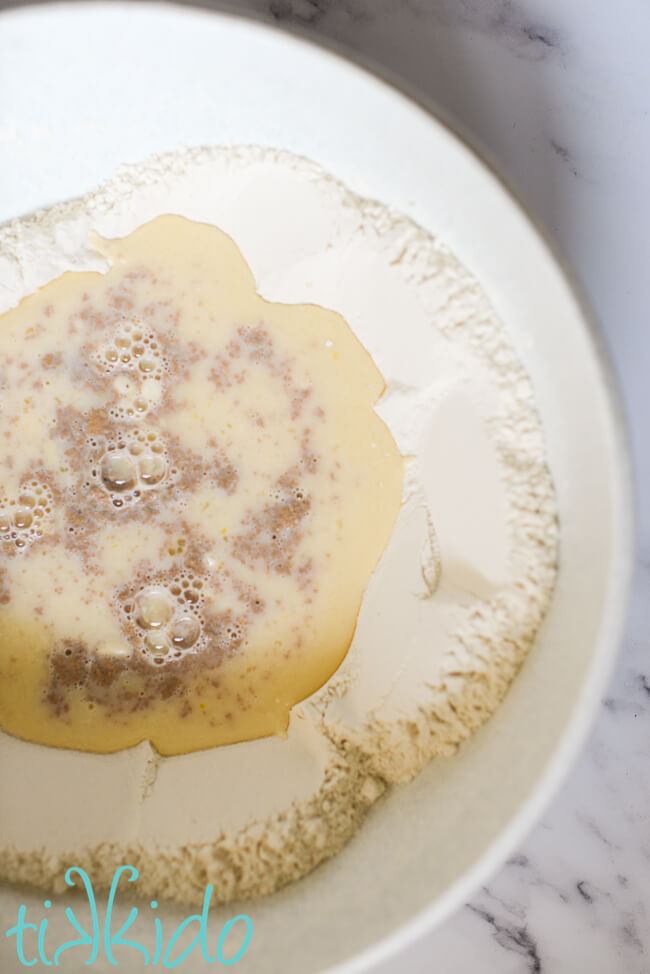 How to Make Sticky Bun Bread Dough
Start by putting all of the flour in a large mixing bowl.  Use the bottom of your measuring cup to form the flour into a bowl shape with a nice center well to hold the liquid ingredients.
Gently heat the water and milk until it is 110-115 degrees Fahrenheit.  We want it to be warm, so it activates the yeast, but if you make it 120 or hotter, it will kill the yeast.  
Add the sugar, salt, beaten eggs, and yeast to the warm milk and water mixture and stir.   DO NOT ADD THE BUTTER AT THIS STAGE.
Pour this liquid mixture into the well of flour you created in the mixing bowl and DO NOT MIX.  Cover, and let rise for 30 minutes.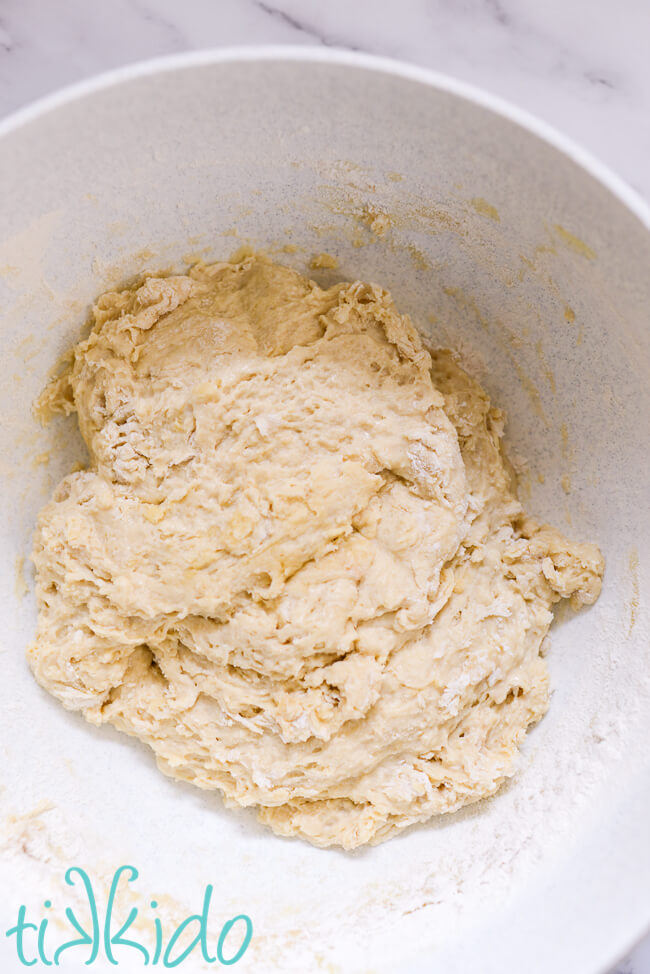 After the first 30 minute rise, add your stick of melted butter.  Again, you don't want this to be too hot and kill the yeast, so I usually melt my stick of butter during the first rise and let it cool down while I'm waiting that first 30 minutes.
Mix everything together just until it's combined.  It'll be lumpy and sticky, but don't worry--that's exactly what it's supposed to be like.
Cover, and let rise another 30 minutes.
Part 2, Sticky Caramel Sauce for Sticky Buns:
While the dough is rising, make the sticky pecan caramel sauce that makes these sticky buns so decadent and delicious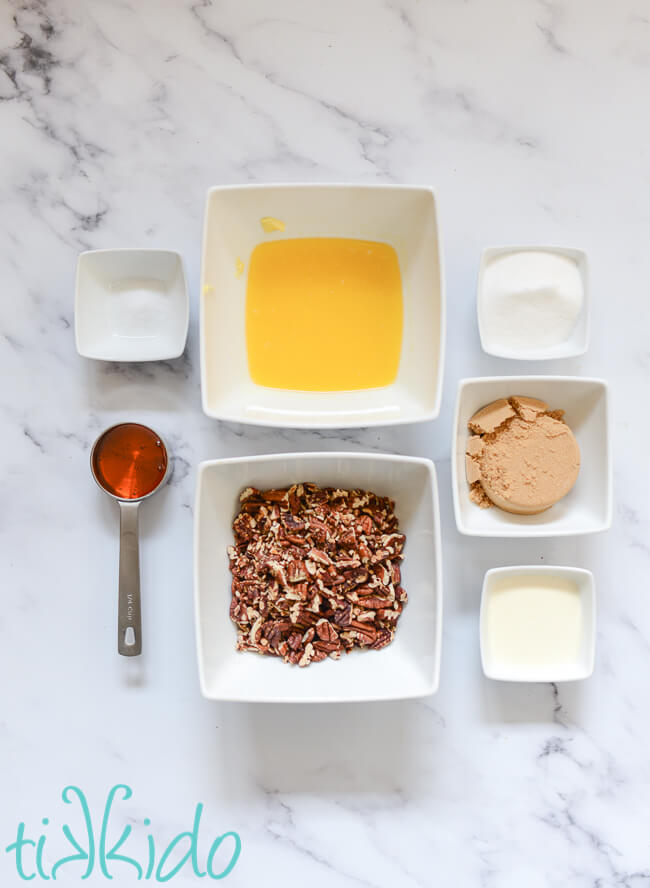 Ingredients for Caramel Sauce Topping for Sticky Buns
1 stick (8 Tablespoons, or 113 grams) of butter, melted
1/2 cup packed brown sugar, packed
1/4 cup sugar
1/4 cup corn syrup
1/4 teaspoon salt
2 Tablespoons cream
1 1/2 cups toasted, roughly chopped pecans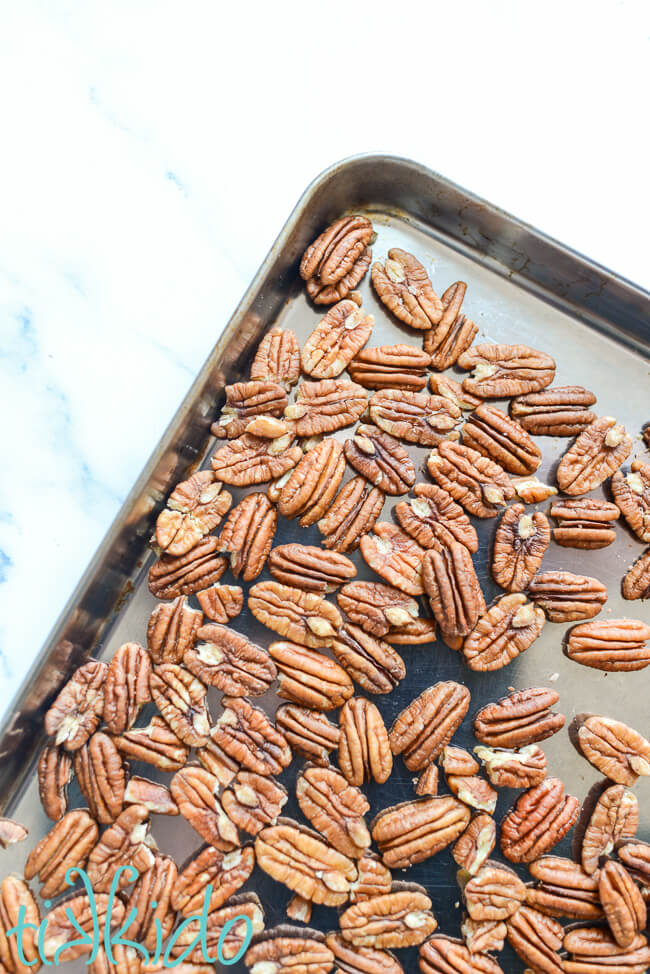 Start by toasting the pecans.  Place the pecans on a sheet pan, and bake for 10-12 minutes at 350 degrees Fahrenheit, until the pecans darken a bit and are fragrant.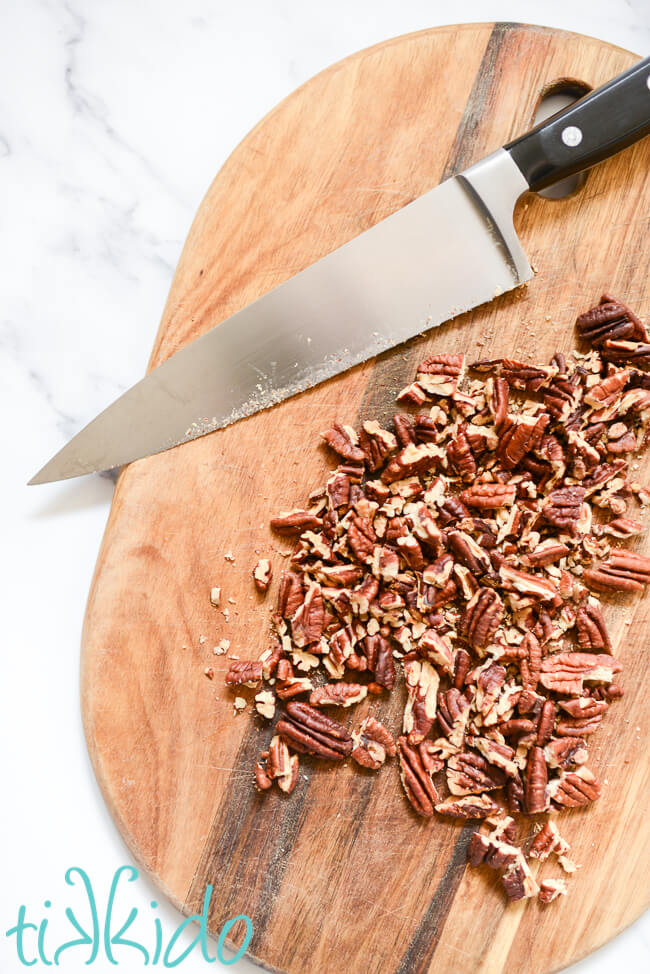 Chop the pecans roughly.  I like having some big chunks that are easily recognizable as pecans.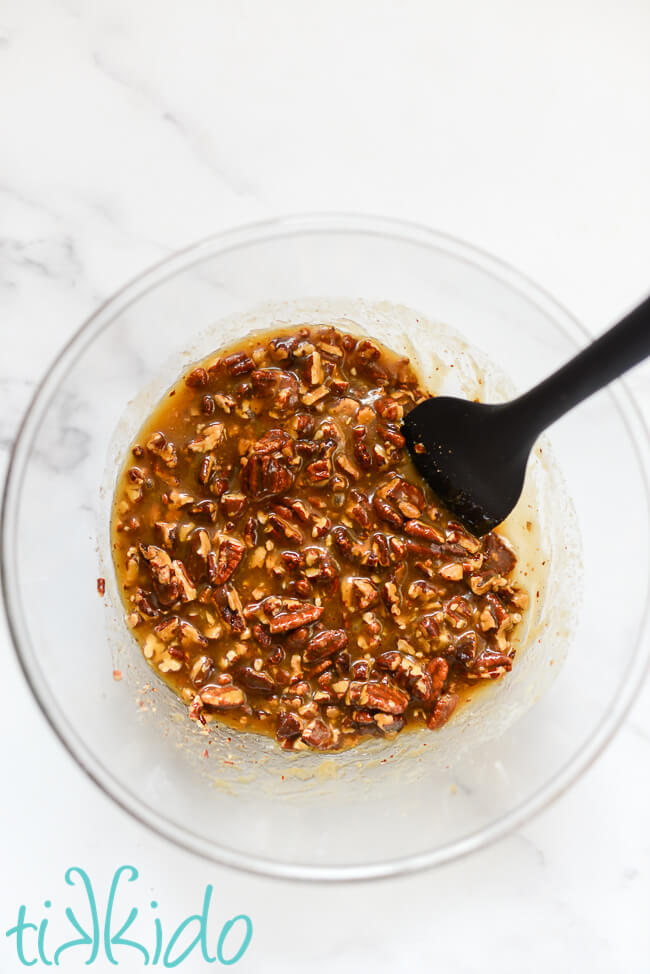 Combine all the ingredients in a bowl and mix together.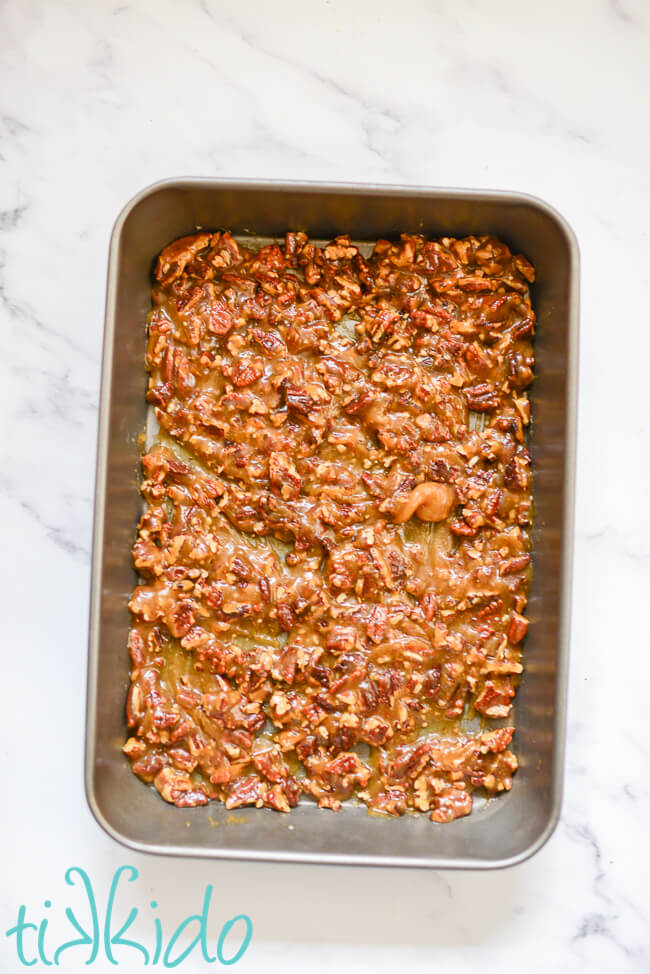 Spread the caramel pecan mixture over the bottom of a 9x13" baking pan.
Part 3, Sticky Bun Filling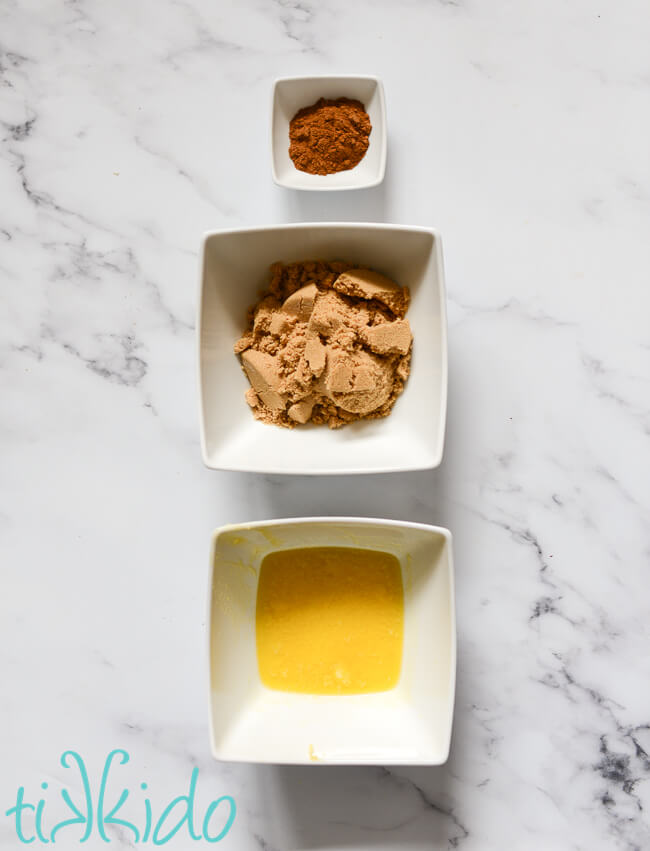 Sticky Bun Filling Ingredients
3/4 cup brown sugar
2 teaspoons cinnamon
1/2 a stick (4 Tablespoons) of butter, melted
Mix together the brown sugar and cinnamon.  Keep the melted butter separate for shaping the sticky buns.
How to Shape Sticky Buns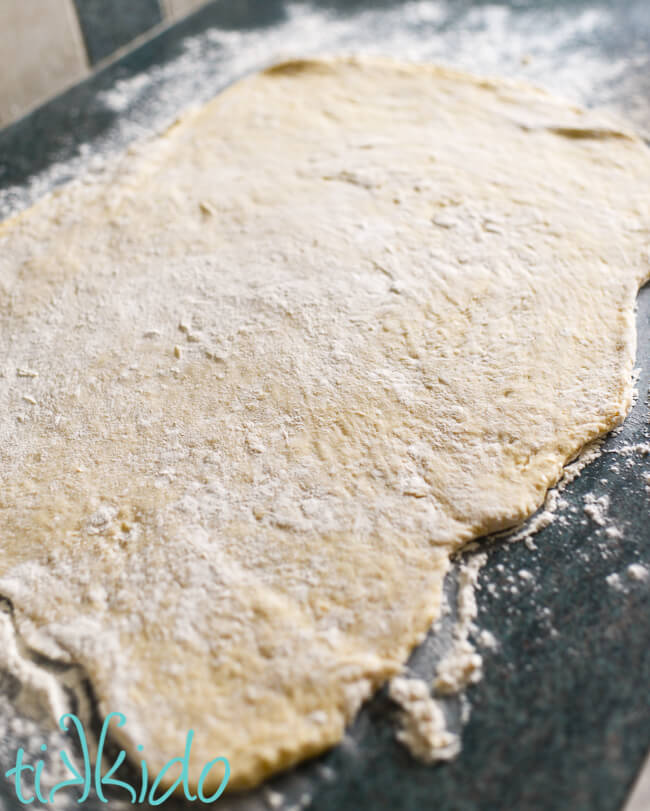 Place the dough on a well-floured surface.  Use flour liberally to coat your rolling pin, and even the top of the dough as you roll it out, too.  It's a wet, sticky dough, and using plenty of flour when rolling the dough will help you manage it.
Role the dough into a large rectangle.  Don't worry about getting perfectly straight edges.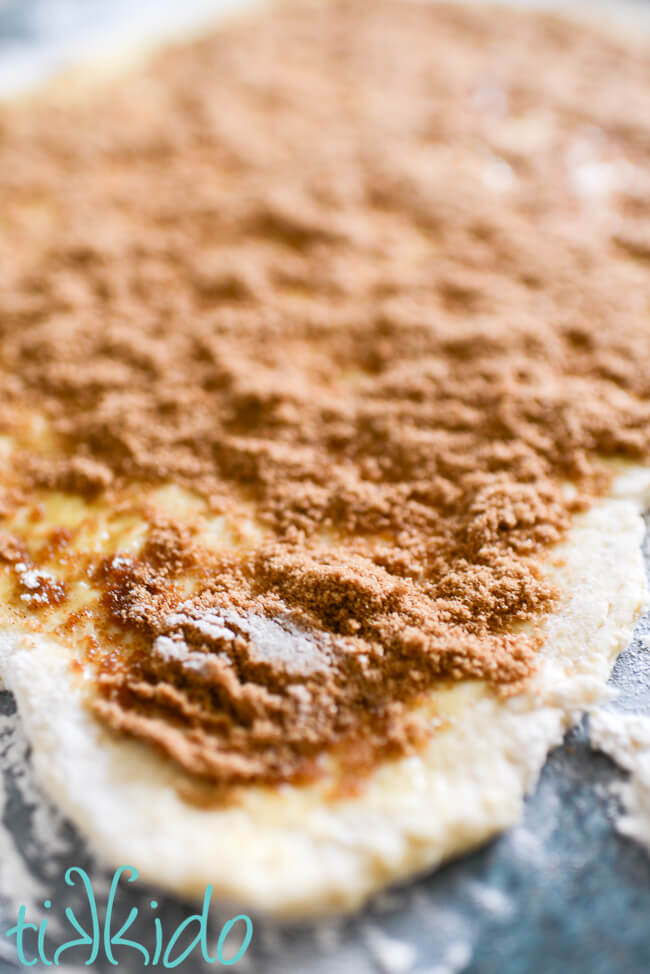 Brush the surface of the dough rectangle with melted butter, and sprinkle liberally with the brown sugar and cinnamon mixture.
Roll up the dough the short way (so you end up with a shorter coil of dough, not a longer one).
Trim off the rough ends of the roll of dough and cut dough into eight equal pieces using a piece of string or dental floss.  You can see photos of this technique in my cinnamon roll recipe, or in the video that goes with this blog post.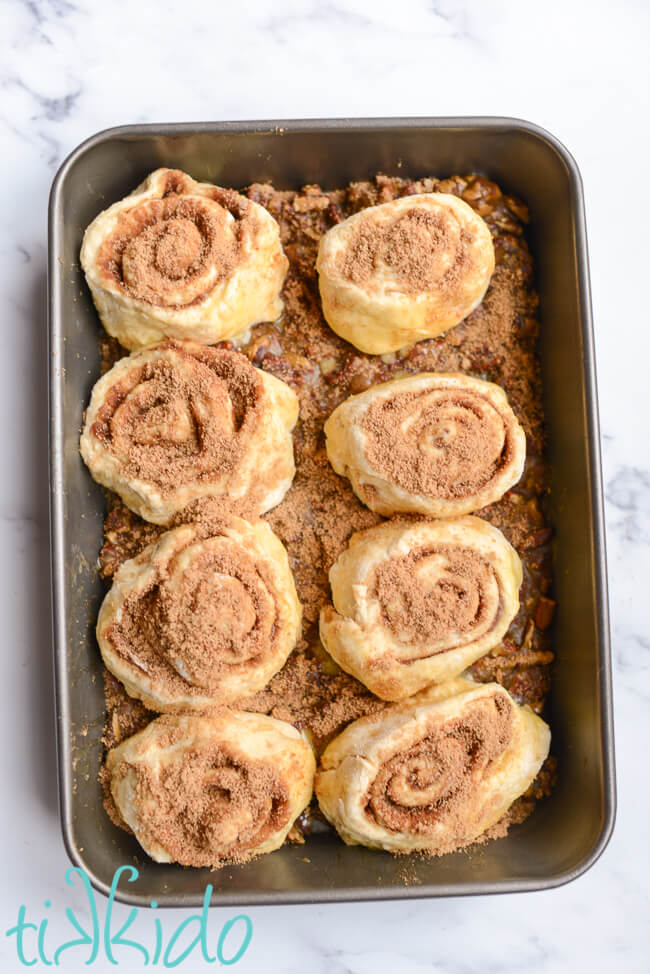 Place the sticky buns in the pan already lined with the caramel pecan mixture.  If you have any extra filling, you can sprinkle it on top of the rolls, like I did here.
Cover and let rise 30 minutes.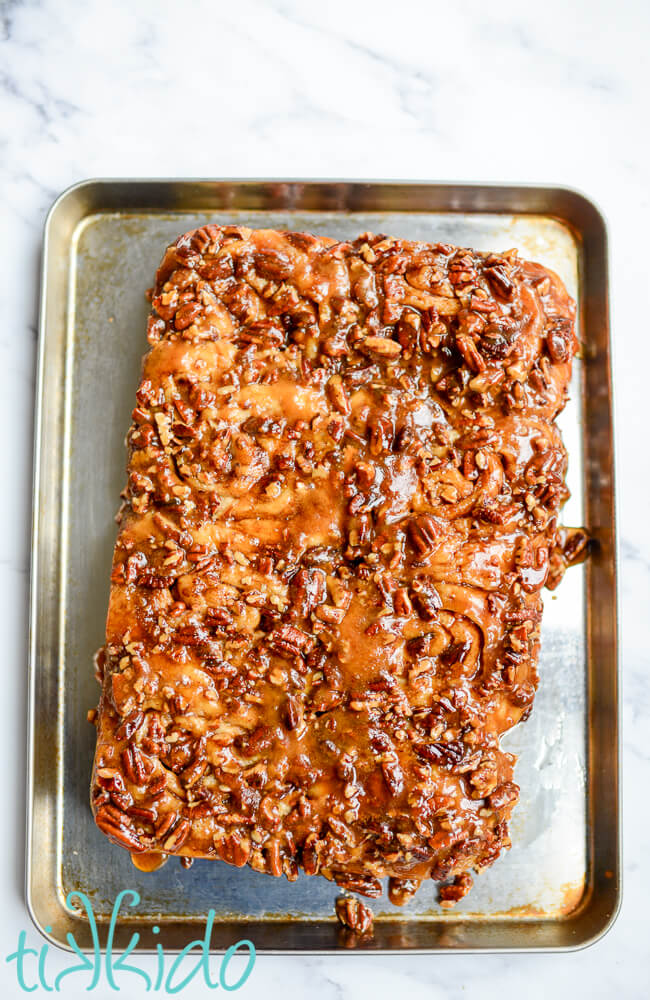 Bake the sticky buns at 350 degrees Fahrenheit for 25 minutes.
Let the sticky buns cool in the pan for five minutes, and then turn them out on a large pan or platter.  It's important to flip the sticky buns out while they're still warm, but by giving them five minutes to cool down, the pan won't be dangerously hot any more.  Still use caution, of course.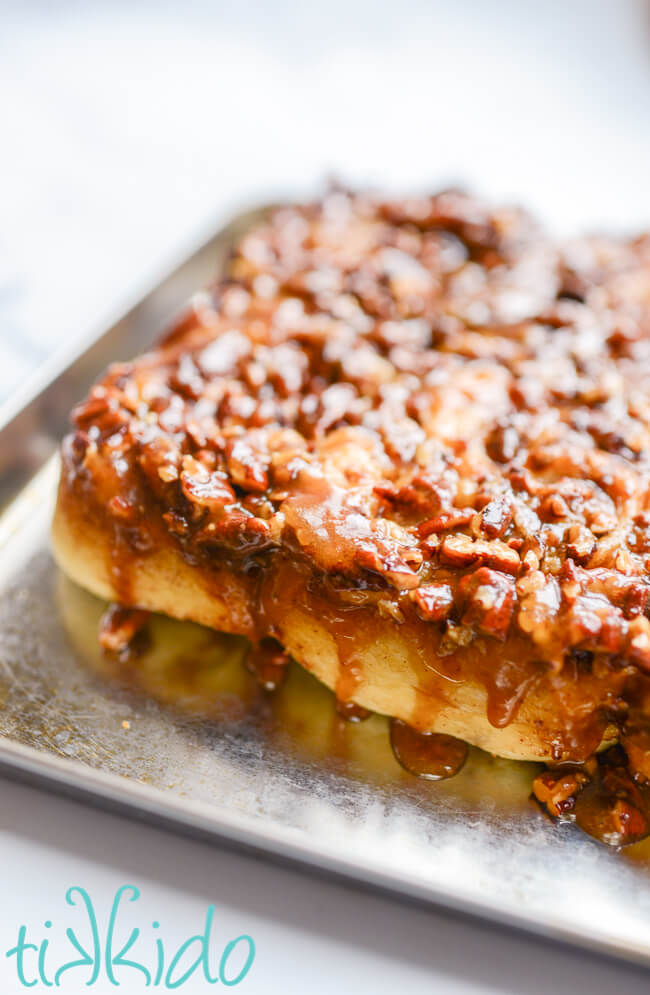 I turned my sticky buns out in a larger baking pan, which is not the prettiest of serving dishes.  If you want to serve these on prettier plates, you could always bake these sticky buns in 2 8x8 square baking dishes instead of the 9x13 pan.
I baked the two small pieces trimmed off the ends of the roll of dough in a separate small bread pan.  Those end pieces aren't pretty, but they're still delicious!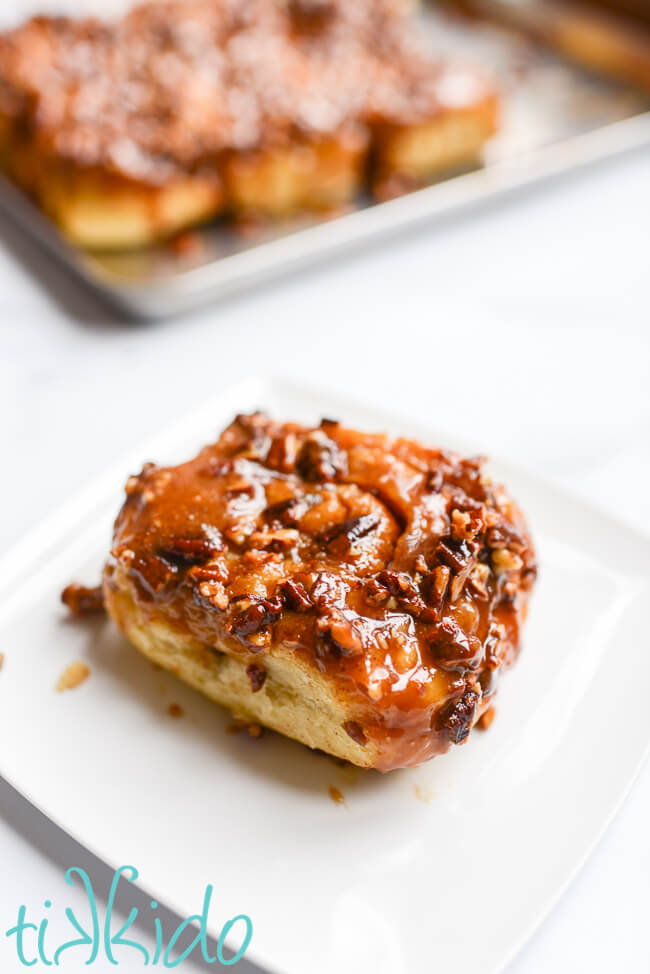 These sticky buns are worth every bit of finger-licking mess.  
I have a printable, PDF version of the recipe for you as always, but this one is long enough that I just couldn't fit it on one page.  It's only two pages, though--still a lot better than printing out this whole blog post!
Printable Sticky Buns Recipe: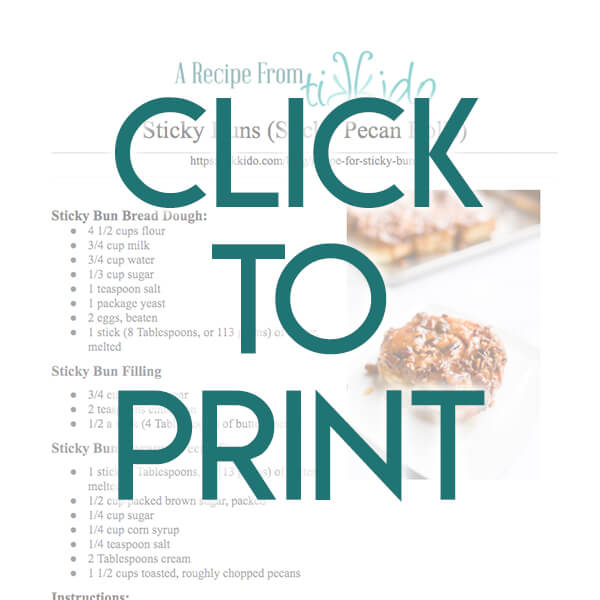 Other Christmas Breakfast Ideas from the Festive Christmas Ideas Blog Hop:

1. My Pinterventures, Stacked Matcha Pancakes with Whipped Cream and Fruits
2. Intelligent Domestications, Bacon & Swiss Quiche
3. Domestic Deadline, Cinnamon Apple Breakfast Bread
4. Christmas Tree Lane, Gingerbread Sheet Pan Pancakes

5. Creative Cynchronicity, Make Ahead Potato Sausage Broccoli Breakfast Casserole
6. Farm Girl Reformed, Easy Cinnamon Breakfast Ring
7. Purple Hues and Me, Cinnamon Roll Apple Christmas Bake
8. As For Me and My Homestead, Cranberry Orange Baked Oatmeal

9. Little Vintage Cottage, Keto Christmas Breakfast - Sheet Pan Pancakes
10. From House To Home, Crustless Quiche Lorraine (Gluten-Free)
11. Pretty DIY Home, Cranberry Scones with Cinnamon
12. Coffee With Us 3, Hash Brown Breakfast Bake

13. My Humble Home and Garden, Walnut Coffee Cake For Breakfast
14. An Alli Event, Bacon, Egg and Cheese Toast Cups
15. Interior Frugalista, Eggnog Crepes With Cranberry Grand Marnier Compote
16. Simply Inspired Meals, Maple Swirl Bread

17. Craft Rocker, Christmas Breakfast Mug DIY
18. Blogghetti, Easy Biscuits and Sausage Gravy Casserole
19. Mom Home Guide, Christmas Charcuterie Board & Snack Tray
20. Across the Blvd, Sausage, Egg, & Cheese Breakfast Pizza

21. EyeLoveKnots, Plaid Placemat (Free Plastic Canvas Pattern)
22. What's A Girl To Do, Quiche For Christmas Morning
23. Tikkido, Sticky Buns Recipe (Hey, that's this post!)
24. Domestically Creative, Air Fryer Donut Bites

25. Our Sutton Place, Deliciously Festive Chocolate Peppermint Protein Muffins
Other Breakfast Bread Recipes from Tikkido: