A crystal themed party with Bohemian vibes is suitable for all sorts of occasions:  birthdays, wedding showers, baby showers, and more.  Shimmering crystals glam up earthy Boho decorations to create a casual, but elegant event.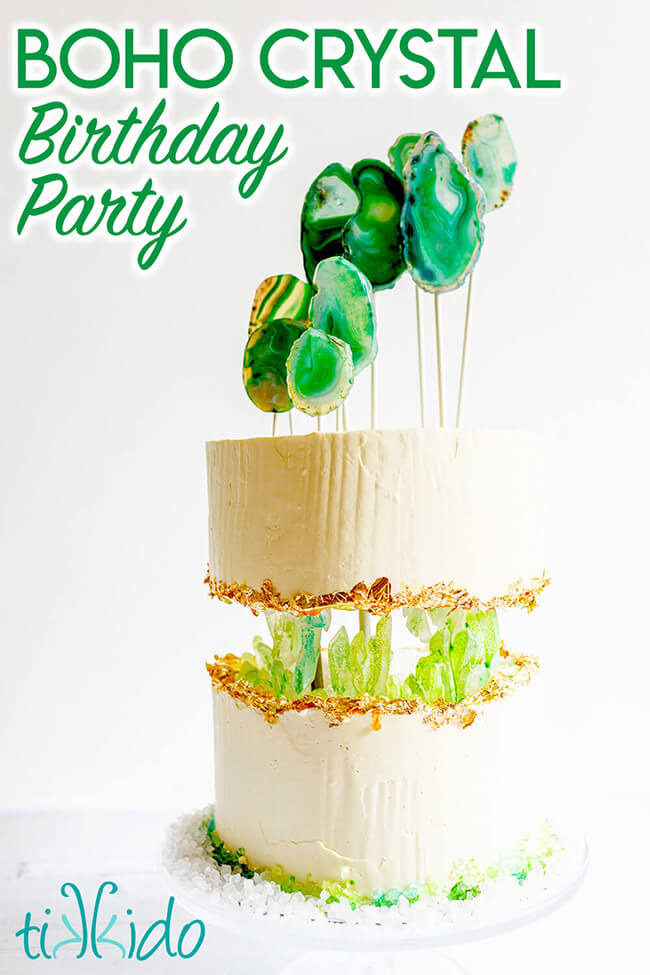 A Boho Crystal birthday party is the theme my daughter chose for her 13th birthday party this year.  I've been dreaming of doing a party like this for years!   Emerald is May's birthstone, so we went with an emerald green and gold color scheme.
Crystal Birthday Party Invitation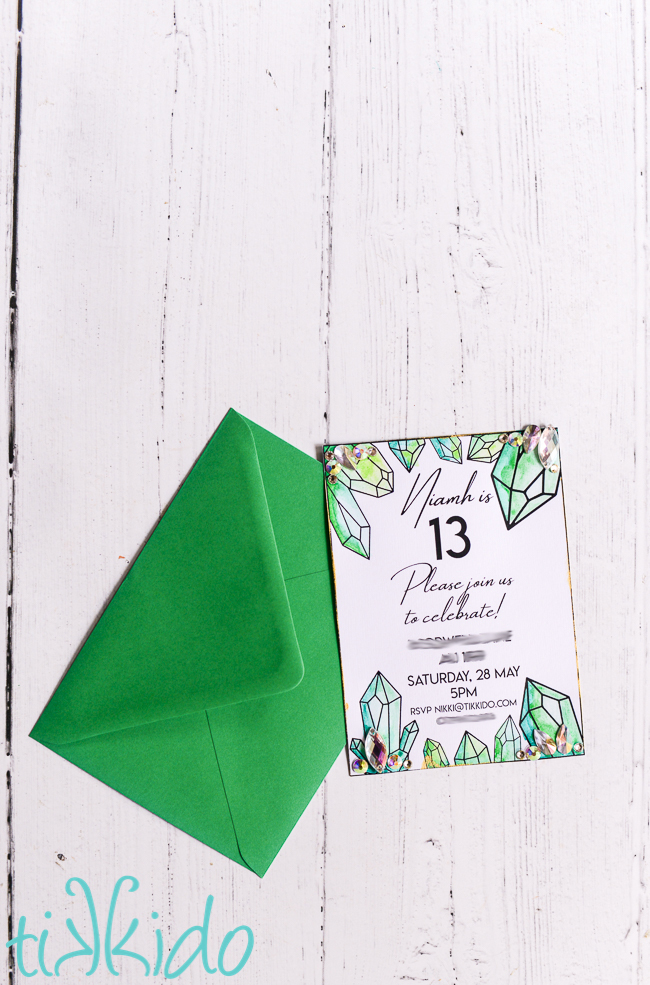 My 13 year old daughter actually came up with the basic design idea!  She sketched out the concept, I created the printable design, and we watercolor painted all of the invitations [1] by hand together.  I added some rhinestones to the invitation to give it extra sparkle and dimension.  Czech Preciosa rhinestones are my absolute favorite to use--the best combination of exquisite quality and an excellent price point.
Boho Birthday Party Decor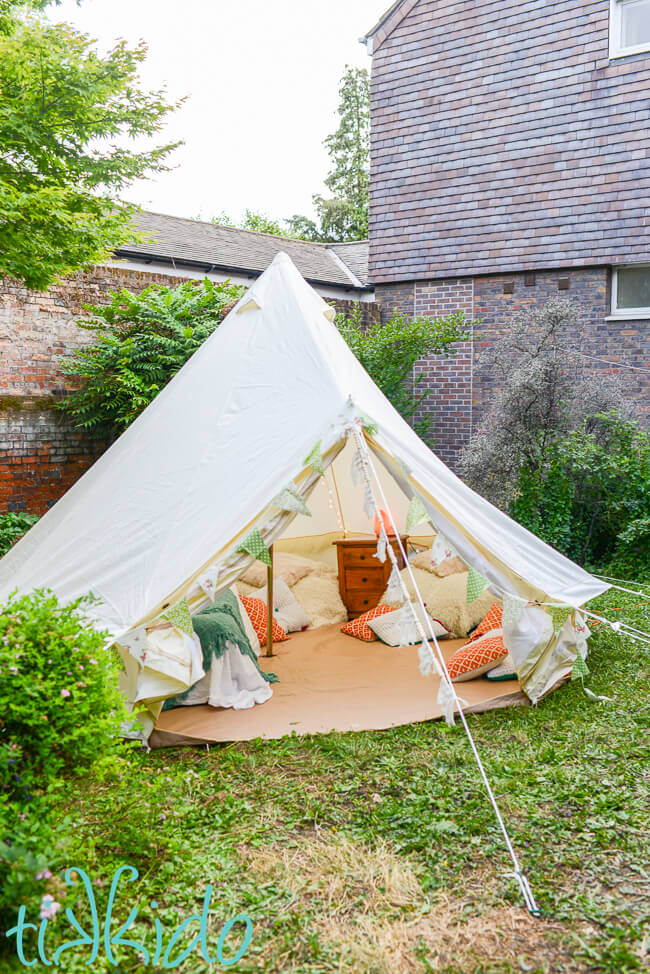 We knew we haid some rain in the forecast, so I set up a bell tent in the backyard.  It was the perfect boho addition to our crystal birthday party--looked fabulous, and provided a fun space for the kids to gather at the party.  The bell tent was set up in a glampin style, with a full size (inflatable) bed, beanbag chairs, a small wooden table, and tons of throw pillows scattered on the floor for lots of kids to sit on.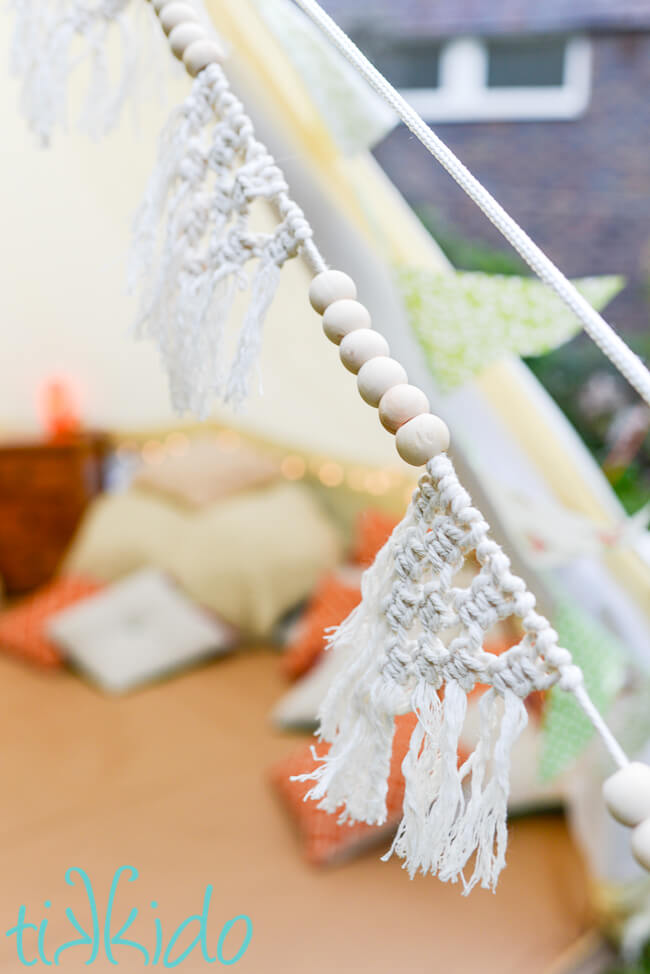 I found myself hitting my head on the tent rope that is staked right in front of the tent entrance.  Every. Single. Time.  To make it more visible, I made macrame bunting and strung it on the line.  That's all we needed to give a better visual cue, and nobody hit the rope with their head after that!  Plus, it looked perfect for our Bohemian theme.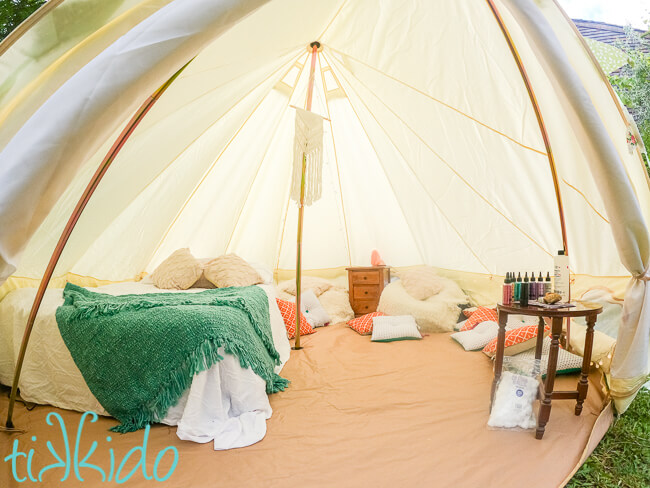 Doesn't the bell tent look cozy and comfortable?  Now I want to go camping!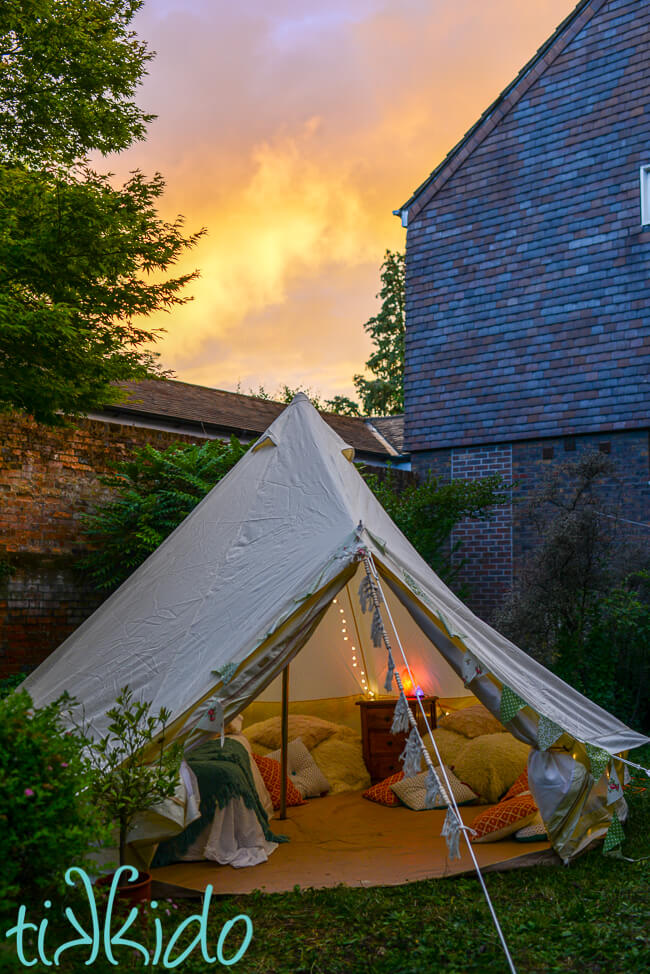 And it got even more magical at night, when the tent was lit by the soft glow of LED globe lights [2] and a Himalayan salt lamp [3].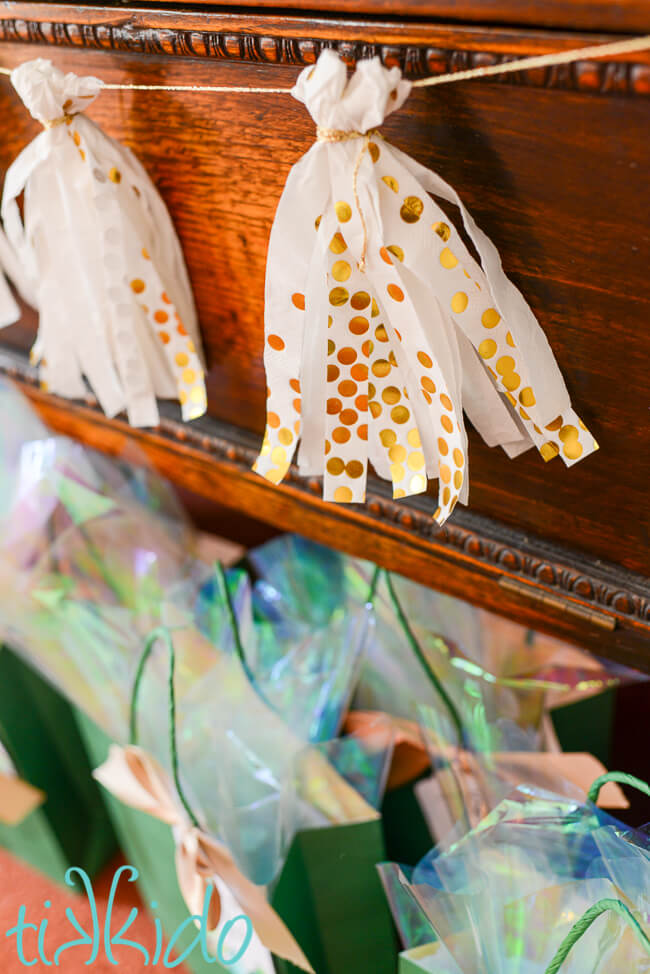 I also used one of my favorite tricks for making easy tissue paper tassel garlands: I use paper napkins!  (Get the full tissue paper tassel garland tutorial here [4].) It matched the paper plates, cups, and napkins (obviously) that I bought for the party perfectly.
Crystal Themed Dessert Table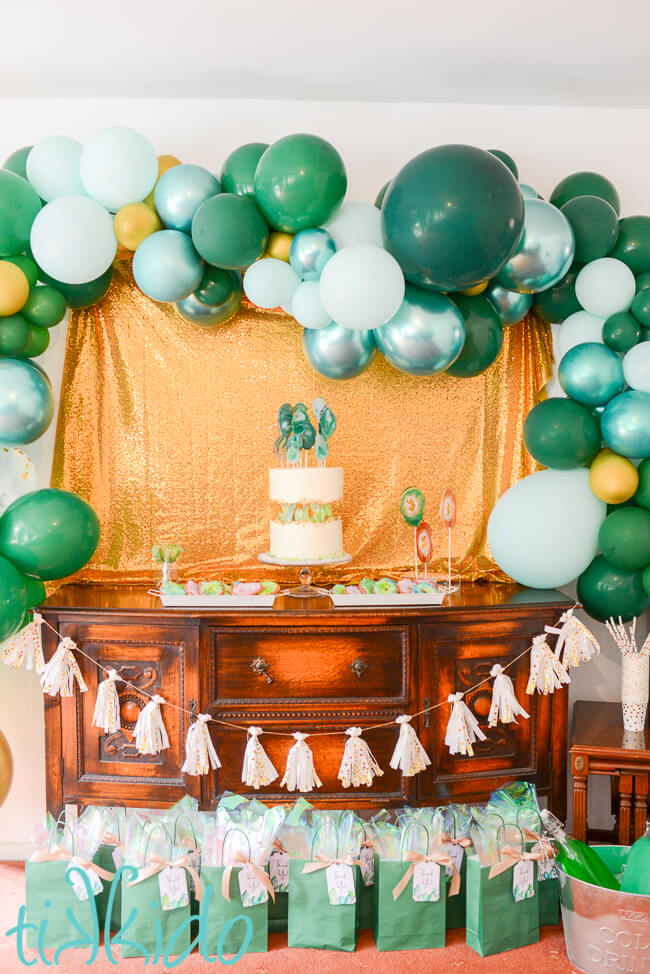 The dessert table was all about crystals, sparkle, and shine.  I made a geode cake, agate slice lollipops, geode cookies [5], and rock candy painted green [6] (with food coloring) and embellished with flakes of real gold leaf.  It was a smallish party, so I didn't make the dessert table as elaborate as I have in some past years.  A dessert table doesn't have to be huge and abundant to be a fun centerpiece for a party.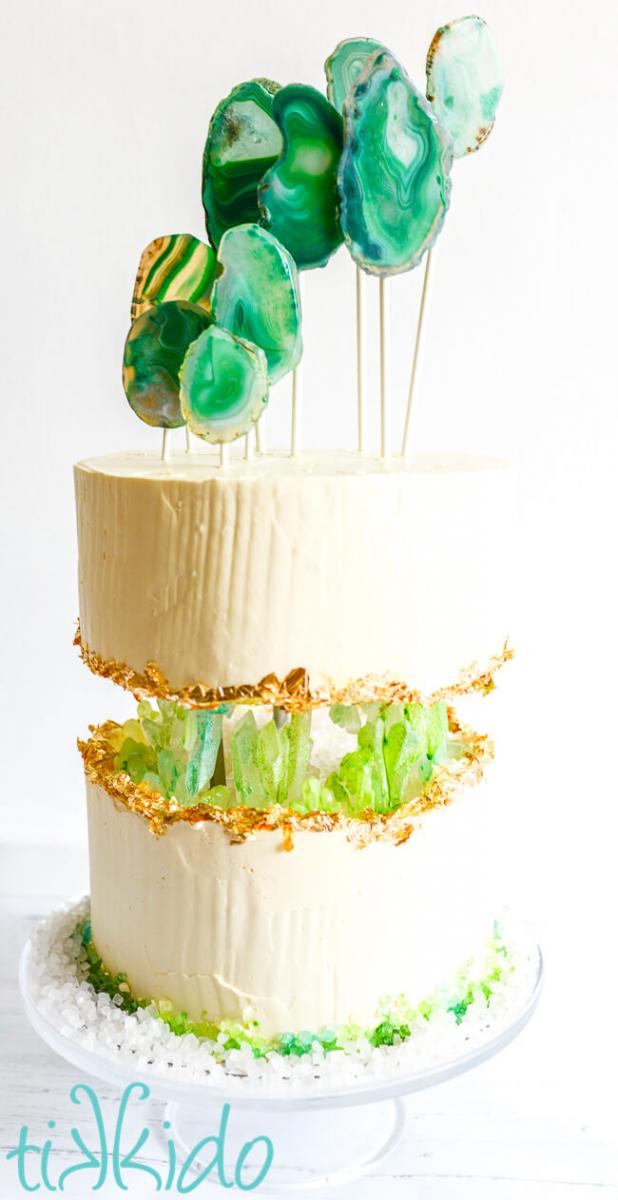 The star of the dessert table was the cake, of course.  I cast isomalt [7] crystals to "grow" out of the center of my geode cake, and filled in with rock sugar crystals [8] (often available for a good price at Indian grocers).  Some of the sugar crystals I painted in a watercolor style with different shades of green food coloring.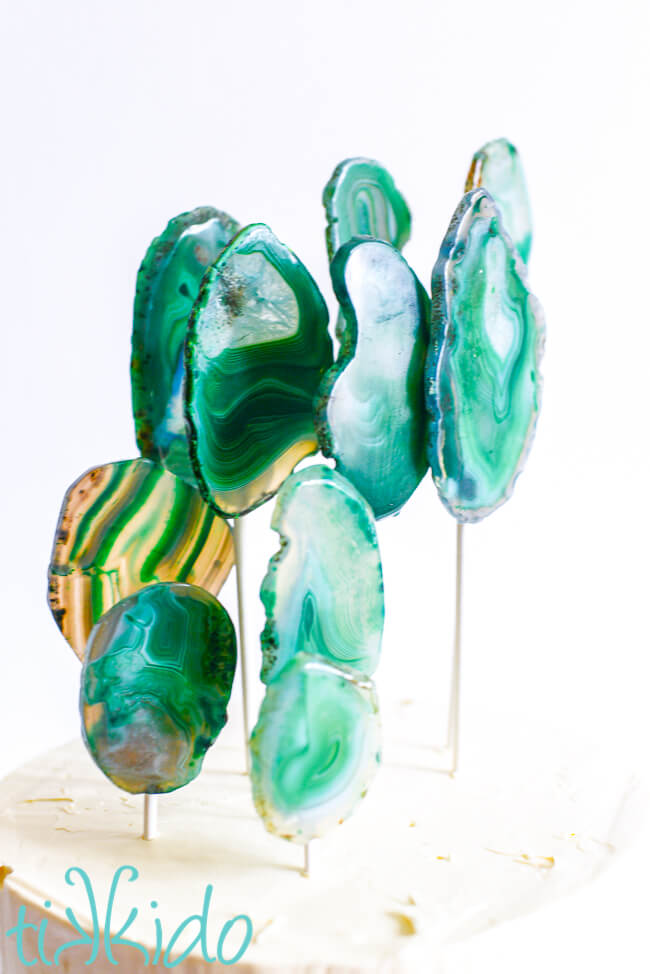 The Cake topper was made with real agate slices [9] (these agate lollipops were NOT the edible kind).  I'll have a tutorial available in the next few days!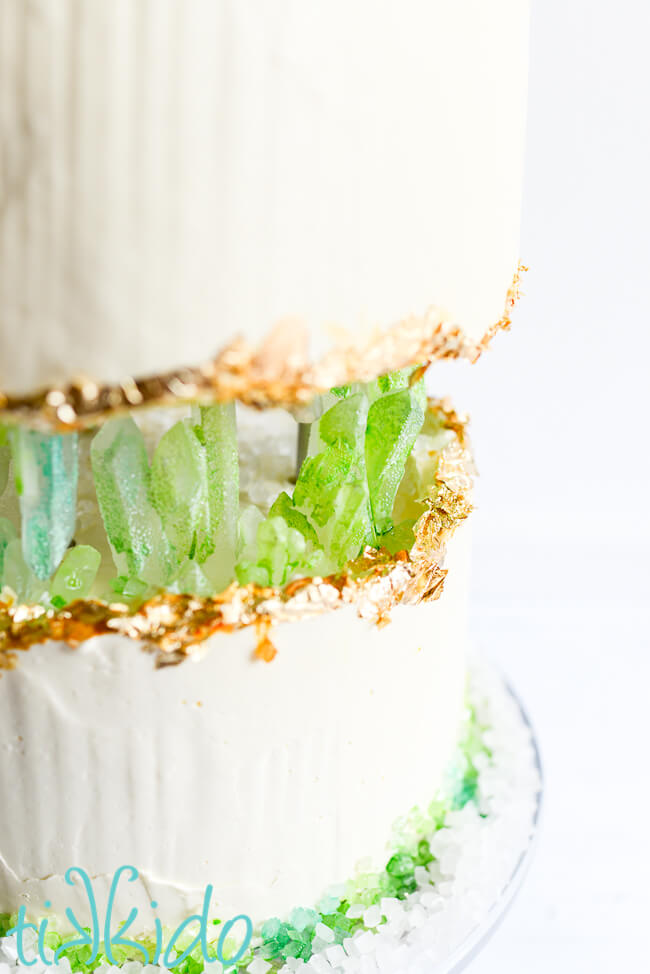 I used edible gold paint and real gold leaf (which is also edible!) to edge the open middle section of the cake.  This cake was kind of like a combination of a geode cake and a fault line cake in concept.  I'm pretty happy with how it turned out, but I wish I'd bought more isomalt!  I didn't realize quite how quickly I'd use it up making the crystals.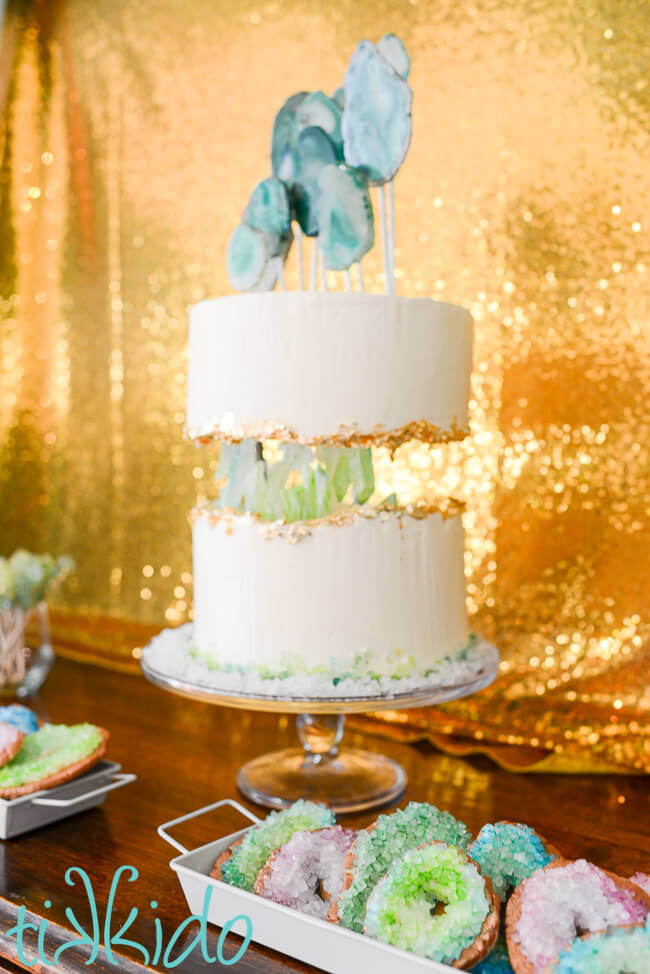 I almost always make sugar cookies for parties, so I made geode cookies (tutorial here [5]).  The kids absolutely loved them, but that's too much sugar for me!
These agate slice lollipops were fun to make (and I'll have a tutorial soon), but man, I had to learn a lot the hard way making these.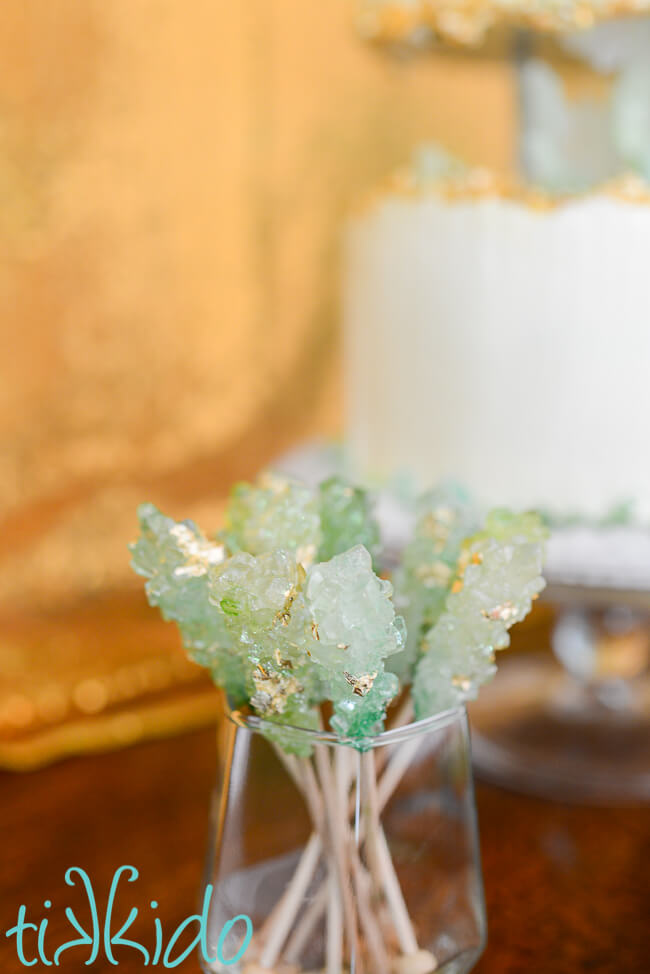 I bought plain white rock candy and colored them to match our emerald and gold color scheme.  I used the same technique as my rainbow rock candy tutorial [6], but this time I added some specks of gold leaf, too, and I love how they turned out.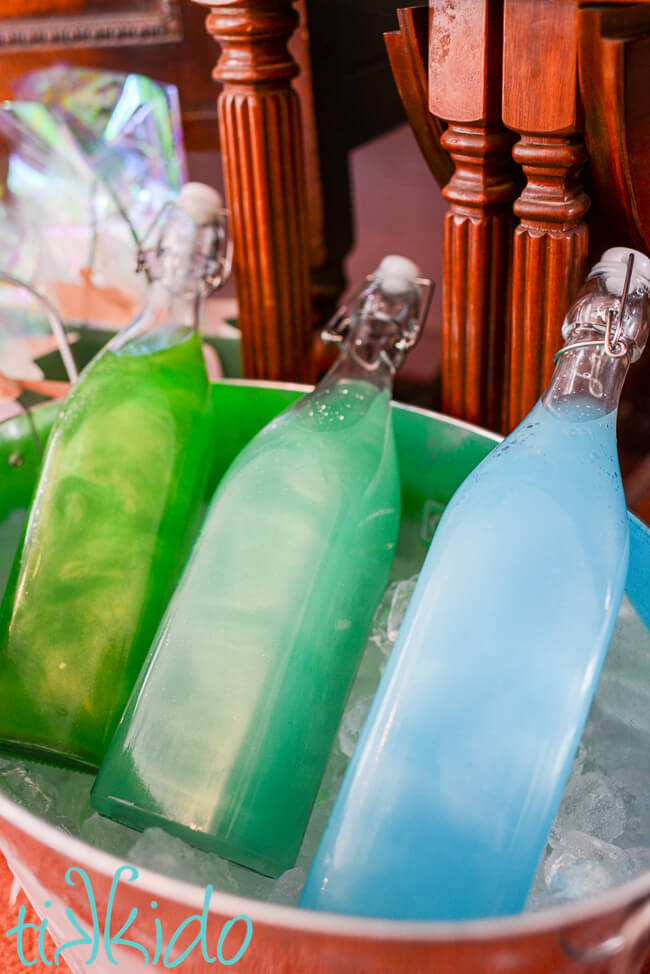 For drinks, we served ice water and this trio of shimmering Kool-Aid.  You can find out how easy it is to make any drink shimmer and sparkle like a magical, mystical potion with this tutorial [10].
Crystal Birthday Party Activities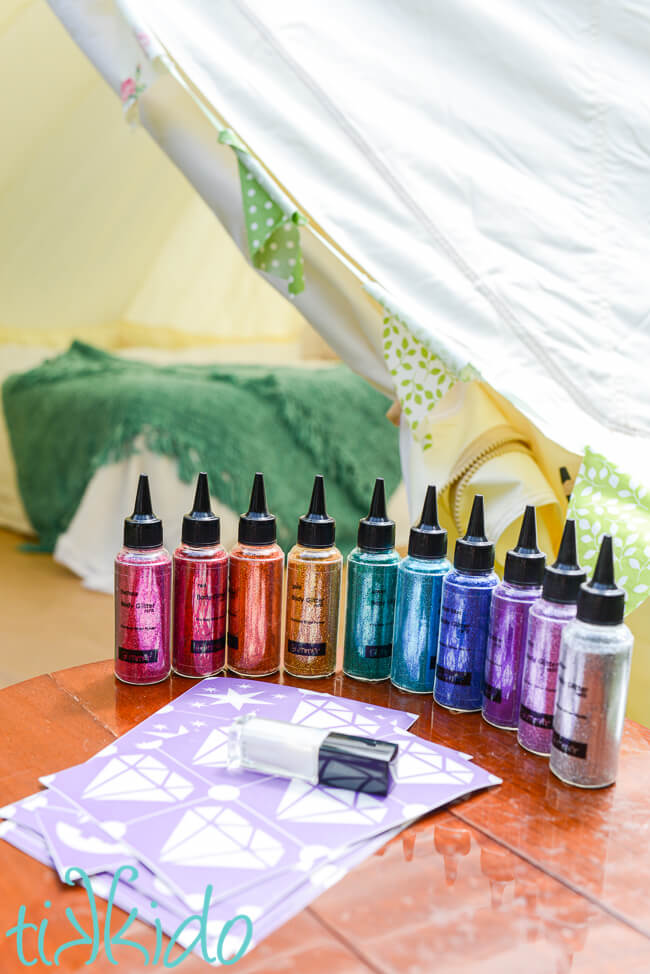 At age 13, kids pretty much just want to do their own thing, but I did set out a few different activities that were a big hit.  Glitter tattoos have been a staple at our birthday parties for years, and kids and adults alike love them.  Get all the details on DIY glitter tattoos here [11].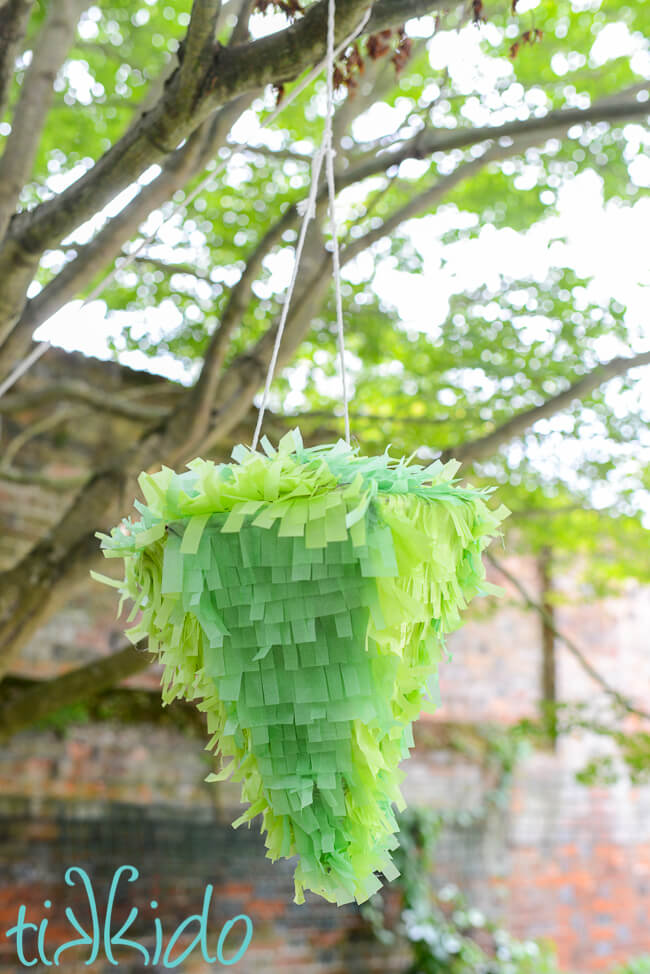 We always have a piñata at our birthday parties, so I made one shaped like a green gemstone for our celebration.  Tutorial coming soon!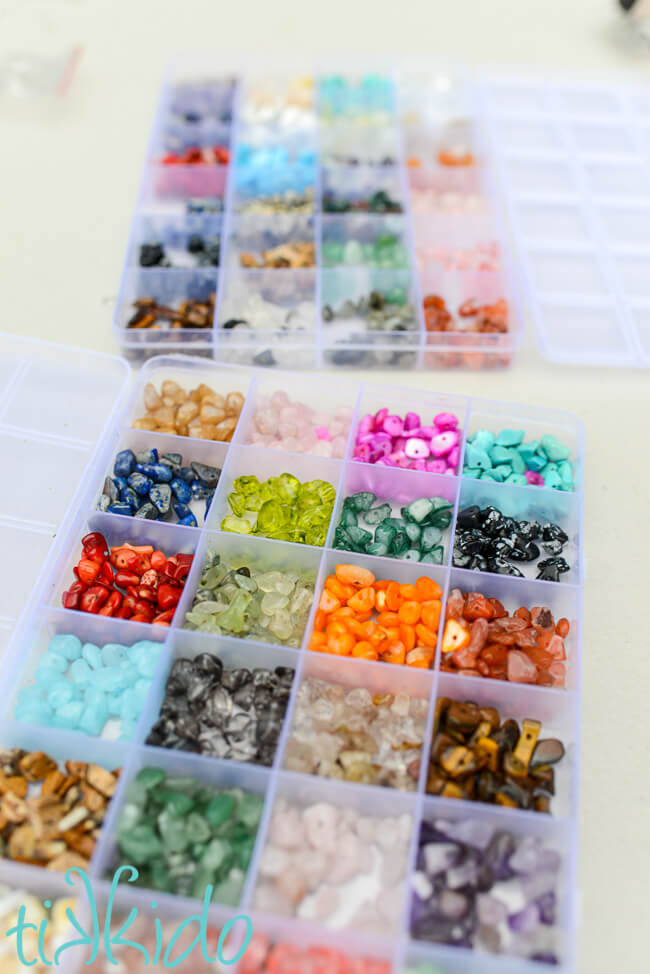 I also set out a table with gemstone chip beads [12], wire, jewelry findings, and simple jewelry making tools, so the kids could make their own gemstone jewelry and other creations.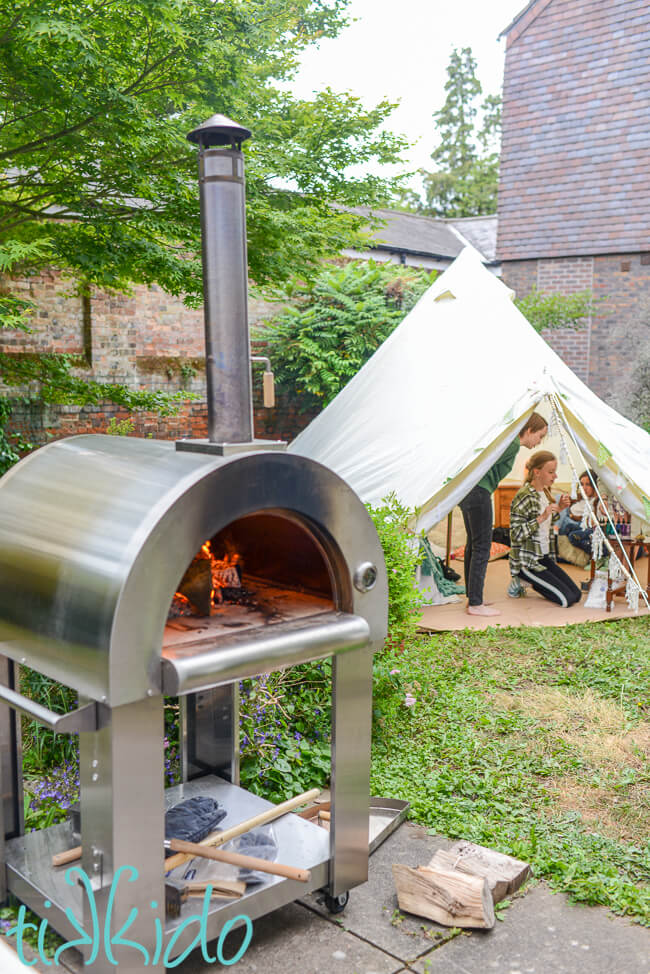 As always, we made pizzas for the party!  Neapolitan pizzas [13] cook in about 90 seconds, so it's easy to feed a crowd of hungry teens who all like different toppings.
Crystal Birthday Favors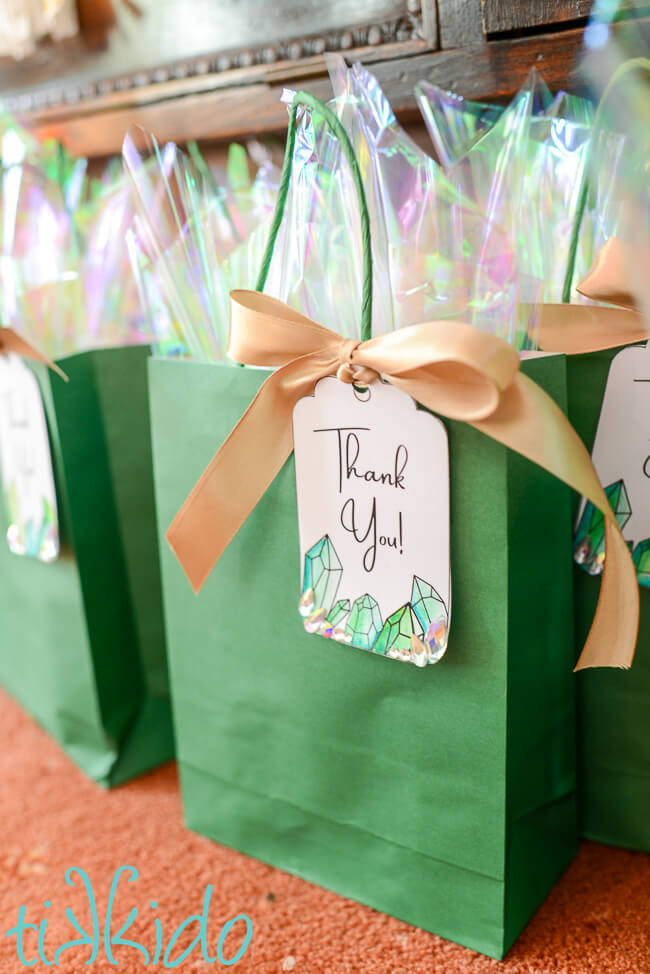 The favor bags were plain, emerald green gift bags that I embellished with a printable gift tag (post with free printables and all the details coming soon!), gold ribbon, and iridescent cellophane instead of tissue paper to add extra sparkle.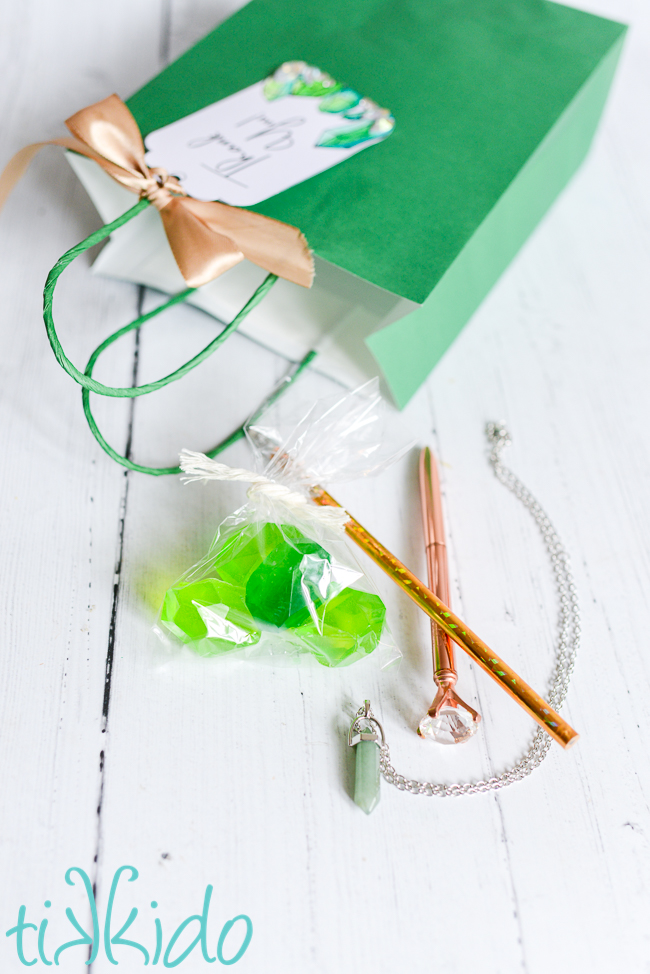 And inside the gift bags, I put bags of soap that looked like gemstones (Niamh and I made them together!), a sparkly pencil and a gem-themed pen I found at the dollar store, and an inexpensive crystal pendant necklace I got on Amazon.  Total cost per bag was about $3.50.  
As usual with any of my parties, there are tons of tutorials and posts coming up showing how I made many of the party elements.  Stay tuned for all the details!
Other Crystal Themed Tutorials and Posts You Might Like:
[1]