Printer-friendly version
This collection of eggless cookie recipes is full of delicious treats to make if you need to avoid eggs for any reason.  Whether you're avoiding an allergen, are vegan, or just don't have any eggs in the house, you'll find an amazing eggless cookie to make in this list of recipes from some of my favorite bloggers around the web.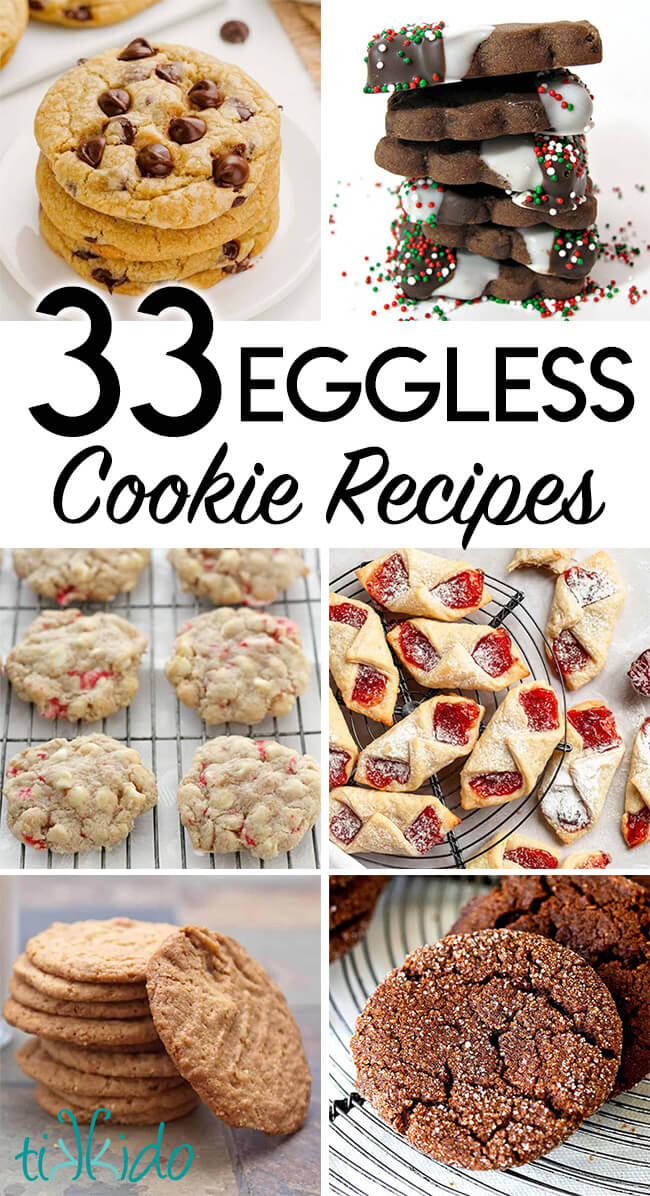 And the best part:  because these are all eggless recipes, feel free to snitch a bite of that cookie dough without worrying!
Eggless Cookie Recipes
I have a ton of amazing egg-free cookie recipes to share, so I'm breaking them down into sections:  
Nut flavored/nuts and nut butter are a dominant flavor
eggless cookies featuring chocolate
Fruit flavored egg free cookie recipes
and everything else
Eggless Cookies Featuring Nuts and Nut Butters
1. Vegan Almond Cookies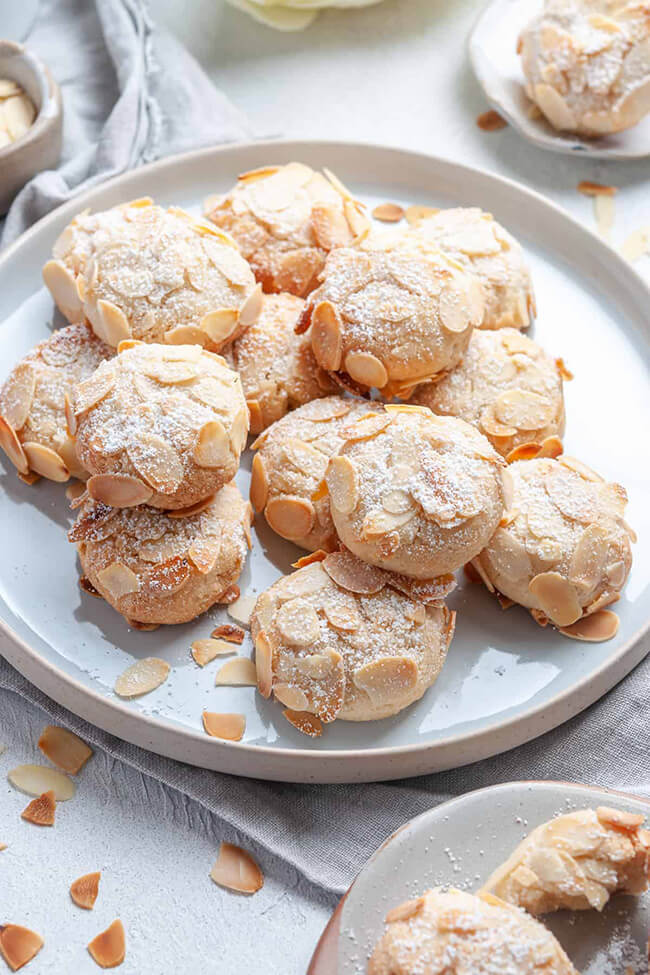 These vegan almond cookies have a crisp exterior, and a chewy interior.  They're not only good for anyone with an egg allergy--they're also dairy free and gluten free, so perfect for baking up for friends with several different dietary needs.  And they're just delicious!
2. Walnut Rugelach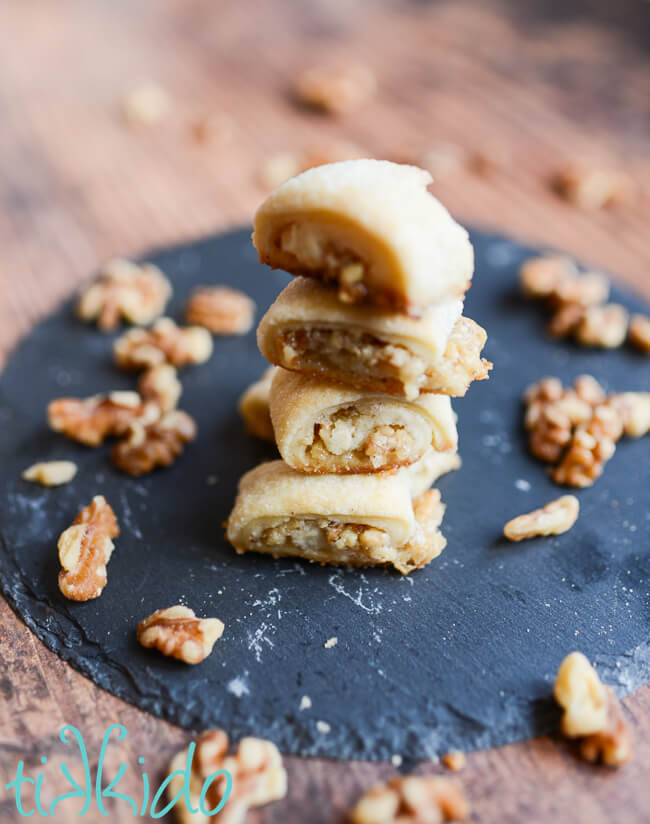 Walnut rugelach are made with a tender cream cheese dough, and are rolled out in sugar, not flour.  They bake up with the most amazing, golden, caramelized crust.  You will LOVE them!
3. Vegan Pecan Cookies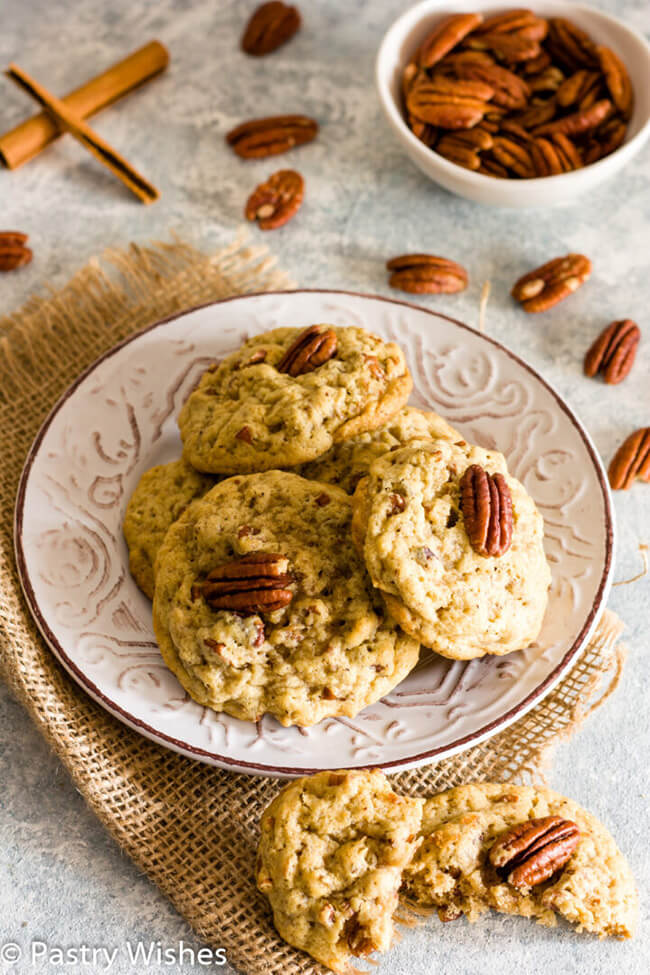 Classic pecan cookies get a vegan makeover in this amazing recipe from Pastry Wishes!
4. Eggless, Thin and Crispy Peanut Butter Cookie
Do you love crispy cookies?  Then you'll adore these thin and crispy eggless peanut butter cookies.  I'd love to try these drizzled or dipped in chocolate, but they're amazing just as they are.
5. Classic, Crumbly (Eggless!) Peanut Butter Cookies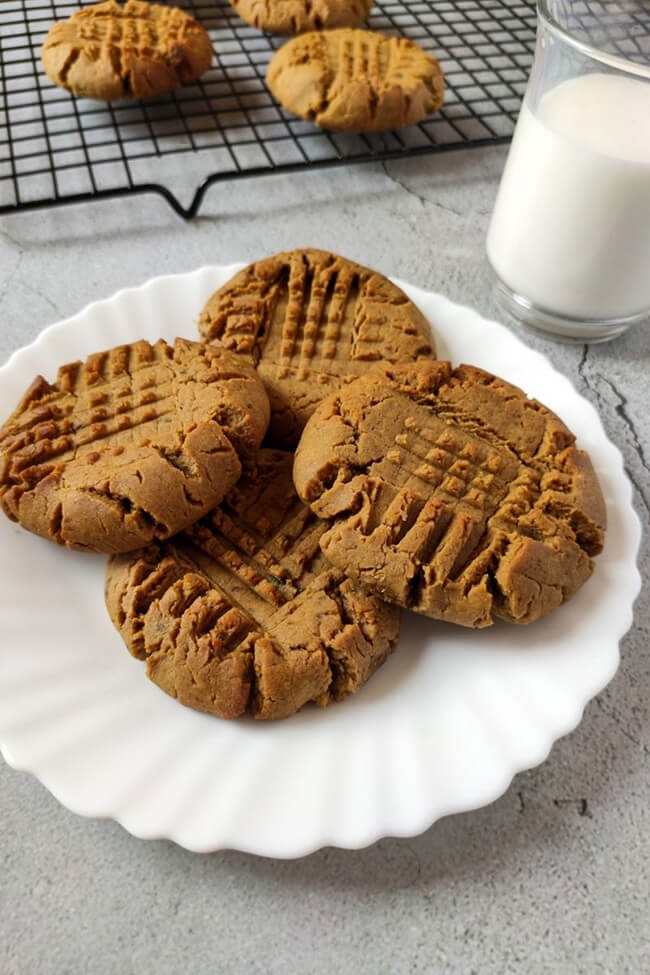 Nothing beats a classic peanut butter cookie!  That tender, crumbly texture, that rich peanut butter flavor, the classic criss-cross shape made with a fork... a childhood favorite!  I have an incredible peanut butter cookie recipe, but if I ever need an eggless version, this recipe from Green Bowl 2 Soul is the one I'm going to use!
Chocolate Eggless Cookies
6. Chocolate Dipped Chocolate Shortbread Cookies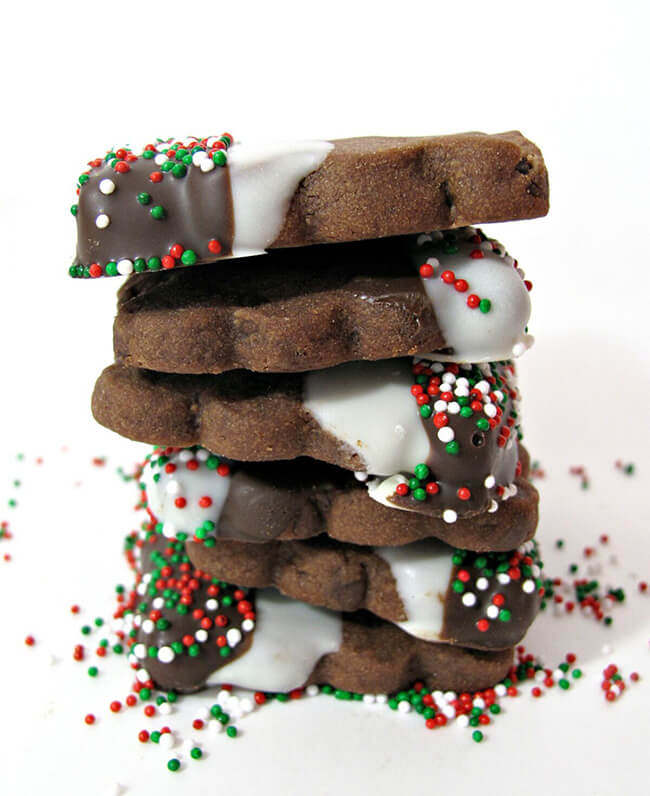 Let's start off our chocolate collection with some classic eggless chocolate cookies: chocolate shortbread.  All shortbreads are very basic, egg free cookies--but they're full of flavor!  You can dress the cookies up by dipping them in chocolate and adding sprinkles, like the cookies pictured here from The Monday Box.  These would be a hit on any Christmas cookie tray, but change up the colors, and they're perfect for any occasion.
7. Vegan Chocolate Chip Cookies With Rye Flour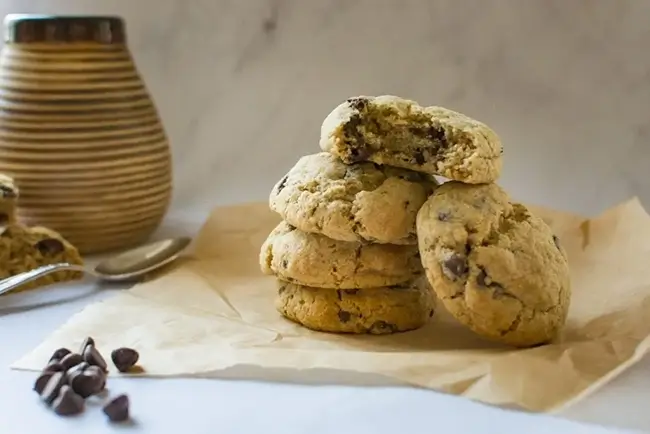 The rye flour in these egg free chocolate chip cookies gives them a depth of flavor and nuttiness that you'll love.  It's a great vegan option if you have a chocolate chip cookie craving!
8. Eggless Chocolate Chocolate Chip Cookies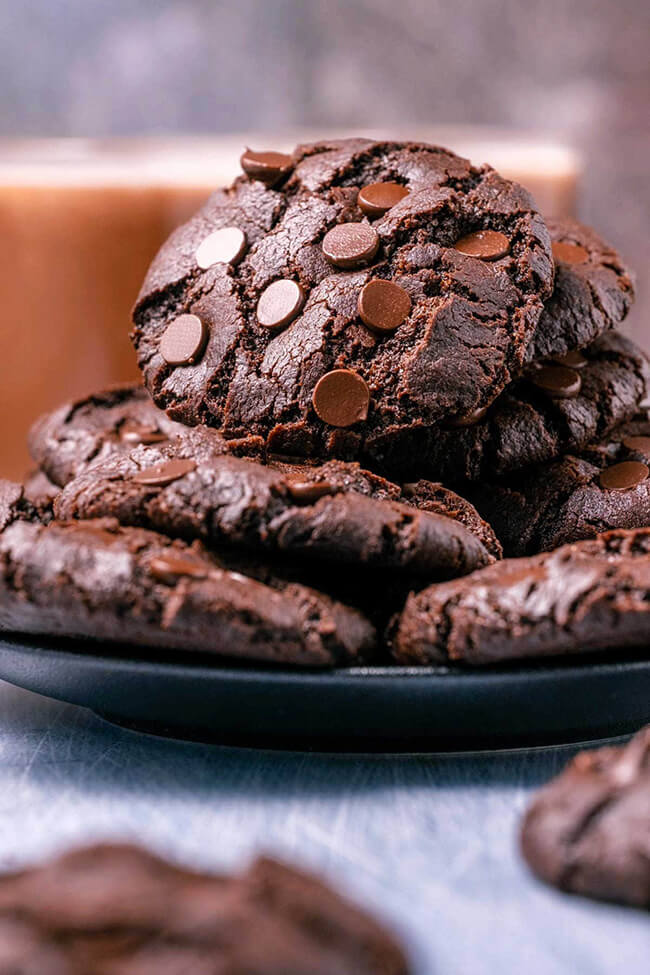 These eggless double chocolate cookies are made with both cocoa powder and chocolate chips.  I imagine these would be amazing with peanut butter chips mixed in, too!
9. Eggless Classic Chocolate Chip Cookies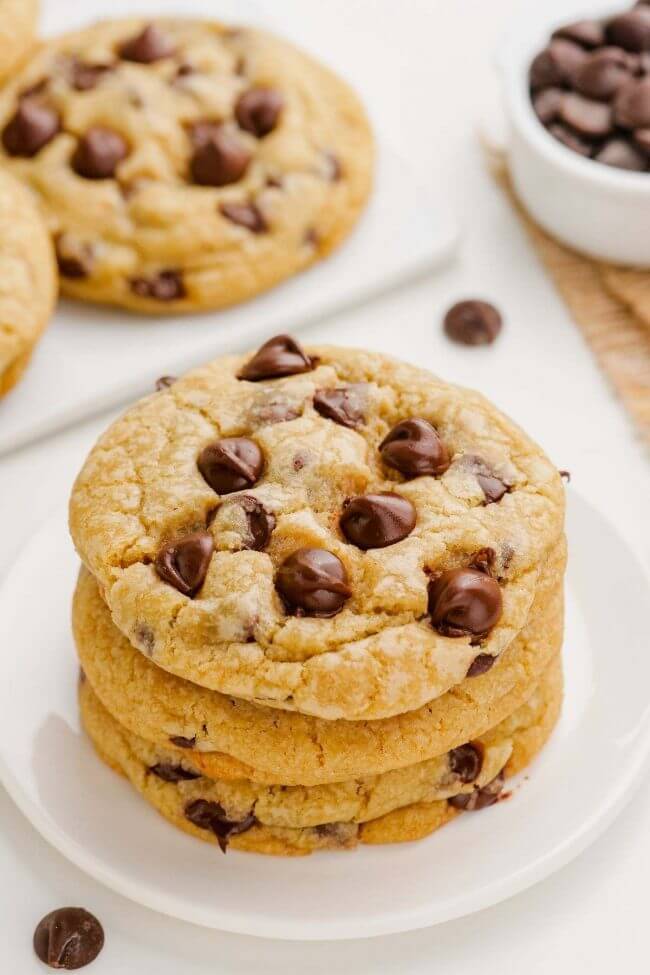 Texan Erin says this is the best eggless chocolate chip cookie recipe, and I believe her!  Just look how perfectly golden brown it is!  You don't even need egg replacer to make this recipe, making it very easy to make.  It uses light brown sugar and regular granulated sugar, just like a classic chocolate chip cookie recipe.  Greek yogurt is the secret ingredient that replaces the egg in these choco chip cookies.
10. Eggless Pumpkin Chocolate Chip Cookies
Ooh, but maybe these are the best eggless chocolate chip cookies, because these ones have pumpkin, too!  I'll definitely have to taste test these thoroughly to make an informed decision.  Get the vegan pumpkin chocolate chip cookie recipe here.
11. Eggless Oreo Cheesecake Cookies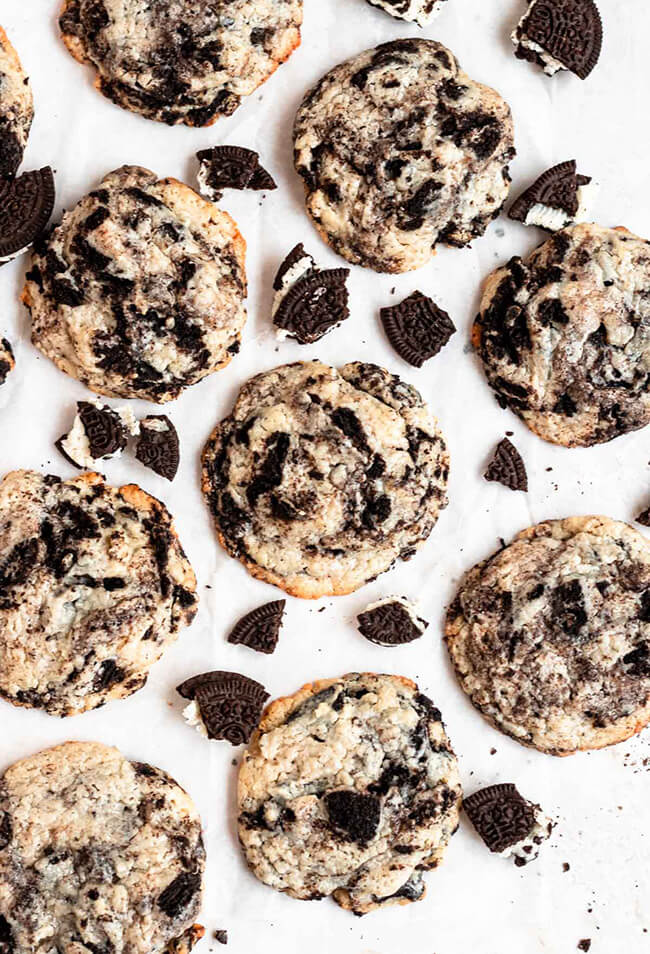 The texture of these Oreo cheesecake cookies is absolutely magical! Crisp just at the edges, and soft and chewy inside.  And who can resist Oreos?
12. Florentine Cookies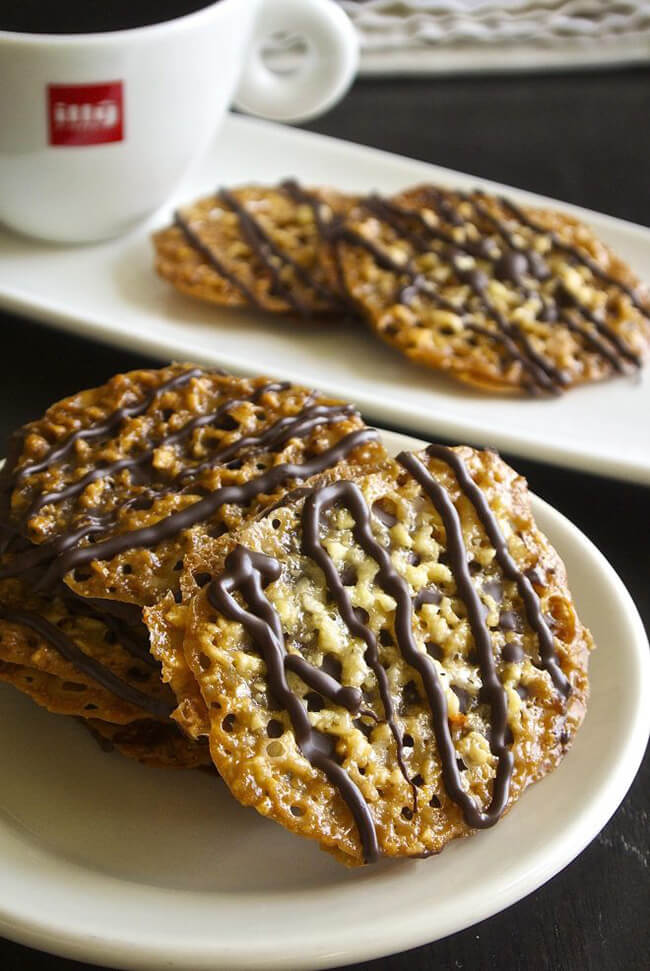 Florentines are kind of a cross between a cookie and a candy--crunchy, caramelized, and absolutely incredible.  
Fruit Flavored Eggless Cookies
13. Kolachy Cookies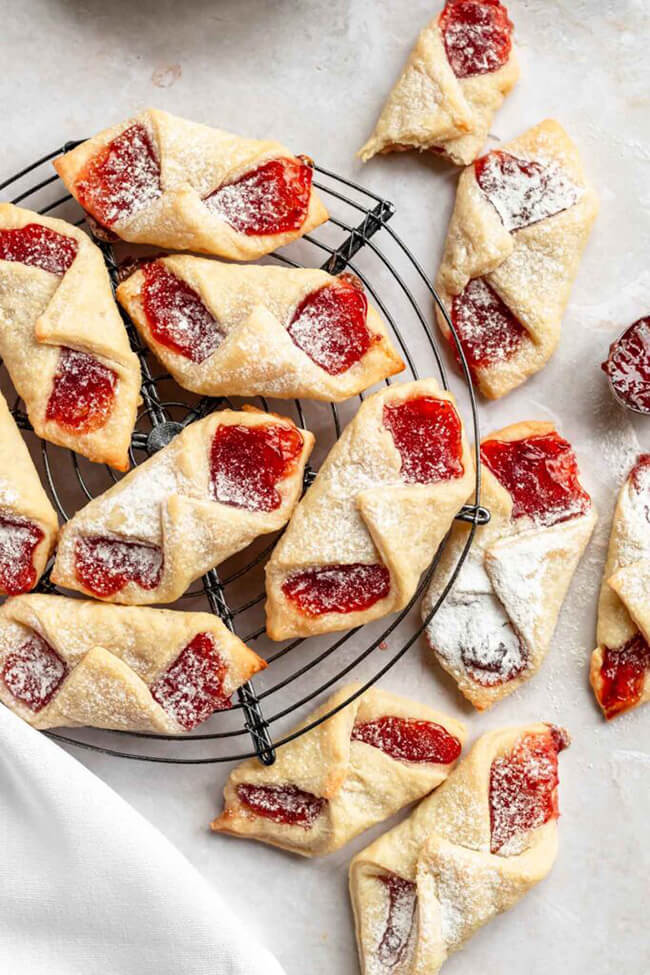 Kolachy cookies are made with a cream cheese pastry dough, much like rugelach, but they're baked with a jam filling.  I absolutely love how the baked jam gets chewy, almost like a soft candy or fruit leather.  No eggs in this classic, delicious recipe!
14. Chewy Mandarin Orange Cookies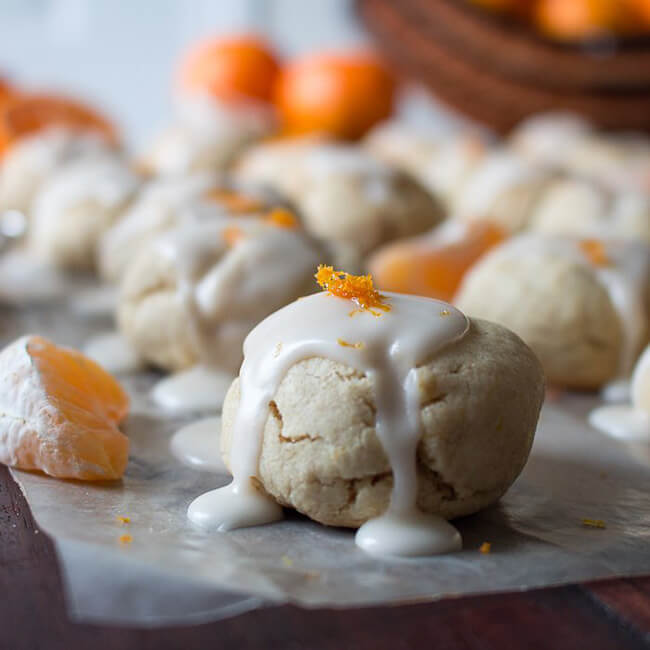 This recipe for vegan mandarin orange cookies is actually gluten free, too!  Bright orange flavors in a chewy, sweet, tiny package.  Yum!
15. Easy Lemon Lavender Cookies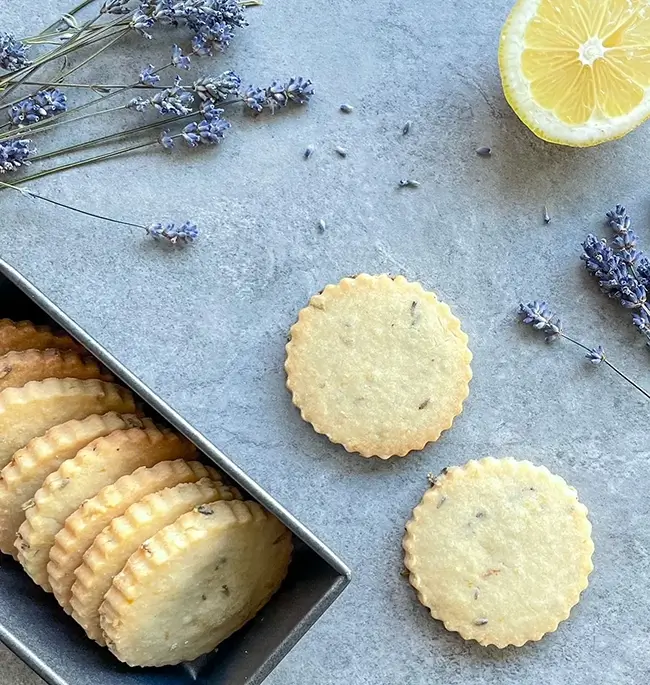 These shortbread cookies are infused with real lavender and lemon, and the baked cookies are perfect to serve with a cup of tea.
16. Gluten Free Viennese Whirl Shortbread Sandwich Cookies
Whipped shortbread gets piped in a swirl and baked to make these gluten free Viennese whirls.  Sandwich them together with some buttercream and strawberry jam to complete the experience.
17. Earl Grey Shortbread Cookies with Lemon Glaze
Crisp and buttery Earl Grey Shortbread Cookies are flavored with a hint of tea, and are topped with an easy lemon glaze. It's like a cup of your favorite tea in cookie form!  And, of course, there are no eggs in this recipe!
18. Soft Vegan Lemon Cookies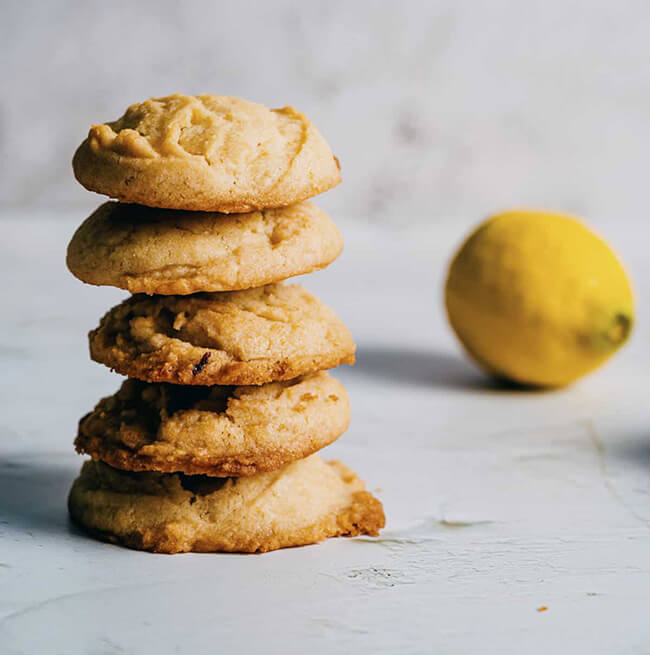 More lemon flavor, this time in a soft, vegan lemon cookie recipe from Souvlaki for the Soul.  I absolutely LOVE soft cookie recipes, and anything with bright lemon flavor.  
19. Raspberry Lemon Cheesecake Cookies
Raspberry.  Lemon.  Cheesecake.  Cookies.  Do I really need to say any more to convince you?  They're soft, flavorful, vegan cookies that taste like summer!
Other Delicious Eggless Cookie Recipes:
20. Honey Spelt Cookies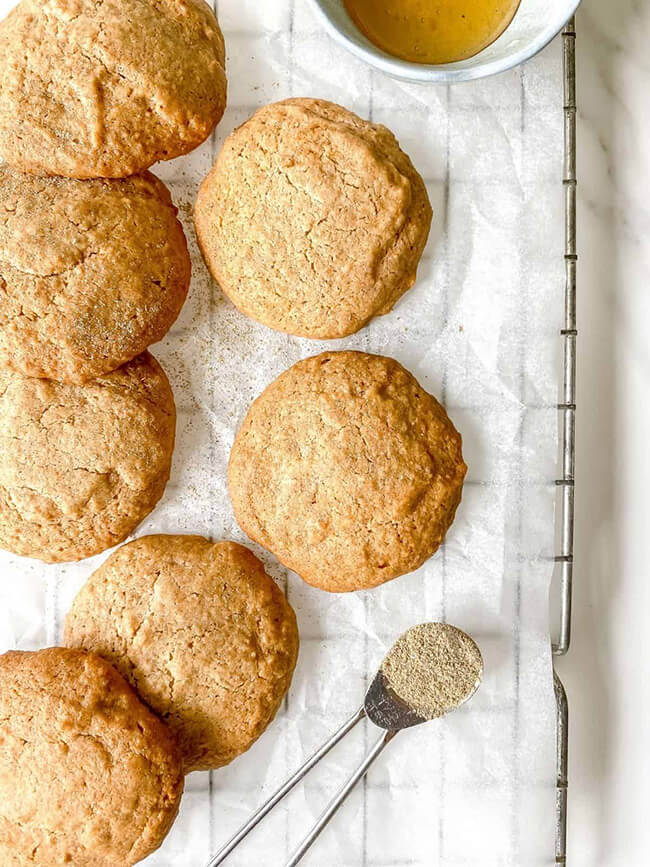 Here's a unique recipe for you--Honey Spelt Cookies.  Lightly spiced and naturally sweetened with honey, these cookies are a special treat.
21. Vegan Gingerbread House (or Gingerbread Man) Recipe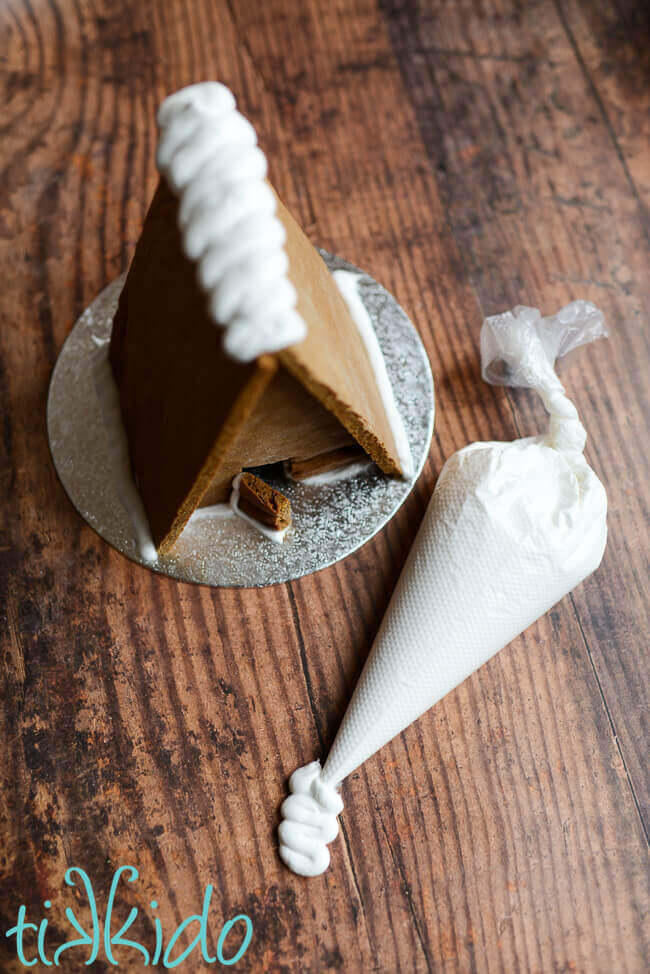 This is a vegan version of my famous, tried-and-true gingerbread house recipe, and it's put together with vegan royal icing, so it's safe for people with egg allergies.  I like everyone to be able to enjoy my gingerbread decorating parties!  It also makes delicious gingerbread men.
22.  Chewy Eggless Ginger Molasses Cookie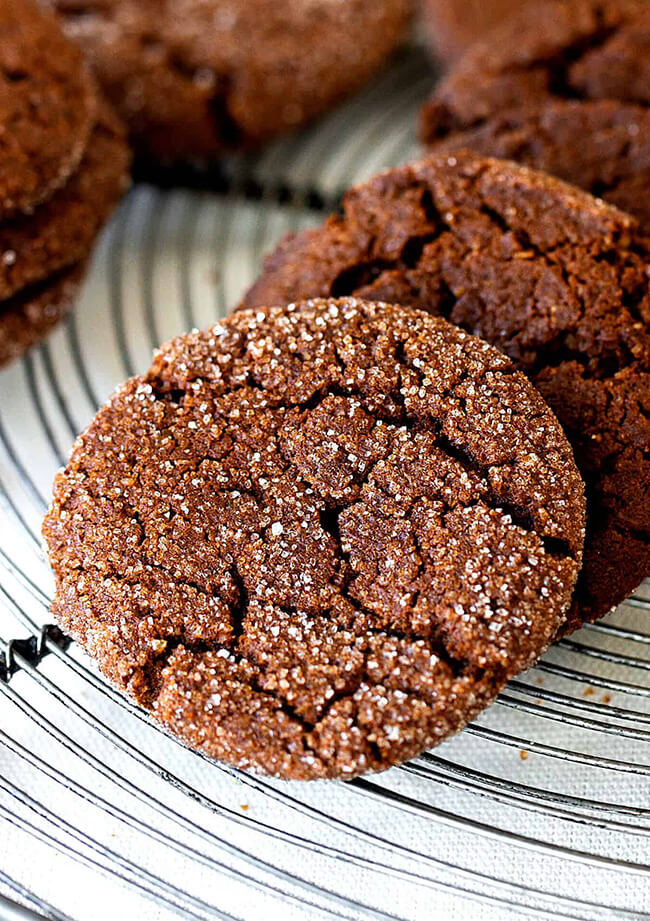 These chewy molasses cookies are absolutely amazing--flavored with molasses, dark brown sugar, fresh ginger, cardamom, and more.  Intense.  Adult.  And incredibly delicious.
23. Ladokouloura Greek Olive Oil Cookies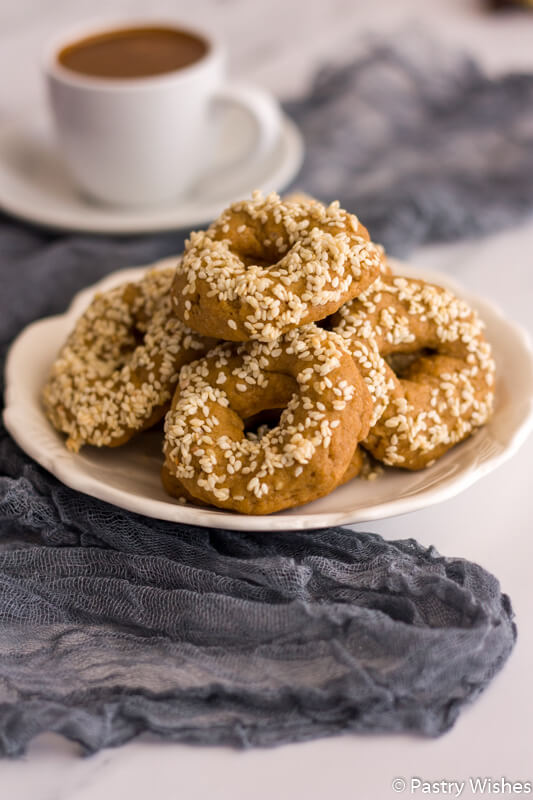 I love the spices used in Greek cookies in general, and I love the nutty crunch added by the sesame seeds in this recipe for Ladokouloura cookies.  They're naturally vegan, so great for eggless baking.
24. Russian Tea Cakes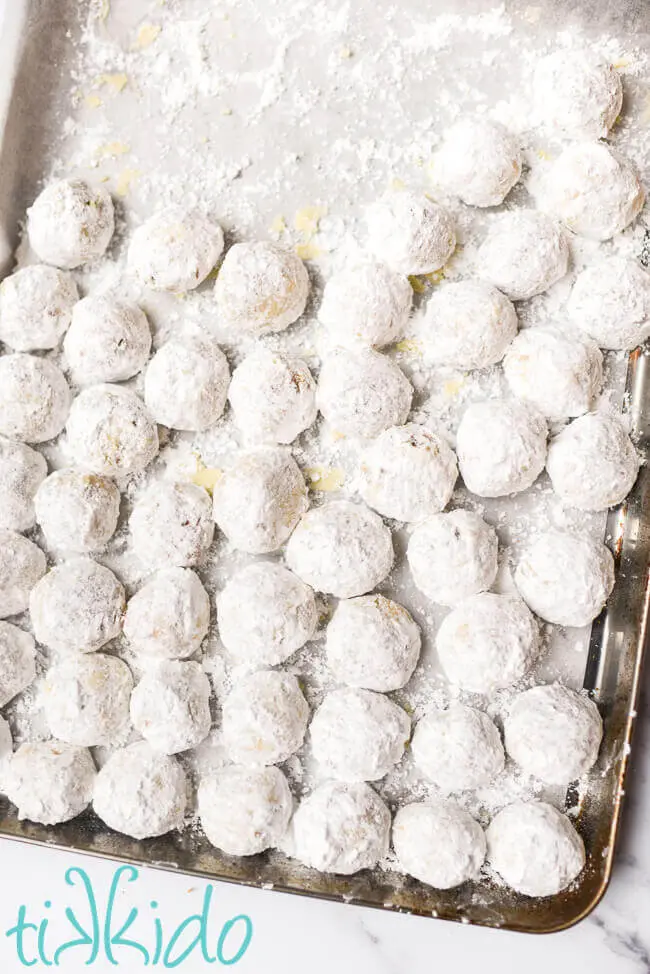 Russian Tea Cakes (also called Mexican Wedding Cakes, or Snowball Cookies) are one of my must-make cookies every Christmas season.  They're so simple, but SO GOOD!  And they happen to be an eggless cookie recipe, with no modifications made from the traditional recipe.
25. Vegan Chewy Oatmeal Cookies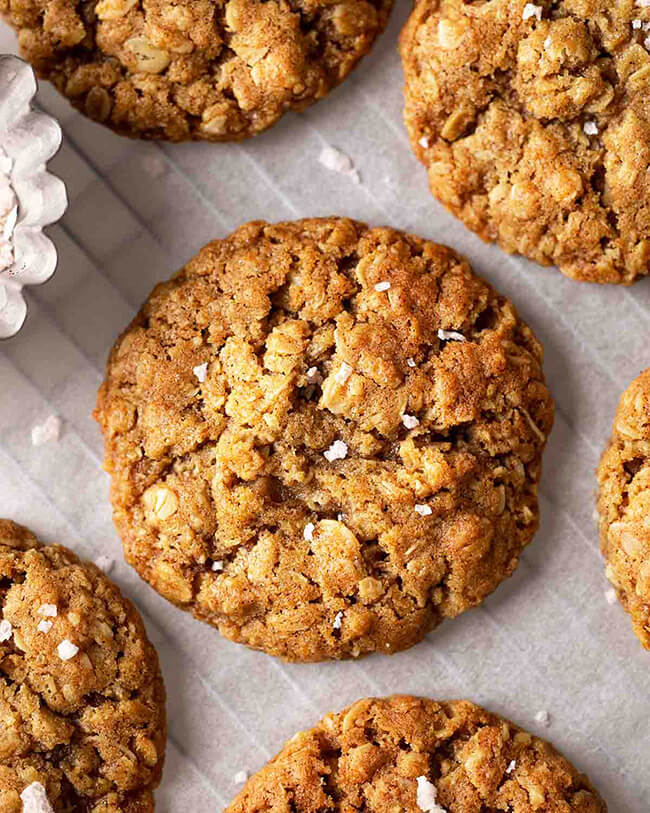 Eggless oatmeal cookies get a sophisticated twist when you top them with flakes of sea salt.
26. Soft and Chewy Vegan Matcha Cookies
The natural green color of these chewy vegan matcha cookies is so quirky and pretty!  I want to make these for St Patrick's day next year.
27. Traditional Scottish Shortbread Recipe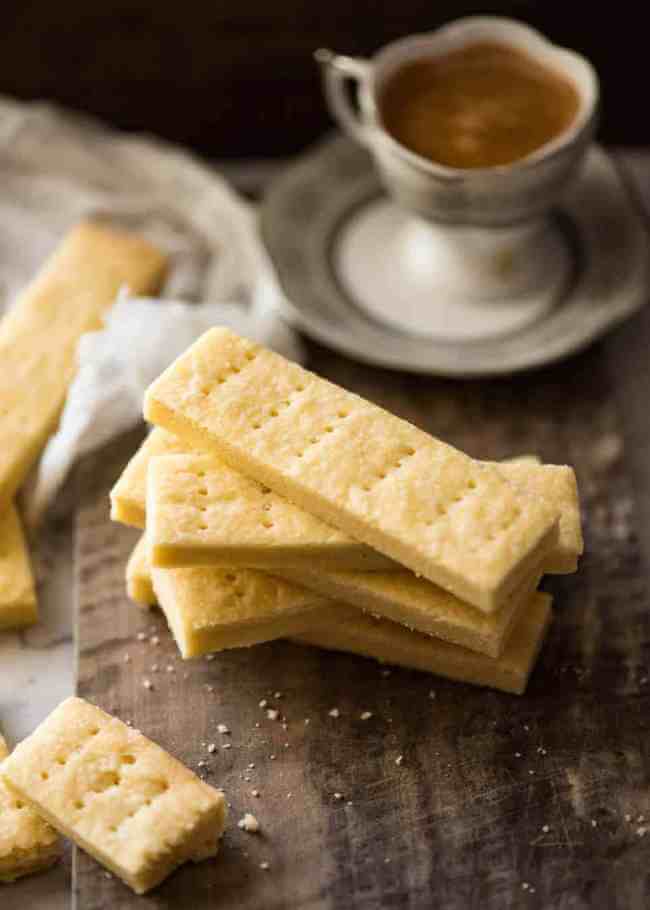 Did you know that traditional Scottish shortbread is completely egg-free?  It's made with just butter, fine sugar, and flour.  That's it.  But those simple ingredients combine to make the most amazing, buttery, tender, perfectly sweet and delicious shortbread cookies!
28. Melting Moments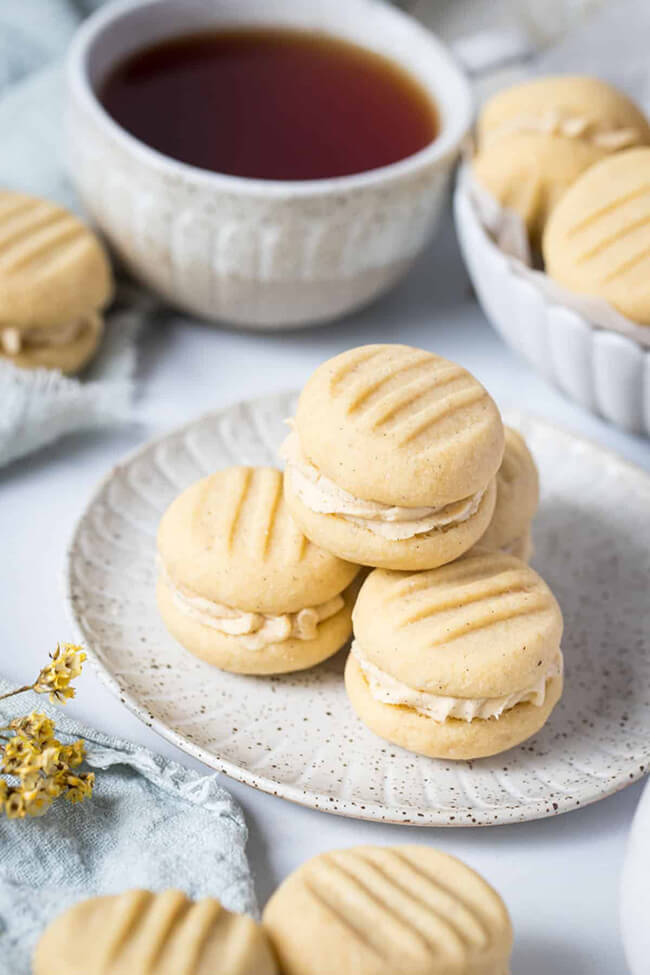 Melting Moments sandwich cookies are made with a two small, whipped shortbread cookies sandwiched together with a classic buttercream icing.  They are so simple, but so good, and they really do melt in your mouth, they're so tender.  This is another classic recipe that just happens to have no eggs in it.  No need for any egg replacements with this classic cookie!
29. Vegan White Chocolate Peppermint Cookies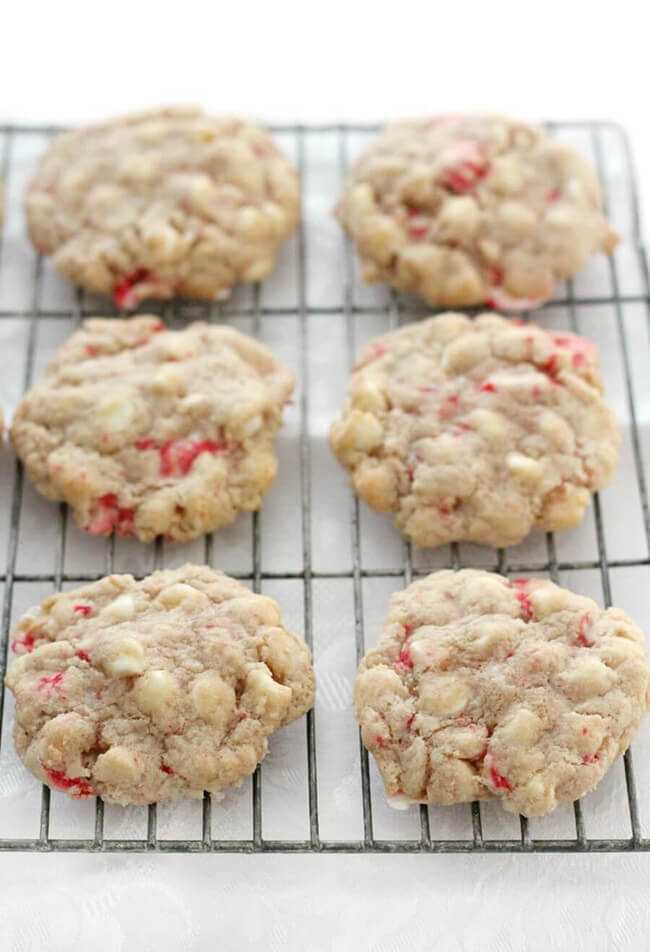 I'm not the biggest fan of white chocolate on its own--it's very sweet--but when you pair white chocolate chips with another flavor with a little more intensity, I absolutely love it!  Crushed peppermints are the perfect addition to the white chocolate chunks in this chewy, eggless cookie.
Rebecca also has an amazing vegan white chocolate chip pretzel cookie recipe.  If you combined that one with this peppermint and white chocolate egg-free cookie recipe, you'd end up with a cookie version of my favorite seasonal treat from Trader Joe's--flat pretzels dipped in white chocolate and sprinkled with crushed peppermint.  I am definitely going to have to try a mashup of these two recipes!
30. Eggless Snickerdoodle Cookies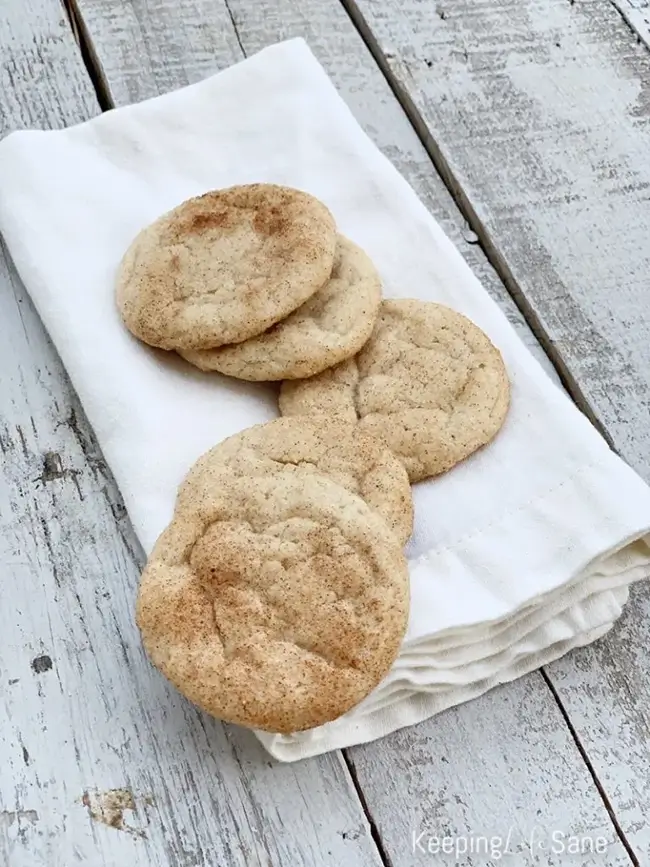 This eggless snickerdoodle cookie recipe uses both white sugar and brown sugar, but the distinctive flavor definitely comes from the cinnamon in the recipe and the cinnamon sugar coating.  Snickerdoodles are always a hit!
31. Coconut Oatmeal Cookies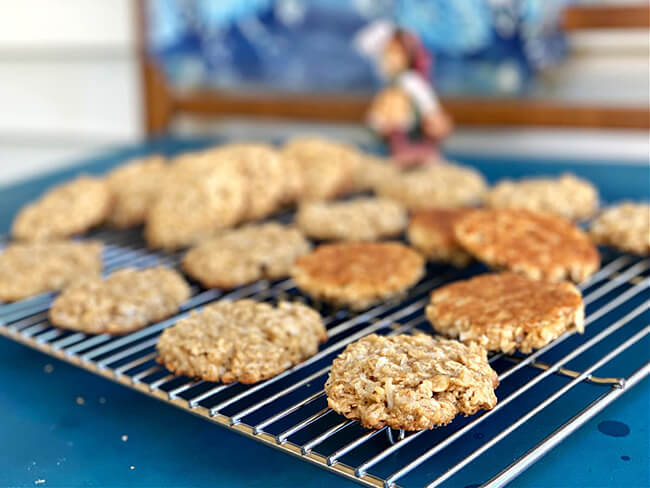 I love how jam packed with oatmeal and coconut this recipe is!  There is some all purpose flour in the recipe, but not a whole lot, and the ratios make this cookie hearty, amazingly flavorful, with the best chewy centers.  I love that this is a cherished family recipe, and that the author still has the recipe card she copied from her neighbor's original recipe when she was a kid.  You can't beat a tried and true recipe like that!  I'll bet the eggless cookie dough tastes amazing, too.  I'm a sucker for oatmeal cookie dough.
32. Coca Cola Cake Mix Cookies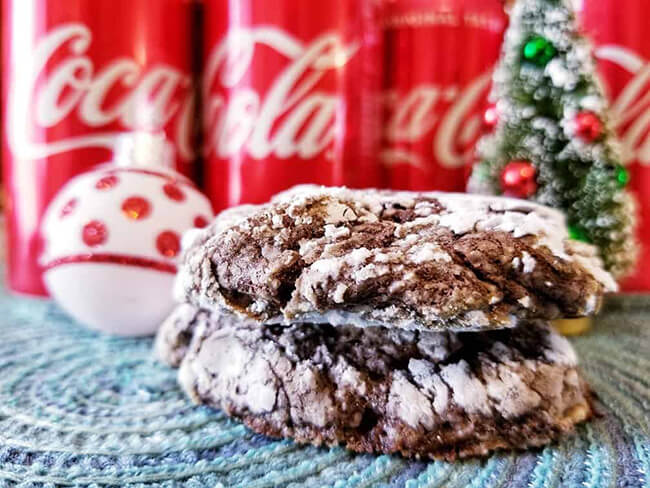 You'd never guess that these delicious cookies are made with a box of chocolate cake mix and coke!  (There are a couple other ingredients, too, but this is about as easy as it gets!). They seem soft when first baked, but when cool, they turn into the ost amazing chewy cookies.
33. Eggless Soft Sugar Cookies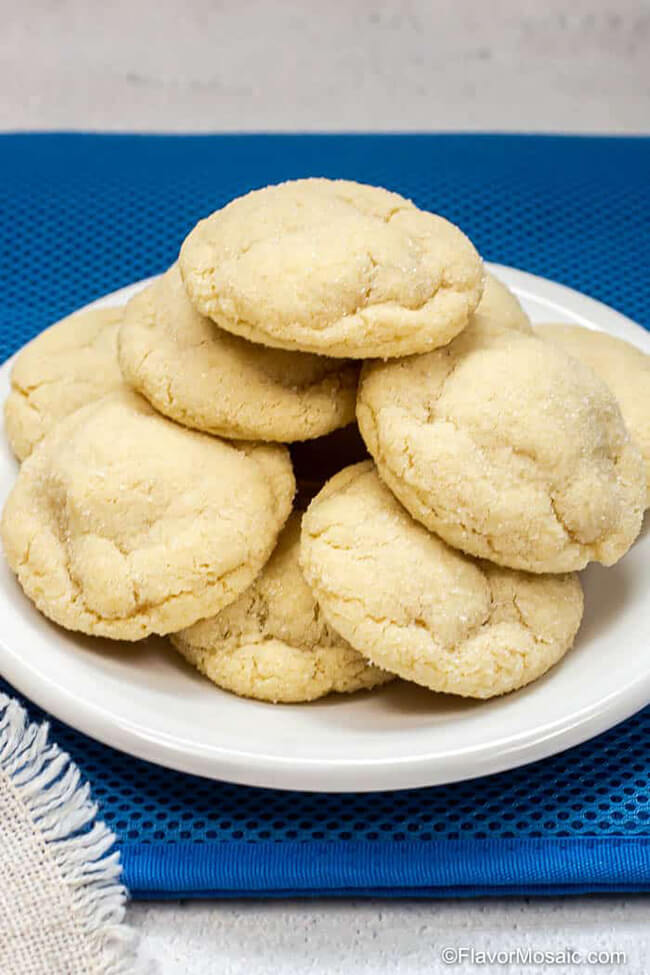 These eggless sugar cookies are soft cookies, not firm ones like you'd decorate.  No, these are the type my grandma would make.  Drop cookies, shaped with a small ice cream scoop, and rolled in sugar before baking.  Soft.  Pillowy.  Perfect. But these ones are no egg sugar cookies, unlike my grandma's recipe.  Sometimes vanilla extract is all the flavoring you need to make an amazing cookie.
(But I do have an amazing roll-out sugar cookie recipe!  You can use aquafaba in place of the egg and the recipe works brilliantly.)