Printer-friendly version
Have you ever wondered how to make candy buttons?  They're actually incredibly easy to make with this candy buttons recipe.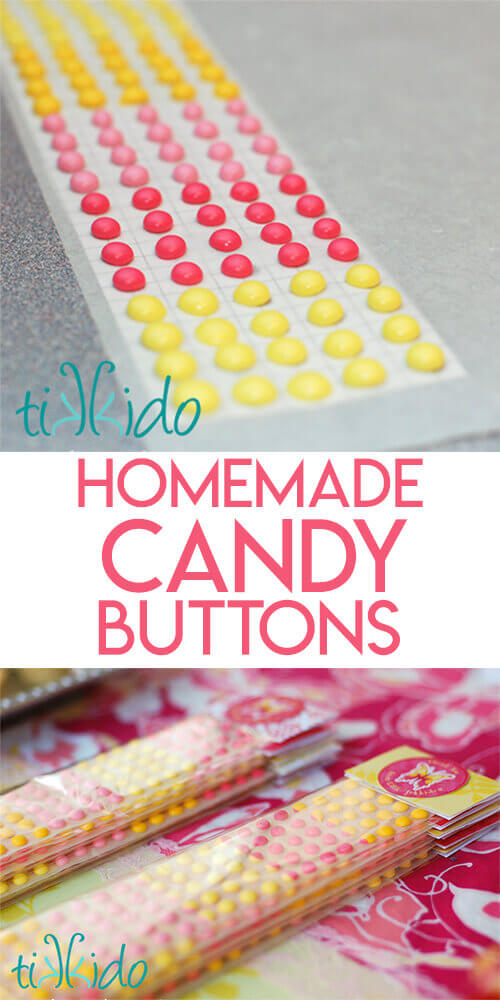 All you need is some royal icing and a few craft supplies and you can make your own homemade candy buttons to match any party theme or holiday.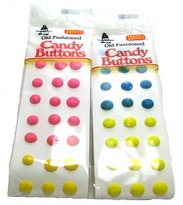 Remember these?  I used to absolutely LOVE old fashioned candy buttons.  Sure, I probably ate as much paper as candy, but I adored the things. As I was brainstorming ideas for the butterfly birthday party, I remembered these favorite childhood treats, and thought of the idea of making my own in my party colors.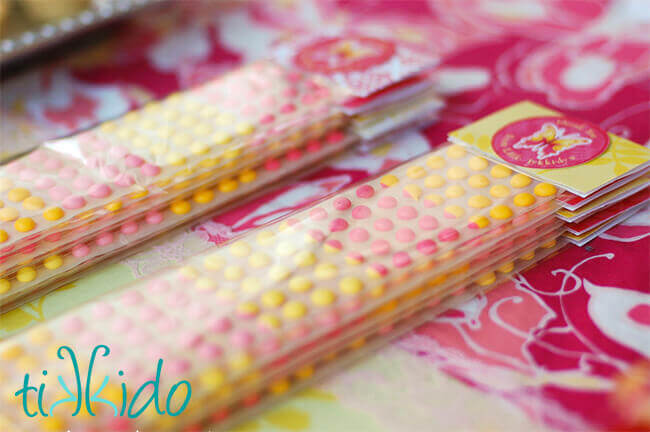 Materials for Homeade Candy Buttons:
food coloring
icing bags (NOT Wilton brand, those burst at the seam) and round tips (optional)
Waxed Paper
Graph Paper
Scrapbook paper
stapler and glue
How to Make Candy Buttons
1) First, make up a batch of royal icing. I always use meringue powder, available at any craft store, and follow the recipe on the can. So much easier than separating all those eggs perfectly! Meringue powder is available at any craft store or cake decorating store or from Amazon (
buy here
).
2) Color your icing (I prefer
Americolor brand gel food coloring
) and thin it out. You want the icing to be flooding consistency. Downright runny. Add water, just a few drops at a time (seriously! It happens quickly!) until the icing no longer holds a point, and instead flattens out into perfectly domed circles when piped on the paper. Once the icing is the right texture, put it in the disposable icing bags.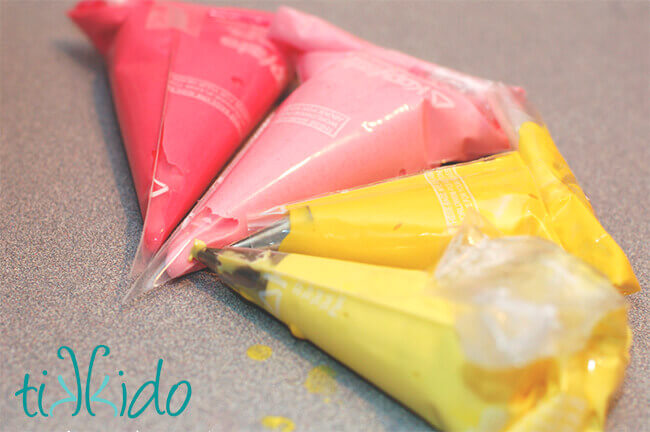 3) Print out
graph paper
to create your template. Cut to the size of your pretzel bags (my bags were 3x11, so I cut my graph paper down to 2.5 x 10). Draw dots in even lines to be your guide as you're piping the icing.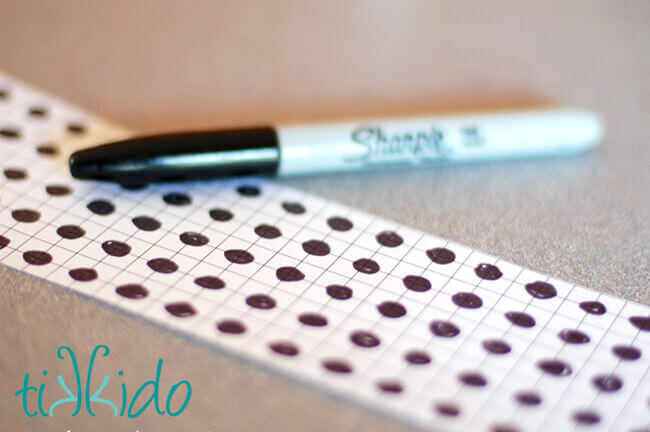 4) Set the freezer paper, dull side UP, on top of the grid. At first I tried parchment paper, but the dots popped off way too easily, and I couldn't package them without raining dots everywhere. Freezer paper is easy to find, food safe, and has just enough grip to keep the dots in place. If you're planning to ship your dots, however, use regular paper like the candy manufacturer does, and enjoy the authenticity of eating the paper along with the candy. ;-)
5) Pipe the dots in whatever color pattern you like on the paper, following the grid to keep the lines straight. Be sure to keep the tips of your icing bags covered with a damp cloth when you're not using them. Royal icing dries quickly!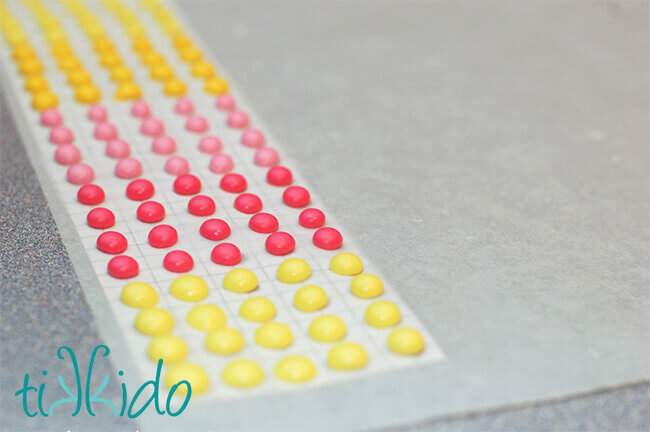 6) Let dry overnight and cut apart.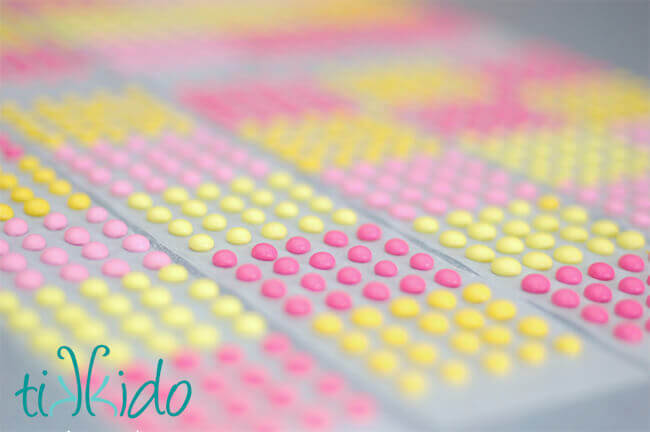 7) To package the candy buttons and make them look truly professional, slip each strip of buttons into a pretzel bag. Cut scrapbook paper in a rectangle for the tag at the top of the bag. Since my pretzel bag was 3" wide, I cut my paper to a 3x4 inch size. Fold the rectangle of paper in half, and staple the back half on the bag. Use glue or a glue gun to stick the front flap of the packaging tab down in the front (without unsightly staple marks).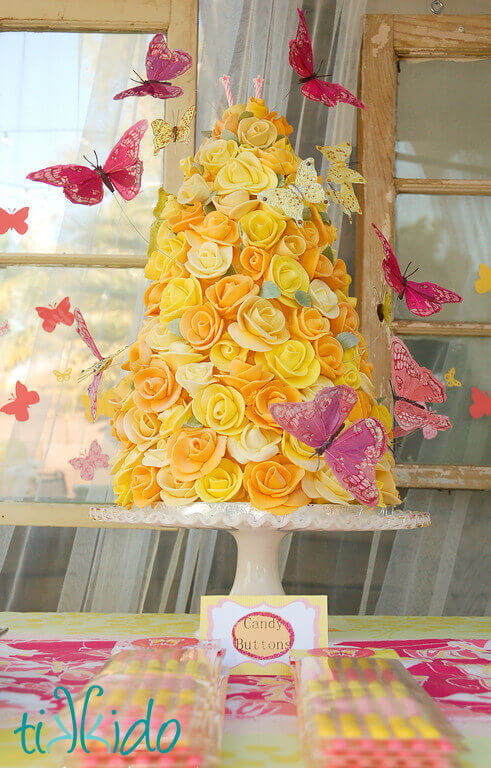 Here's a completely unnecessary bonus step. Something that probably nobody else noticed, but made me happy. Do you remember how the candy buttons used to have some that were a mix of colors? A feature of the manufacturing process, I'm sure, as the icing colors changed.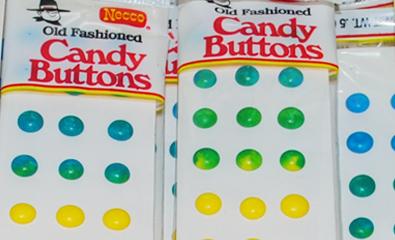 Oh, how I loved and cherished those swirly, two-tone dots. I always saved them for last. So on some of the dots I made, I used two tones of icing on the rows right before I switched colors.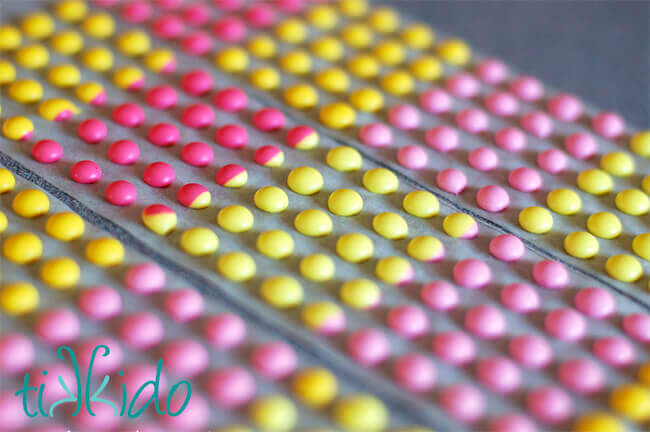 Like I said, probably nobody else noticed. But it's those little details that make me happy.
I had several people ask me where in the world I'd found candy buttons in my party colors, so I count this project as a big success! It would make a fabulous favor for a party or even a wedding with a sense of whimsy. Imagine piping a monogram in one color, and the rest of the candy buttons in a contrasting color. Who says candy buttons are just for kids?
Since I wrote this tutorial, I've made several variations on standard candy buttons.  Have fun with different designs and party themes!
Like these Morse code candy buttons!
What theme would you make homemade candy buttons for?
Other Homemade Candy Buttons Tutorials You Might Like: