Printer-friendly version
These are the best lemon dessert recipes for all lemon lovers out there!  I absolutely love lemon desserts with REAL, intense lemon flavor, and I've collected 40 of my favorite recipes from my fellow bloggers so we can all enjoy citrus season with the amazing recipes this tart fruit deserves.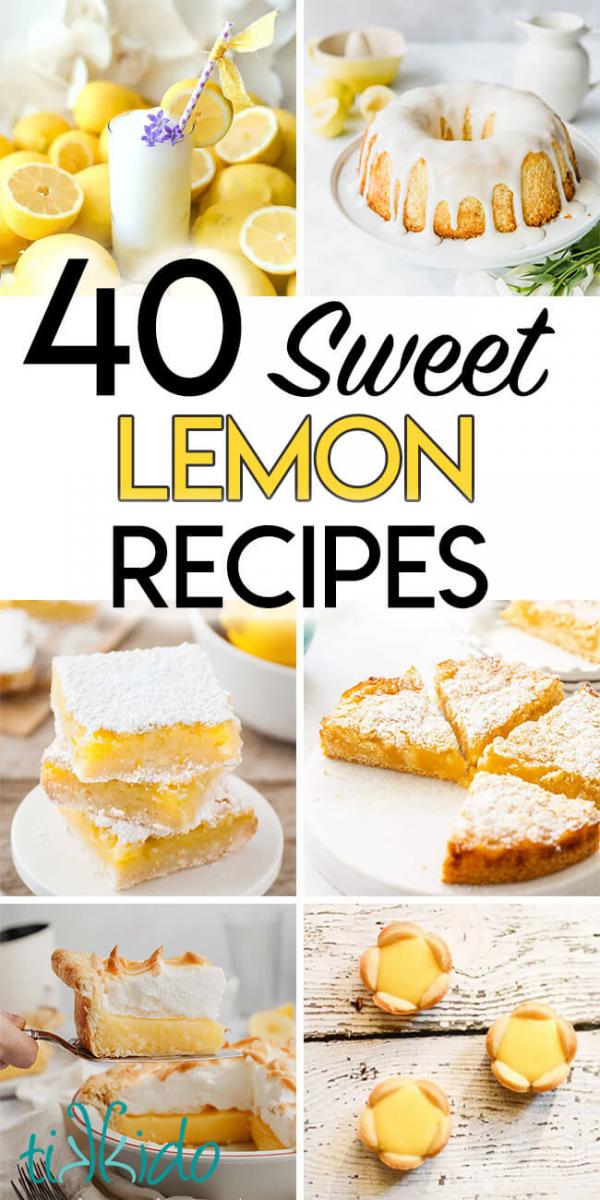 My criteria?  Lemon is the star flavor.  And these recipes have to really TASTE like lemon.  I hate it when a lemon dessert smells like lemon, but doesn't have that delightful, bright, intense, sweet-tart lemon flavor.  In every one of these the fresh lemon flavor shines.
Sweet Lemon Recipes
1. Lemon Meringue Pie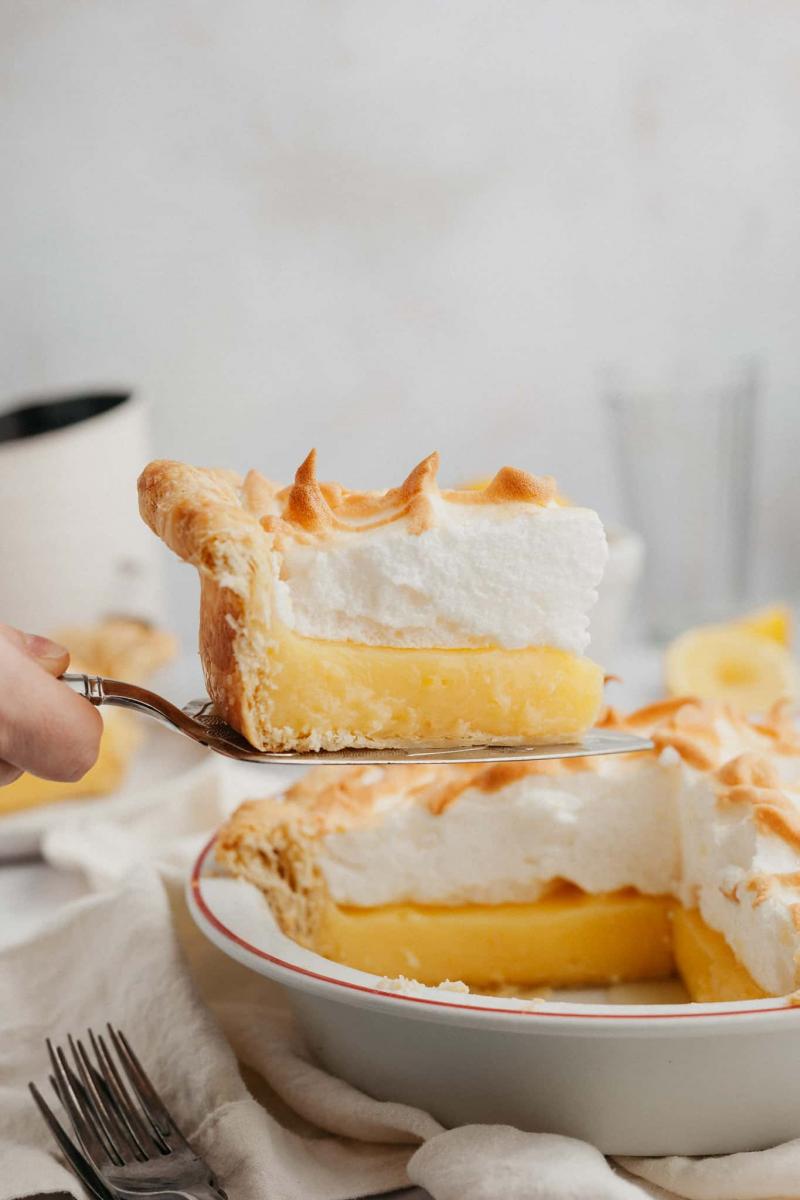 Of course I had to include a classic lemon meringue pie recipe in this roundup!  And this recipe from Alpine Ella is a perfect example of this traditional lemon dessert.  That lemon custard base...  the light, pillowy, tall meringue top...  what's not to love?
2. Gluten Free Lemon Curd Linzer Cookies
Linzer cookies are typically filled with jam, but these have a tangy lemon curd filling.  I love the way that the powdered sugar cookie tops are made with a scalloped cookie cutter, so these cookies look like beautiful spring flowers.  This lemon linzer cookie recipe also happens to be gluten free! From The Gluten Free Austrian. 
3. Lemon Slice Cookies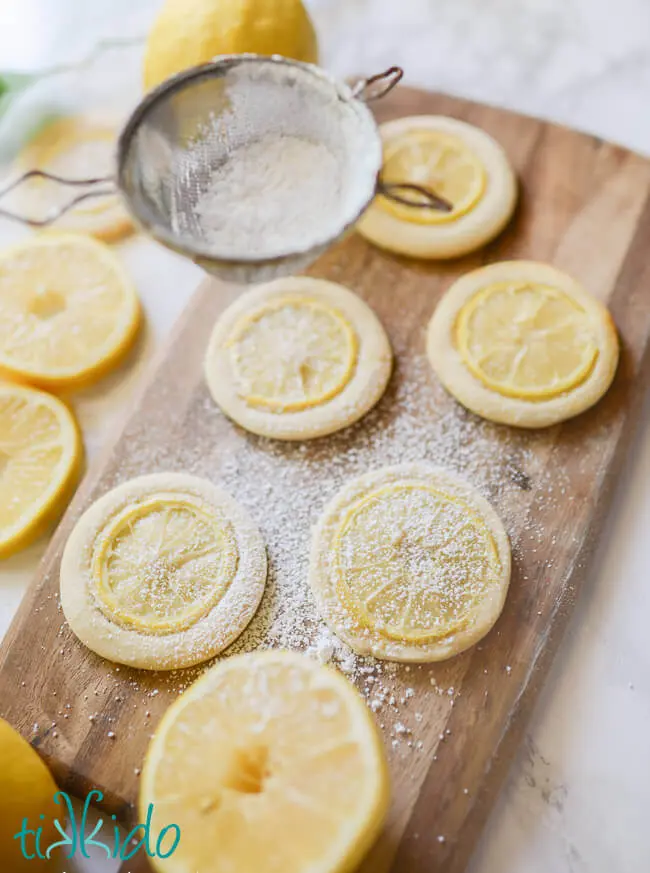 If you want a lemon cookie with a true blast of lemon flavor, try these Lemon Slice Sugar Cookies.   They're delicious sugar cookies baked with paper-thin lemon slices pressed and baked right into the cookie.  The use of fresh fruit in these cookies is so pretty, and so delicious!  These really are the ultimate lemon cookies.
4. Lemon Popsicles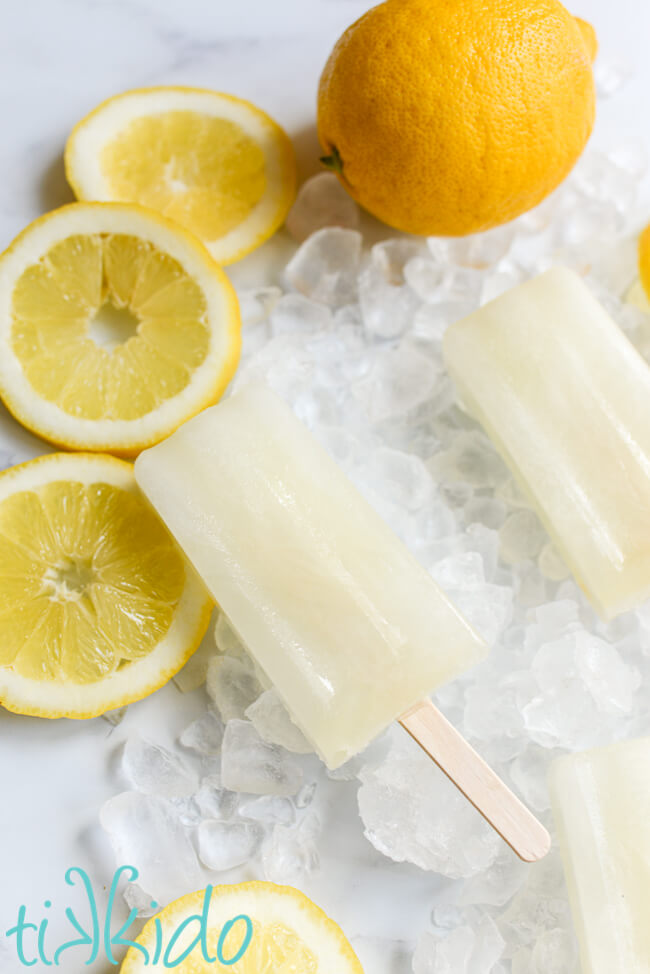 There's nothing like a cold lemon popsicle on a hot summer day!  These popsicles are made with old-fashioned lemonade, made with just fresh lemon juice, sugar, and water.  It doesn't get more simple--or more wonderful.
5. Classic Lemon Bars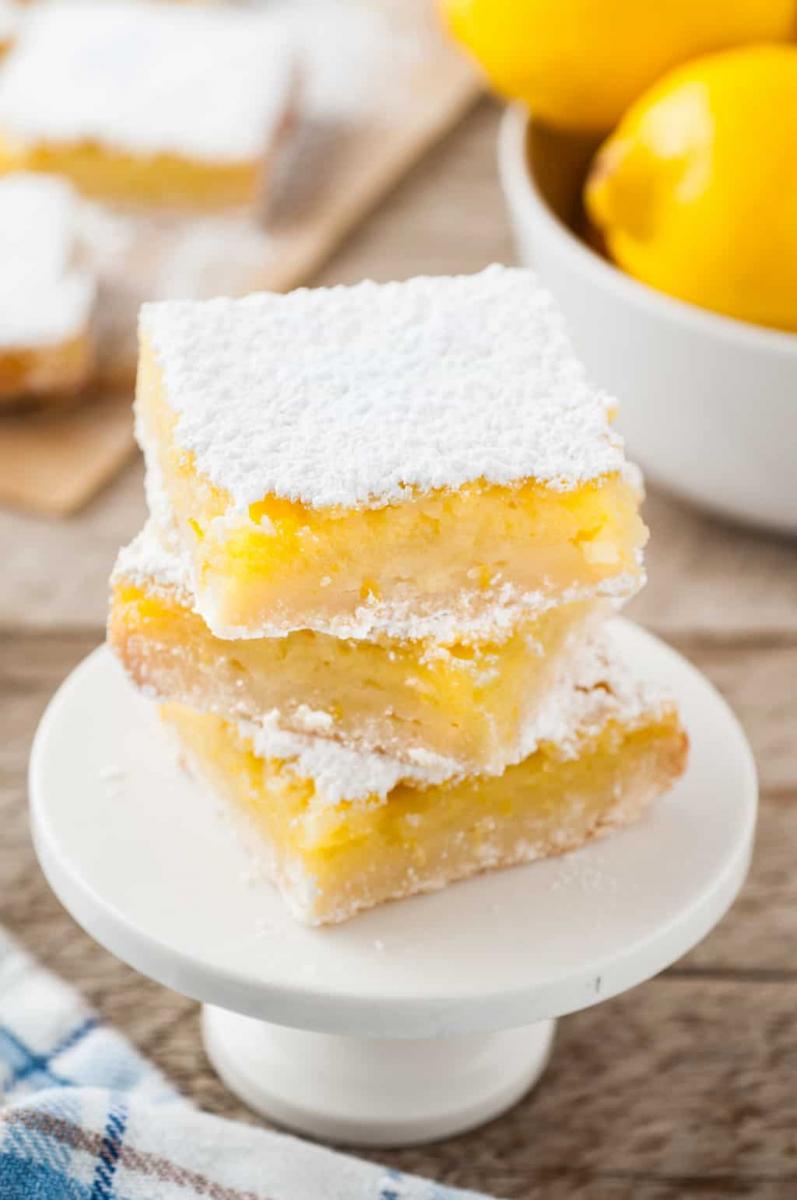 This lemon bar recipe from Recipes from a Pantry is one of my favorite sweet treats of all time.  The shortbread crust, the zingy, flavorful lemon layer, the dusting of powdered sugar...  I love it all!  These easy lemon bars are a must-make for any lemon lover.
6. Lemon Semolina Cake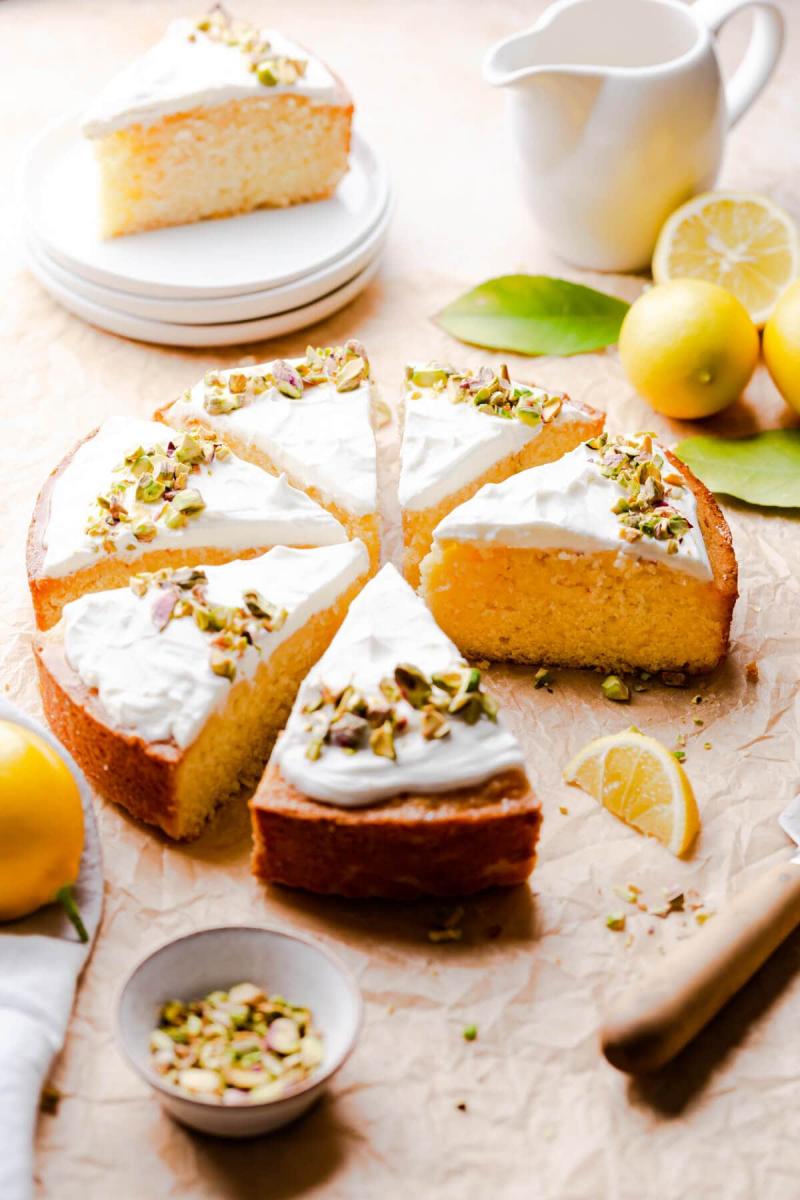 Semolina gives this lemon cake recipe a unique texture, and a good soaking of lemon simple syrup keeps the flavor intense and the cake moist.  Anna Banana topped this cake with Greek yogurt, but if you have more of a sweet tooth, cream cheese frosting would also be delicious.
7. Frozen Lemonade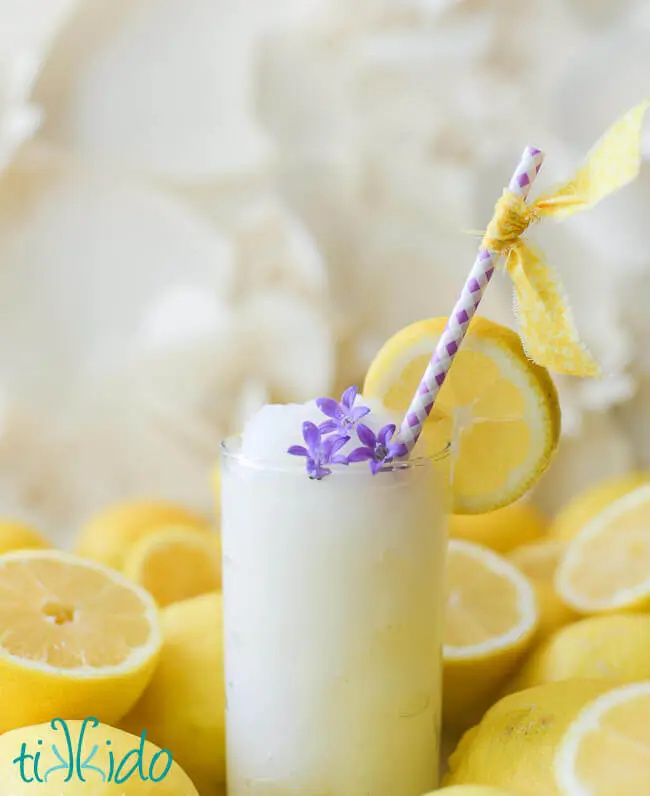 Homemade frozen lemonade is the summer drink you need!  Slushy, icy, cold, refreshing, and absolutely bursting with bright lemon flavor, this is the perfect treat for a hot summer day.
8. Lemon Coconut Bars with White Chocolate Ganache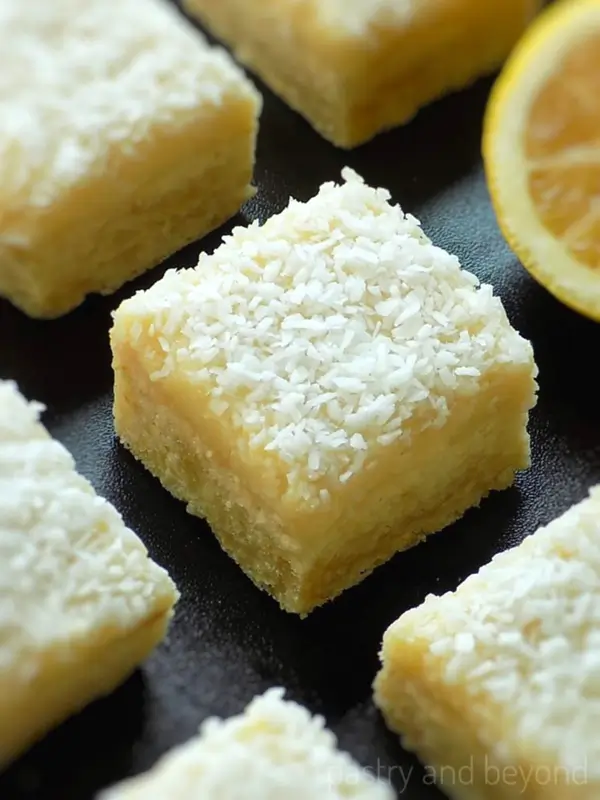 Sweet white chocolate balances nicely with tart lemons in these Lemon Coconut Bars with White Chocolate Ganache from Pastry and Beyond.  Unlike classic lemon bars with a plain shortbread base, with these bars, the lemon is in the crust, and it's topped with creamy ganache and coconut.  No mixer necessary for this amazing original recipe!
9. The Best Lemon Loaf Cake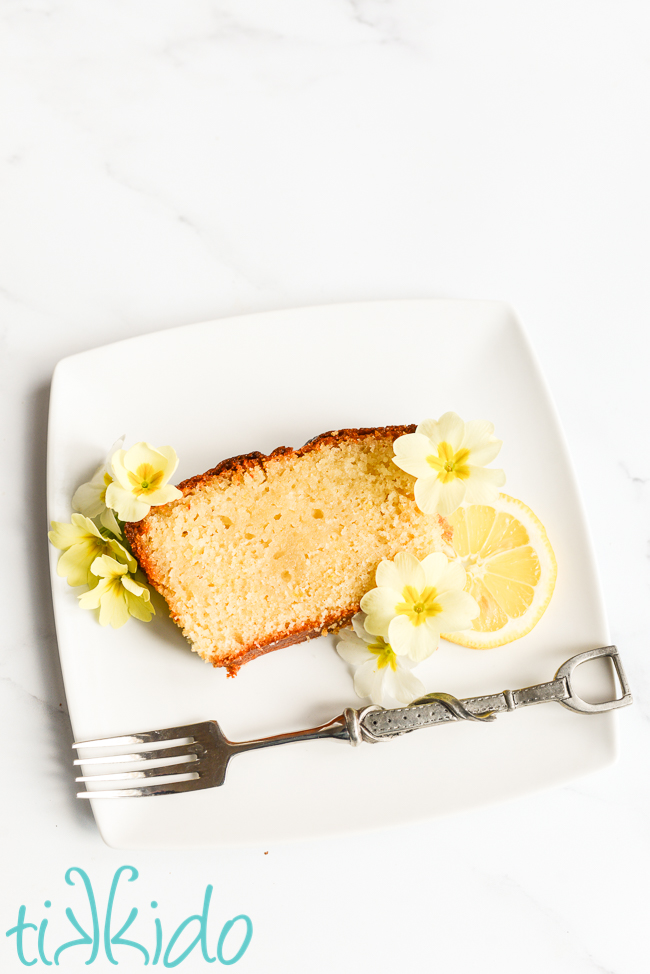 I think that the humble lemon loaf cake is secretly one of the very best lemon desserts around.  It's a cake made in a bread loaf pan (like a lemon pound cake would be), and drizzled with an intense lemon glaze while it's still hot, so the lemon flavor soaks deep into the cake.  It's perfect for afternoon tea, or special occasions like baby showers and mother's day.  It's so good, that my oldest daughter asked for this lemon loaf as her birthday cake!  It may not be the prettiest cake on its own, but serve it with some fresh berries or garnish with a few edible flowers, and you'll have a delicious showstopper that happens to be an incredibly easy recipe to make.
10. Vegan Lemon Poppy Seed Loaf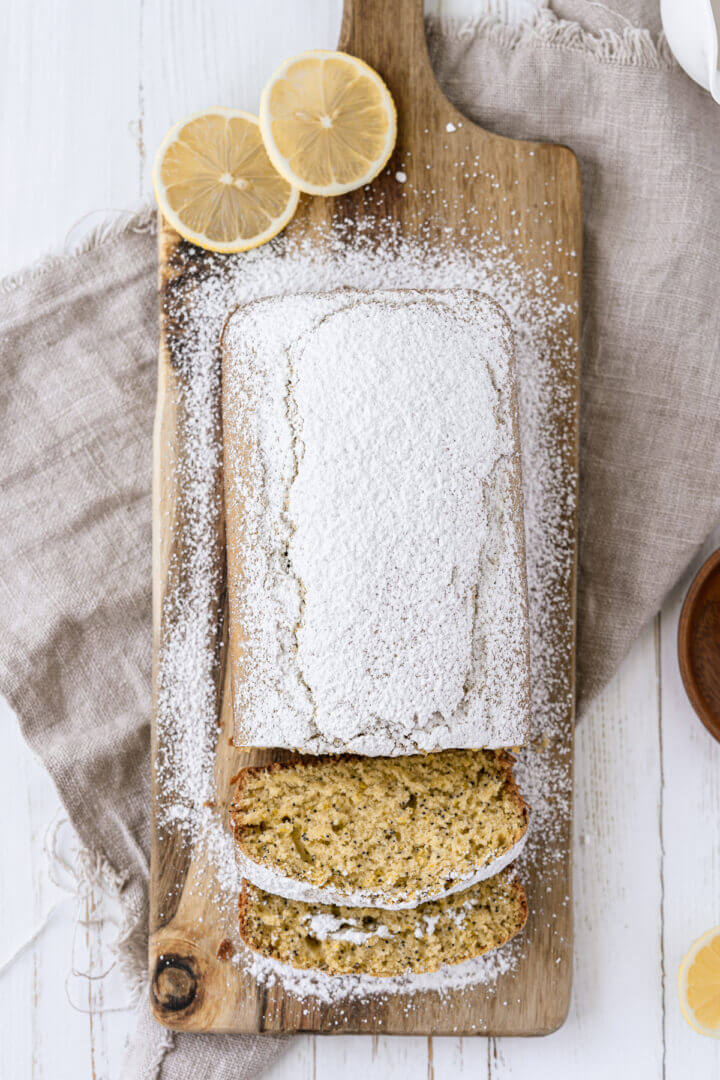 Lemons and poppy seeds are an incredibly common and delicious pairing.  If you're looking for a poppy seed lemon loaf, and you need a vegan recipe, check out this fabulous Vegan Lemon Poppy Seed Loaf from Two City Vegans.
11. Lemon Jam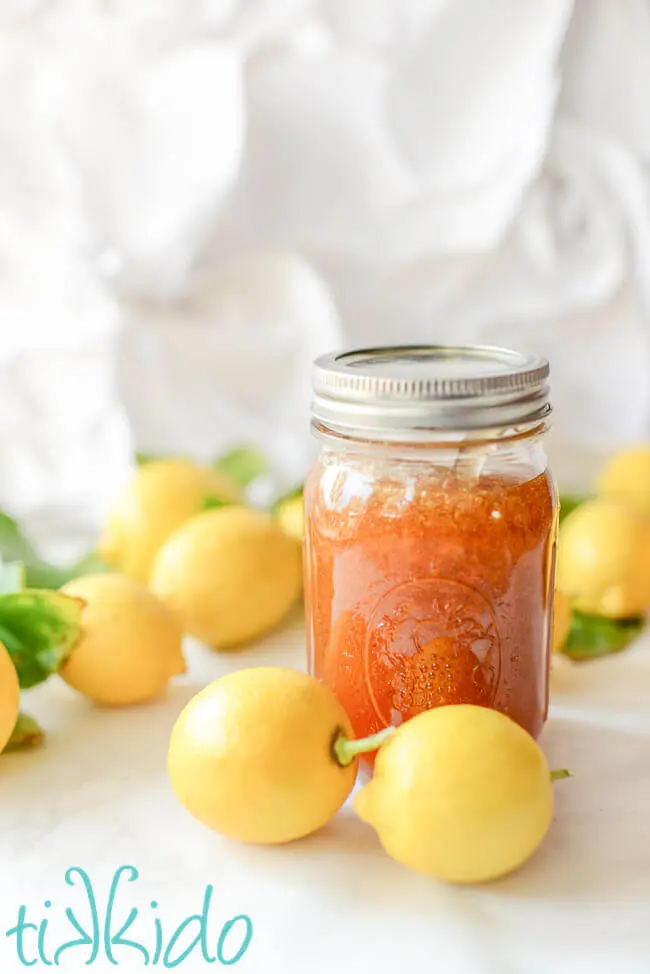 Lemon jam (not marmalade, no lemon peel used in this recipe!) is sweet and tart and not at all bitter.  It's also incredibly easy to make with regular lemons or meyer lemons and sugar--no additional ingredients necessary, because lemons already have plenty of pectin.  Spread some of this preserved sunshine on lemon scones for a breakfast that will wake you up with bright flavor.
12. Lemon Curd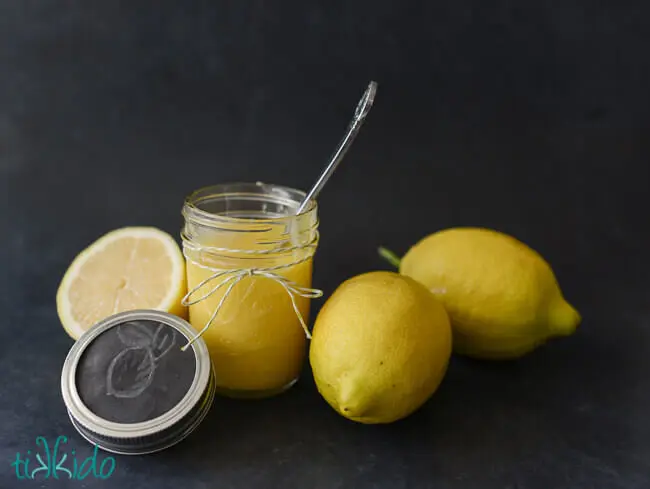 Another amazing lemon spread is lemon curd.  This is a classic lemon curd recipe made with egg yolks.  It gets gently cooked with fresh lemon juice, sugar, and butter, until it is transformed into a luscious, sweet, bright lemon spread.  It's rich and delicious and so good, my friend Stephanie said she wanted to bathe in it.
13. Belgian Lemon Tea Cake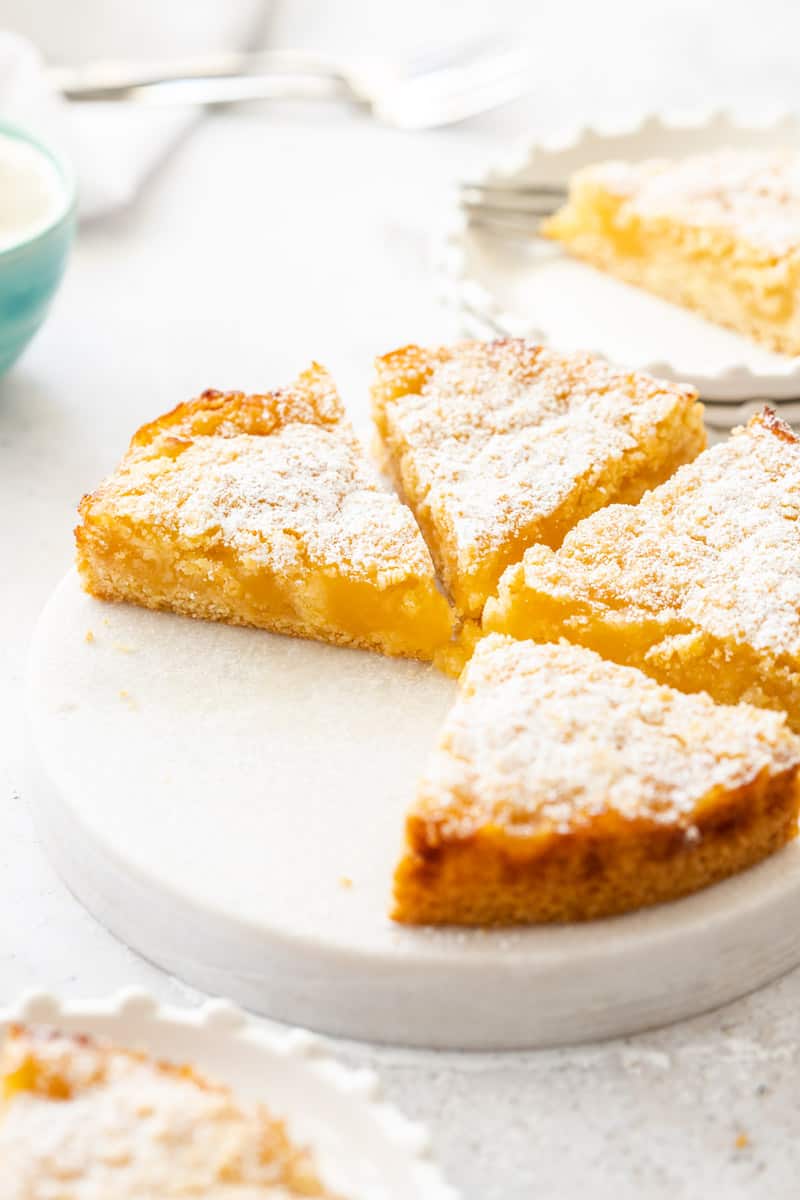 This Belgian Lemon Tea Cake from It's Not Complicated is actually a gluten free recipe!  It uses meyer lemons to make this beautiful, easy dessert.  The crust and the crumble topping is the same mixture, which makes this lemon tart very simple to make. 
14. Lemon Cream Cheese Fruit Dip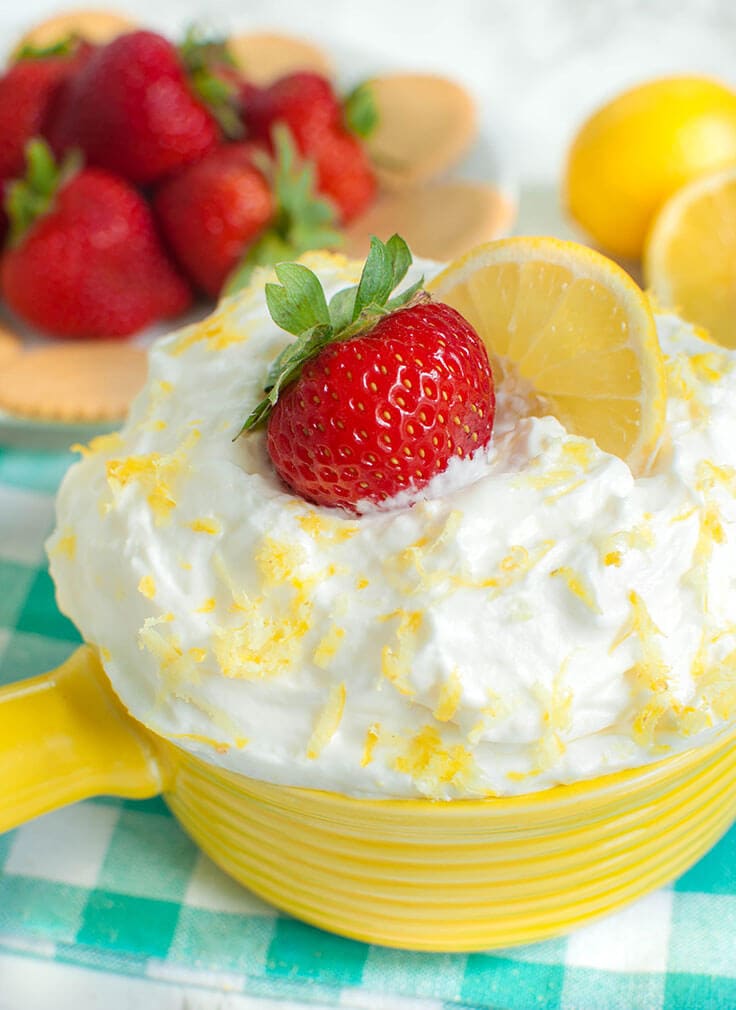 This lemon cream cheese fruit dip recipe from Dip Recipe Creations is sure to be the hit of any summer party.  Who can resist dipping fresh fruit in a sweet, lemon dip on a hot day?  I love how beautiful it is topped with lemon zest, too.  What an easy, no-bake lemon dessert.
15. Lemon Cream Syrup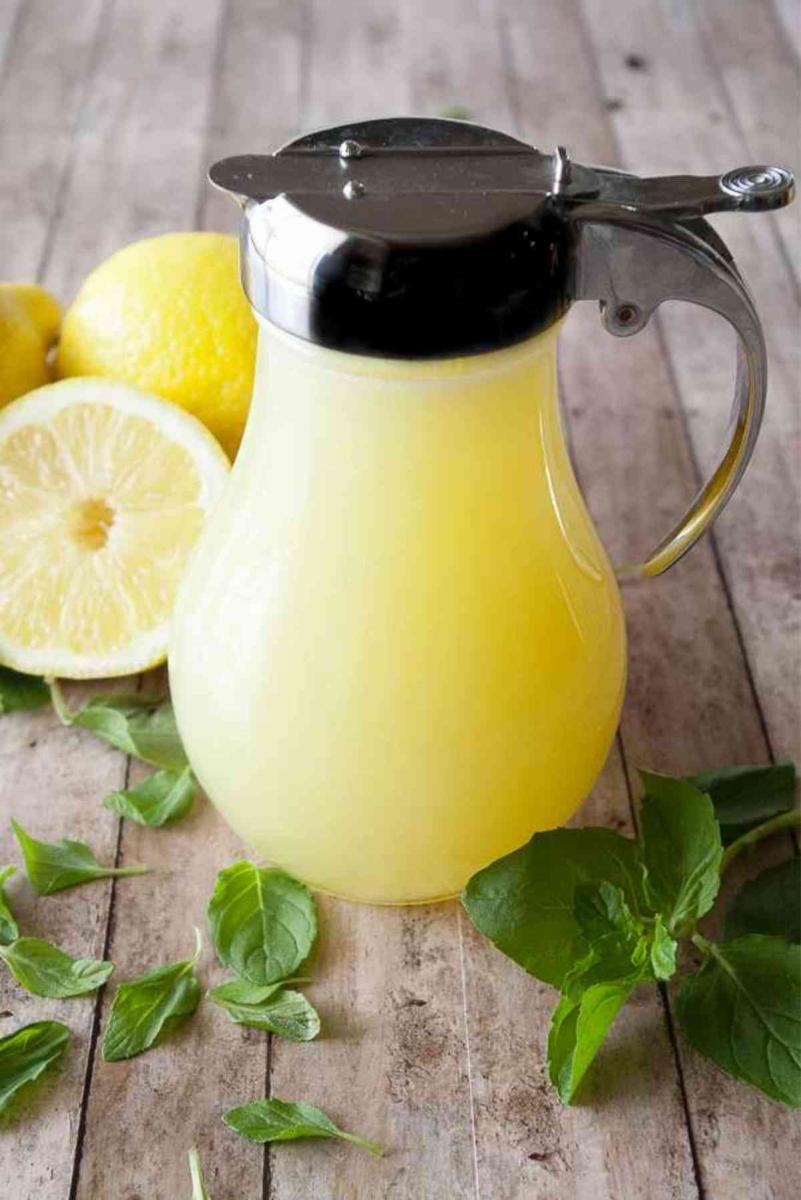 This lemon cream syrup is made with fresh lemon juice and heavy cream and a clever technique for keeping the lemon from curdling the cream.  This is absolutely heavenly drizzled over pancakes or waffles on a Sunday morning!
16. Lemon Danish Sweet Rolls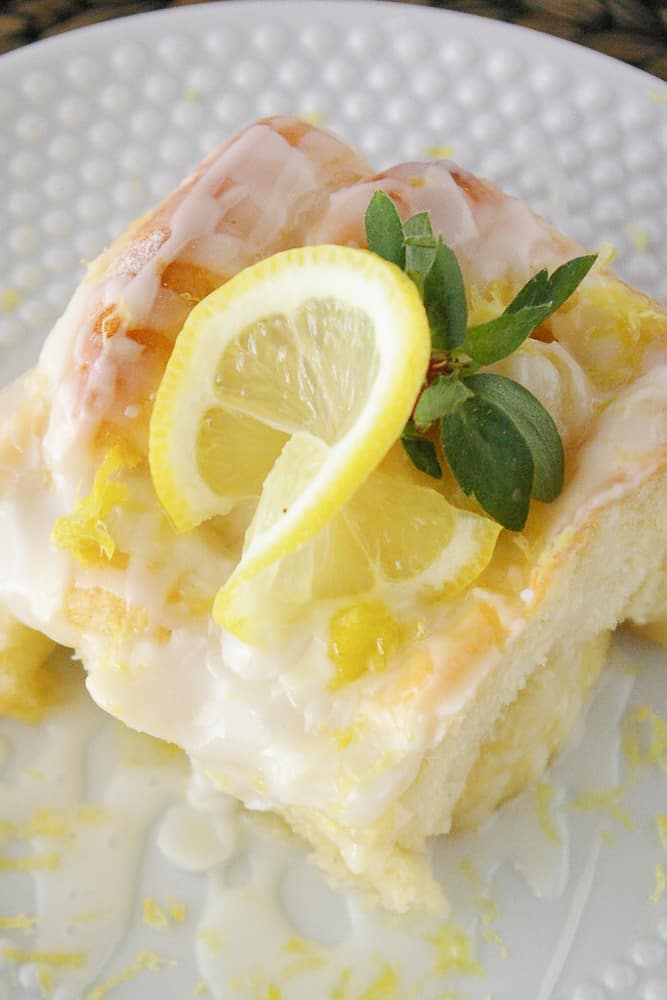 These easy lemon danish sweet rolls from Mindee's Cooking Obsession are absolutely magical!  Worth every lick of sticky fingers.
17.  Lemon Whipped Cream Frosting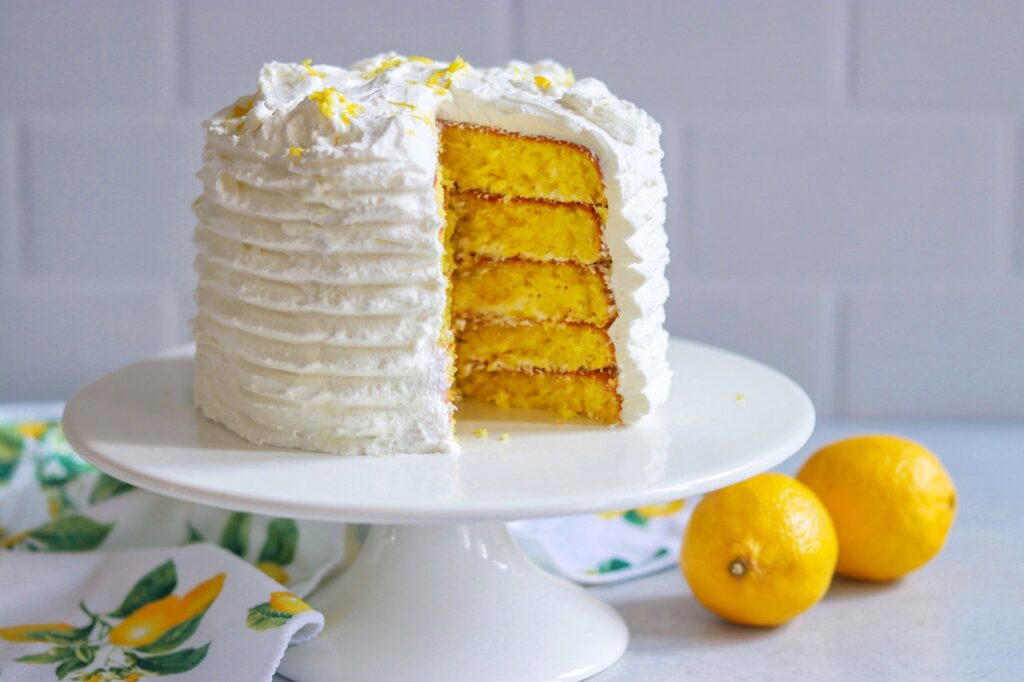 Light and fluffy lemon whipped cream frosting is a delicious topping for a lemon layer cake.  Whipped cream frosting needs to be kept refrigerated, but if you like a very light frosting, it can't be beat.
18.  Lemon Buttercream Frosting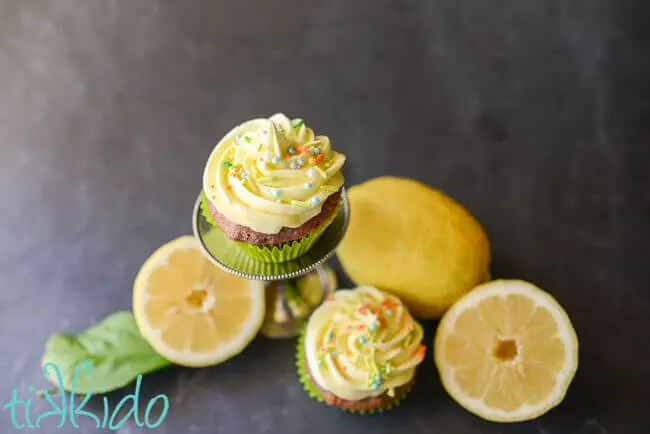 This is a recipe for Lemon American Buttercream Frosting.  This lemon frosting gets its bright flavor from real lemons only--no extracts or flavorings--and it is absolutely delicious.  Top lemon cupcakes with this lemon icing and you'll make anyone who loves lemons happy!
19.  Lemon Lush Dessert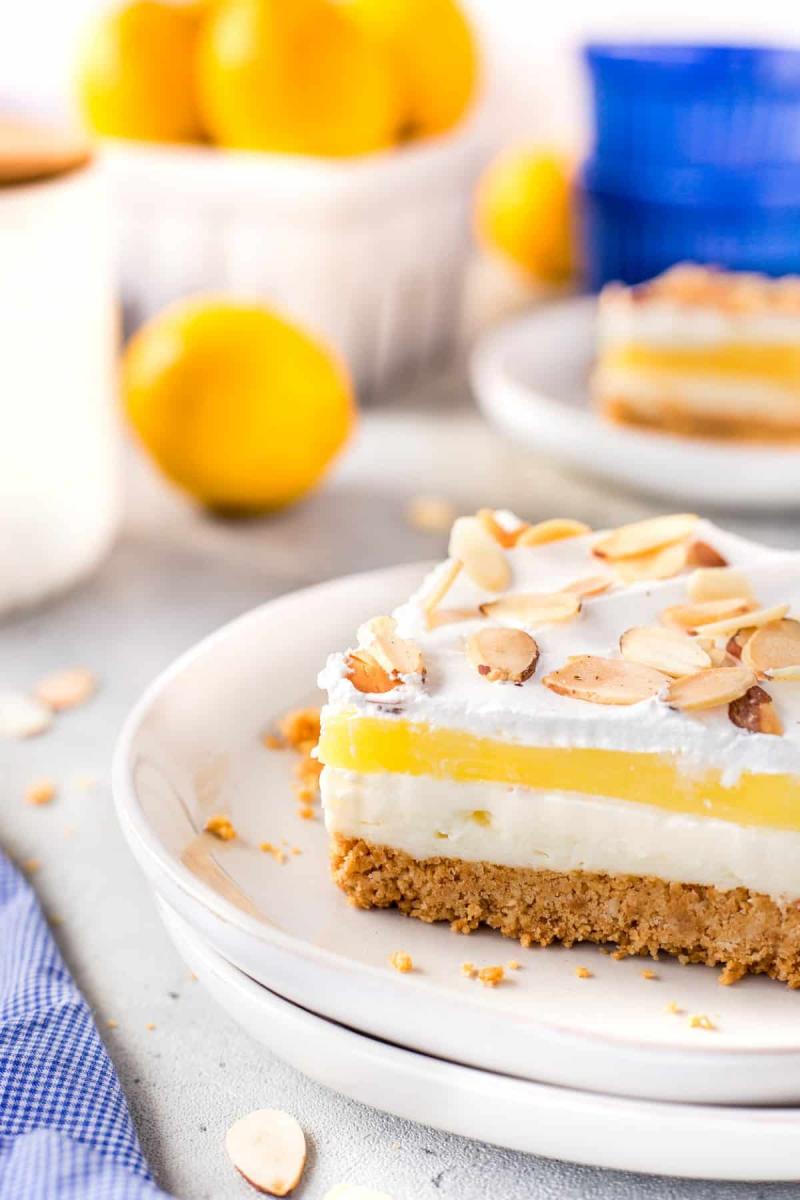 Lemon Lush dessert is an amazing no-bake recipe perfect for a summer get-together.  Layers of graham cracker crust, cream cheese filling, lemon filling, and whipped cream come together to make a delicious, lemony, cool and refreshing dessert.
20. Lemon Olive Oil Cake
I love a good olive oil cake, and I am completely in love with this Lemon olive oil cake from Cupcake Project.  The thin, caramelized slices of lemon on the top of the cake are absolutely magical!
21. Lemon Sherbet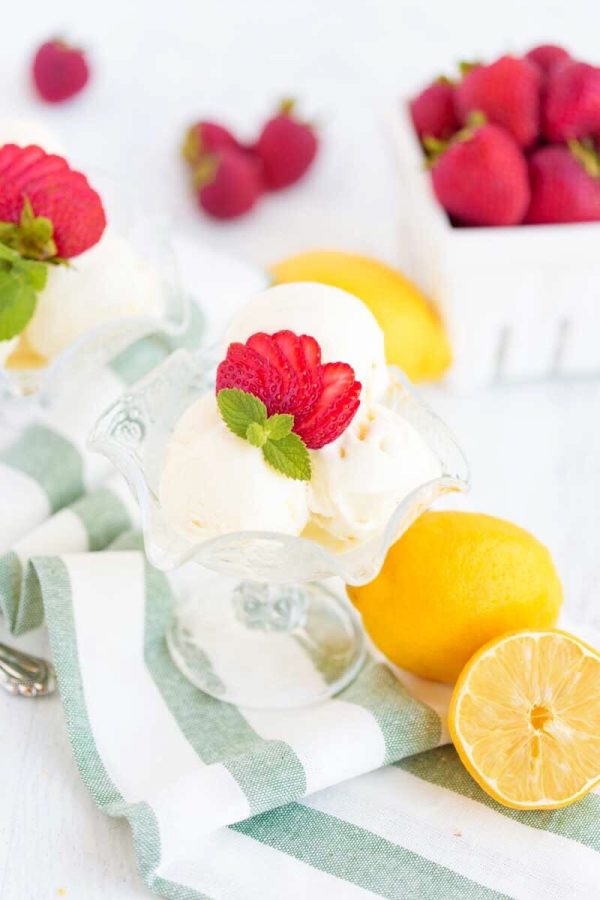 Do you love sherbet?  Man oh man, I LOVE sherbet!  But I've never tried making homemade sherbet before I found this recipe.  Sherbet does have some dairy, which makes it different than a lemon sorbet, but it has a lot less than lemon ice cream would, making the fruit flavor really shine.  If you love lemon, you'll adore this lemon sherbet recipe from Food, Folks, and Fun.
22.  Lemon Raspberry Cookies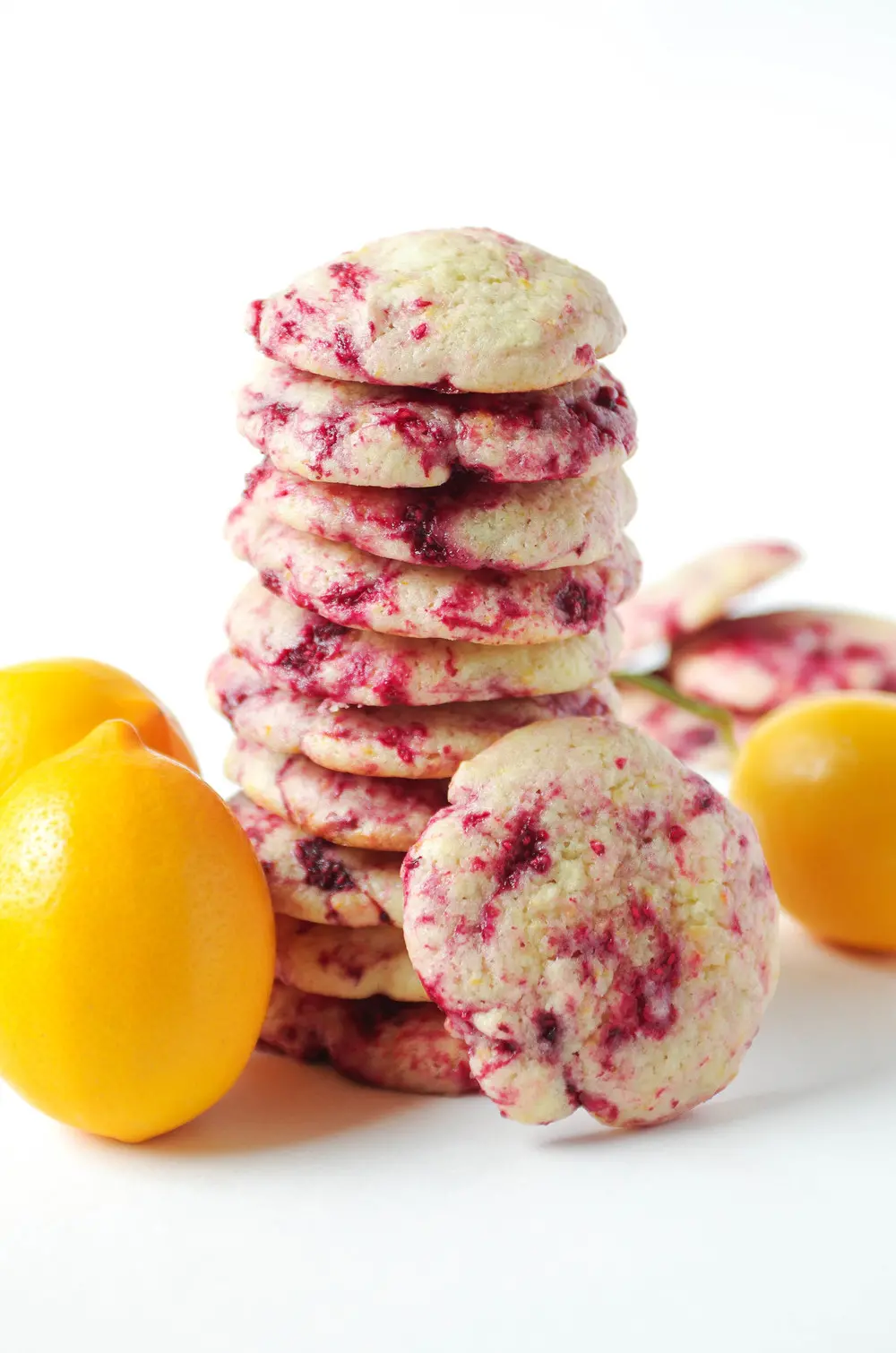 Lemons and raspberries are my two favorite fruits in the world, so you know I love these lemon raspberry cookies from The Forked Spoon!
23.  No Bake Lemon Chiffon Pie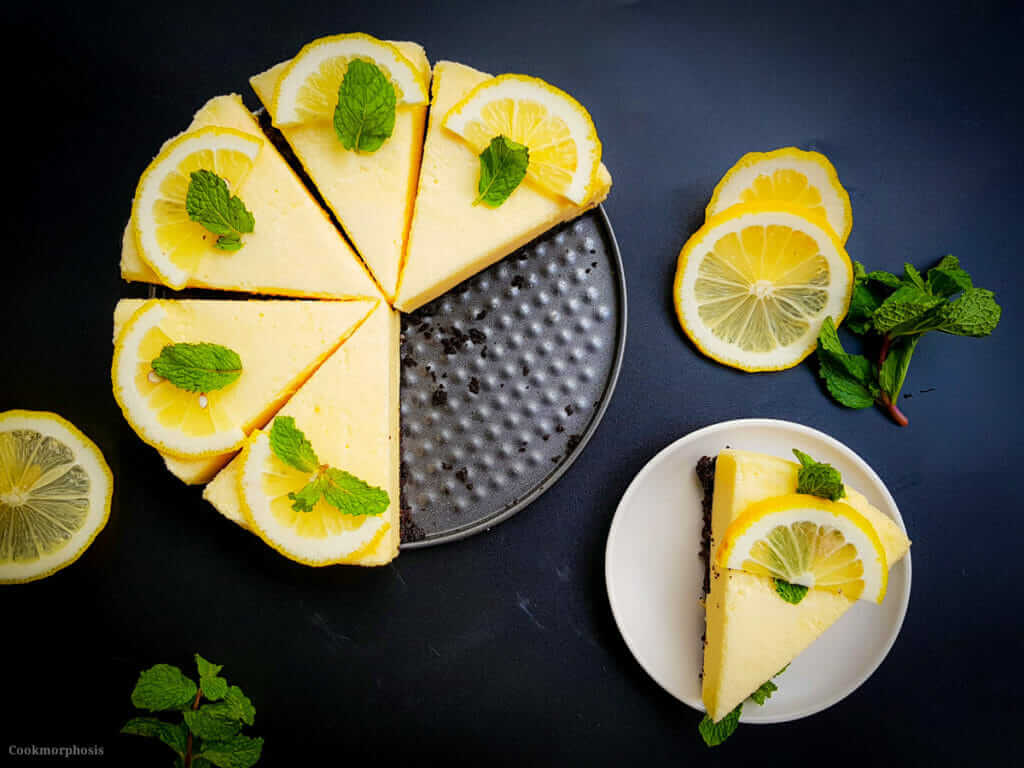 Here's another fabulous no-bake lemon recipe--this one a No Bake Lemon Chiffon pie from Cookmorphosis.  This recipe is made with an Oreo crust, but I think next time I'm going to make it with a graham cracker crust (I just LOVE graham cracker crusts, especially with lemon desserts).  
24. Lemon Buttermilk Bundt Cake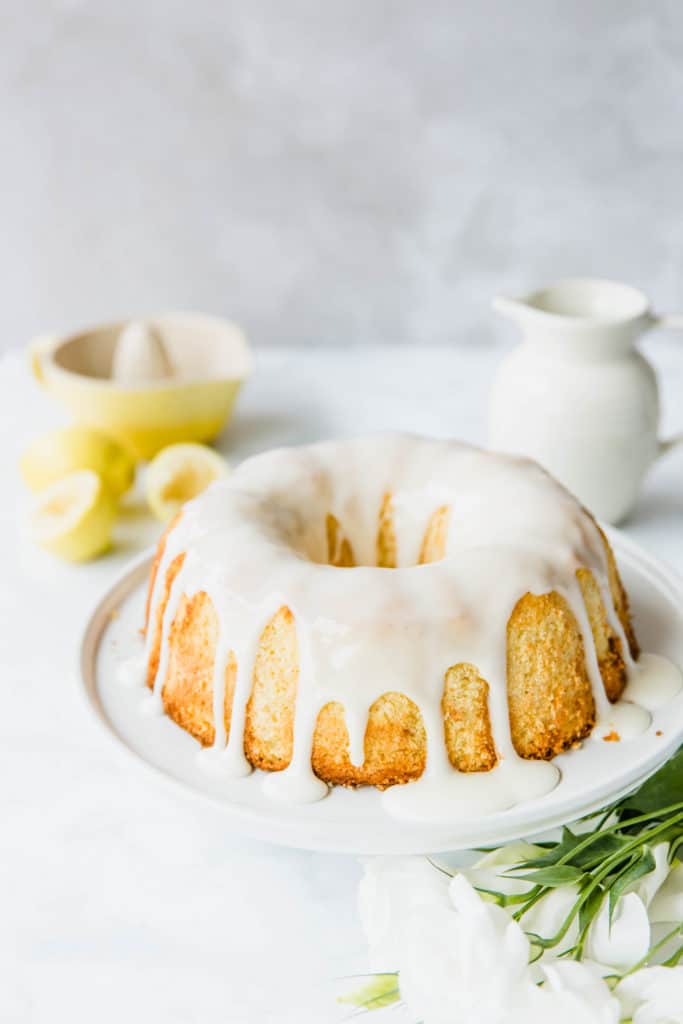 This lemon bundt cake from Baking Ginger is an absolute classic.  There's just something about a bundt cake--you know it's going to be homemade, and absolutely delicious.  
25.  Oatmeal Lemon Creme Bars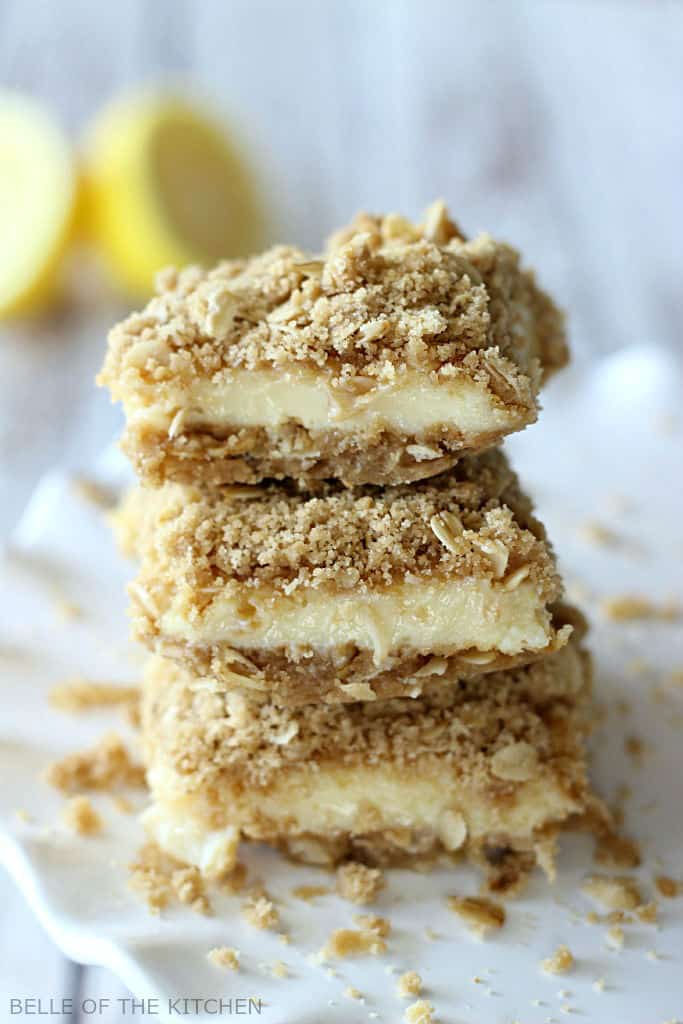 A creamy lemon layer sandwiched by crumbly, tender, oatmeal crumble layers?  Yes, please!  It's the perfect mixture of flavors and textures.  Get the recipe from Belle of the Kitchen here.
26.  Lemon Icebox Cake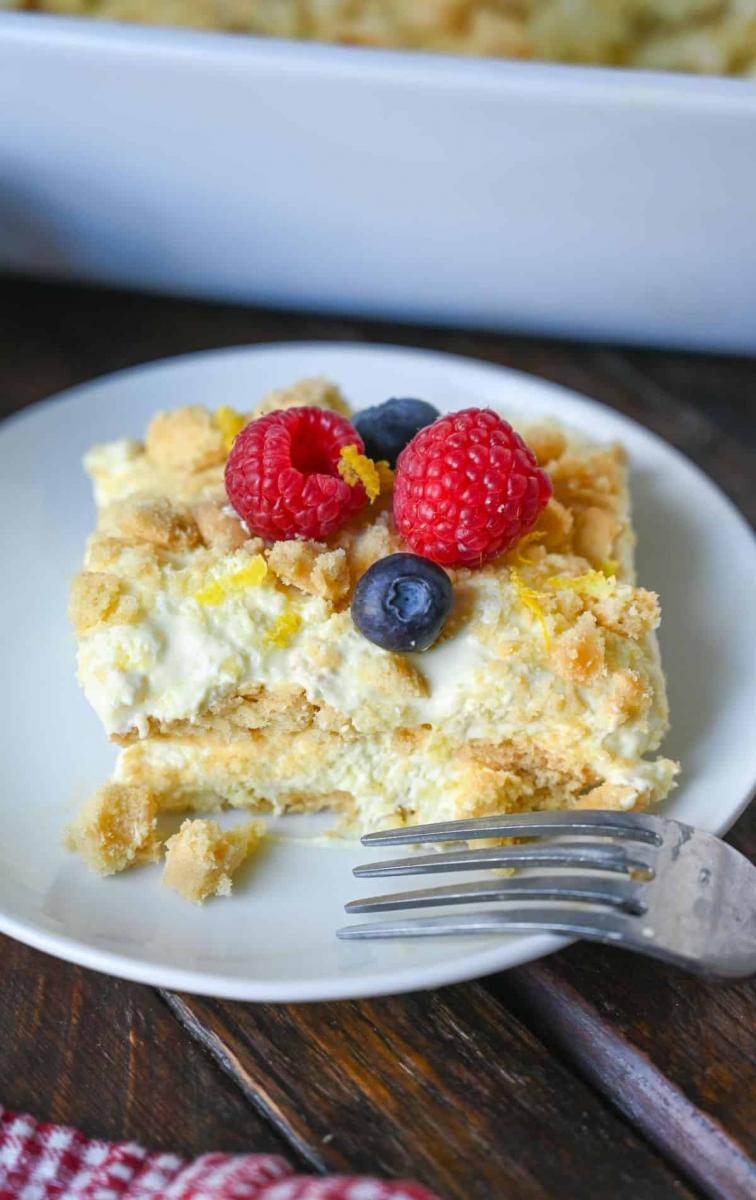 Lemon Icebox Cake is a fabulous summer dessert, because it involves no cooking, and it's served cold, straight from the fridge.  Get the easy, amazing recipe from Butter Your Biscuit.
27.  Lemon Jello Poke Cake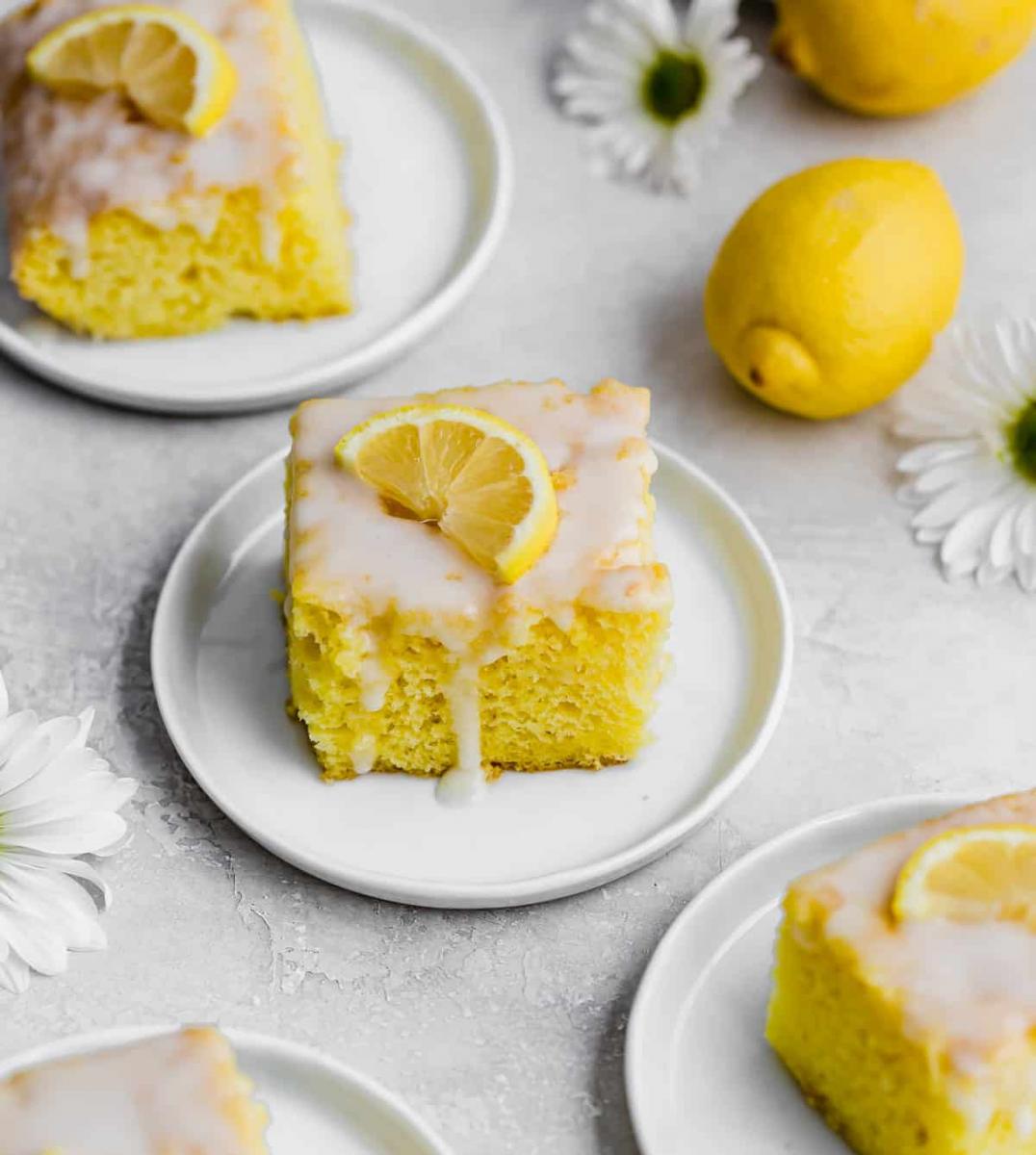 Here's another great recipe for summertime--a lemon Jello poke cake!  Liquid jello is poured over a freshly baked cake, soaking into the cake.  The cake sets up in the fridge, and is typically served cold, making it a refreshing summer recipe.  This version from Salt and Baker is topped with a lemon glaze, but we always topped it with Cool Whip in my family, and I think that will always be my favorite!
28.  Lemon Cheesecake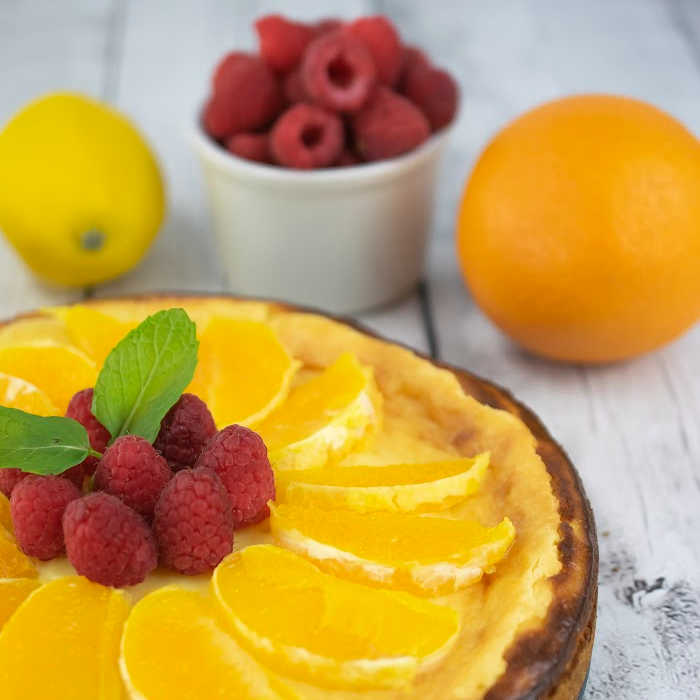 I couldn't let this roundup go without an amazing lemon cheesecake recipe!  This version from Mommy Evolution, topped with fresh raspberries and oranges, is absolutely spectacular.  Classic, rich, and full of vibrant citrus flavor.
29.  Meyer Lemon Souffle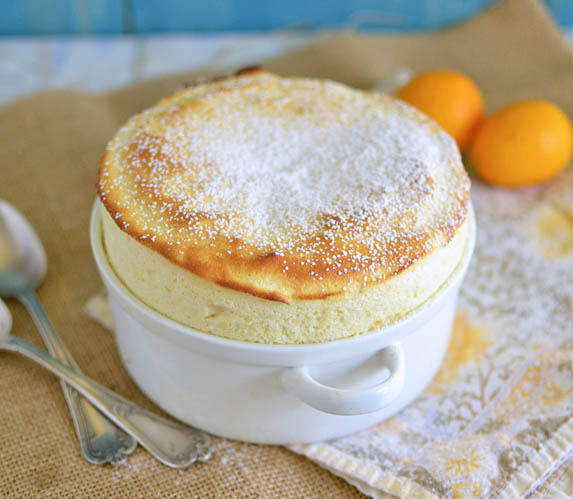 Want to show off your baking skills?  Try making this light-as-air Meyer lemon souffle recipe from Little Ferraro Kitchen.
30.  Creamy Lemon Pie with Graham Cracker Crust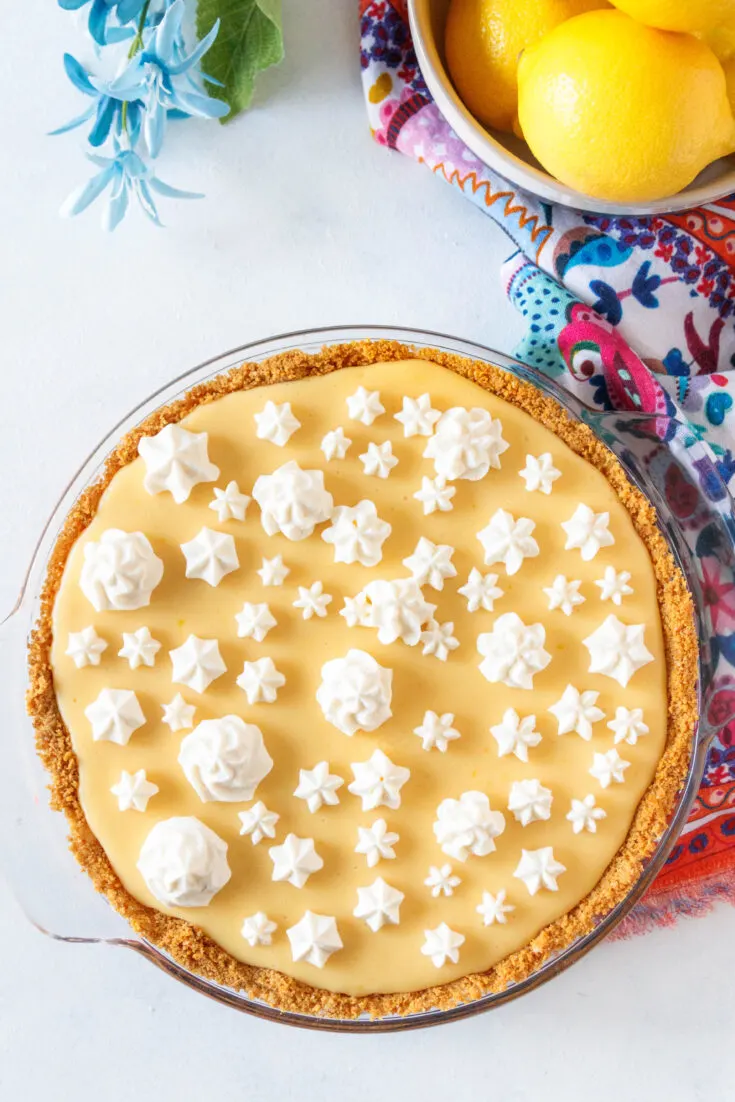 Not a big fan of the meringue part of lemon meringue pies?  This creamy lemon pie with a graham cracker crust is calling your name!  (And mine.  I'll race you for it.)
31.  Lemon Mascarpone Crepe Cake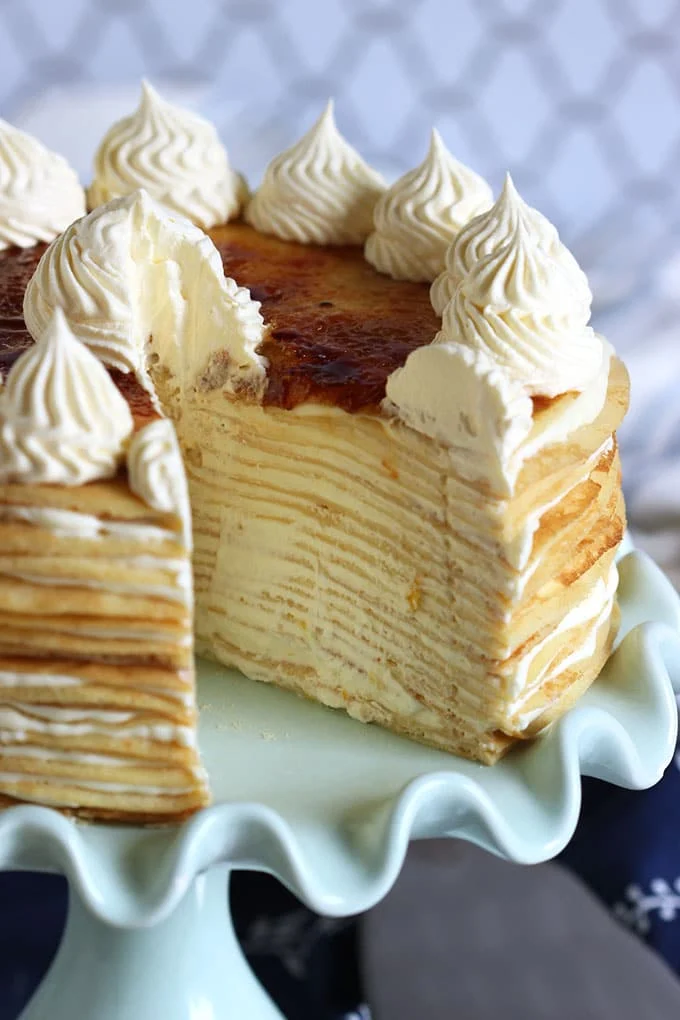 I absolutely adore crepe cakes!  And this version layered with lemon mascarpone filling is my dream come true.  Get the recipe from The Suburban Soap Box here.
32.  Lemon Crinkle Cookies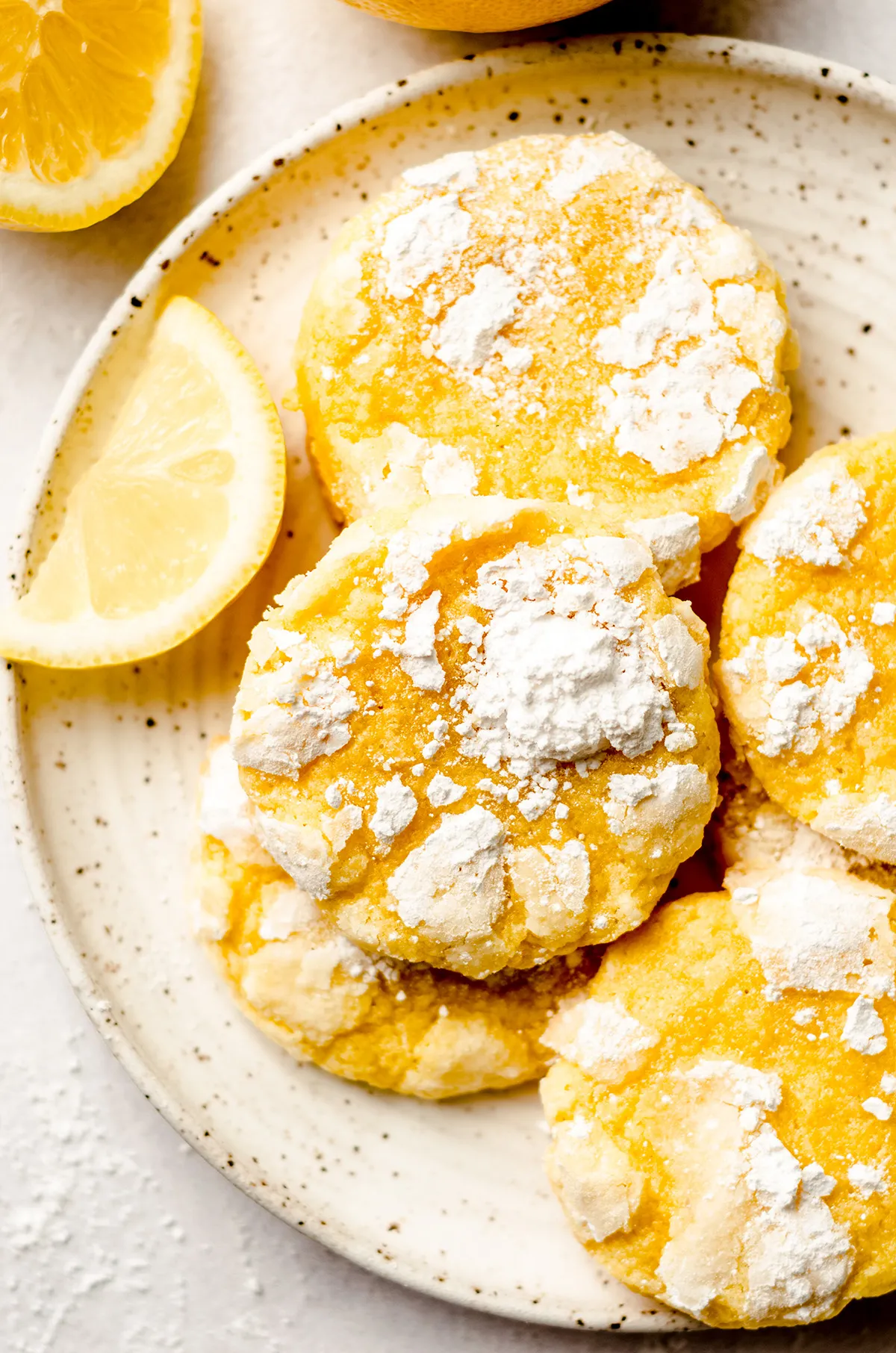 Aren't these lemon versions of classic crinkle cookies absolutely beautiful?  You don't need to have any decorating skills to make beautiful lemon cookies like these.
33.  Lemon Custard Ice Cream
Rich homemade custard ice cream is even more delicious when paired with fresh lemon.  Even if you've never made homemade ice cream before, this lemon ice cream recipe from Bake School will have you scooping a cone in no time.
34.  No Churn Lemon Curd Ice Cream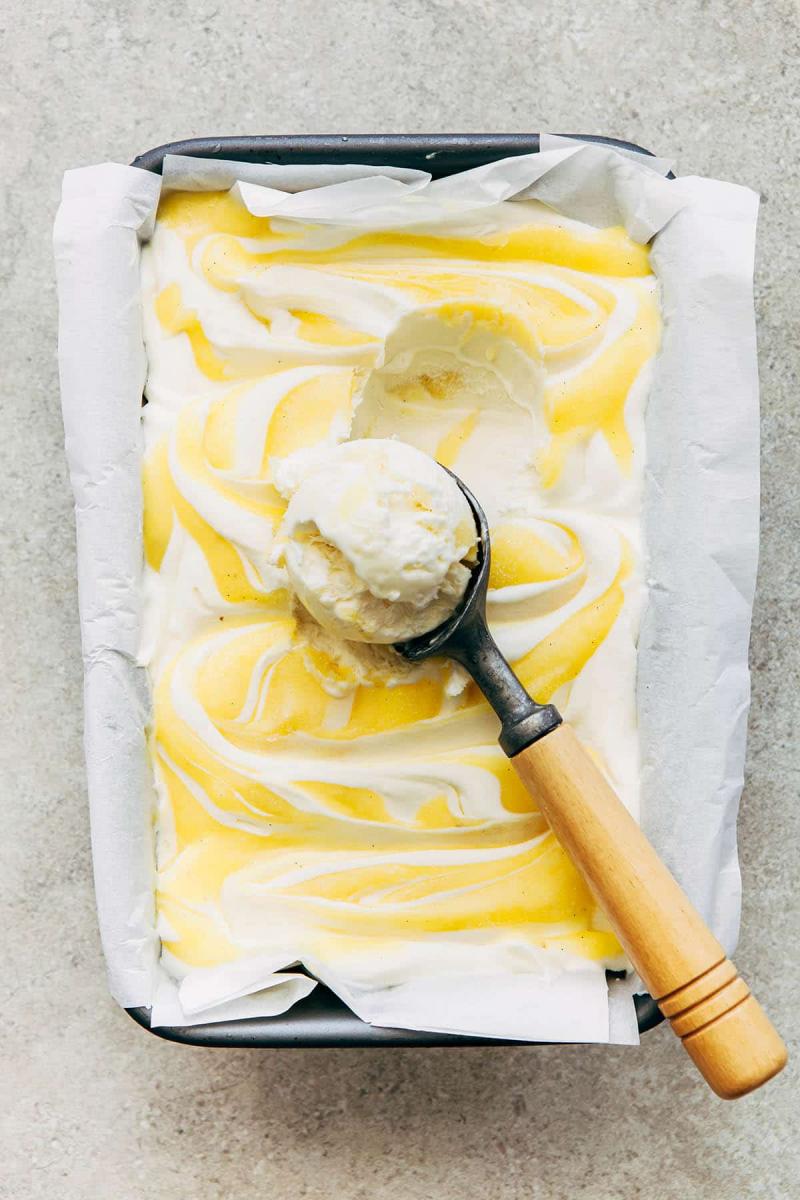 If you don't have an ice cream maker, don't worry!  Try this no-churn lemon curd swirl ice cream recipe from Kelly Neil.  It's so pretty, isn't it?
35. Southern Lemon Chess Pie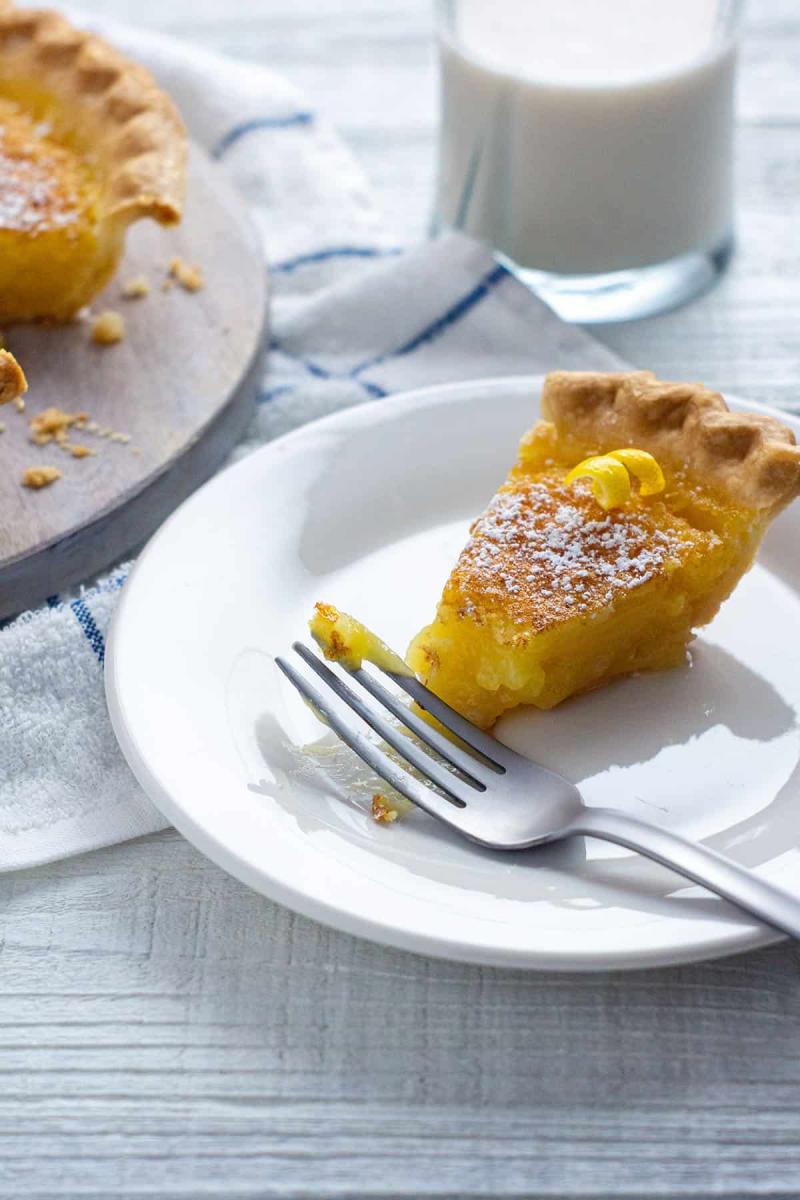 Chess Pie is a classic, old-fashioned southern recipe, and this lemon chess pie is a delicious variation on that tradition.  It's made with such basic ingredients, and I love how to the top gets an almost crème brûlée-like candied crust.
36.  Mini Lemon Tartlets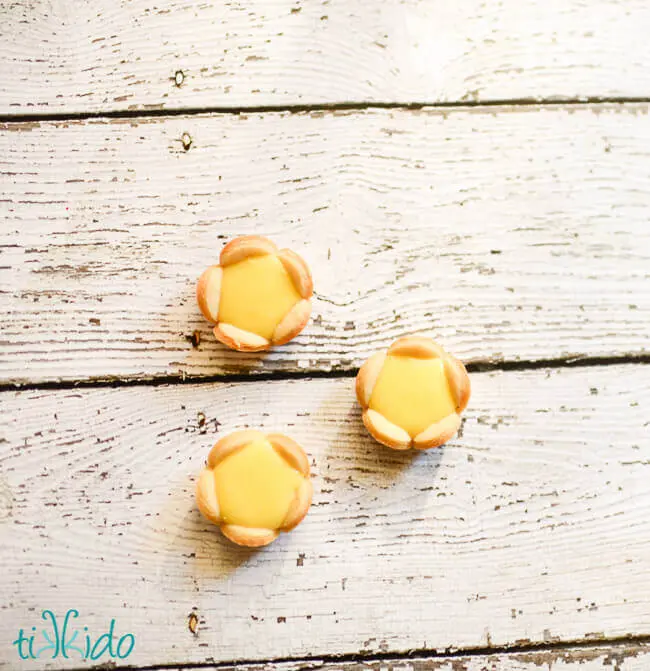 Miniature lemon tartlets are the prettiest, bite-sized treats to make for a special occasion.  A sugar cookie crust and lemon curd filling make these adorable cookies amazingly delicious, too!
37.  Lemon Biscotti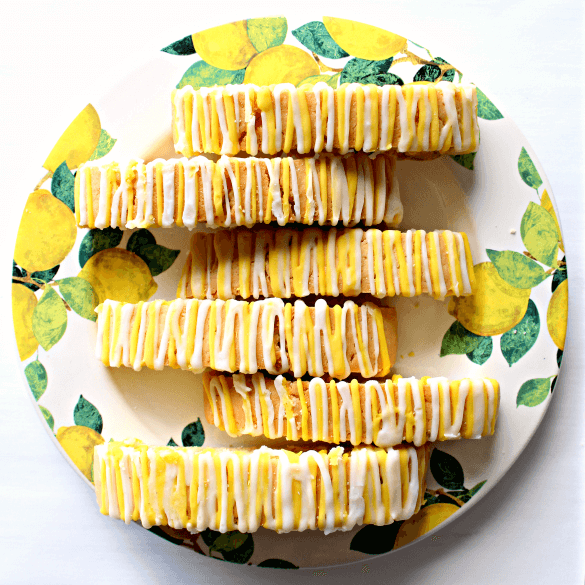 Homemade biscotti is so good--so much better than anything I've ever bought in a store or coffee shop.  These lemon biscotti from The Monday Box are baked with real lemon flavor, and topped with a beautiful drizzled lemon glaze.  Is it tea time yet?
38. Lemon Crumb Muffins
I'm a sucker for a crumb topping, especially on a lemon muffin that balances the sweet topping.  You'll want to wake up early to enjoy these Lemon Crumb Muffins from The Kitchen is my Playground.
39. Low Carb Lemon Curd Cake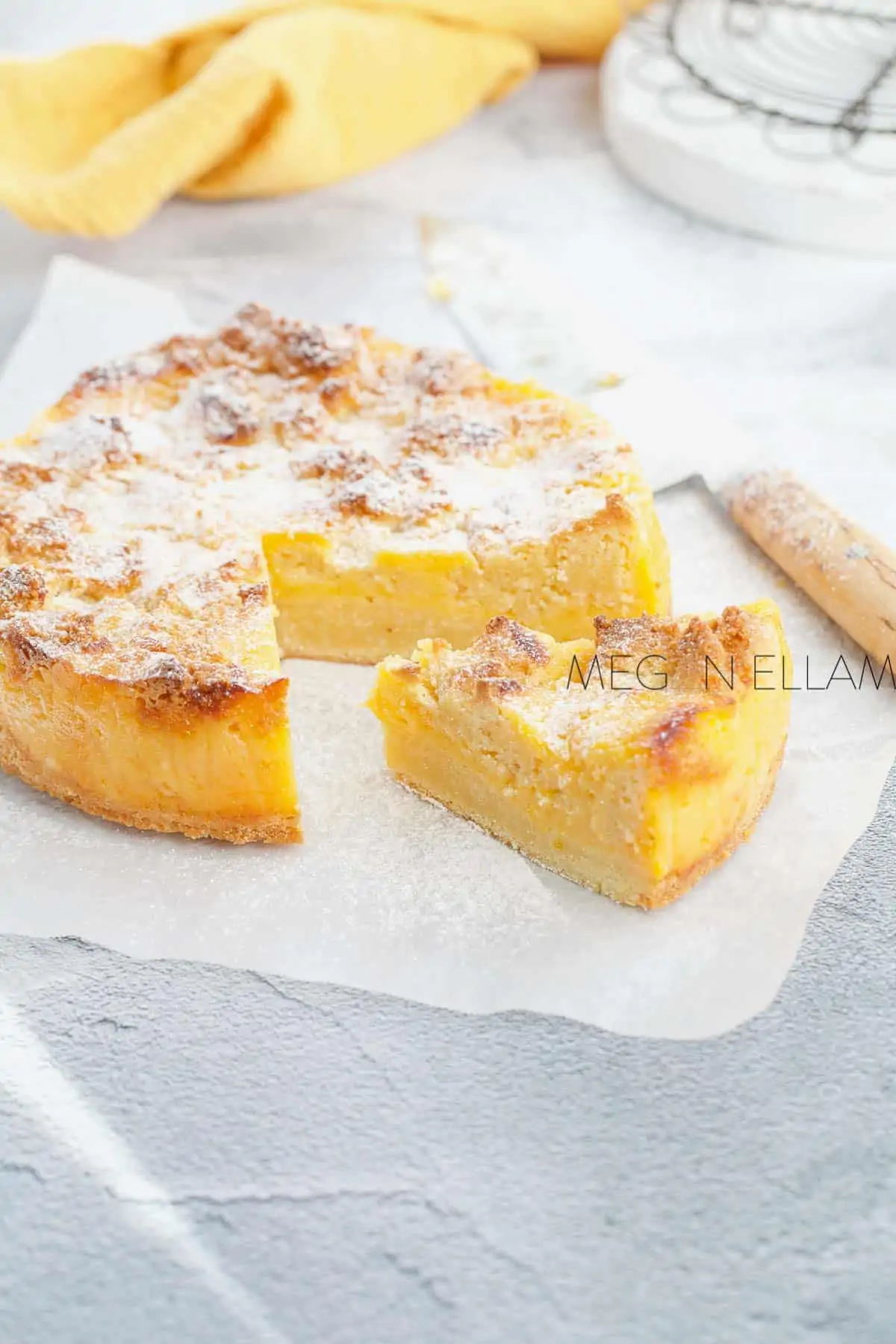 I didn't think I'd ever think anything low carb would look this delicious, but I'm a complete convert with this Low Carb Lemon Curd Teacake from Mad Creations!  The texture is absolutely sublime.
40.  Lemon Cheesecake Bars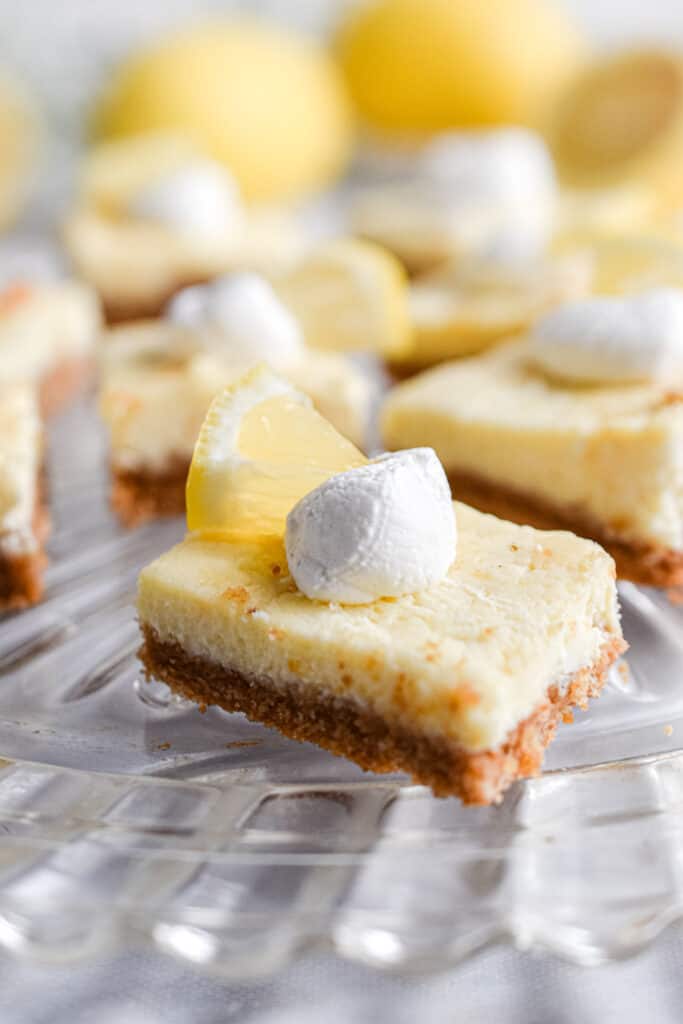 And finally, lemon cheesecake bars.  All the delicious flavor of lemon cheesecake, but in an easier to make bar form.  I also love the ratio of cheesecake to graham cracker crust in cheesecake bars.   Get this irresistible recipe from Lynne's Way of Life here.
If you love lemon as much as I do, be sure to follow my Citrus board on Pinterest!