Printer-friendly version
A cake soak is an easy method pastry chefs use to add flavor to a cake, make a dry cake moist, and to help a cake stay incredibly moist.  Cake soak is a simple syrup, flavored in a variety of ways, that gets added to the baked cake.  It's an easy technique that really adds a lot of flavor and moisture to any kind of cake you want to make.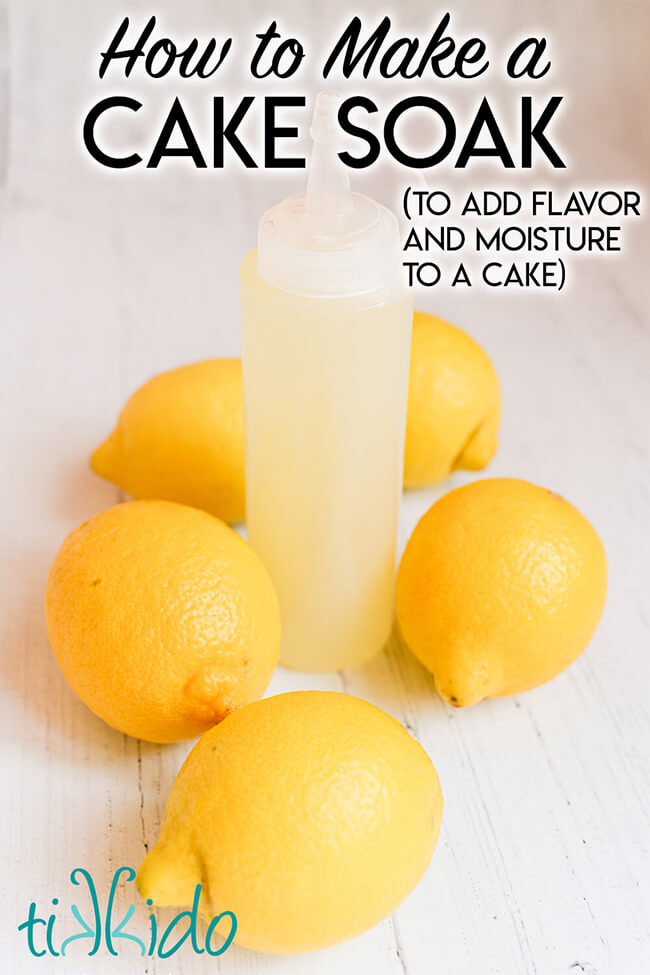 I learned this technique from my pastry chef mother, and it really is a fabulous, versatile method for adding amazing flavor to any layer cake.  The picture above is a lemon cake soak I made for my friend's wedding cake last week.  
The cake soak gets added to the torted cake layers before the filling is added, and it literally soaks into the cake.  That's why it's called a cake soak, not because you submerge the cake in any kind of liquid.  You can make a cake soak for absolutely any type of cake.  I'm going to walk you through the basic technique and a few basic cake soak recipes, but by the end of the post, you'll understand exactly how to adapt this recipe for any flavor profile.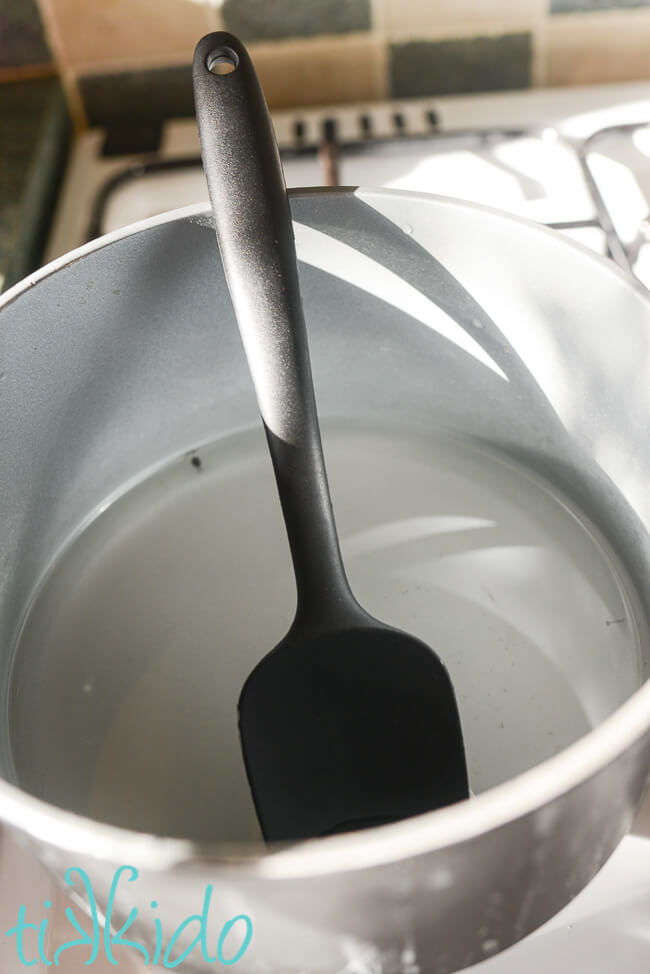 How to Make a Cake Soak
A cake soak is just a simple syrup, often flavored.  
Simple Syrup Ingredients:
equal parts water
and granulated sugar
Combine the water and sugar (For example, one cup water and one cup sugar) in a small saucepan and cook over medium heat until the sugar dissolves.  Remove from heat and let come to room temperature.  This sugar mixture is the base for all cake soak flavors, and can be used on its own if you just want to add moisture to a cake, but no other flavor.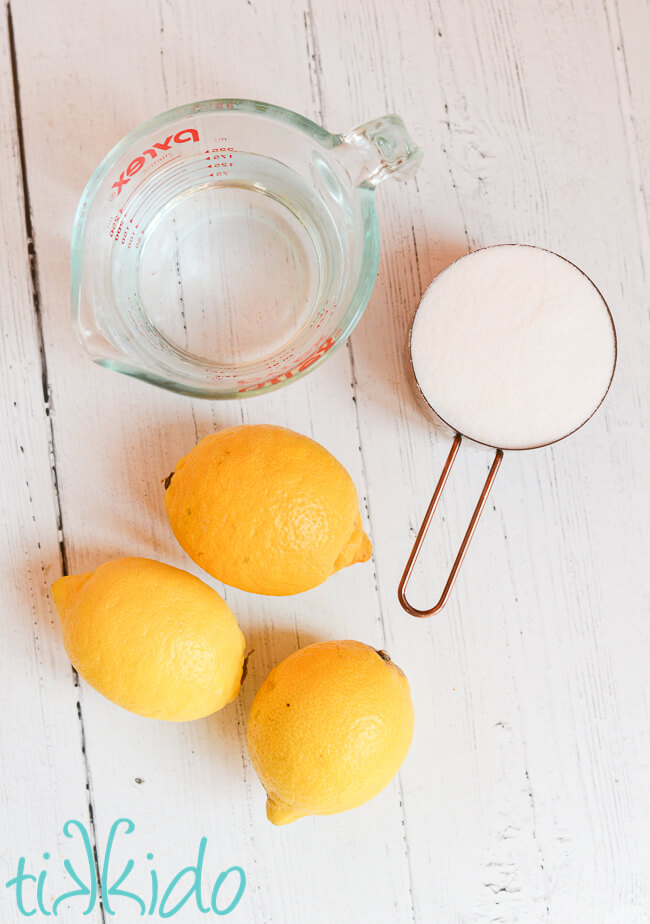 Lemon Cake Soak
1 cup simple syrup
1 cup lemon juice
I like to make my lemon cake soak with equal parts simple syrup and freshly squeezed lemon juice, because I love bright lemon flavor.  If you want a more subtle lemon flavor, feel free to use less lemon juice in your mixture.
You can add lemon zest to your lemon cake soak if you'd like.  I don't usually bother, because I prefer to apply my cake soak with a squeeze bottle rather than a pastry brush, and zest can clog up the nozzle.  If you are going to use lemon zest in your lemon syrup, use a very fine microplane zester to make the zest.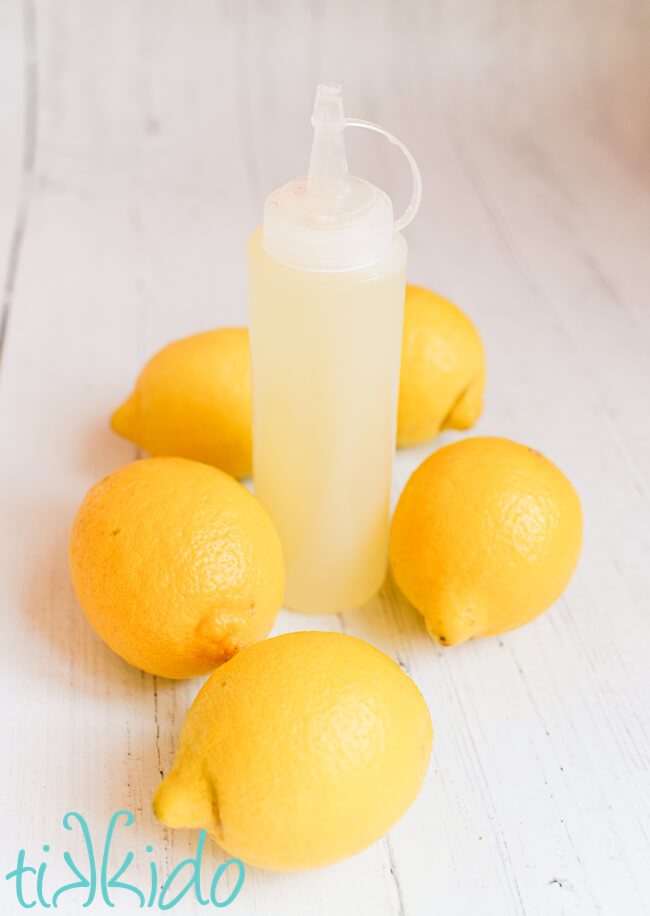 If you don't have fresh lemons, you can substitute 2-3 tablespoons of frozen lemonade concentrate to make a lovely lemon cake soak.  Similarly, using orange juice concentrate makes a delicious orange cake soak.  In fact, there are tons of delicious frozen fruit juice concentrates that, combined with simple syrup, make amazing cake soaks!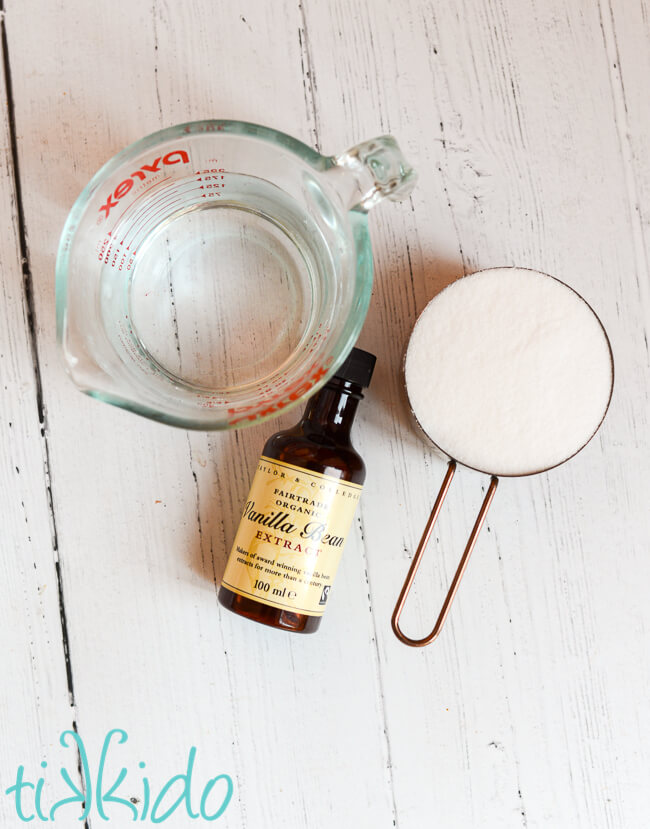 Vanilla Cake Soak
1 cup simple syrup
1 teaspoon vanilla extract
Vanilla cake soak is a great, basic cake soak for absolutely any flavor of cake.  Sure, it's perfect for vanilla cake, but it's also fabulous on chocolate cake, carrot cake, and so many other flavors!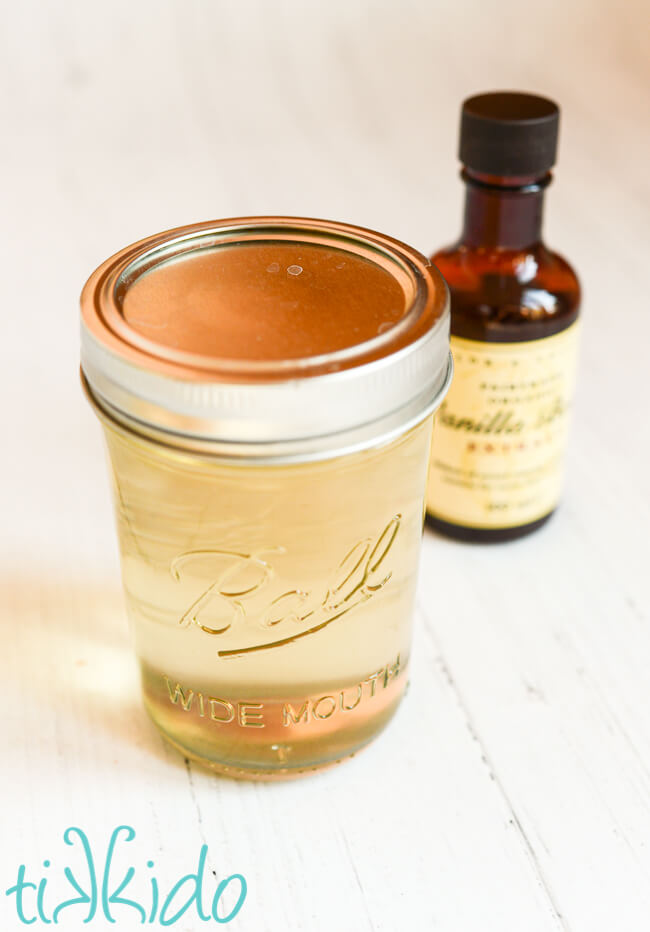 You can use a clear vanilla extract if you don't want any color from the soak on a white cake, but I never bother.  I'd rather have a tiny bit of color and the fabulous flavor from real vanilla.
This same technique can be used to make cake soaks with other extracts, too.  Almond is lovely.  So is peppermint (especially on a chocolate cake).  Be careful with other extracts, though.  Some are stronger than others (hello mint), so start with 1/4 teaspoon per cup of the syrup, taste, and adjust up from there.
Cake Soaks with Alcohol
Liqueurs and other alcohols can make absolutely delicious, grown-up flavors for cake soaks.  Some alcohols (like rum, or whiskey) are more concentrated and intense than others (like schnapps, or Baileys Irish Cream).  It's a good idea to start with a tablespoon of the alcohol per cup of simple syrup, taste, and adjust to your liking from there.
Try these Flavor Ideas for Boozy Cake Soaks:
Spice cake with spiced rum cake soak
Baileys Irish Cream Cake Soak or a whiskey soak on a coffee flavored cake
Amaretto cake soak on vanilla cake, paired with apricot filling (that's what I did in the picture above for my parents' 40th anniversary party)
Mix tequila, lime juice, and lemon juice with the simple syrup and add to a lemon cake or vanilla cake to make an amazing margarita cake
Make a brandy cake soak and use it on an eggnog cake to make a spectacular Christmas cake.
You get the idea!  I used a Baileys Irish Cream soak on a birthday cake for my friend Bailee's 21st birthday.  Some of the alcohol does evaporate, and it's a very little amount in a single piece of cake, but I tend to choose these flavors when I know the cake is going to be for adults.
Chocolate Cake Soak
I typically just use a vanilla bean cake soak with my chocolate cake, but if you want to boost the chocolate flavor even more with a chocolate cake soak, I have a few recommendations:
Combine equal parts simple syrup and Hershey's chocolate syrup to make a chocolate sauce thin enough to soak into the cake.
Mix up an extra chocolatey, intense version of your favorite hot cocoa (this is my favorite recipe for cocoa mix).  Use the cocoa as your chocolate cake soak.  Cocoa powder (the chocolate in cocoa mix) needs heat to dissolve well, so it's important to make regular hot cocoa (with hot water or hot milk) and let it cool down, rather than try to mix hot cocoa mix with cold water.
Orange cake soak works gorgeously with chocolate cake.
Mix caramel with hot simple syrup to create a caramel cake soak that tastes amazing with chocolate cake and salted caramel frosting.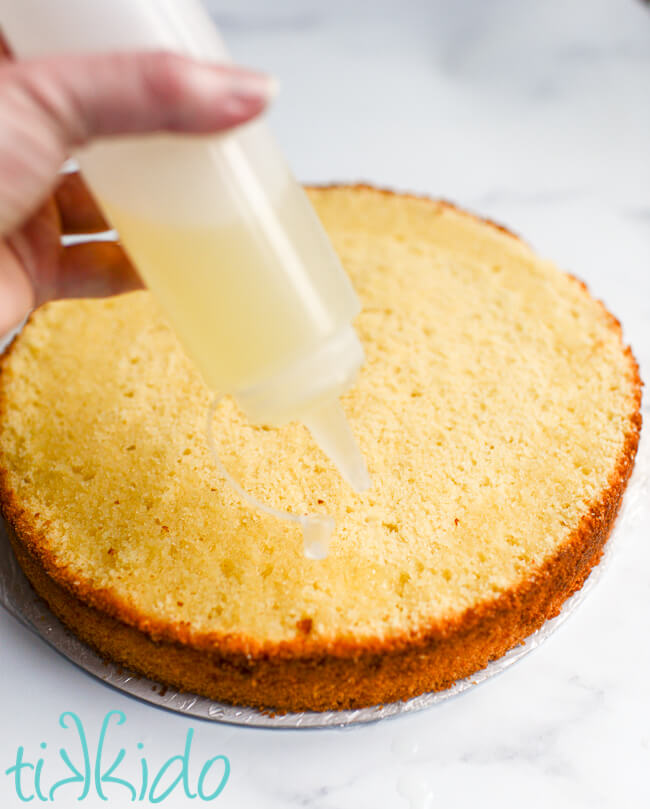 How to Use Cake Soak
Applying the cake soak couldn't be easier!  I like to use a food-safe squeeze bottle to easily apply the sake soak syrup evenly to each layer of cake (it should be cool cake, not hot cake).  You can also use a pastry brush, but that takes a lot longer, and it's much more difficult to add as much liquid as you want to add to the cake.  The squeeze bottles are easier, better, and very inexpensive.  I highly recommend them.
Torte your cake into as many layers as you want.  Apply the cake soak in an even layer to the top of each layer of cake, squeezing the liquid out in a spiral pattern to get full coverage and a good soak.  You really can use a lot more of the syrup than you think!  I use at least half a cup of liquid per 8" layer of cake.
Set the soaked cake aside and let it absorb the moisture for a few minutes before attempting to fill and stack the cake.
Note:  I do not soak the very top layer of the cake.  It can make it difficult to get a good crumb coat of icing on the cake.  The cake soak is used to moisten and flavor only the interior layers of cake.
You can poke holes in the cake with a thin skewer if you want the flavor of the cake soak to get deeper in each layer of cake, but I don't generally bother with that.  I'd only use that technique if I were trying to rescue really dry cakes.  My go-to cake recipes make lovely, moist cake, so I'm all about adding extra flavor with my soak.
You can use any remaining syrup to make some amazing cocktails!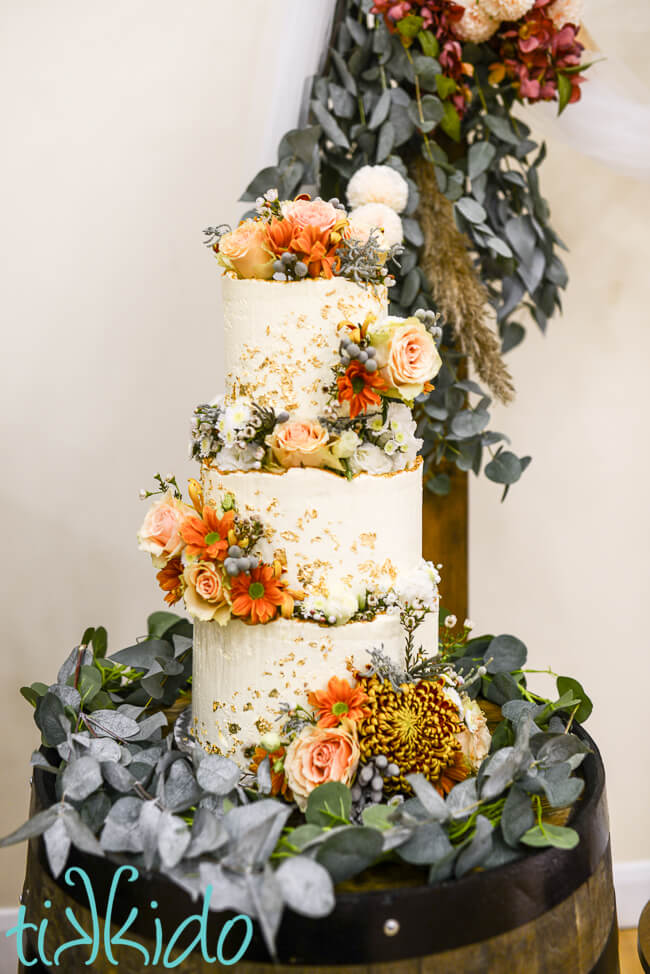 I had the great joy of making a wedding cake for my friends Andrea and Chris last weekend, and I used the vanilla flavour cake soak on the chocolate cake layer (top, with chocolate fudge filling), the carrot cake layer (middle, with cream cheese frosting filling), and a lemon cake soak on the vanilla cake layer (bottom, with homemade lemon curd and blackberry Italian Meringue Buttercream filling).  And I used the leftover cake soak to make fabulous fresh lemonade for my daughters!  
What flavor combinations would you like to try?