Printer-friendly version
Peanut butter frosting is a delicious American buttercream icing absolutely full of peanut butter flavor.  This peanut butter frosting recipe is made with smooth peanut butter and powdered peanut butter, which makes this frosting incredibly flavorful.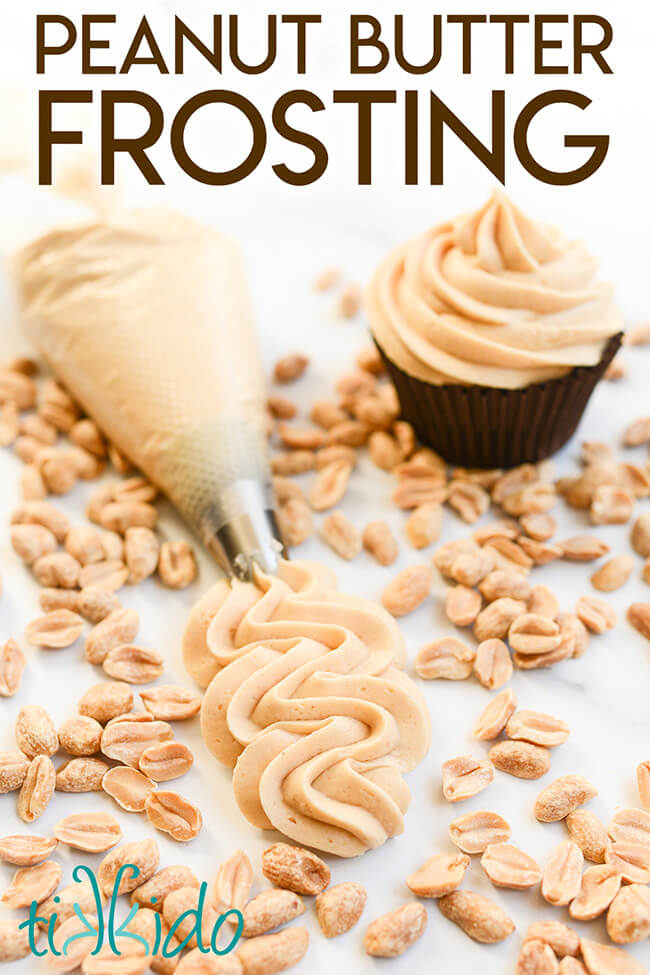 Did you know that today is National Peanut Butter Lover's Day?  That's why we chose Peanut Butter as our theme this month for the Taste Creations Blog Hop.  I decided to share my recipe for peanut butter frosting with you.  If you love peanut butter, you're going to adore this icing recipe.  It has so much peanut butter flavor!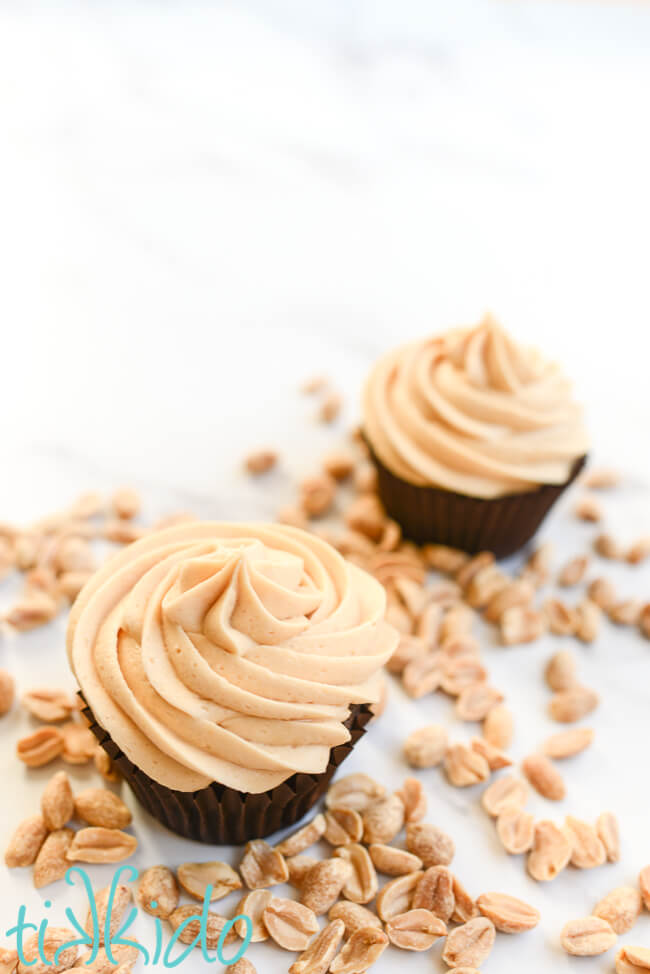 Peanut Butter Frosting Flavor Pairing Ideas:
I particularly love peanut butter frosting on my favorite chocolate cupcakes.  Peanut butter and chocolate are always a perfect pair.
Peanut butter icing, paired with Strawberry Cake, makes a fabulous Peanut Butter and Jelly cake!
Bake up banana bread as cupcakes/muffins, fill with marshmallow fluff, and top with peanut butter frosting to make a Banana Fluffernutter Cupcake.
Honey cake is amazing topped with peanut butter frosting.
And if you just LOVE peanut butter, go all-in with a peanut butter cake plus this amazing peanut butter buttercream icing.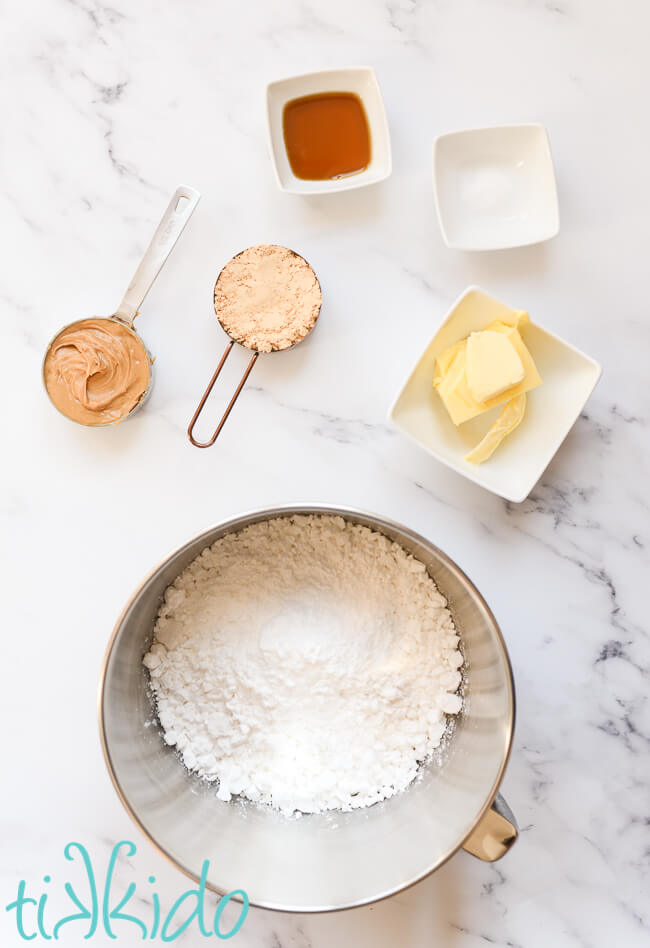 Peanut Butter Frosting Recipe:
2 pounds of powdered sugar
1/2 cup (1 stick, or 113 grams) butter, softened
1/2 cup peanut butter
1/2 cup powdered peanut butter (like PB2)
1/2 teaspoon salt
1 teaspoon vanilla
Milk to thin the frosting to the right consistency (I used about 1/2 a cup)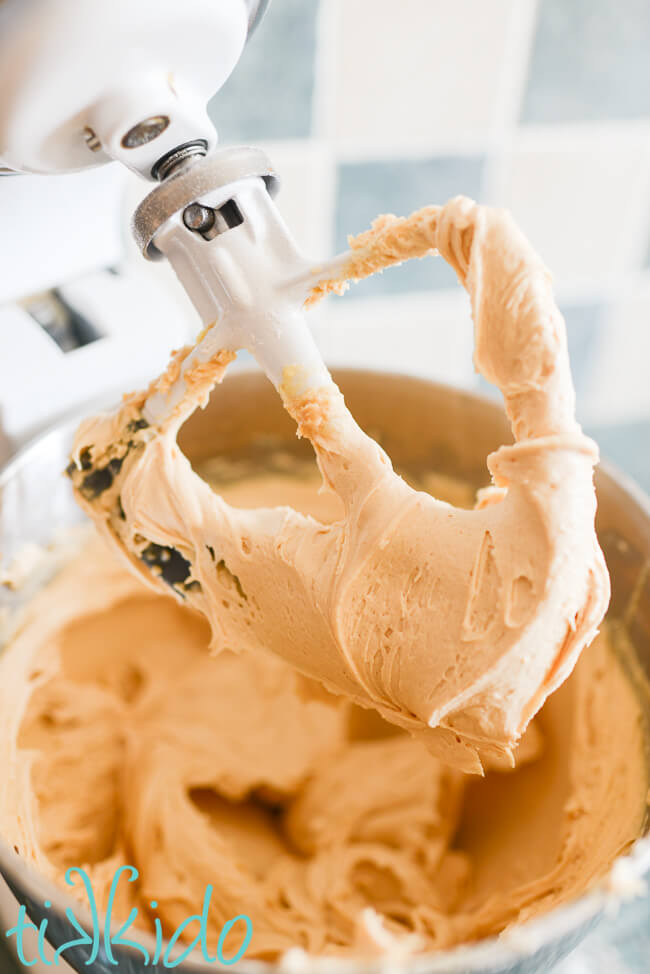 This is an American buttercream icing recipe, and it's really simple.  You just put all of the ingredients (except the milk) in a mixing bowl, and beat it together.
Add milk, a tablespoon or two at a time, beating after each addition, until the peanut butter frosting is the consistency you want for your project.
It really is that fast and easy!  And it's SO much better than any store bought can of frosting.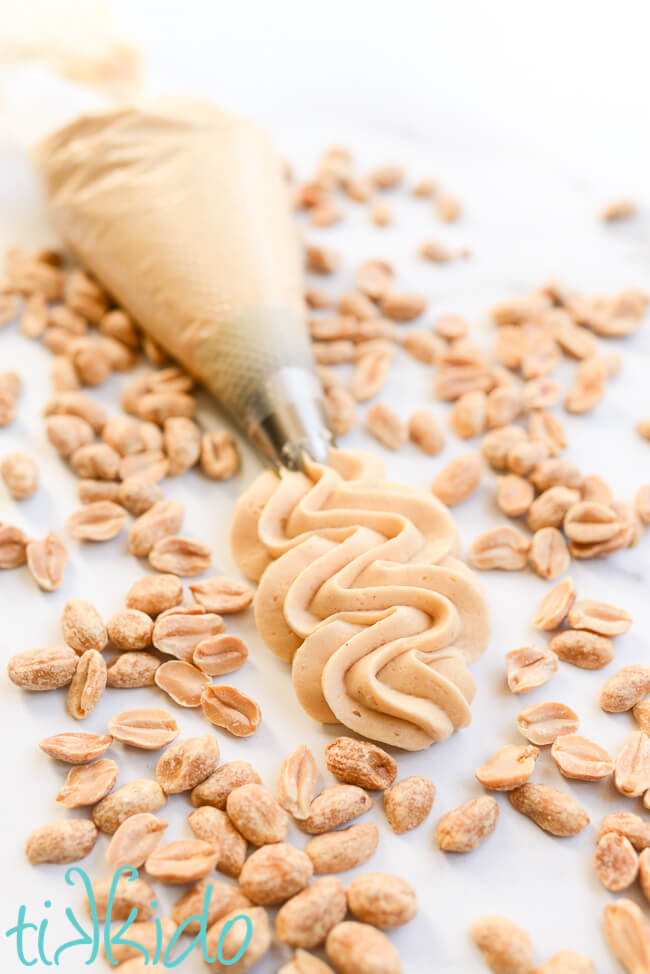 Can I leave out the Powdered Peanut Butter in the Peanut Butter Frosting?
Yes, absolutely.  If you have a hankering for peanut butter frosting, but you don't have any PB2 in the house, you can absolutely make the frosting without it.  Just leave it out, and mix up the icing the exact same way.
Without the powdered peanut butter, the frosting won't have quite the same intensity of flavor, but it's still absolutely delicious.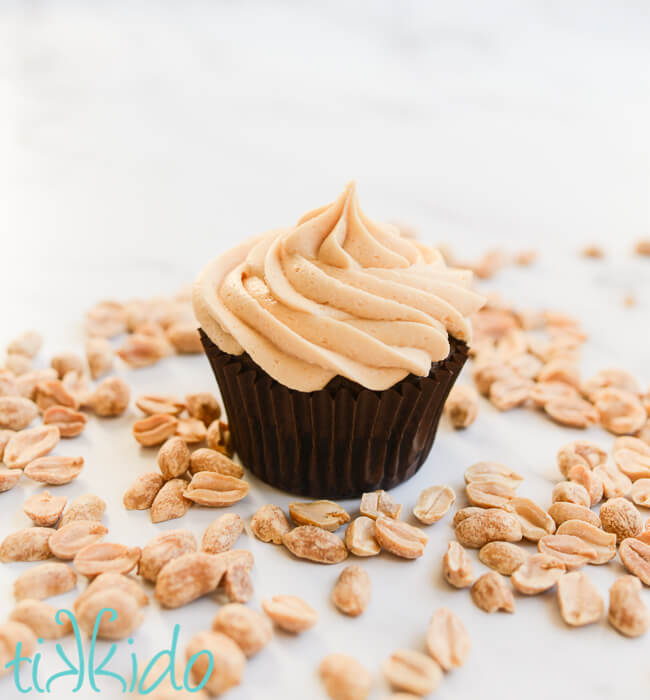 Can You Make This a Vegan Peanut Butter Frosting?
Definitely!  Just replace the butter with Crisco and mix the icing the same way.  Use a plant-based milk (or even water) to thin the frosting to the right texture.  
Vegan peanut butter frosting is one of my favorite vegan icings to make, in fact, because it is so flavorful, you don't miss the flavor of the butter.  And my favorite chocolate cupcake recipe happens to be vegan, already!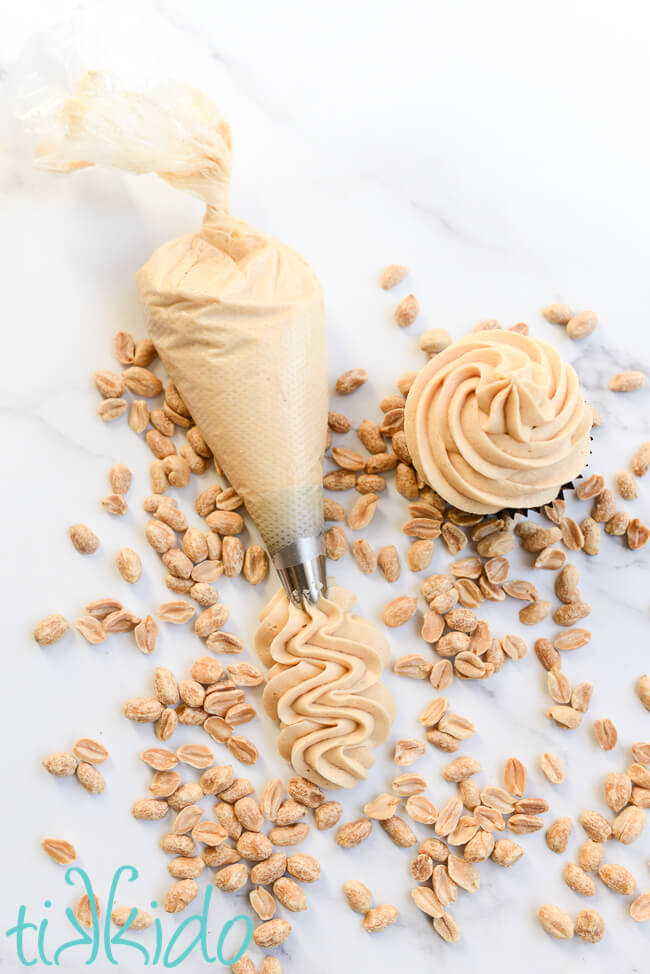 I hope you like this peanut butter frosting as much as my family does!
Printable Peanut Butter Frosting Recipe
Want a one page, printable, PDF version of this recipe?  Here you go: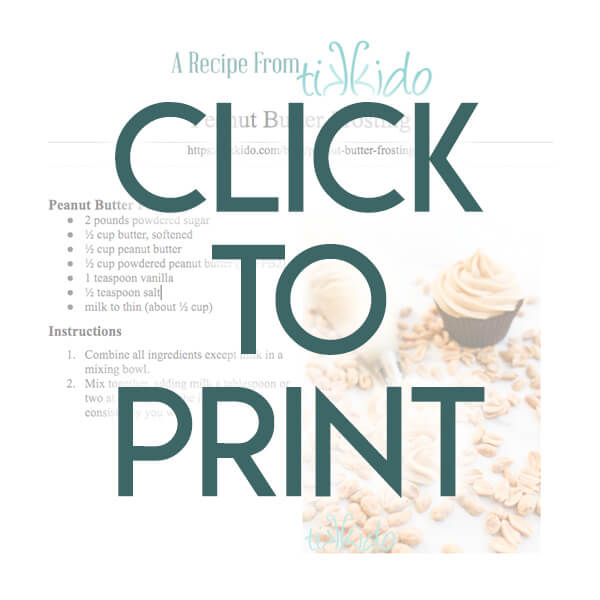 Peanut Butter Recipes from the Taste Creations Blog Hop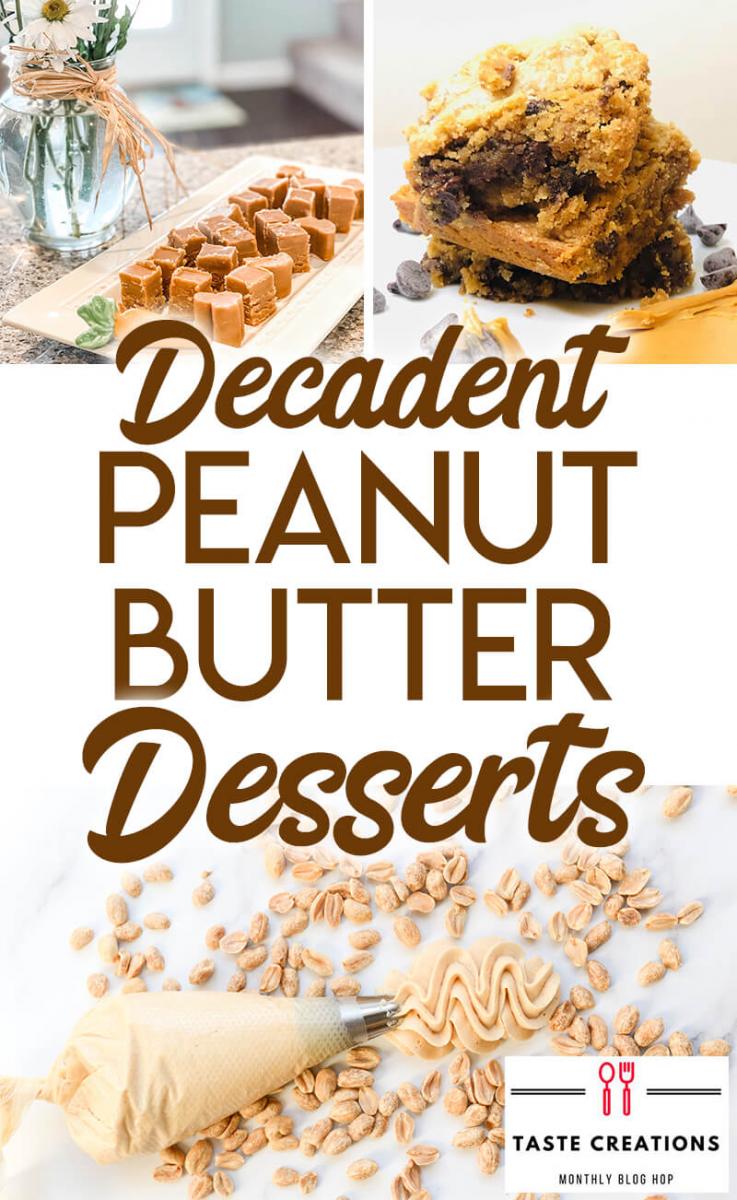 Be sure to check out the other delicious peanut butter recipes from my fellow bloggers in the Taste Creations Blog Hop.  Happy National Peanut Butter Lover's Day!
Other Peanut Butter Recipes You Might Like:
Other Frosting Recipes You Might Like: