Printer-friendly version
Rhubarb simple syrup is the perfect mixer for making all sorts of delicious rhubarb drinks, like rhubarb lemonade, Italian sodas, or rhubarb cocktails.  The bright, sweet flavor of rhubarb syrup is absolutely delicious!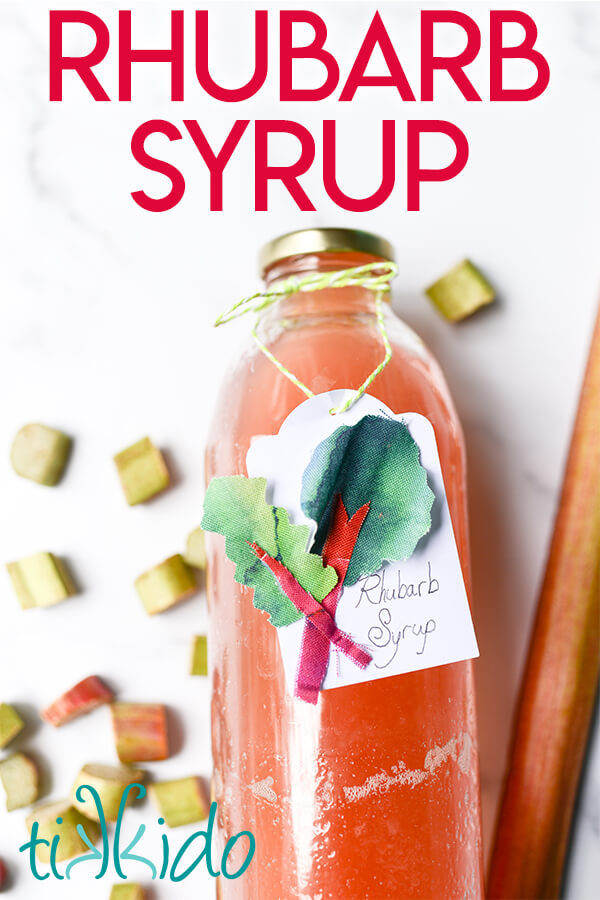 I absolutely LOVE rhubarb, and have been happily buying it every weekend at the market while it's in season.  I'm freezing a bunch of it so I can make my favorite rhubarb treats later in the year, but I'm also making delicious rhubarb things like rhubarb muffins and this amazing rhubarb syrup.  Rhubarb simple syrup is incredibly easy to make, has amazing rhubarb flavor, and can be used to make all sorts of delicious drinks.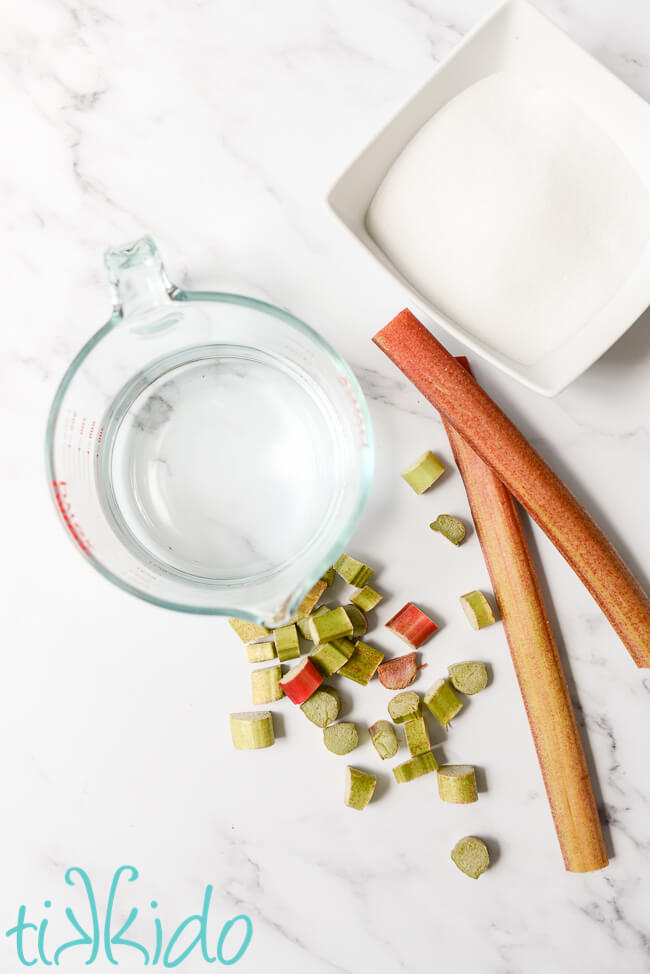 Rhubarb Simple Syrup Recipe:
2 cups water
2 cups sugar
2 cups chopped rhubarb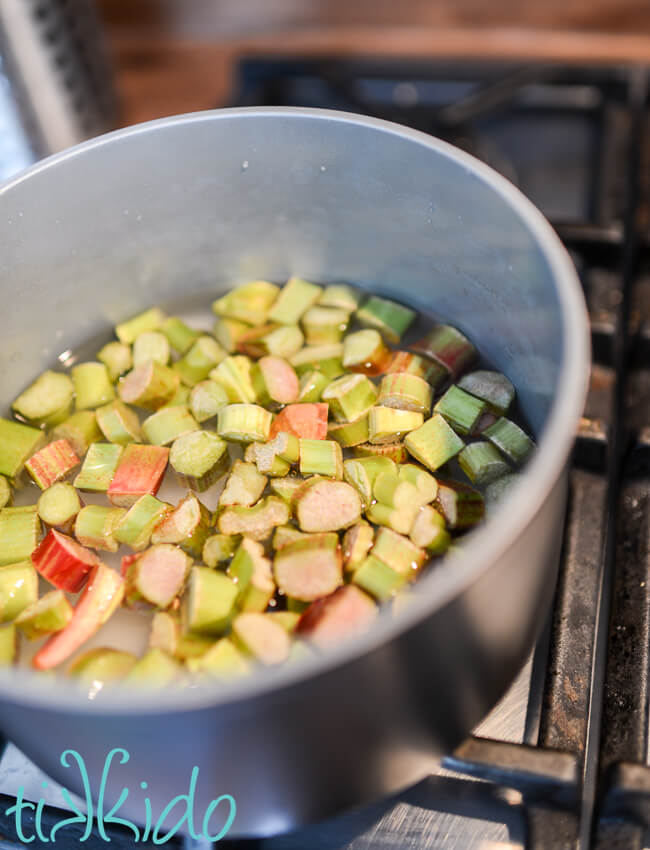 Combine all ingredients for the rhubarb syrup in a saucepan.  Heat the mixture and cook for about 10 minutes.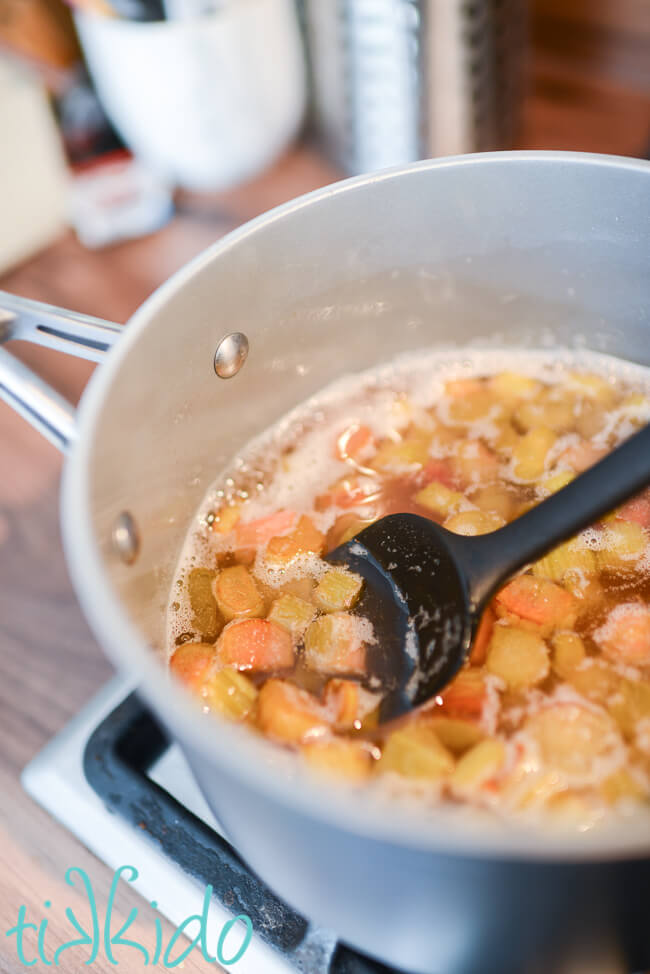 You don't have to worry about over-cooking the rhubarb, so if in doubt, cook longer.  You want the rhubarb to be soft and cooked through.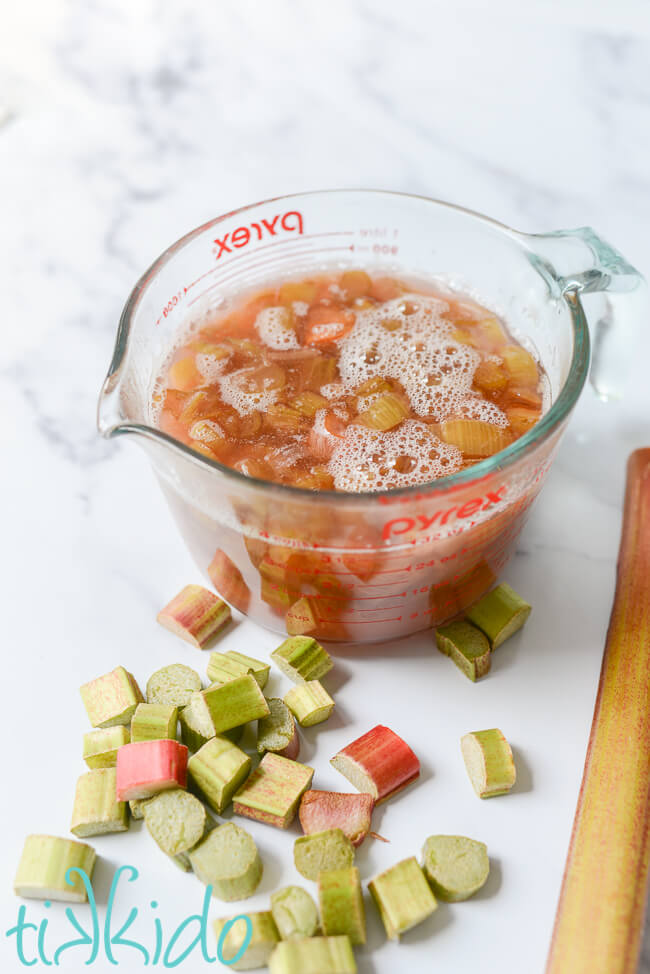 The rhubarb syrup is delicious right away, but it's so much better if you let the mixture--with the rhubarb in it--sit in the fridge overnight.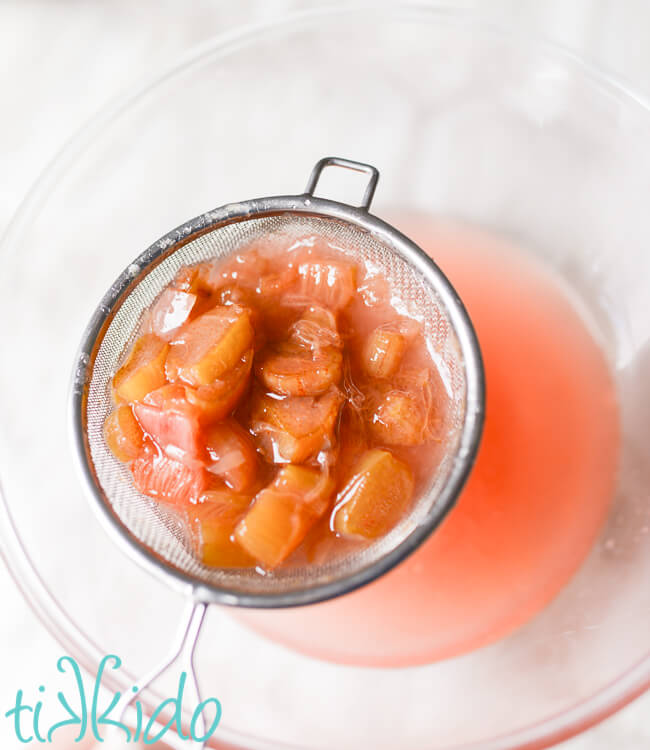 Use a fine mesh strainer to separate the rhubarb from the simple syrup.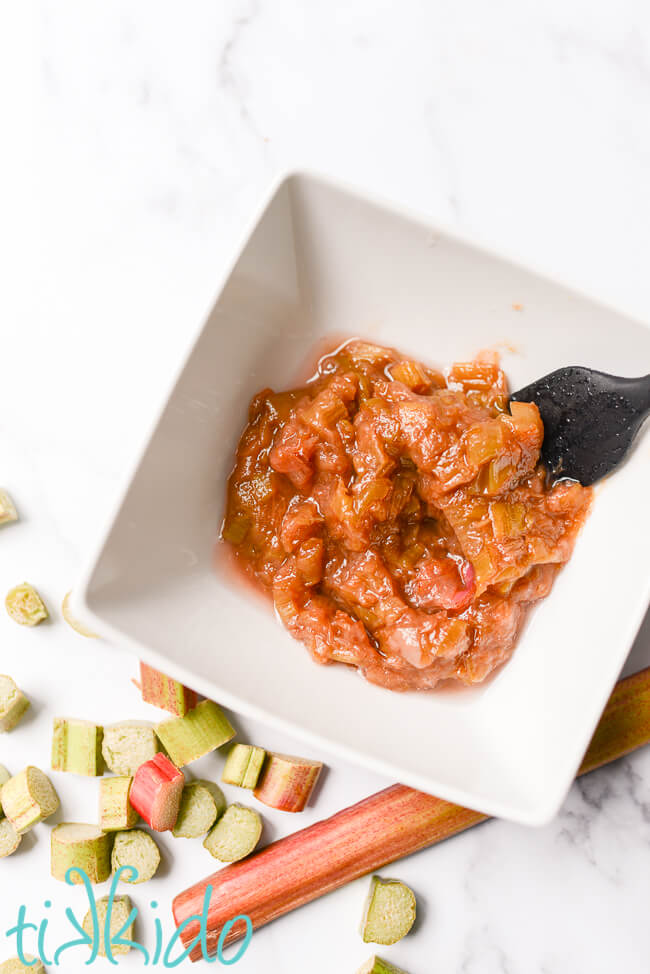 Don't throw away the rhubarb!  It doesn't look pretty, but the stewed rhubarb is absolutely delicious!  I like to use it as an ice cream topping, or use it instead of strawberries on shortcake.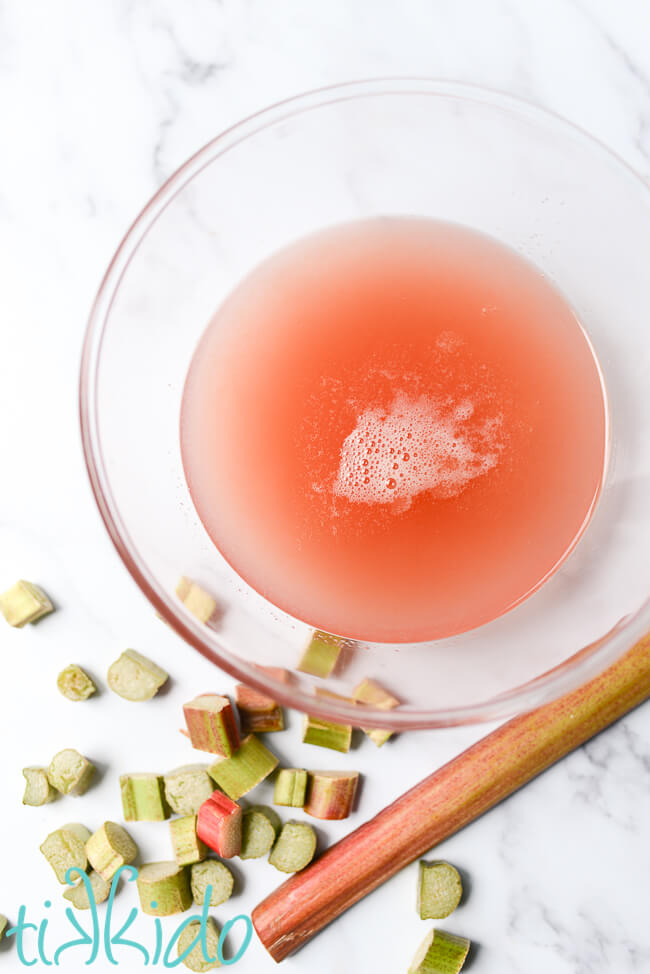 Isn't the simple syrup pretty?  The color of your rhubarb syrup will depend on the color of rhubarb, but it's all delicious.  You could always add a little bit of food coloring if you wanted to boost the red color.  I particularly like Americolor's Tulip Red color.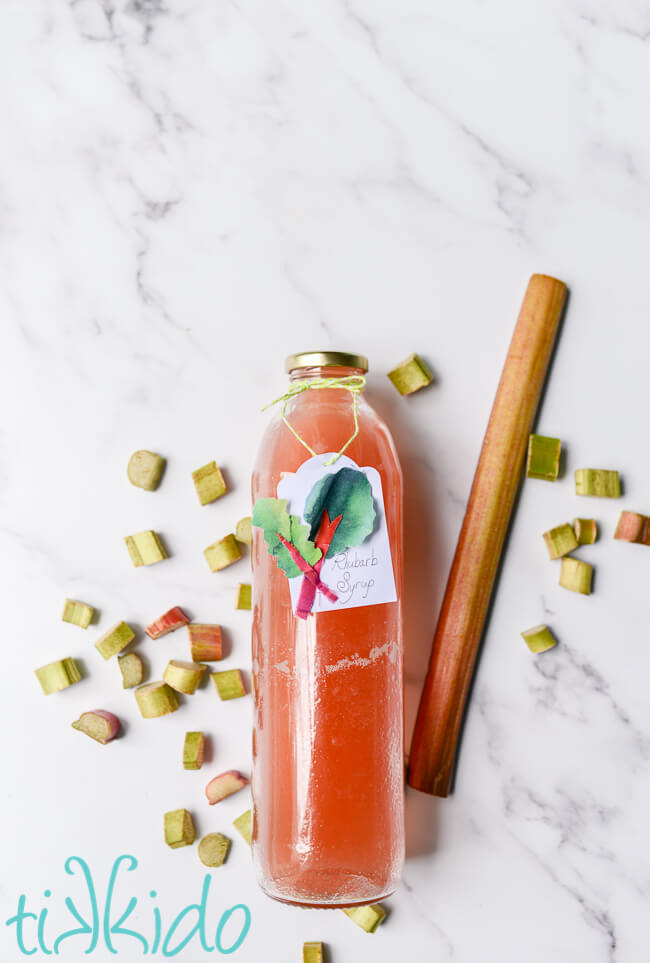 Tomorrow, I'll be sharing a recipe for a Rhubarb Gin Fizz cocktail--the whole inspiration for making this rhubarb syrup.  How would you use rhubarb simple syrup?
Other Simple Syrup Recipes You Might Like: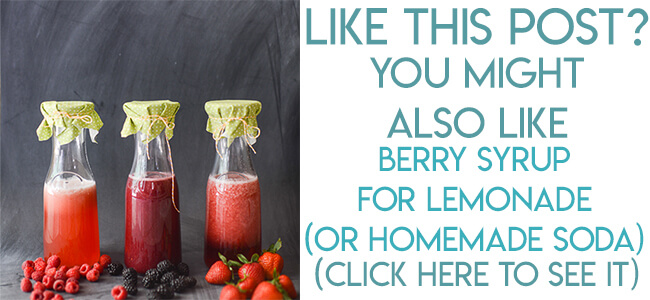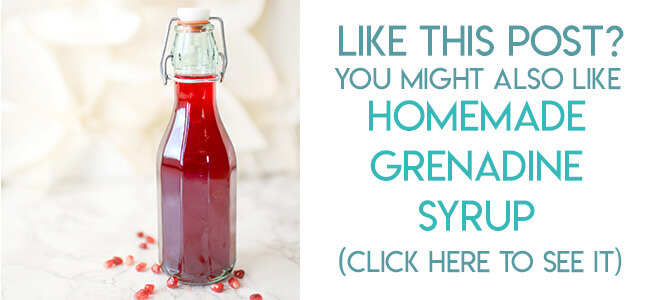 Drinks Made with Fruit Simple Syrups: