Printer-friendly version
This stewed rhubarb recipe is a classic way to make a perfectly sweet and tart rhubarb compote.  Made on the stovetop, it doesn't take long to turn fresh or frozen rhubarb into a delicious rhubarb topping for oatmeal, yogurt, or even ice cream.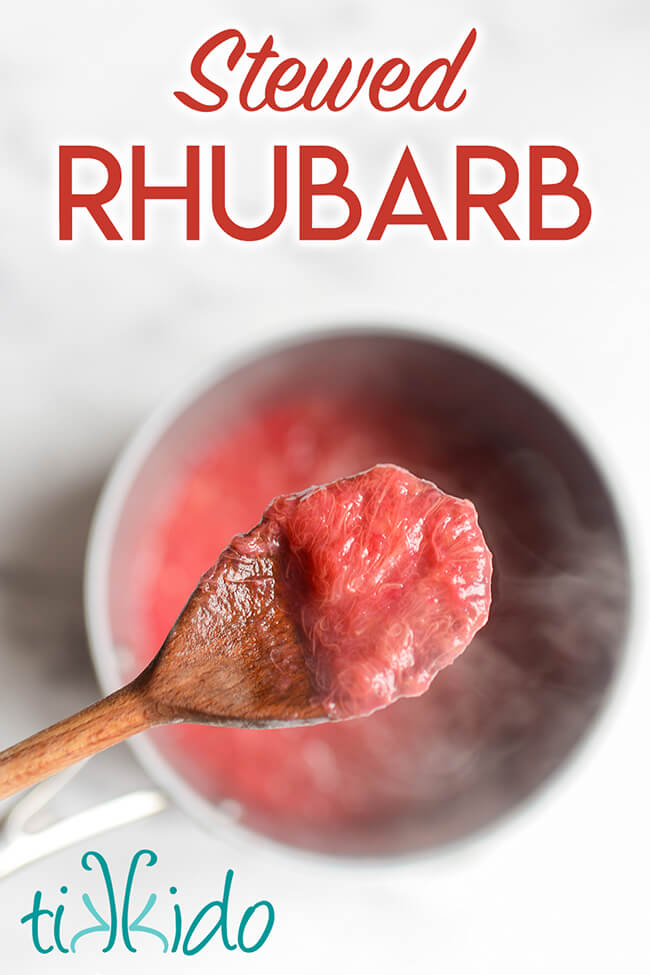 I absolutely love rhubarb, and am always so excited when I start seeing it in the market in springtime.  I love it so much, that when it's a good price, I buy a TON of it and chop it and freeze it so I can enjoy making delicious rhubarb recipes all year long.  One of my favorite things to make with rhubarb is the humble, but oh-so-wonderful stewed rhubarb.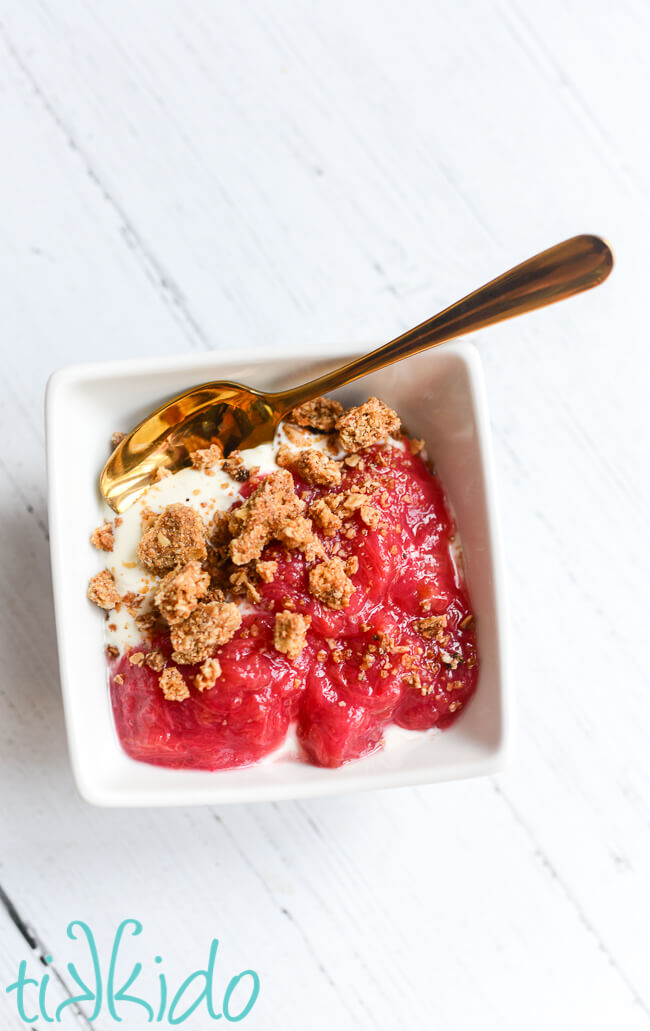 Sometimes I make a roasted rhubarb sauce--and that's easy and delicious, too--but stewed rhubarb made on the stovetop is what I grew up with, and I'll always keep coming back to it.
Ways to Use Stewed Rhubarb
Stewed rhubarb is absolutely amazing on oatmeal or cream of wheat for a hot winter breakfast that gets you excited for the coming spring.
Mix with Greek yogurt (as on the picture above) and top with granola for a fast, easy, and absolutely delicious breakfast.
It's also magical on top of vanilla ice cream!  Either hot or cold.
Make a homemade shortcake, and top with stewed rhubarb and whipped cream.
Stewed rhubarb can be used in place of bananas in banana bread.
It's an ingredient in recipes like rhubarb cheesecake or soft rhubarb cookies.
Just eat it by the spoonfull!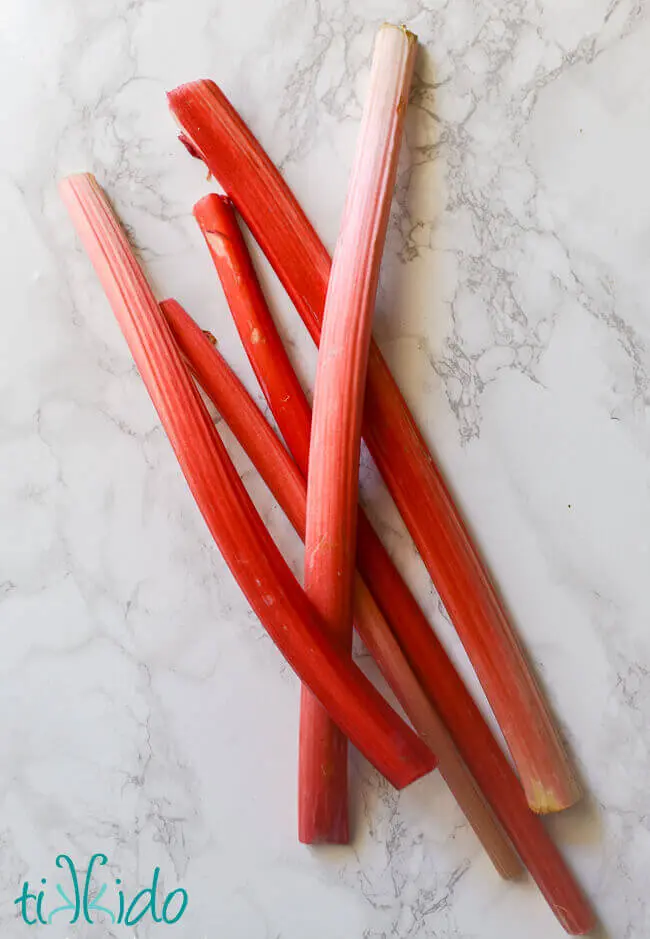 What is Rhubarb?
Rhubarb is a hardy perennial plant that can be grown in zones 3-8.  It's a vegetable, but it most often gets used like a tart fruit, and made into pies, muffins, and other baked goods.  Only the stem of the rhubarb plant gets eaten, since the leaves have oxalic acid (though you'd have to eat several pounds of rhubarb leaves for it to pose a health risk, but they're best avoided).  Rhubarb is in season starting in April, and can be found through July in some cooler regions.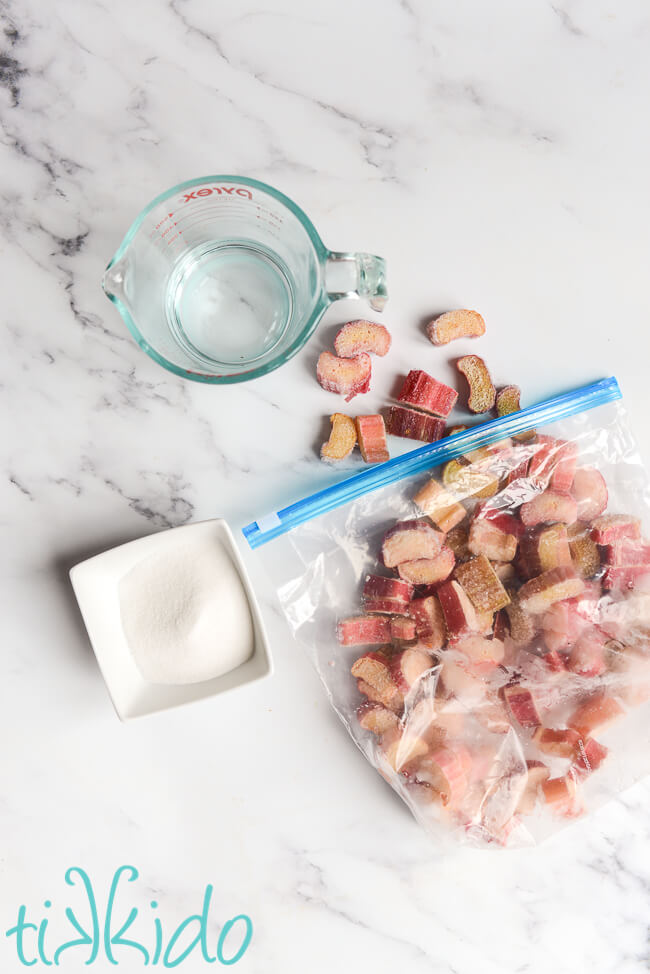 Stewed Rhubarb Recipe Ingredients:
1 1/2 cups rhubarb (fresh or frozen)
1/2 cup sugar
1/2 cup water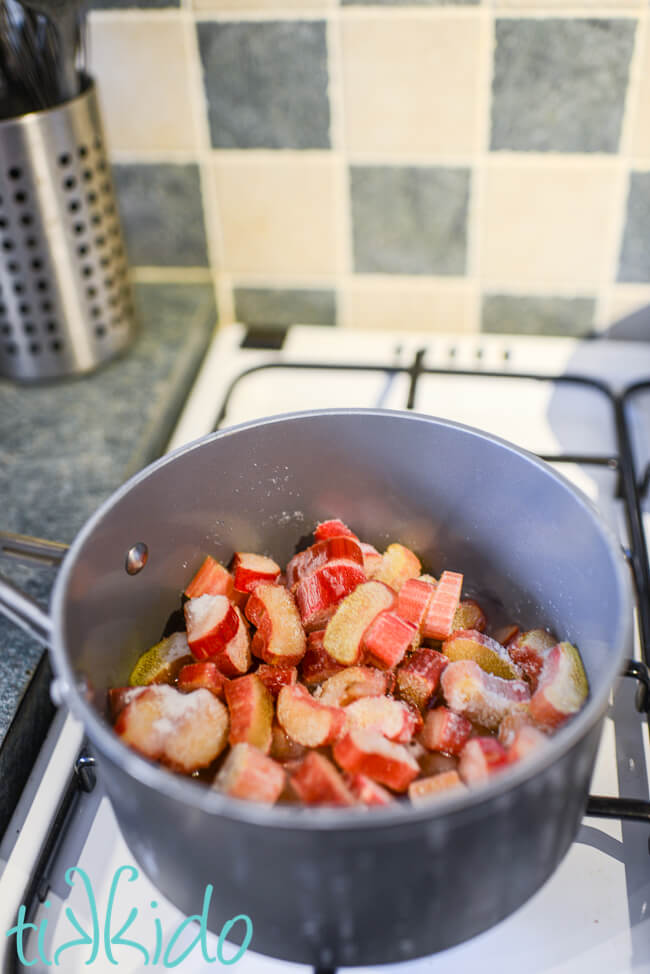 The process for making stewed rhubarb couldn't be easier.  Throw all the ingredients in a saucepan and turn the heat on high.  You can add more granulated sugar if you like your stewed rhubarb to be more sweet.  This is a very flexible recipe.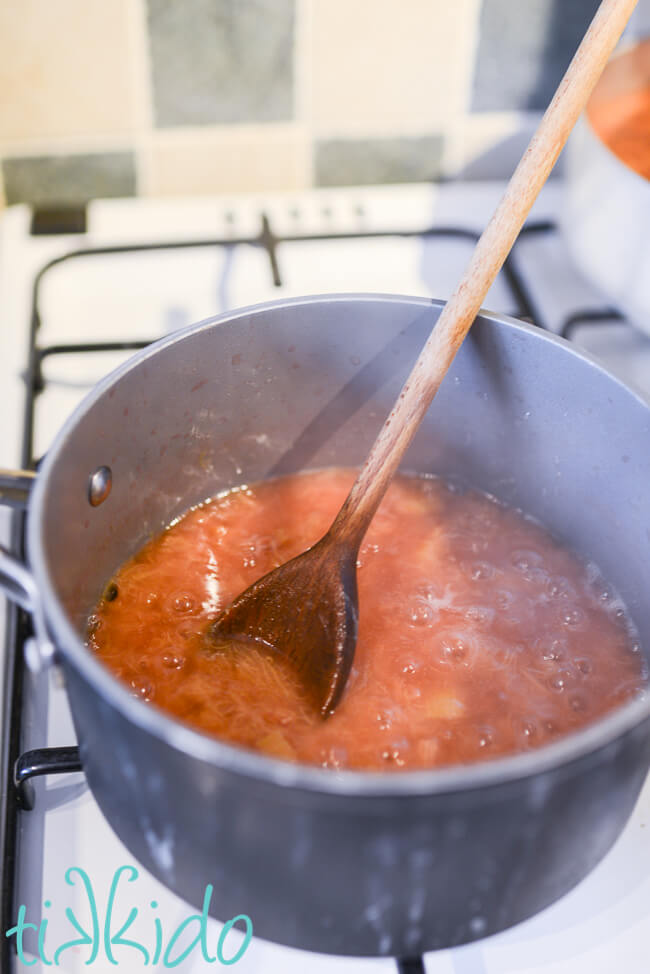 Cook, stirring regularly, for about 10 minutes, until the rhubarb softens and breaks apart.  If you'd like a thicker sauce, continue cooking to evaporate more of the water.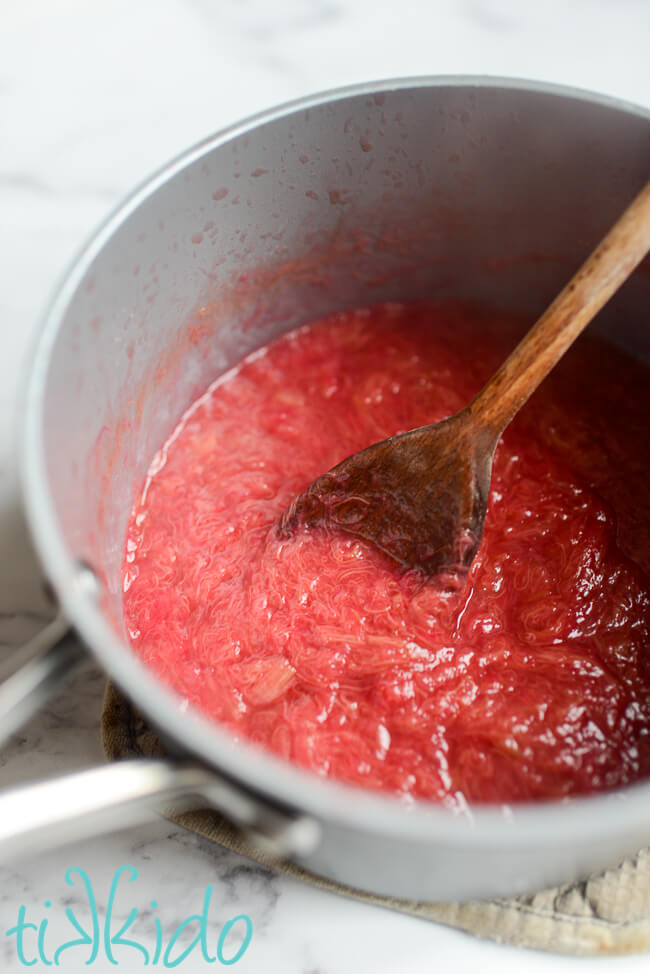 Some varieties of rhubarb have a really vibrant red color, some are more green.  If the rhubarb you have isn't as vibrant as you would like, you can always add a little bit of food coloring to make the color pop.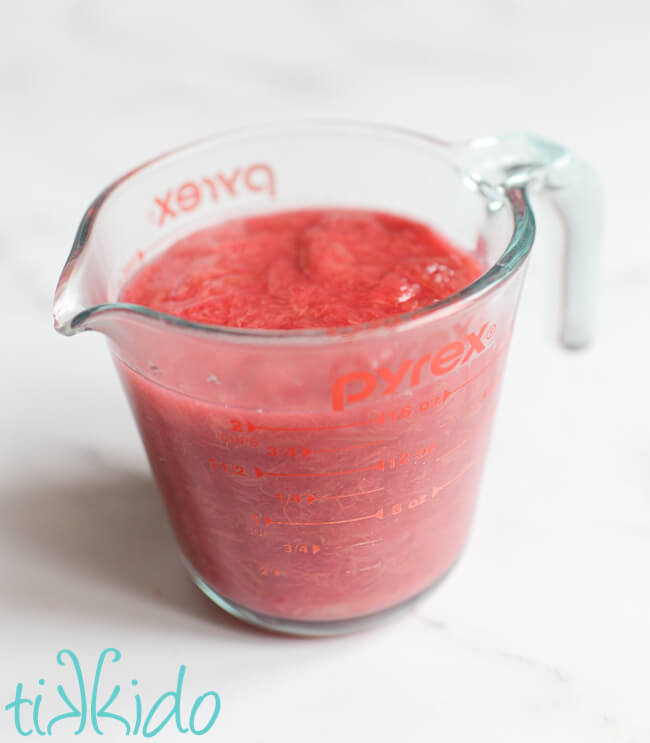 This recipe makes approximately two cups of stewed rhubarb.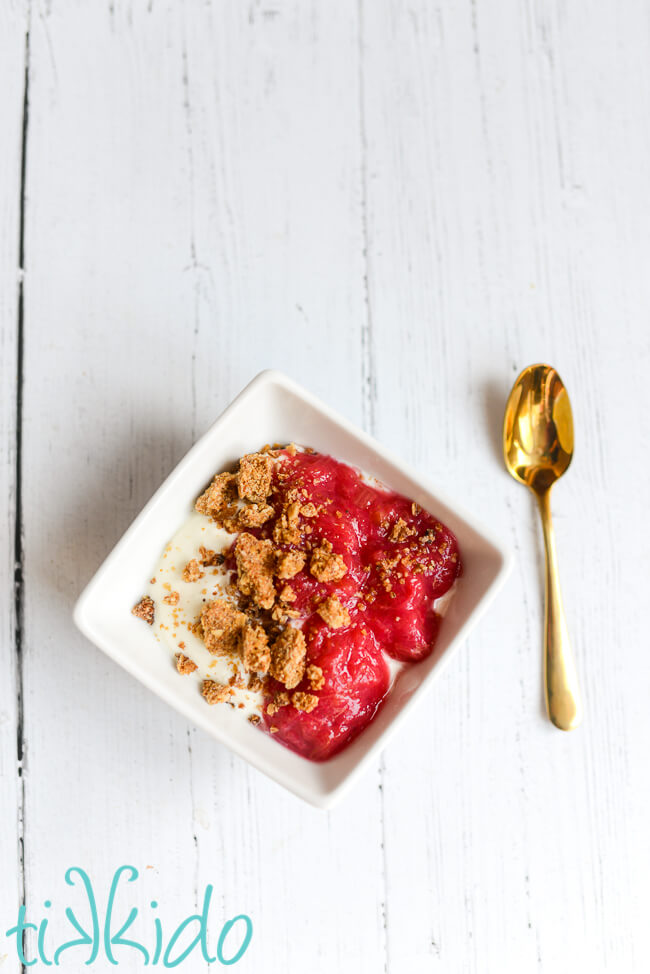 You can use stewed rhubarb in other recipes, like my rhubarb cookies or rhubarb cheesecake recipes.   But it really is so good on its own!   
What's your favorite rhubarb recipe?
Printable Stewed Rhubarb Recipe
Want a one page, printable version of this stewed rhubarb recipe?  Click on the image below to print the recipe directly or download it to your device.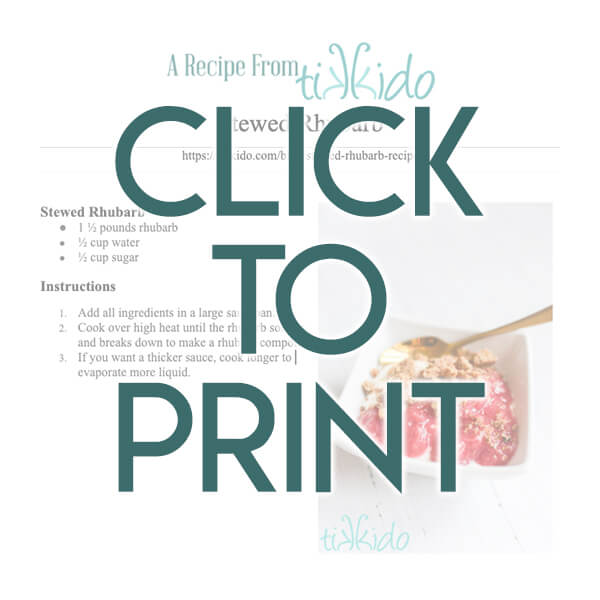 Other Rhubarb Recipes You Might Like: