Printer-friendly version
Gingerbread Biscotti are the perfect gingerbread cookies to make for your Christmas cookie tray this holiday season.  They have all the fabulous flavor of traditional gingerbread, with a fabulous crunchy texture that holds up beautifully on treat platters.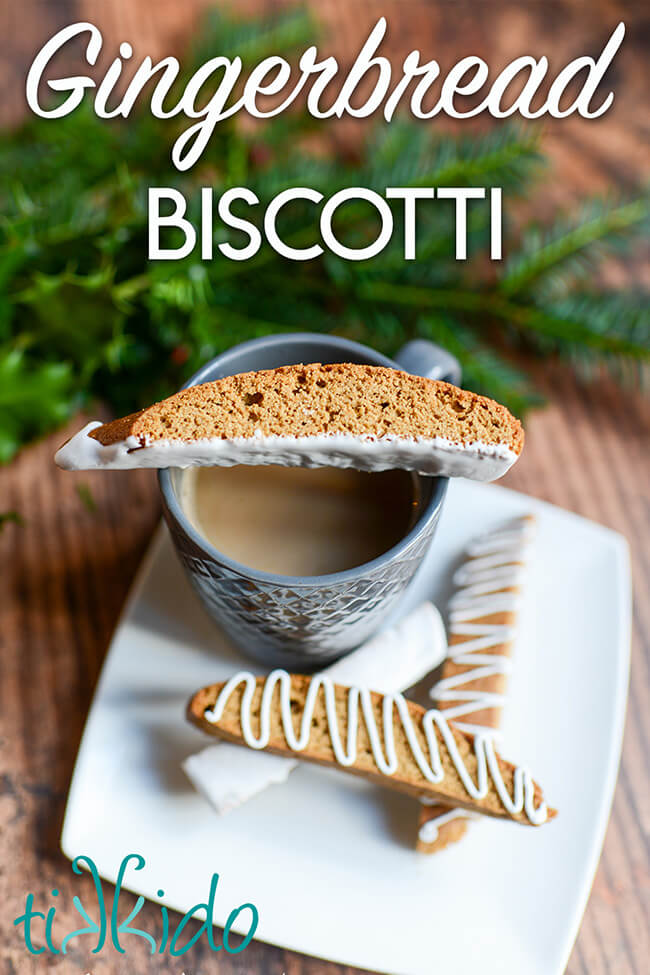 It's time for the Taste Creations Blog Hop once again, and this month, some of my favorite bloggers and I are sharing Christmas cookie recipes.  I'm sharing my recipe for gingerbread biscotti.
Homemade biscotti is so delicious!  It's so much better than what you can usually buy in the grocery stores.  Biscotti is a twice baked, crisp cookie, but it's not supposed to be rock hard like so many commercial biscotti products.  It should be firm and crunchy, and definitely strong enough to dunk in your hot drink, but easy to bite.  This is a very easy gingerbread biscotti recipe I developed by combining elements of my acclaimed gingerbread house recipe and what I think is the best biscotti recipe of all time (my cranberry pistachio biscotti).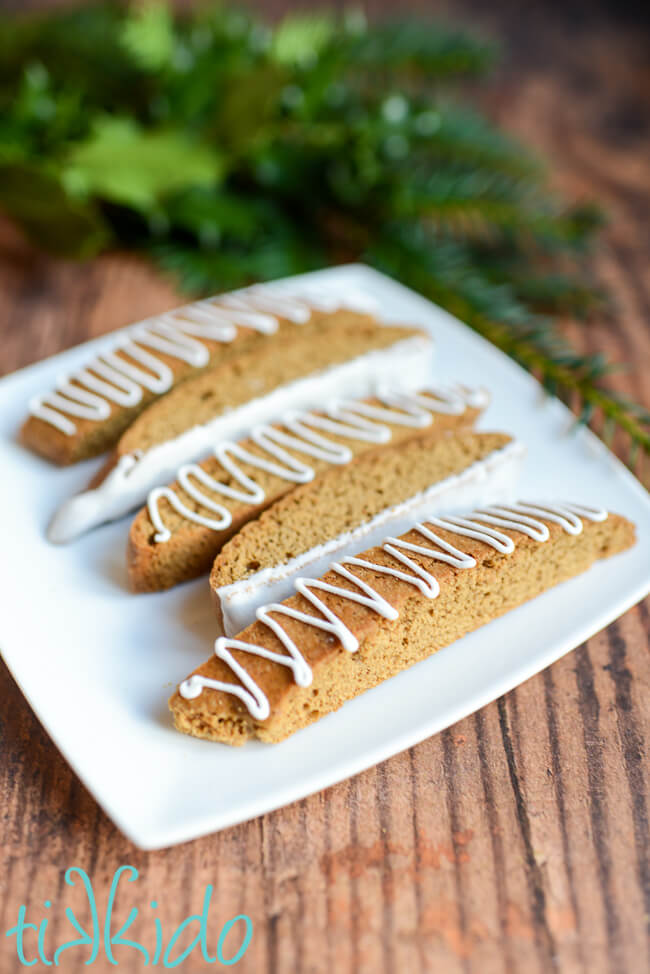 These festive cookies are perfect with a cup of coffee, tea, or even hot chocolate--the ideal crunchy cookie for dunking in a hot drink during the Christmas season.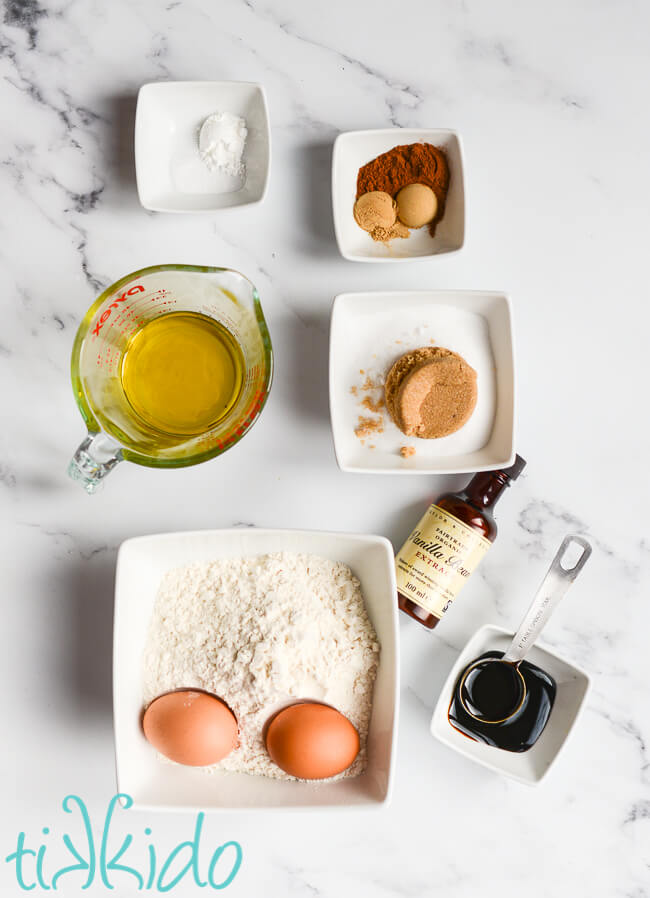 Recipe for Gingerbread Biscotti
1/2 cup sugar
1/4 cup brown sugar
1/4 cup olive oil
2 large eggs, beaten
2 teaspoons vanilla extract
1 3/4 cups all purpose flour
1/4 teaspoon salt
1 teaspoon baking powder
2 teaspoons cinnamon
2 teaspoons ground ginger
1 Tablespoon molasses
Can I use Fresh Ginger instead of Ground Ginger in the Gingerbread Biscotti?
Yes!  Fresh ginger has a more spicy, complex taste, and can absolutely be used in this recipe.  Ground ginger is more concentrated, so substitute 8 Tablespoons of freshly grated ginger for the 2 teaspoons of ginger in this recipe.  It's a lot of ginger to grate, so I just use ground ginger, myself.  But it is a delicious variation on the recipe.
You can also add a cup of chopped, candied ginger to the dough if you want to play up that spicy ginger flavor.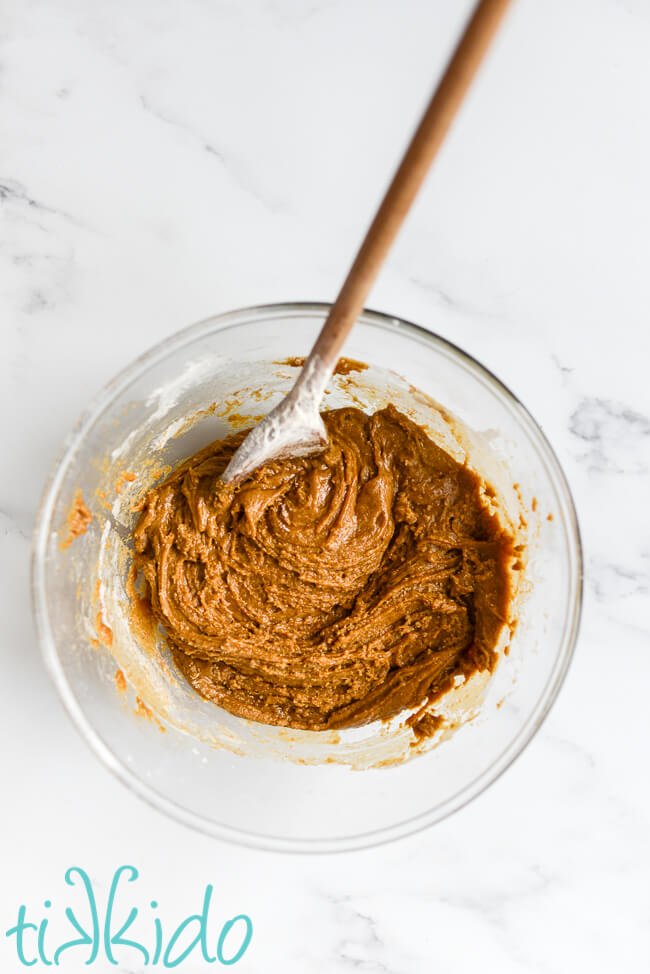 How to Make Gingerbread Biscotti
There's no need for a stand mixer or any special equipment when you make gingerbread biscotti as part of your Christmas baking.  Just a bowl and a wooden spoon will do.
Combine the beaten eggs, sugars, molasses, olive oil, vanilla, cinnamon, and ginger in a mixing bowl.
In a separate bowl, combine the flour, salt, and baking powder and stir to combine the dry ingredients.
Add the flour mixture to the wet ingredients and mix until a thick dough forms.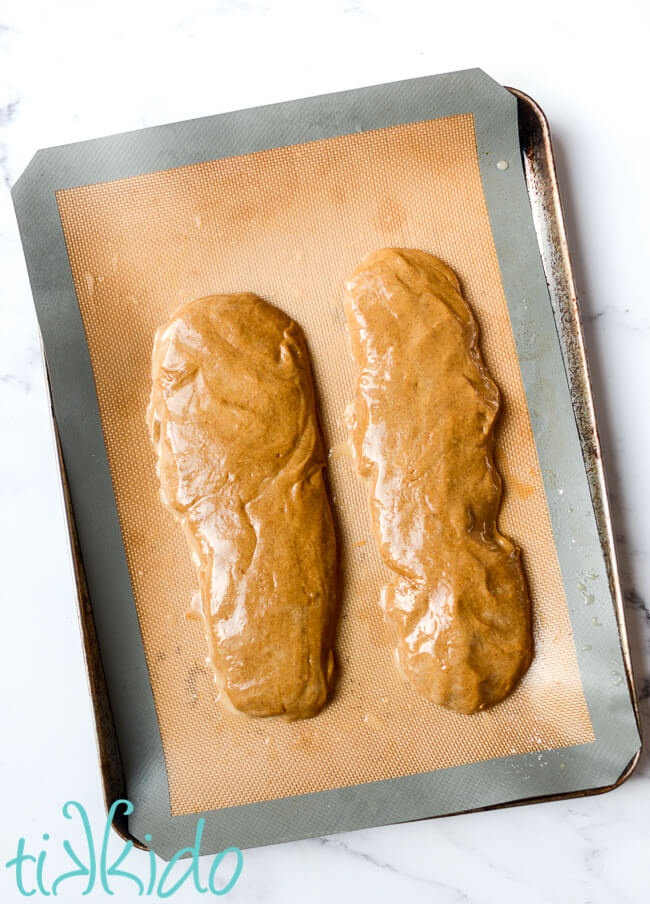 Divide dough in half, and shape into two logs, each approximately 12 inches long and 3 inches wide on a large baking sheet lined with a silicone baking mat.
Biscotti dough is very sticky and wet, and it's very helpful to have wet hands when shaping the biscotti logs.  If the dough starts sticking to your hands, just get them wet again.
The wet hands technique is why I specifically like to use a silicone baking mat instead of parchment paper.  I find that very wet dough sometimes sticks quite a bit to parchment paper, but I never have a problem with my silpat.  If you don't have one, never fear, you can just use a greased baking sheet.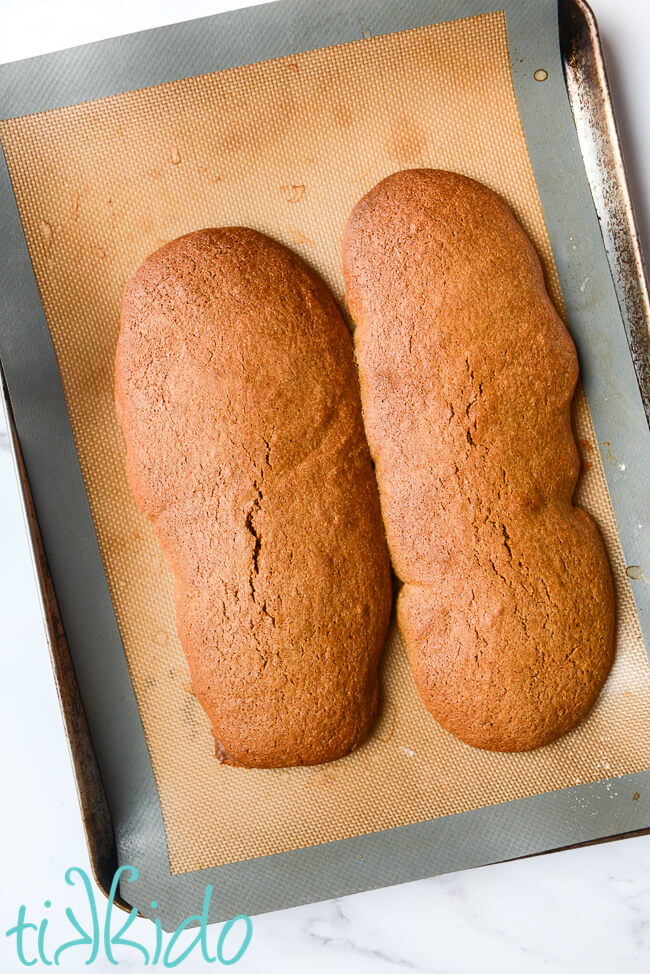 The First Bake
Bake the gingerbread biscotti for 30 minutes at 325 degrees Fahrenheit.
Remove from oven and let cool for 10 minutes on a wire rack.  (Or a marble table, if you happen to have one, like I do--stone is great for cooling baked goods.)
In the meantime, drop the oven temperature to 275 degrees Fahrenheit.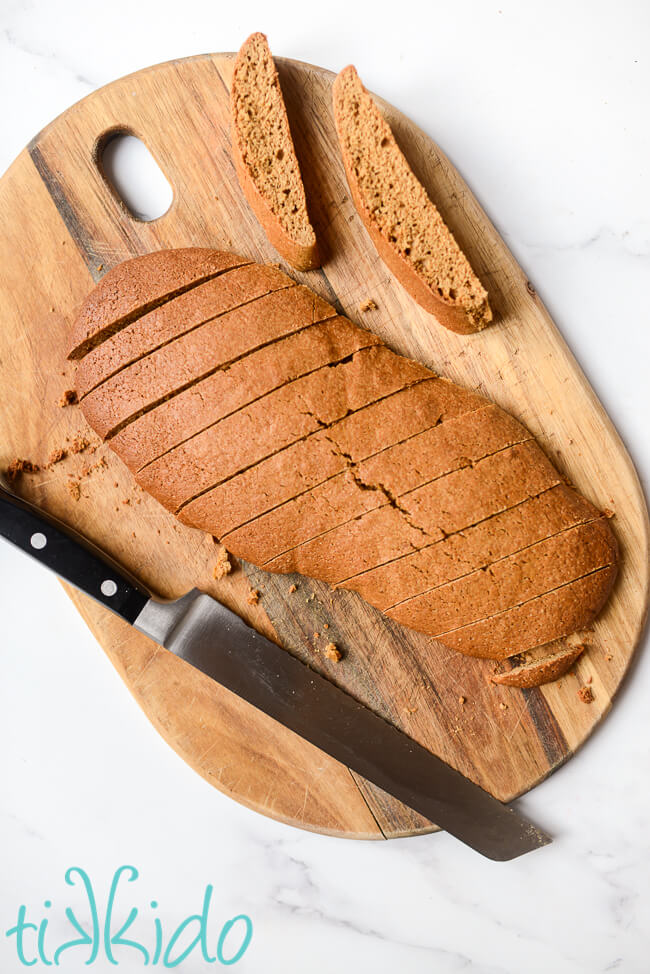 Transfer the slightly-cooled gingerbread biscotti logs onto a cutting board.  Use a sharp serrated knife (like a bread knife) to cut each flat log of gingerbread biscotti on the diagonal into 1" wide slices.  The diagonal slices give the biscotti their distinctive shape.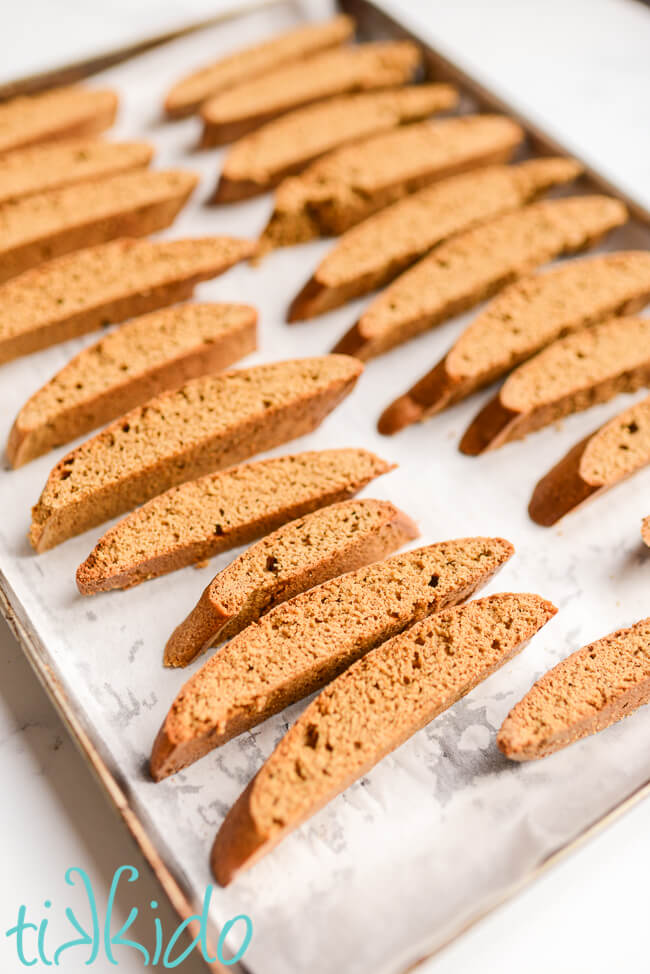 The Second Bake
Place slices of biscotti on a prepared baking sheet (I do use parchment paper for this part), with the cut side up.  Bake for 10 minutes on one side, then flip the biscotti to the other side, and bake a further 10 minutes.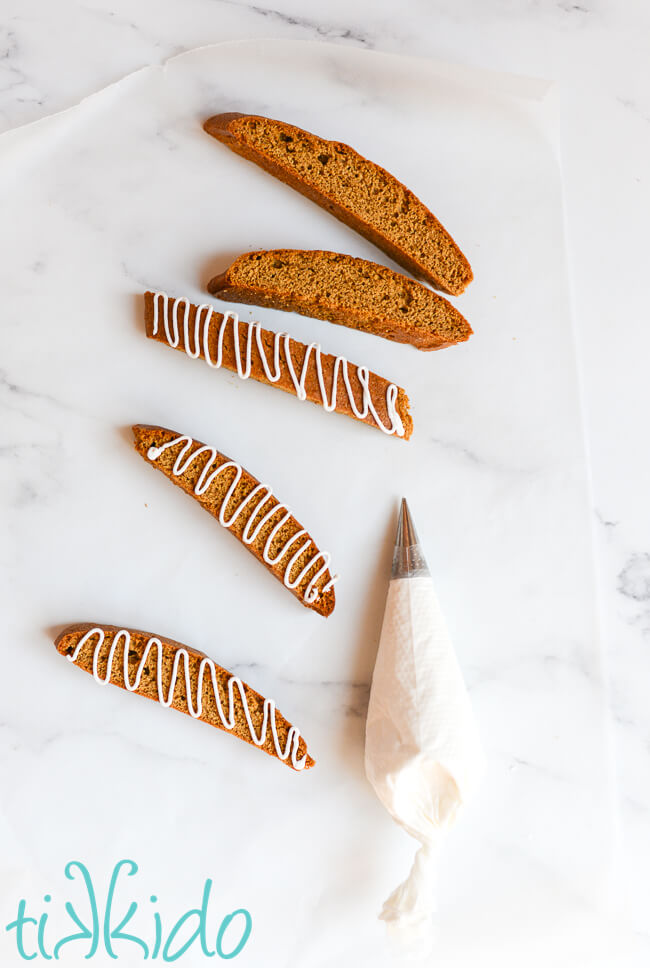 Let cool to room temperature before doing any decoration.  I embellished my gingerbread biscotti with royal icing, because the look and the flavor combination is classic with gingerbread.  
You could also use melted white chocolate to achieve a similar look.  Dark chocolate would also be delicious.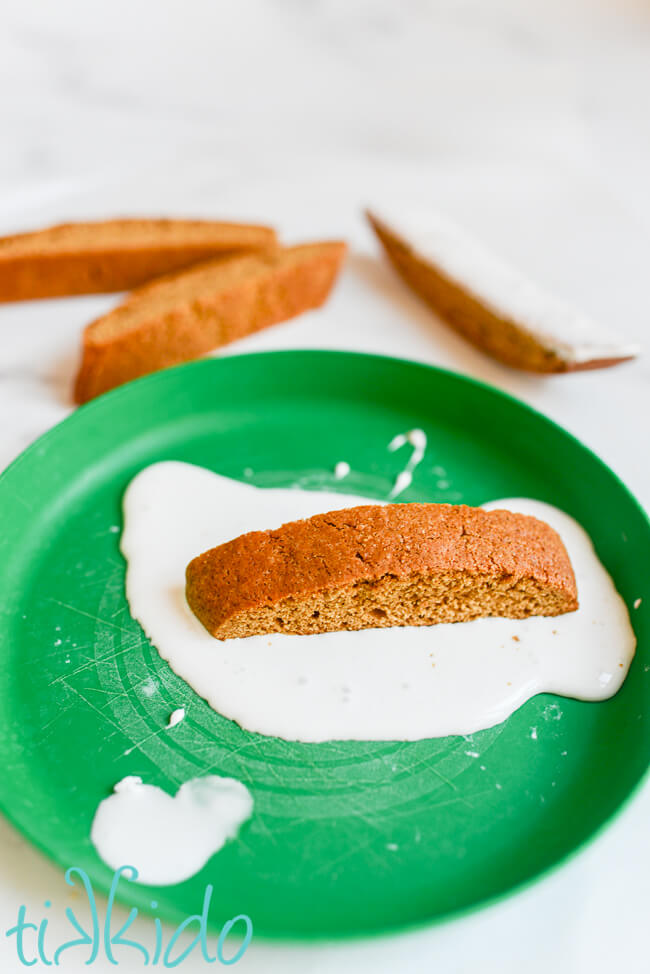 I decorated some of my gingerbread biscotti with a piping bag, and others I dipped in thinned royal icing.  I don't know which ones I like best!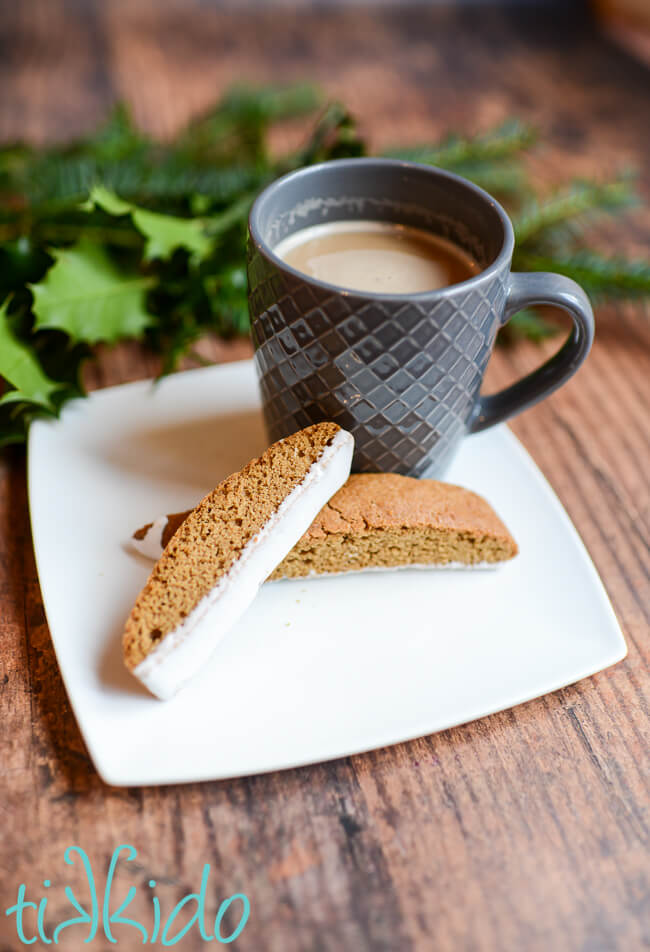 However it's decorated, I hope you'll enjoy this perfect crunchy cookie recipe this holiday season.
Merry Christmas!
Printable Recipe for Gingerbread Biscotti
Want a one page, printable PDF version of this delectable gingerbread biscotti recipe?  Click the image below to print directly or save to your device.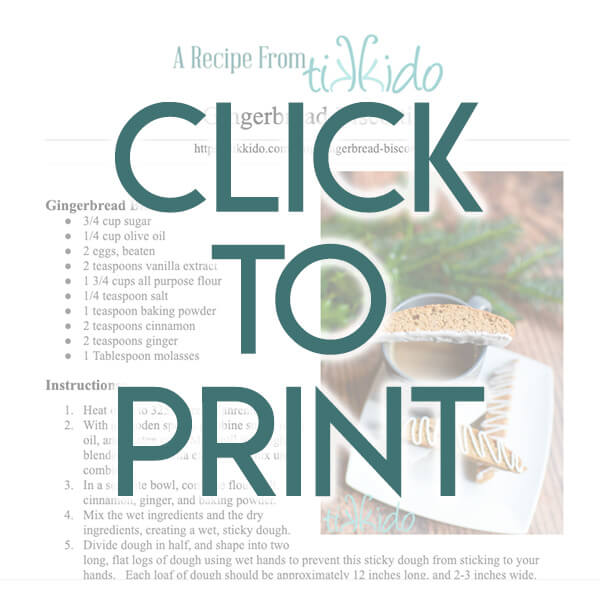 Other Christmas Cookie Recipes from the Taste Creations Blog Hop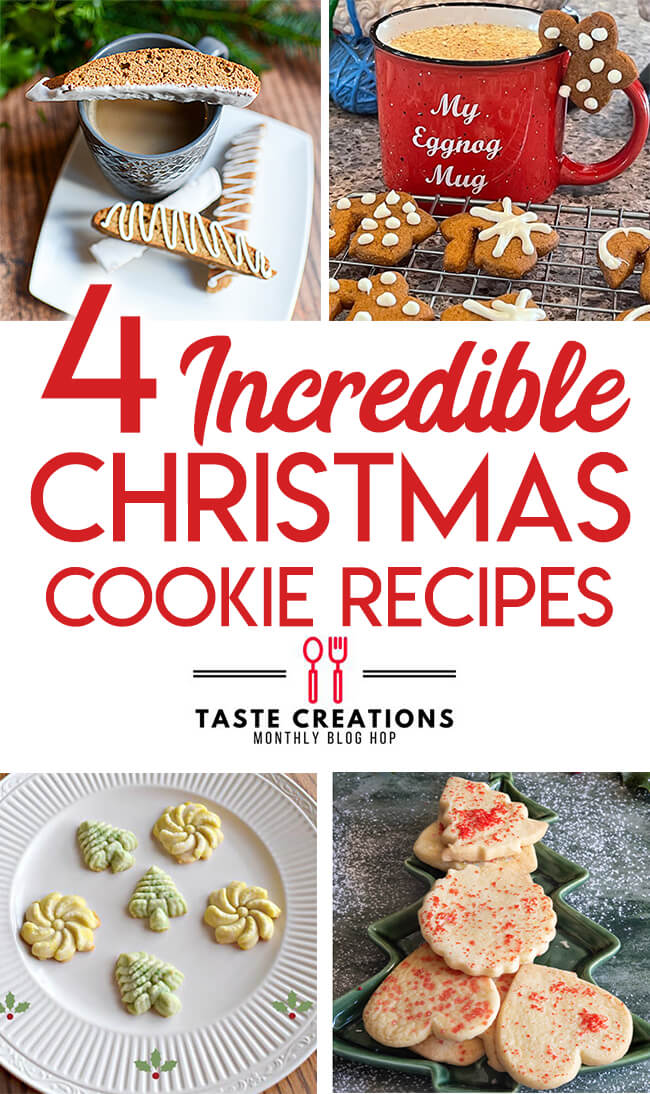 Be sure to check out the other amazing Christmas cookie recipes from my fellow bloggers in the Taste Creations Blog Hop:
All Things Bread: Cutout Powdered Sugar Cookies
Mom Home Guide: Spritz Cookies
Our Good Life: Gingerbread Cookie Mug Hangers
Other Gingerbread Recipes You Might Like: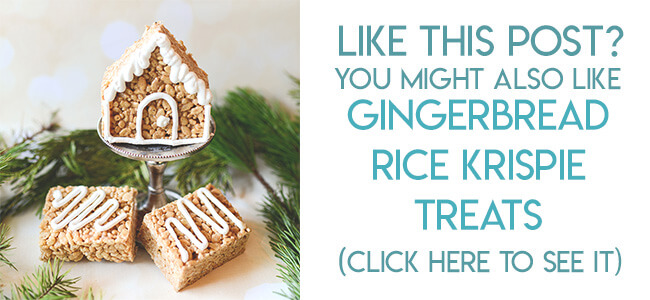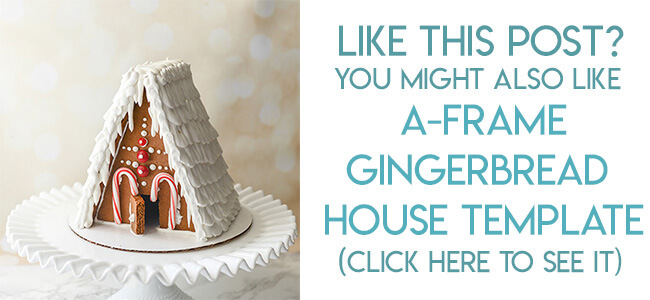 Other Delicious Biscotti Recipes You Might Like: