Printer-friendly version
If you're looking for fabulous pink cocktail recipes for valentine's day, a birthday party, a baby shower, or other special occasions, look no further!  Here are 55 of the best pink cocktails around.  From the palest blush pink to the deepest, most vibrant fuchsia, you'll find the perfect pink cocktail recipe in this list.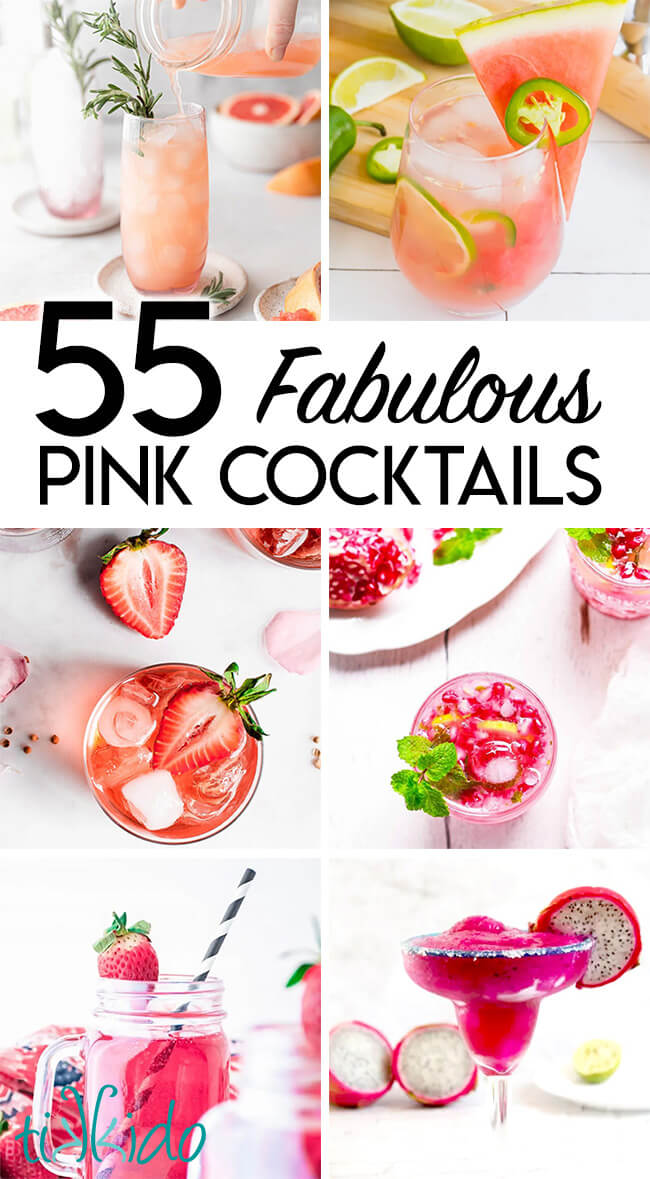 Since this is such a massive collection of pink alcoholic drinks, I've organized this post into sections based on what the main alchohol in the cocktail is.  You can click on any of the links below to be taken right to the section with the liquor you choose:
Pink Cocktail Recipes Table of Contents
Since vodka is a clear, mostly flavorless alcohol, it's a popular choice for making a pink drink with a punch.  This section also includes drinks made with flavored vodkas.
1. Rosemary Pink Grapefruit Moscow Mule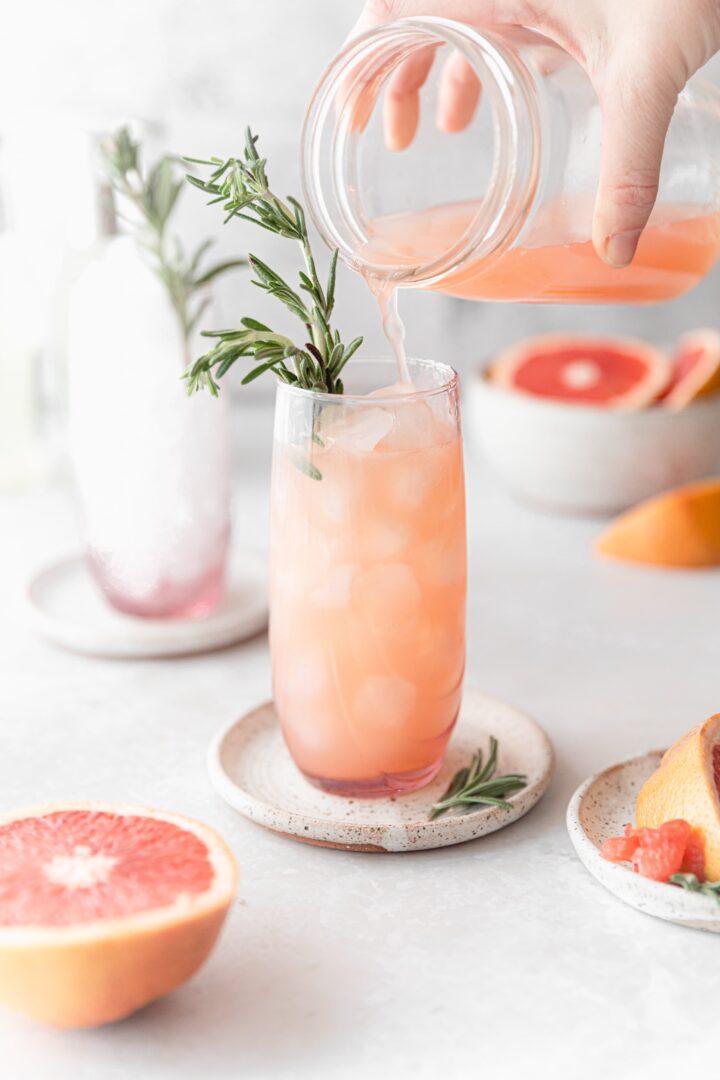 Classic Moscow Mules are made with just vodka, lime juice, and ginger beer.  This blush pink Rosemary Grapefruit Moscow Mule gets is gorgeous color from using pink grapefruit juice instead of lime.  The bitterness of the grapefruit juice works exceptionally well with the spice of the ginger beer.
2. Pink Dragonfruit Cocktail
There are two kinds of dragonfruit, and while both have pink exteriors, one has a white interior and one has a pink interior.  Both will taste great, but use the type with a pink interior to make this stunning pink vodka drink.
3. Cherry Vodka Sour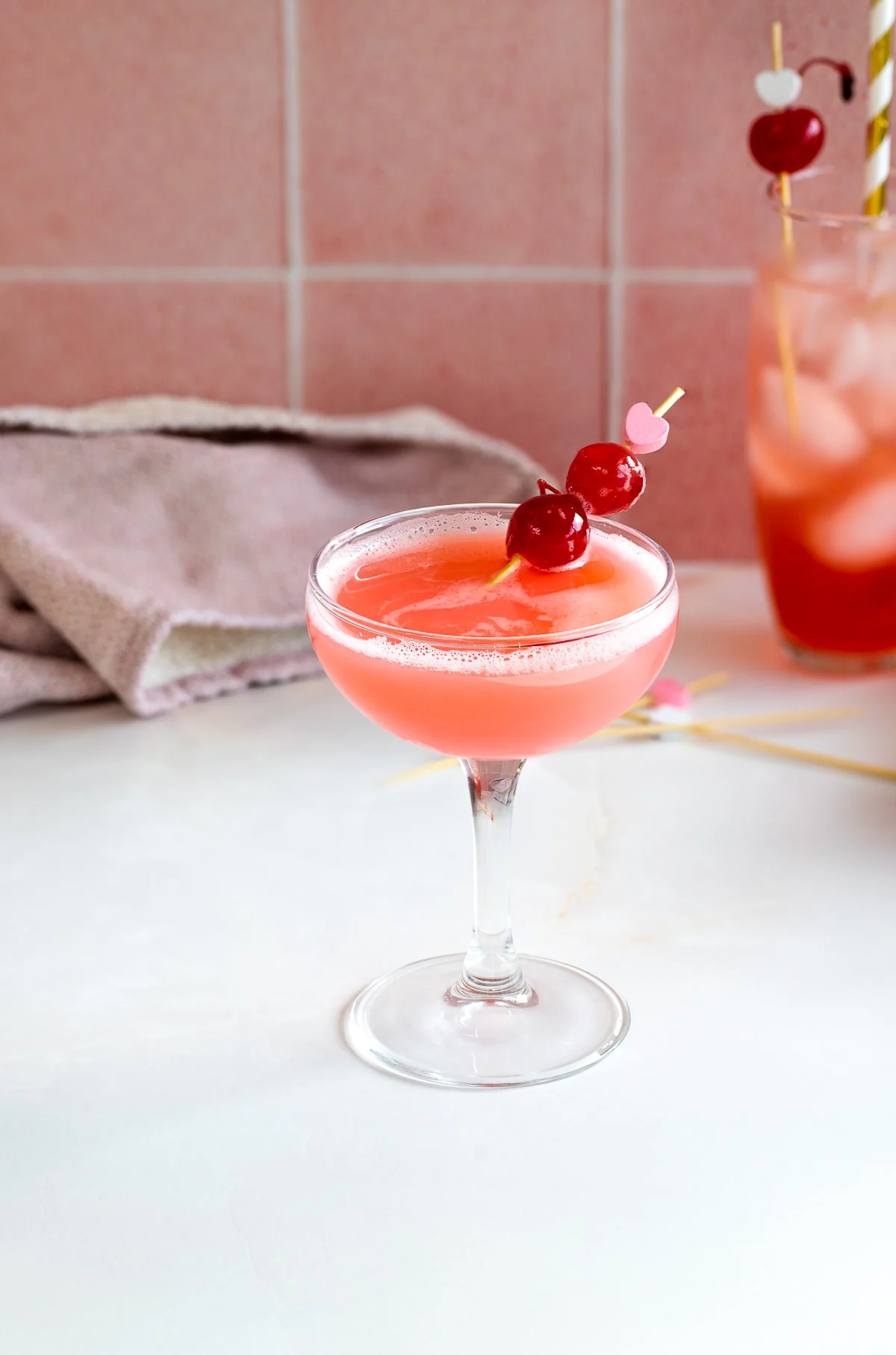 A Cherry Vodka Sour is a fun and fruity twist on a classic cocktail.  If you want to amp up the cherry flavor, try using maraschino cherry syrup instead of the grenadine when making this pink vodka cocktail.
4. Bay Breeze Cocktail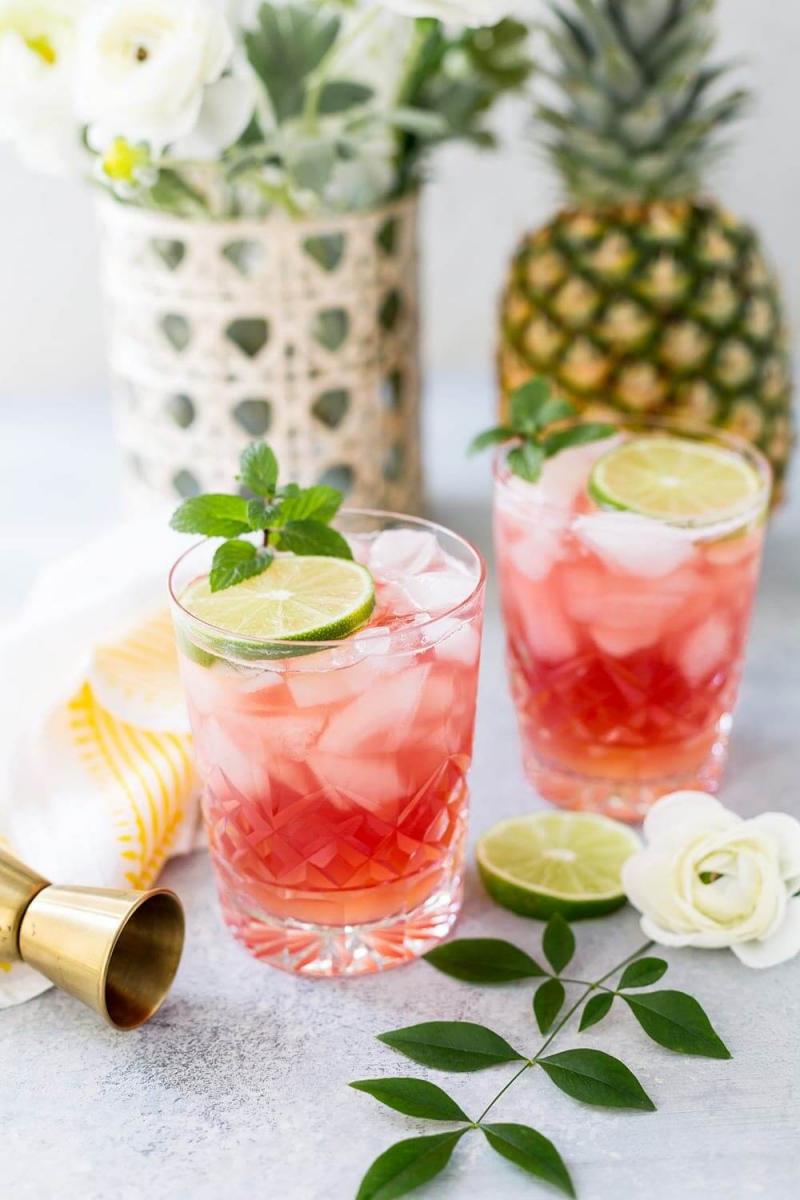 A Bay Breeze cocktail gets its gorgeous pink color from cranberry juice mixed with pineapple juice and vodka.  Just three simple ingredients to make such a beautiful, refreshing cocktail perfect for a summer afternoon.
5. Raspberry Hibiscus Cocktail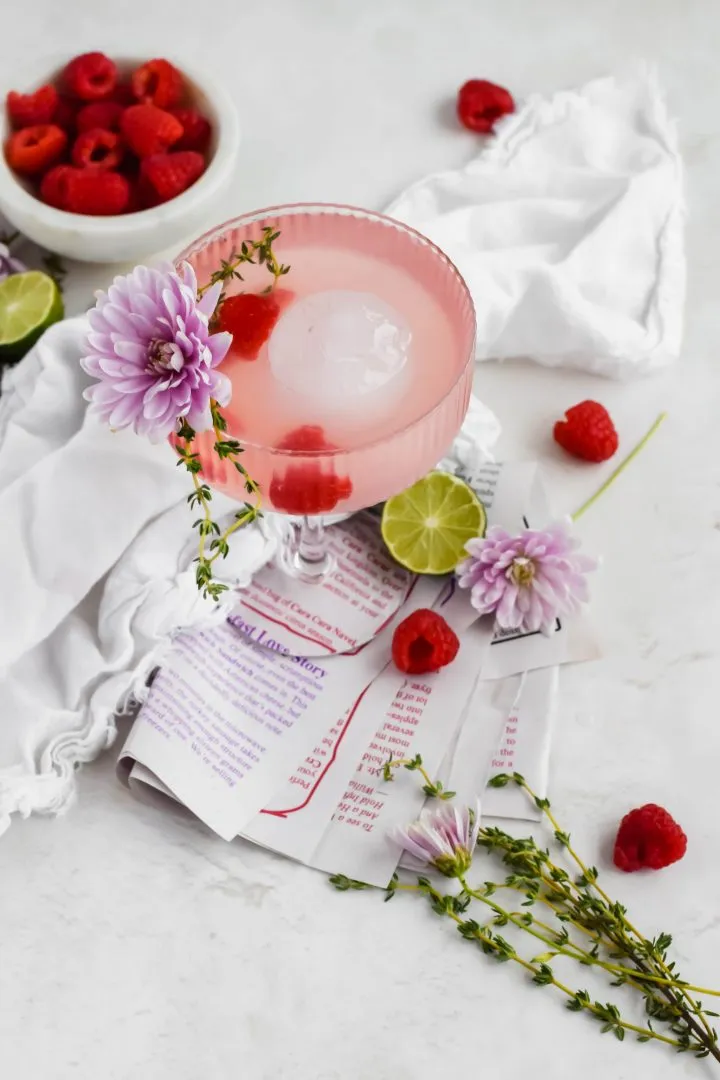 Floral and fruit notes make this Raspberry Hibiscus Cocktail a perfectly refreshing, light, summer drink.
6. Strawberry Pink Vodka Lemonade Cocktail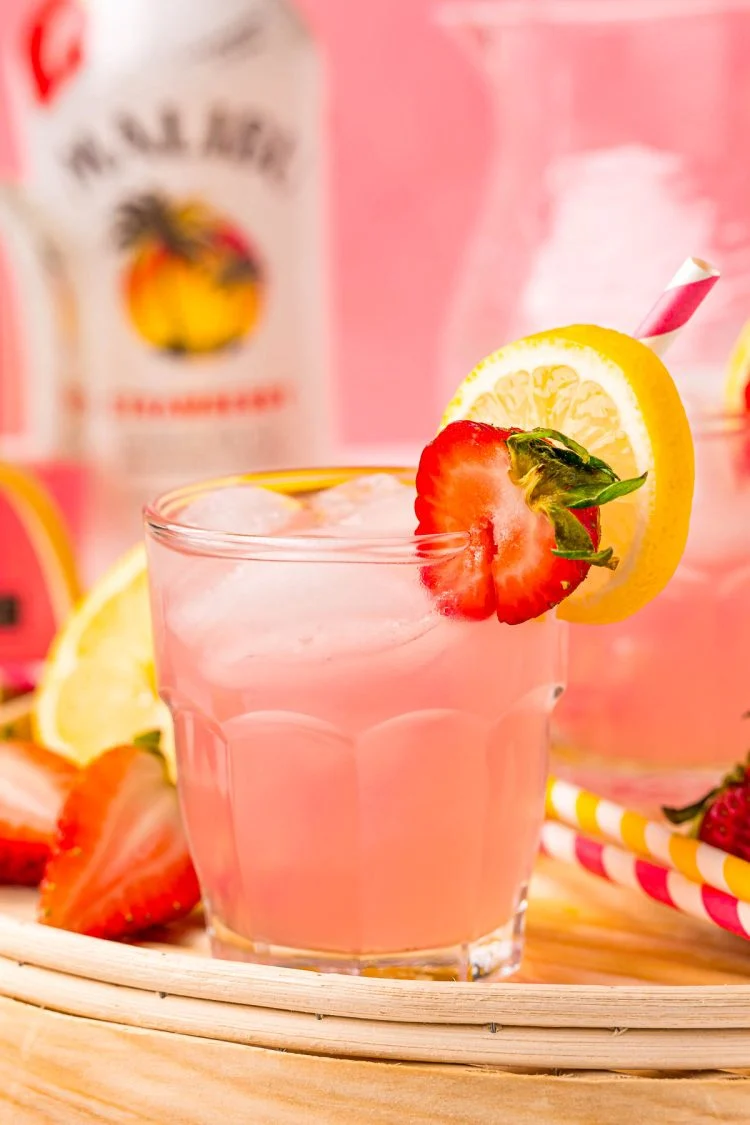 A Pink Lemonade Vodka Cocktail is a classic, and so easy to make! This particular recipe is something extra special, though--more complex than just vodka and lemonade.  This recipe uses Pink Whitney vodka and strawberry Malibu rum for extra fruity flavor.  It makes a pitcher of pink punch, so invite your friends over for a girls' night and whip up a batch.
7. Pink Starburst Shot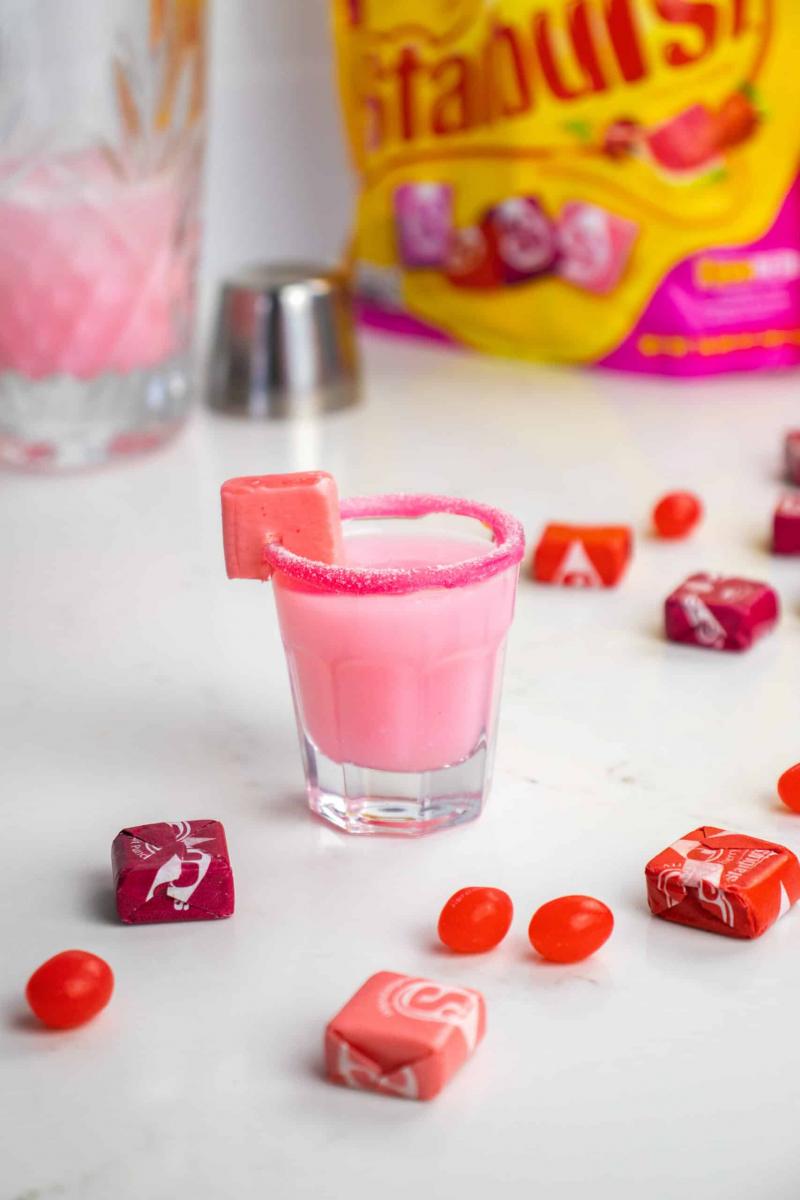 Pink starburst shots taste like starburst candies in liquid form, but pack a punch!  I love the use of a pink Starburst candy as garnish on the glass.
8. Watermelon Martini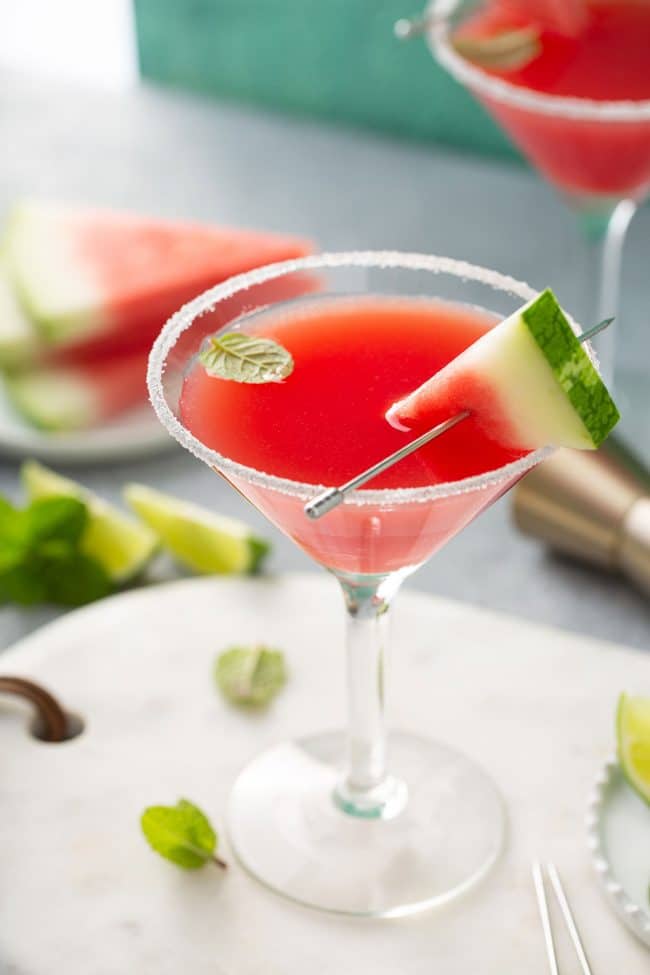 Get your cocktail shaker ready, because it's martini time!  Specifically, Watermelon Martini time.  If you want to add even more watermelon flavor to this cocktail, try using watermelon syrup instead of the simple syrup called for in this recipe.  Either way, it's summery, and fresh, and absolutely delicious!
9. Blood Orange Creamsicle Martini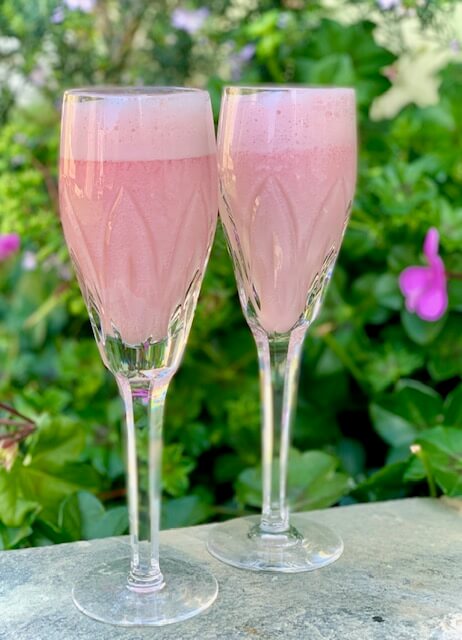 This creamy, sparkling, perfectly pink orange creamsicle martini gets its glorious rosy hue from fresh blood orange juice.  This is the perfect drink for a bridal shower or birthday brunch.  It's also absolutely delicious made with regular orange juice--just not that glorious pink color!
10. Watermelon Rosemary Spiked Punch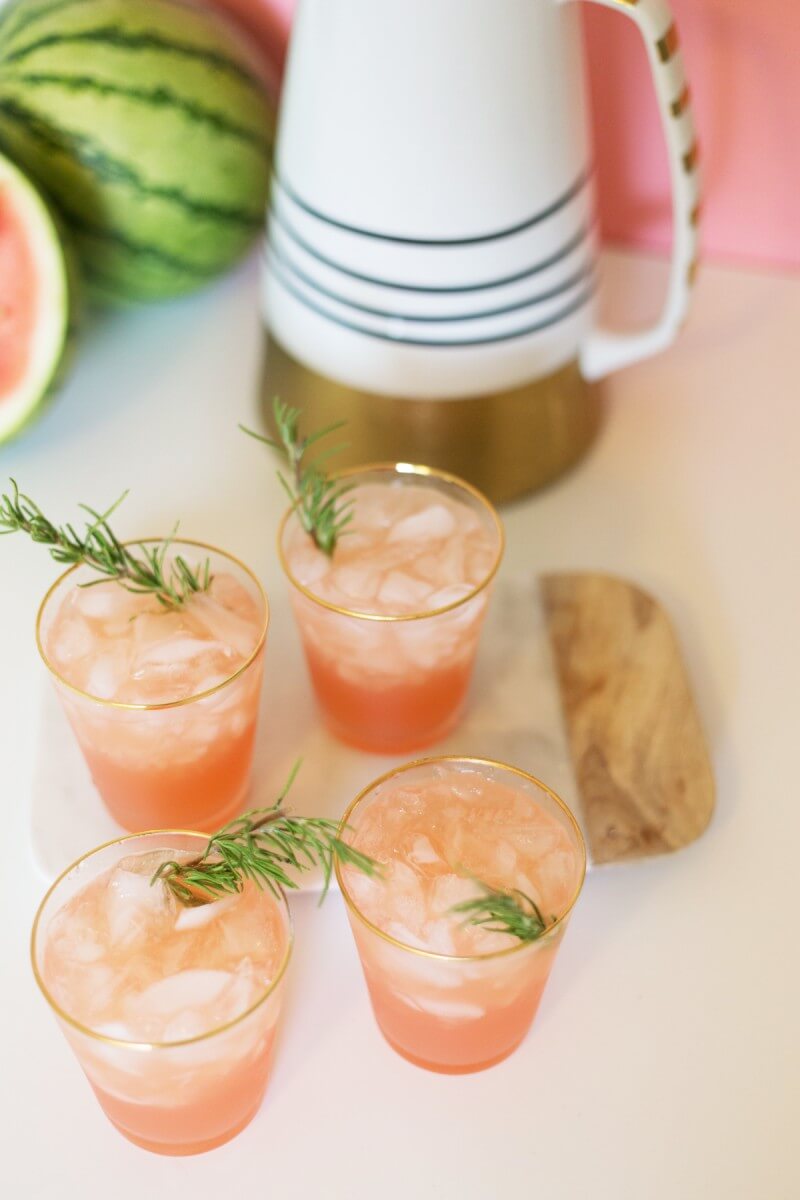 Watermelon vodka and blended watermelon puree give fabulous watermelon flavor to this spiked watermelon rosemary punch.  Whip up a pitcher (this recipe makes 8 servings) for a hot summer day!
11. Raspberry Lime Ricky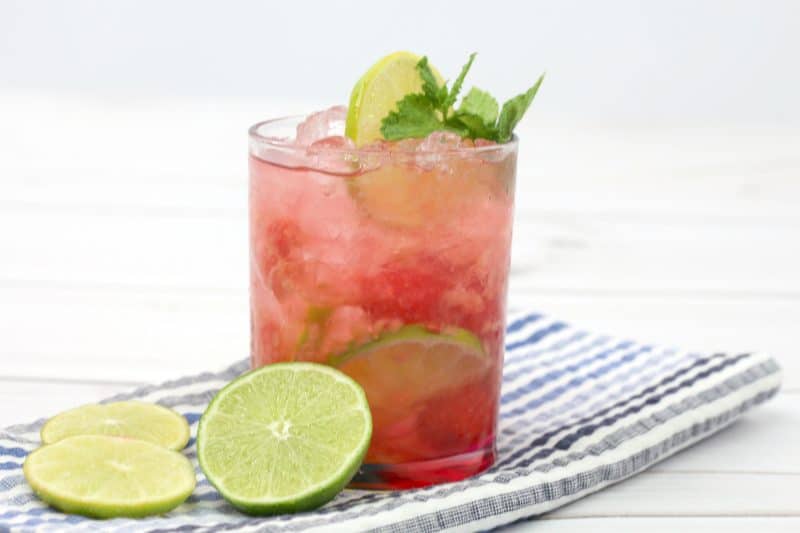 This Raspberry Lime Ricky cocktail has tons of fruit flavor thanks to a combination of Chambord, citrus vodka, and raspberry vodka.  Paired with fresh lime juice and raspberry lemonade, this beautiful cocktail would make a refreshing beverage for a girls' night in.
12. Blood Orange Moscow Mule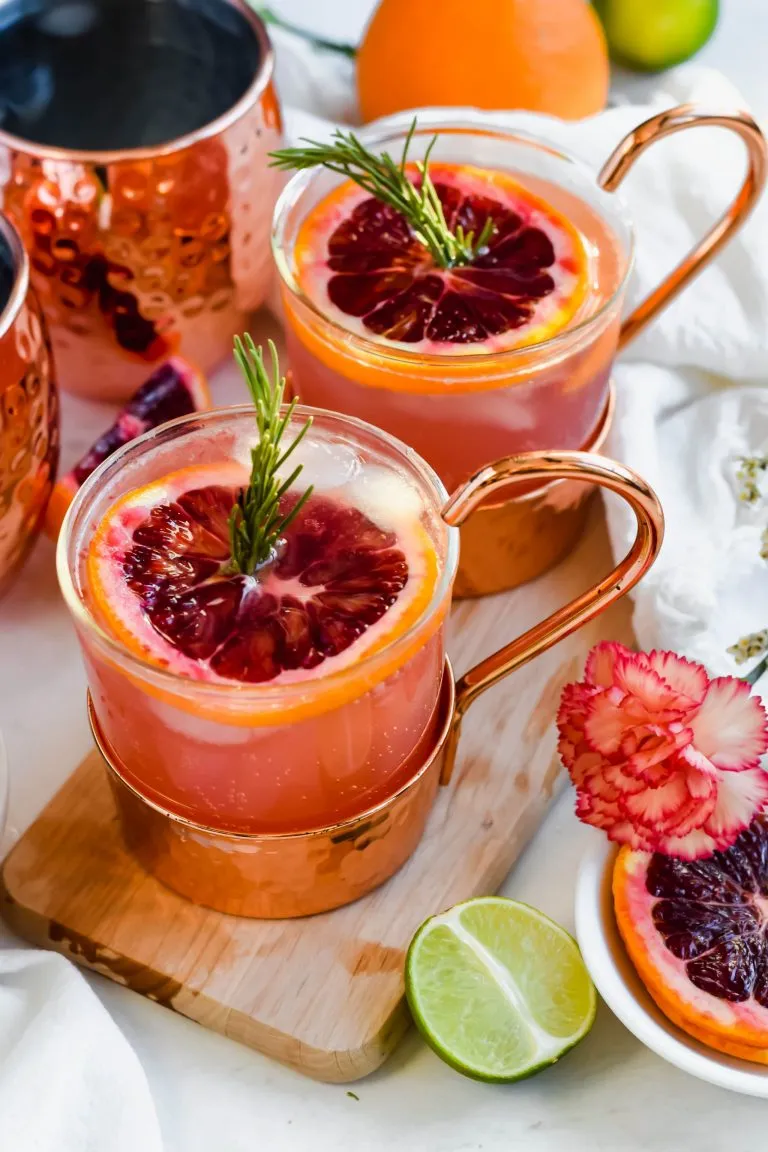 Isn't this blood orange Moscow mule absolutely gorgeous?  It's made with Deep Eddy's Peach Vodka (which is spectacular!  I've been to the distillery in Austin--well worth a visit if you're there) and Ketel One Botanica Peach & Orange Blossom Vodka.  Compliment the traditional lime juice and ginger beer with fresh blood orange juice, and you get one of my favorite pink cocktails.  I think I'm requesting this for mother's day!
Looking for a delicious drink that's beautifully pink and made with tequila?  I've got you covered!  
13. Raspberry Rhubarb Margarita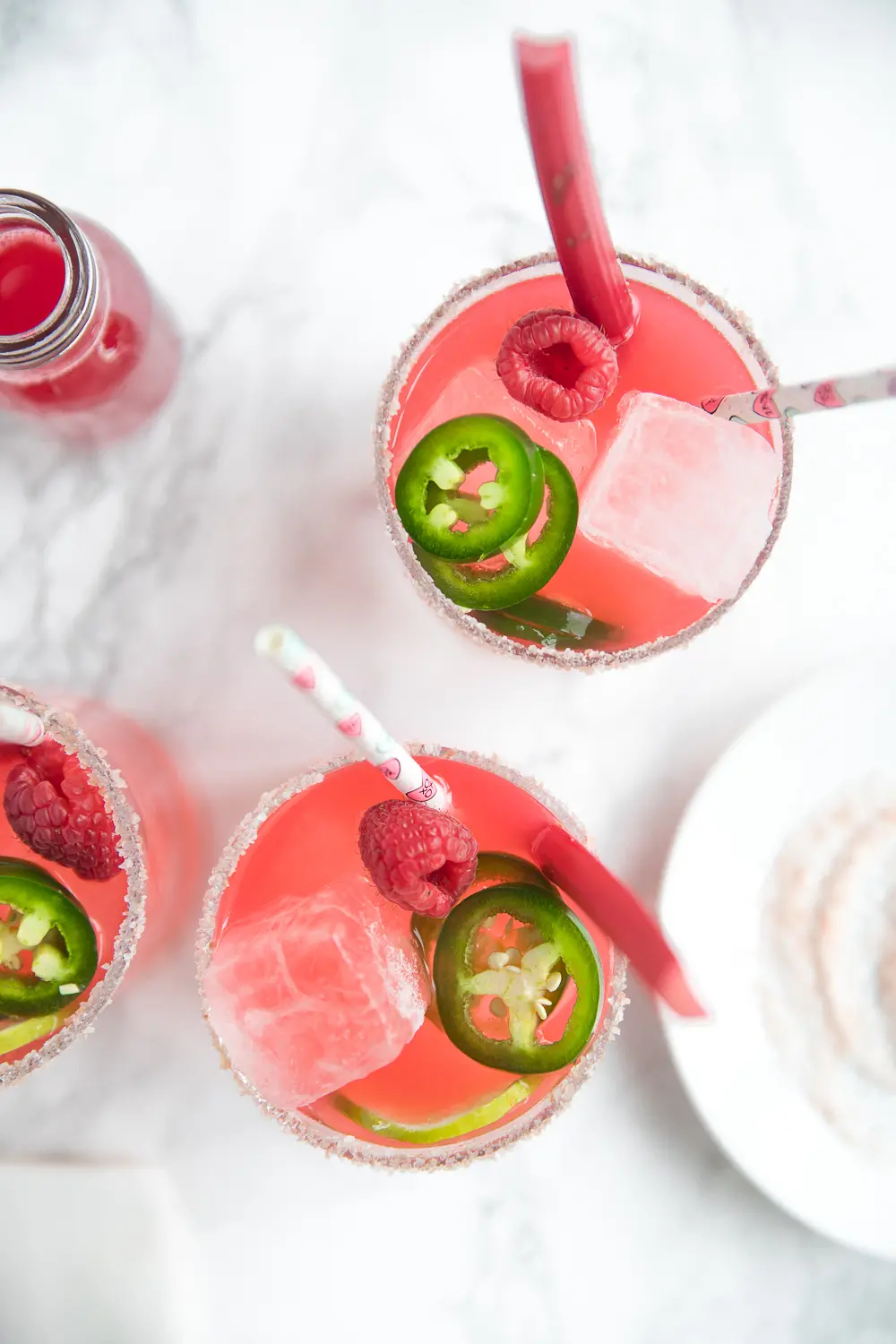 Raspberry rhubarb simple syrup is the secret to the magnificent pink color of these raspberry rhubarb margaritas.  Rhubarb comes in a range of colors, from green to bright red.  Choose the red variety to get this gorgeous color pink, but this cocktail will taste just as amazing made with any rhubarb.
14. Pink Grapefruit Margarita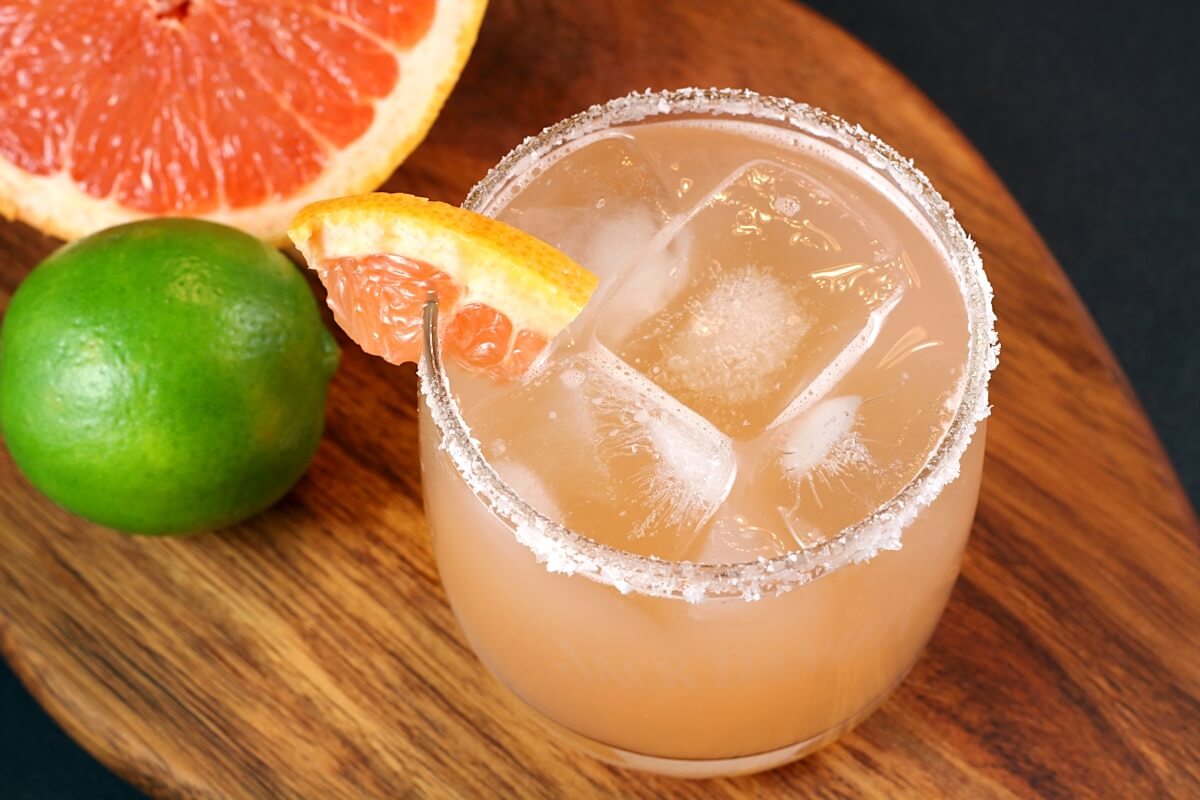 Swap out the traditional lime juice in a classic margarita with pink grapefruit juice, and you get a simple cocktail with beautiful color and marvelous tangy flavor.  The salt on the rim of the fresh grapefruit margarita helps counteract any bitterness from the grapefruit, so even if you're not usually a grapefruit fan, give this a try!
15. Prickly Pear Margarita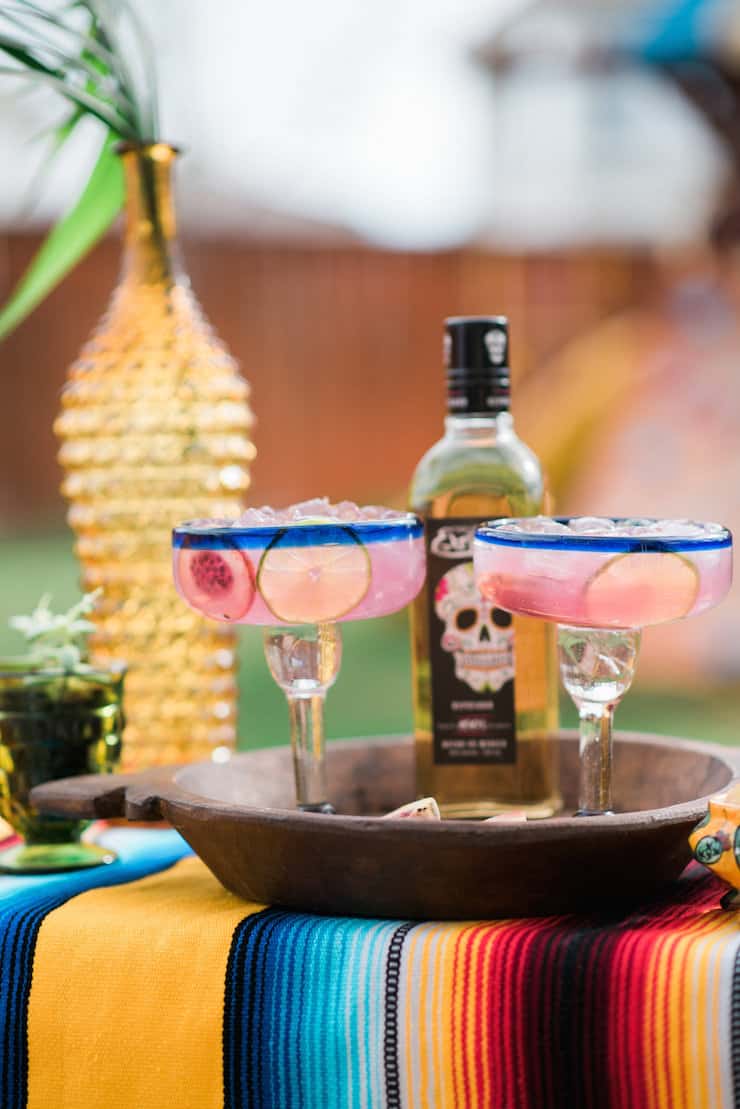 Prickly Pear Margaritas are my favorite margaritas!  I typically see the bright pink variety, but did you know there are different types of prickly pear fruits (also known as tunas in Spanish) that range in color and sweetness?  Head over to the blog post to learn all about them, and get the recipe for this gorgeous pale pink cocktail.
16. Pineapple Cranberry Margarita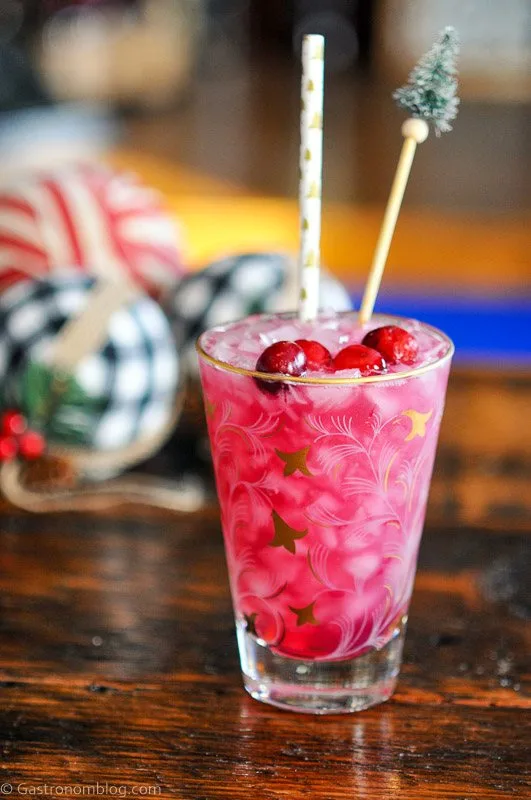 This Pineapple Cranberry margarita was created as a winter holiday drink--not all pink cocktails are summer cocktails!  The pecan bitters in the recipe really add to the winter flavors and add a complexity to this drink.
17. Pink Cadillac Margarita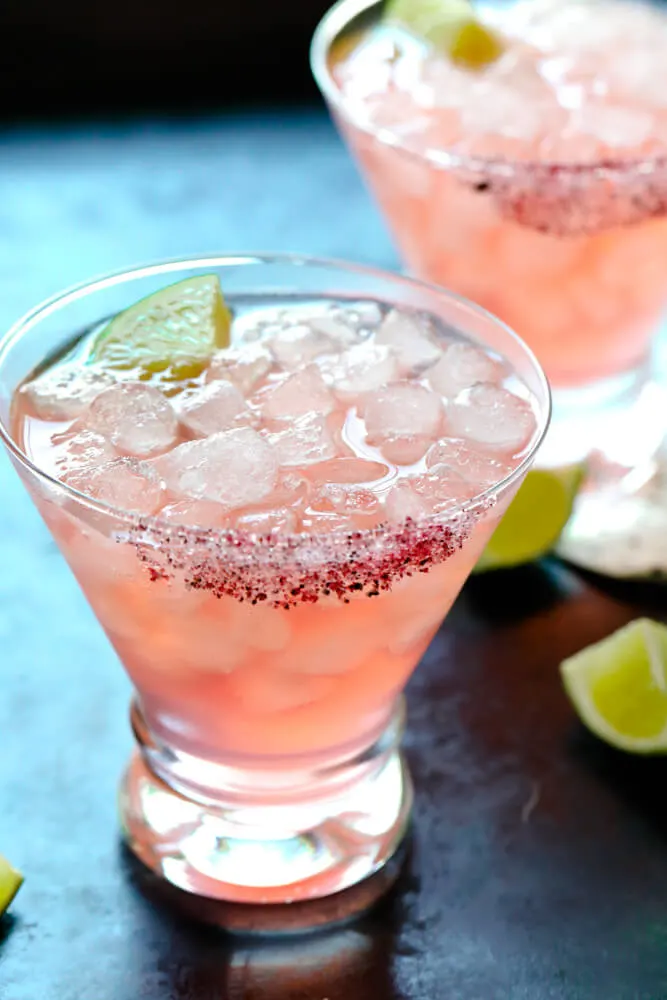 I love the addition of a hibiscus salt rim to this Pink Cadillac Margarita recipe--what a gorgeous addition of color and floral notes.  Homemade sweet and sour mix makes this cocktail even better, and a splash of cranberry juice gives the margarita its stunning pink color.
18. La Brua Cocktail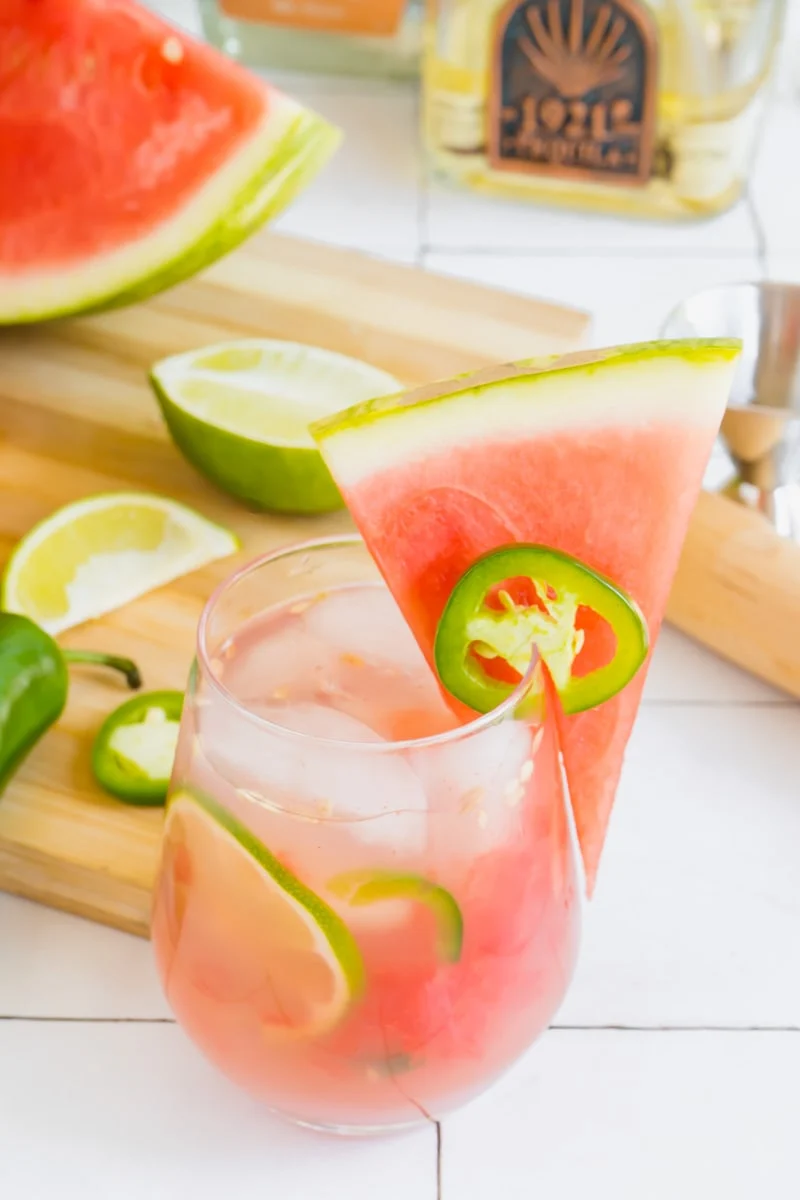 Not all tequila cocktails are margaritas!  Try this sweet and spicy watermelon la bruja cocktail, made with triple sec and tequila.  It's the perfect cocktail for warmer weather.
19. Sparkling Rhubarb Margarita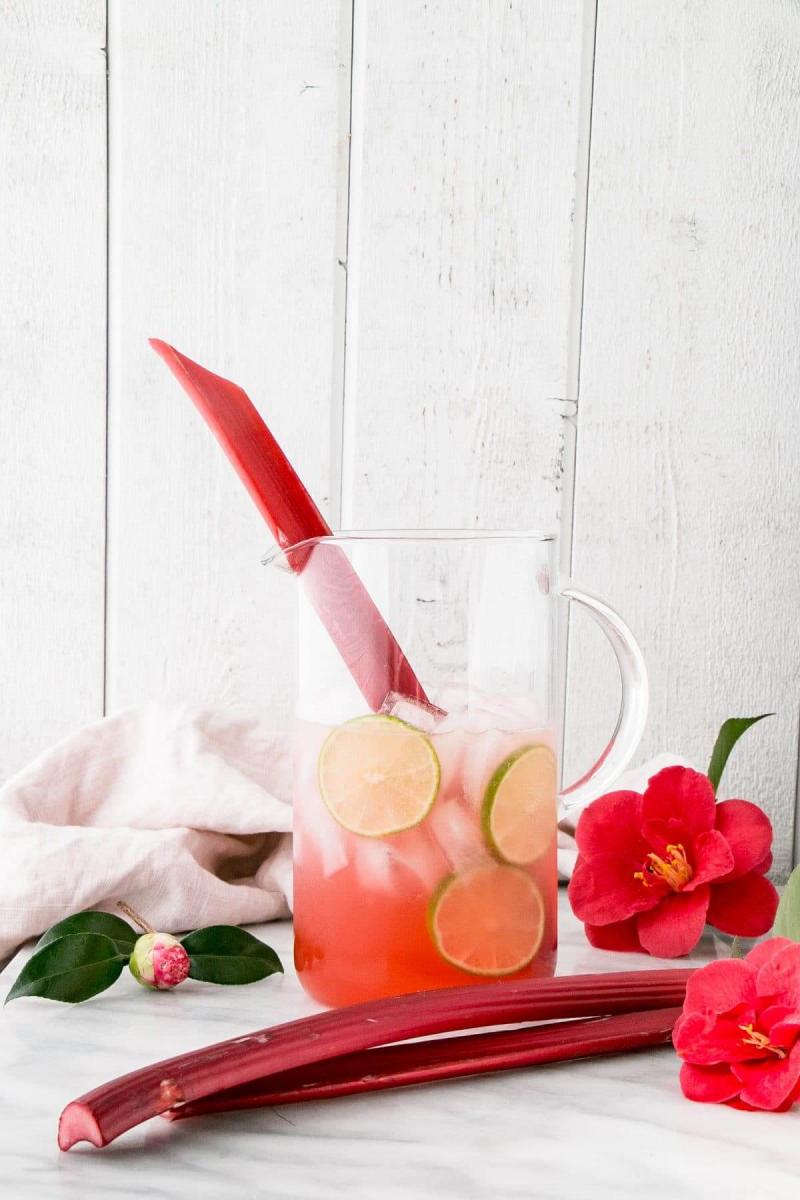 A rhubarb margarita that sparkles with fizz from club soda and sparkling wine?  Yes, please!
20. Frozen Dragonfruit Margarita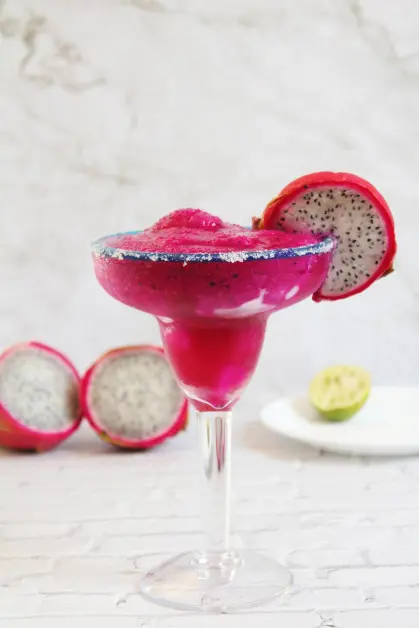 Some dragonfruits have pink flesh inside, and that's what's used to make these frozen dragon fruit margaritas.  But I love that a slice of the type of dragonfruit with white inside is used as a contrasting garnish on the glass. 
21. Cotton Candy Margarita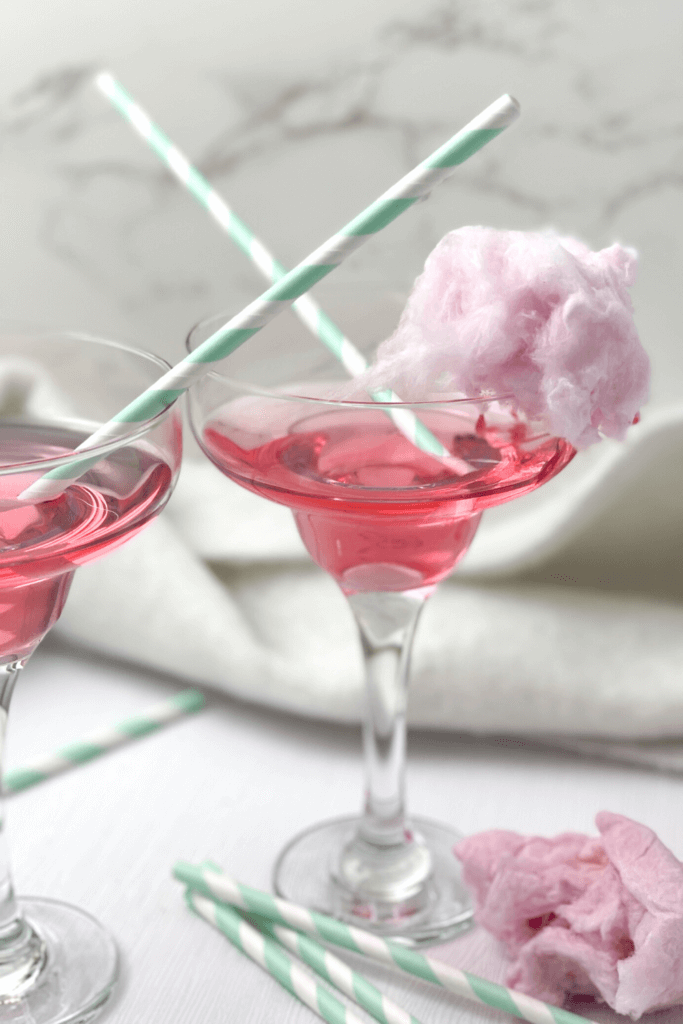 Cotton Candy is a classic pink flavor, and these cotton candy margaritas are a fun, grown-up twist on a childhood favorite.  
Gin lends itself to making amazing pink cocktails because traditional gin is colorless, but in recent years, pink gin has become very popular.  Whether using classic gin or pink gin, these pink cocktails are sure to please.
22. Rhubarb Gin Fizz Cocktail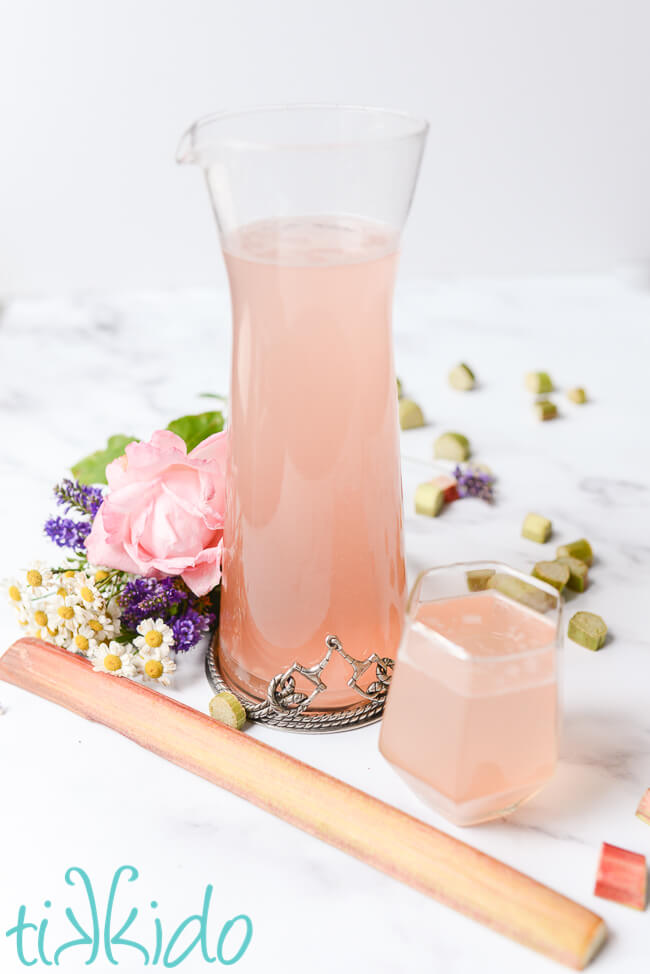 The secret to the gorgeous pink color and amazing flavor in this Rhubarb Gin Fizz cocktail is homemade rhubarb simple syrup.  It's the perfect summer drink--but be careful, it goes down easily but packs a punch!
23. Raspberry Gimlet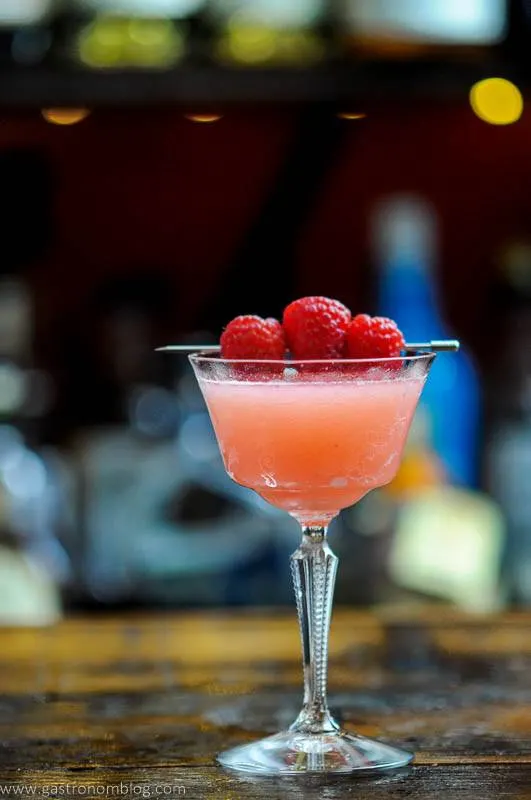 Muddled raspberries give this Raspberry Gimlet its gorgeous pink color and a bright summery flavor.
24. Strawberry Basil Gin Cocktail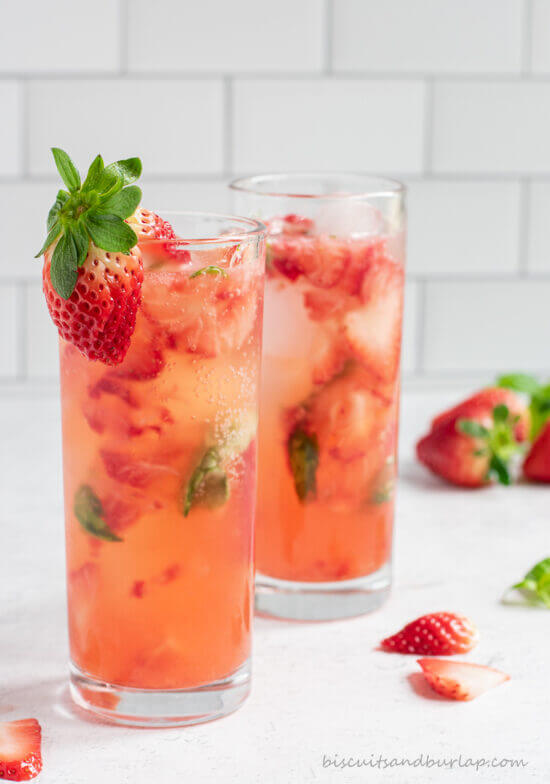 This Strawberry Basil Gin cocktail is refined and delicious, but really very easy to make.  Besides gin, this cocktail also uses elderflower liqueur, which adds a sweet floral note to the drink.
25. Pink Clover Club Cocktail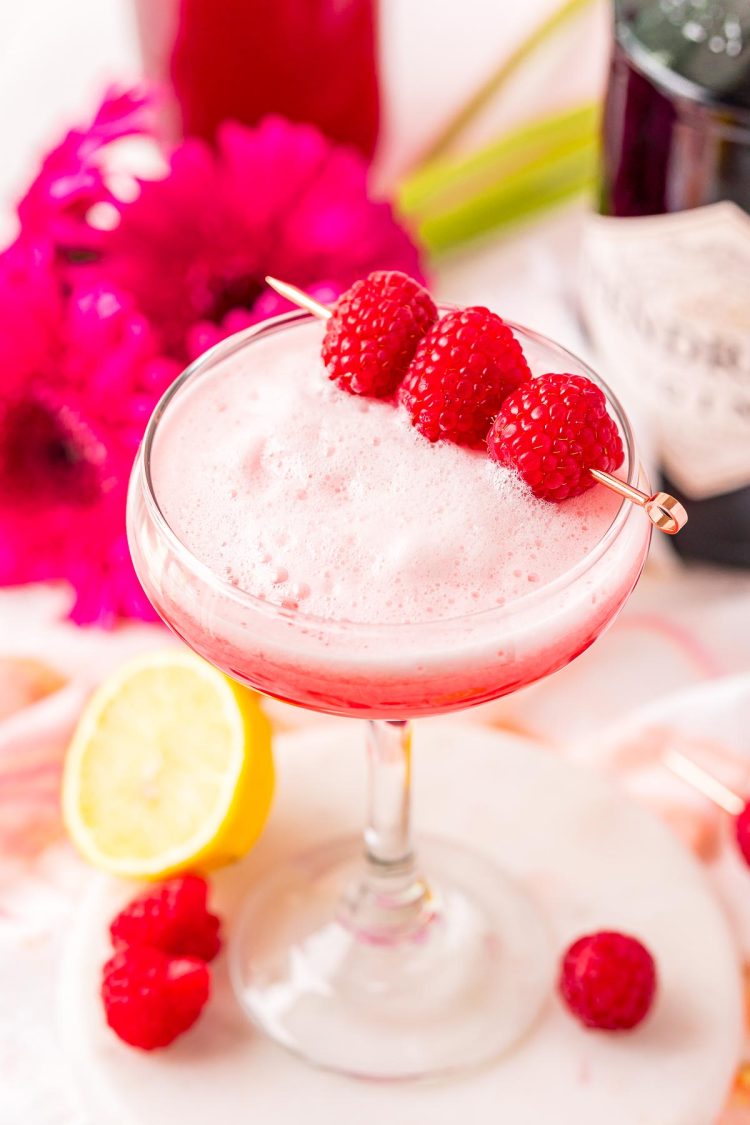 The Pink Clover Club Cocktail gets its foamy top with egg whites, but if you're a vegan, or you just don't like the idea of using raw egg whites, you can use aquafaba (the liquid that comes in a can of chickpeas) instead.  If you don't want to bother with the chickpeas, you can buy a version designed for cocktails, too!
26. Rhubarb Gin and Tonic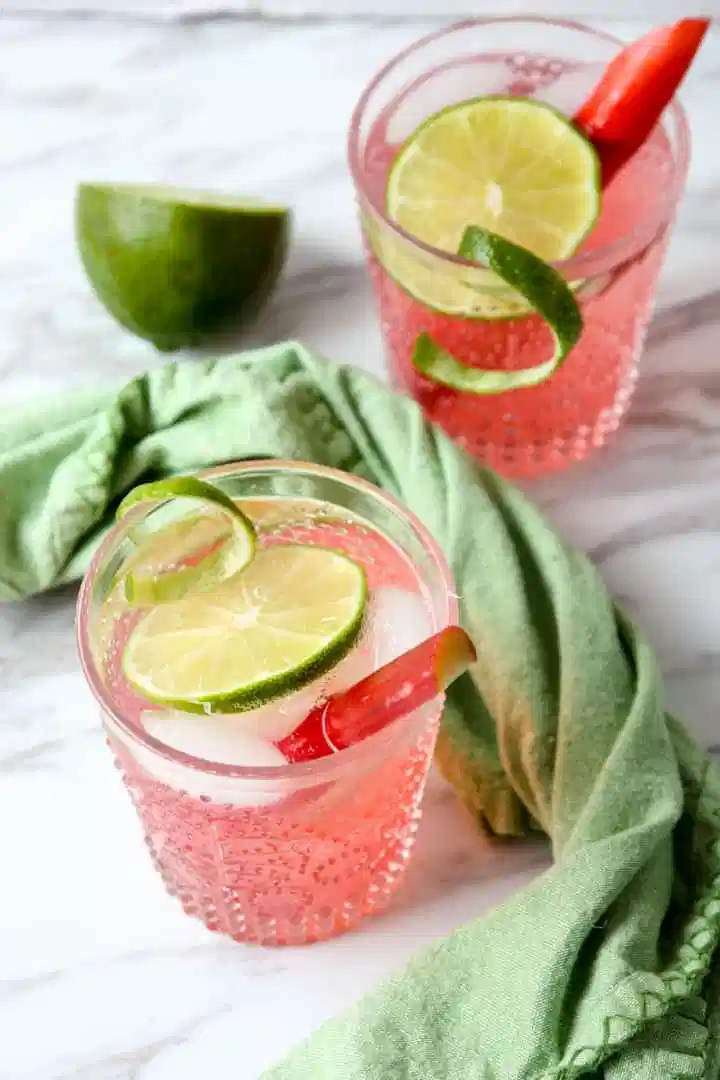 One of the things I love best about living in England is how much love there is for rhubarb here!  Gin and Tonic is a classic British drink, and so it's only natural to make a pink version with rhubarb. Rhubarb gin and tonics are the perfect springtime drink to make when rhubarb starts showing up in the markets.
27. Pink Lady Cocktail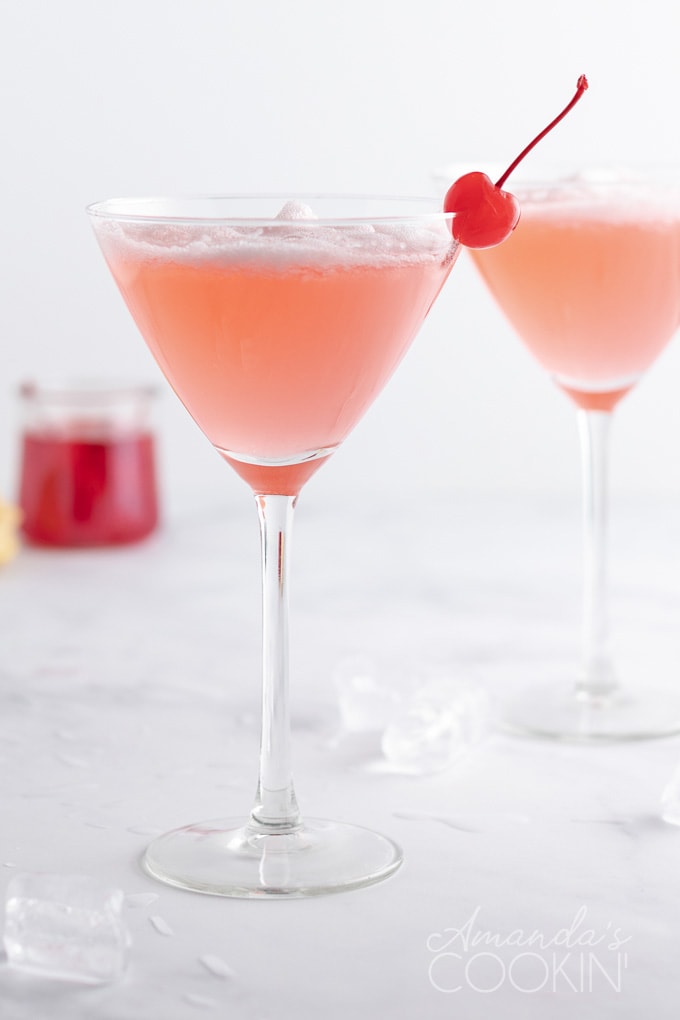 No roundup of pink cocktails would be complete without the classic Pink Lady Cocktail! A gin and applejack brandy cocktail with sweetness from grenadine syrup, tartness from lemon juice, and garnished with a maraschino cherry and a twist of lemon.  A classic pink cocktail that's sure to please.
Bubbles make everything more fun!  If you're looking for a bright and bubbly pink cocktail, this collection of cocktail recipes made with sparkling wines (like Prosecco and Champagne) is sure to please.
28. Raspberry Mimosas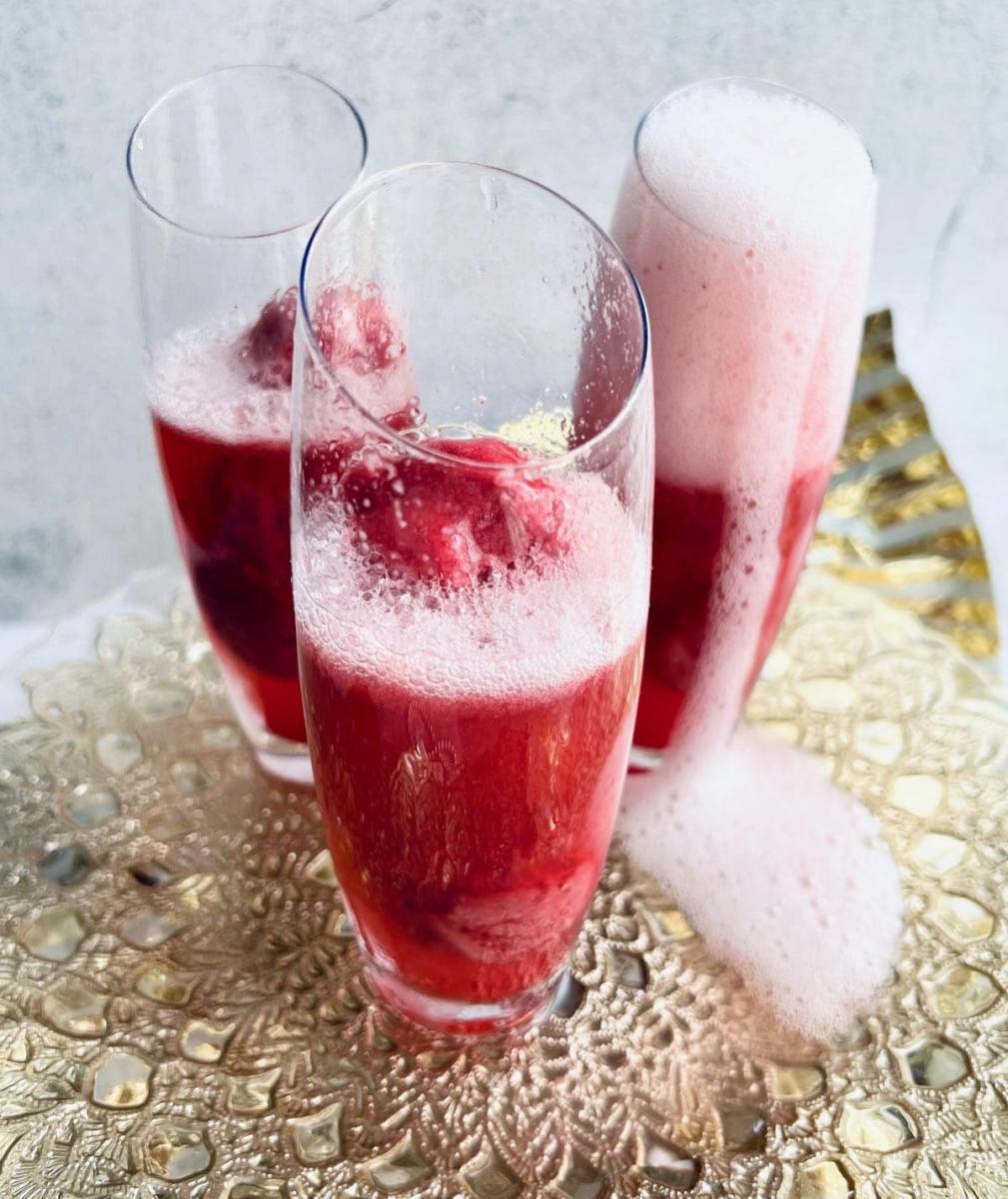 These raspberry mimosas are easy to make with raspberry sorbet and dry champagne.  Festive, fun, and a beautiful deep pink color.
29. Strawberry Sorbet and Rosé Champagne Floats
These Strawberry Sorbet Rosé floats are similar in concept, but the flavor is boosted by a clever secret ingredient.  Check the blog post for the brilliant idea!
30. Easy Pink Prosecco Punch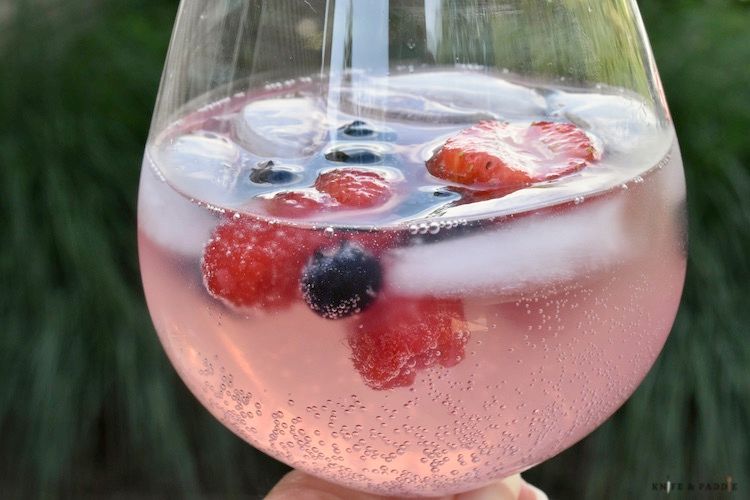 This easy Pink Prosecco Punch is lower in alcohol than many cocktail recipes, which makes this perfect for sipping on a hot summer day.
31. Plum Bellini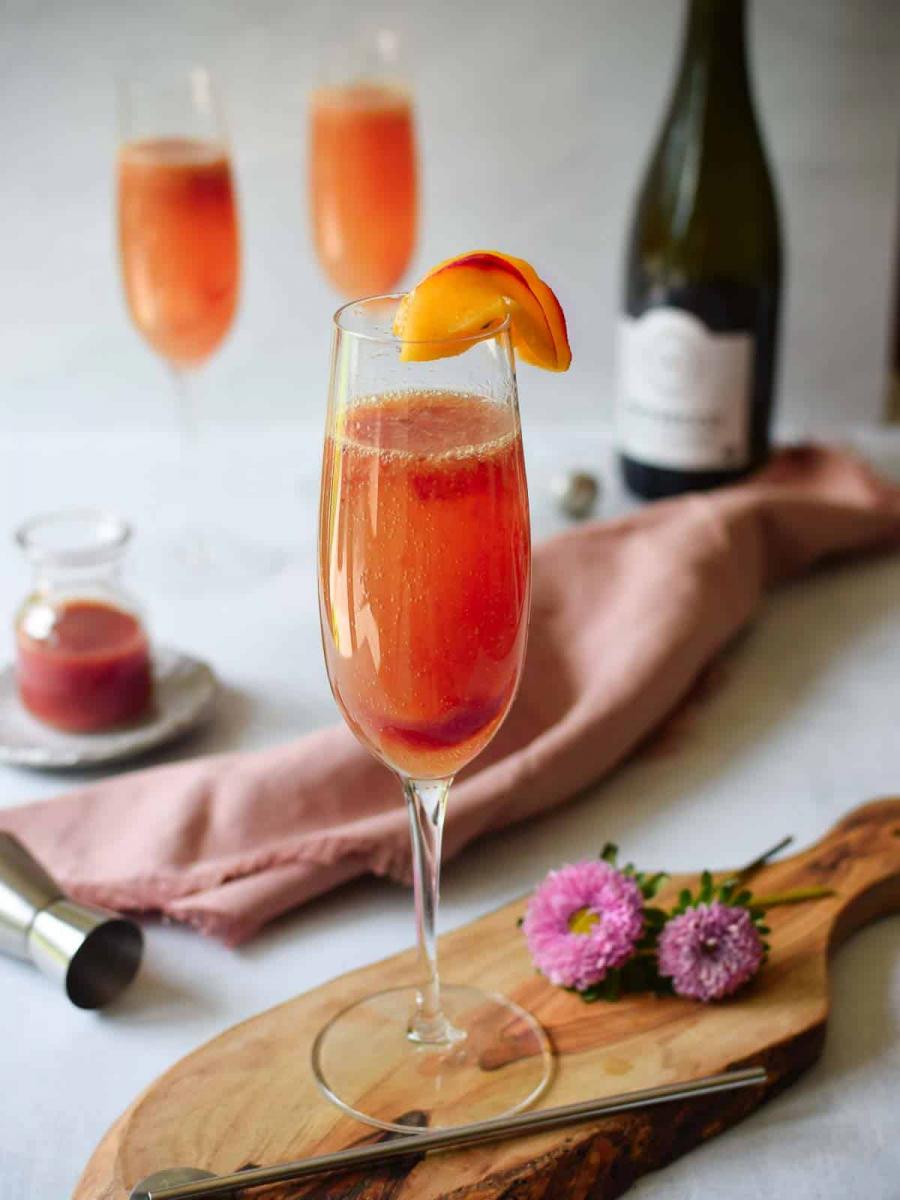 Bellinis are traditionally made with pureed peach and champagne, but this cocktail gets a rosy hue from using red-skinned plums instead of peaches.  What a delicious way to use abundant summer produce.
32. Pink Moscato Sangria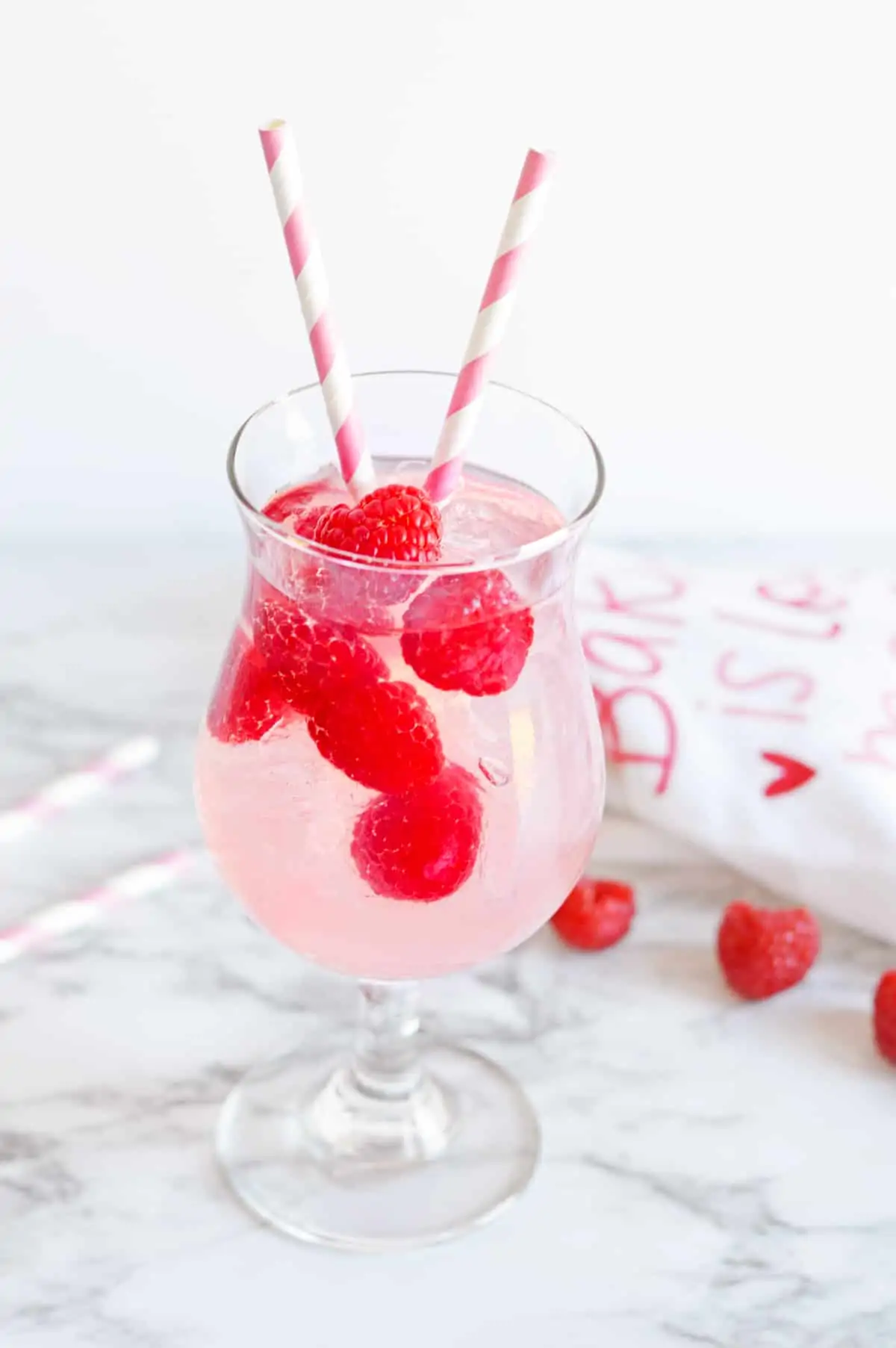 Moscato is a lightly sparkling sweet wine, and is used, along with some cran-raspberry juice, to give this Pink Moscato Sangria its lovely pink hue.  
33. Pink Lemonade Moscato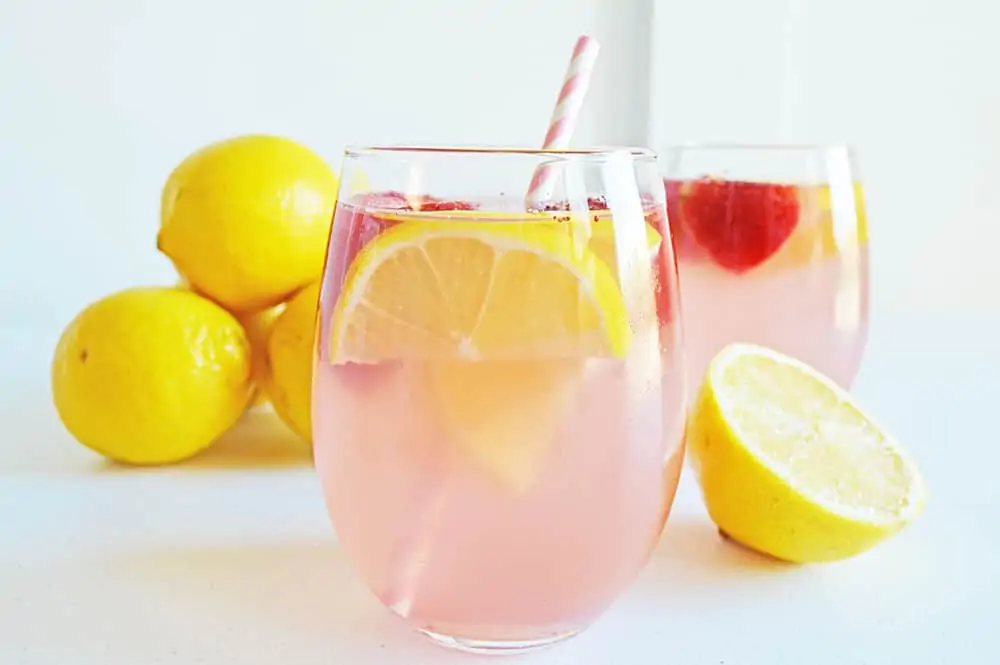 A pink lemonade moscato cocktail may be the perfect summer drink!  Any pink lemonade cocktail is delicious, but this one is extra refreshing and light because it's made with pink moscato sparkling wine.
34. Pink Moscato Honey Bee Cocktail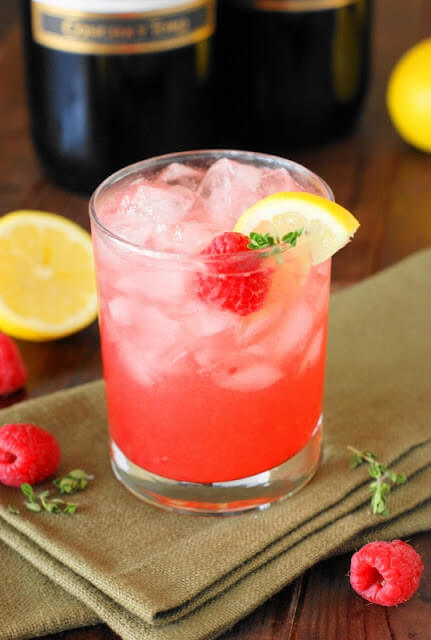 This pink Moscato Honey Bee Cocktail has all the flavors of a summer garden.  And just look at how beautiful it is!  A feast for the eyes as well as the tastebuds.
35. Berry Champagne Punch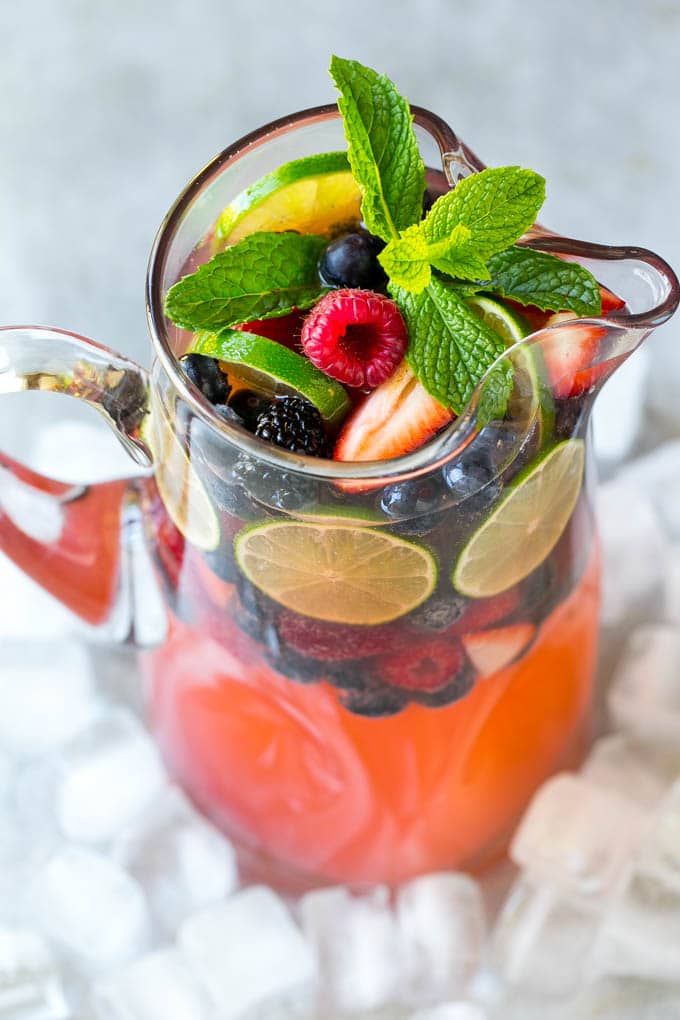 Muddled berries give this light champagne punch its beautiful pink color.  Whip up a pitcher for your next event.
36. French Kiss Cocktail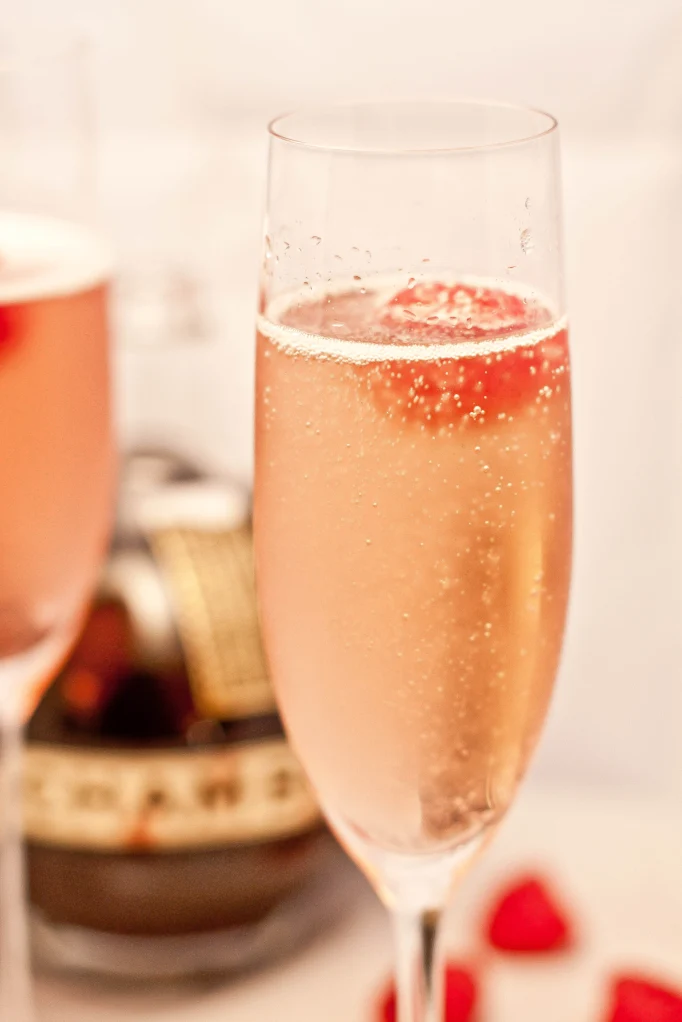 Champagne gets a pink blush from a splash of Chambord raspberry liqueur.  Garnish with a raspberry and you have a French Kiss cocktail.
Wine is a great base for refreshing cocktail recipes.  Pour a glass of one of these beautiful pink punches and cocktails made with wine at your next celebratory event.
37. Strawberry Rosé Sangria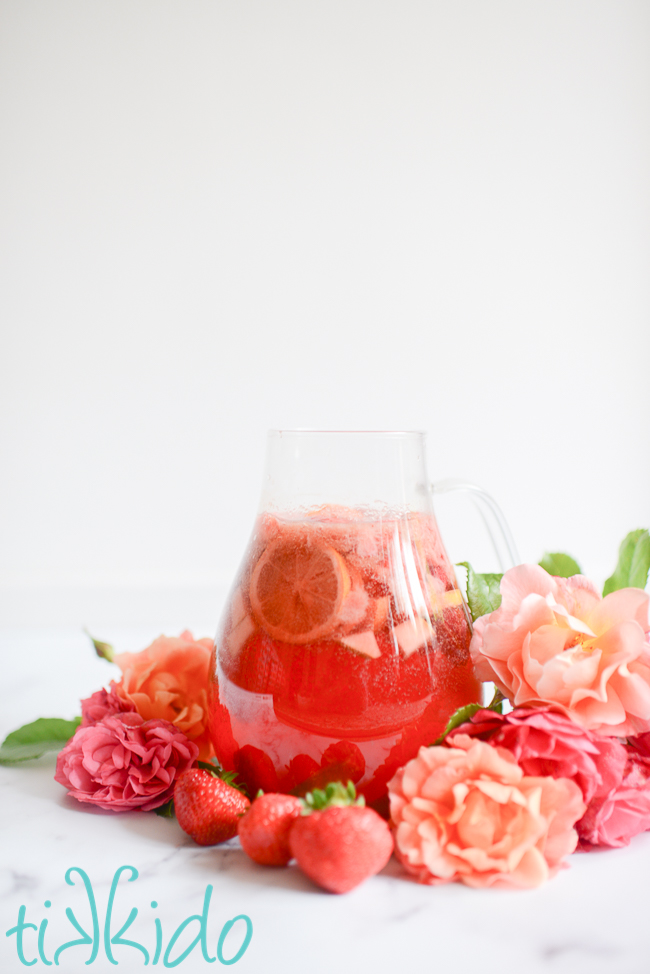 Strawberry Rosé Sangria is a classic sangria punch, but made with rosé wine.  This recipe also calls for brandy, but it's amazing if you substitute peach schnapps, too.  The perfect summer drink!
38. Strawberry Frose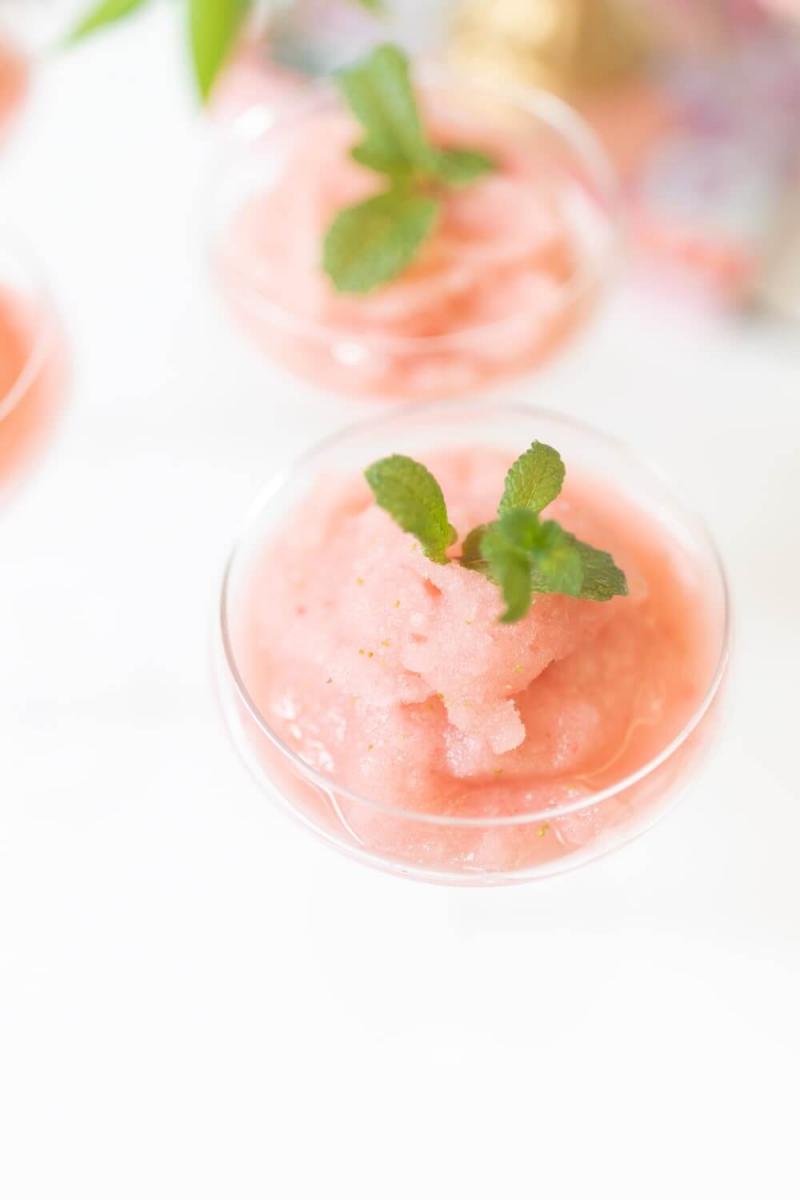 Rosé wine is frozen and blended with homemade strawberry syrup and frozen strawberries to make this amazing strawberry frosé.  Serve in a champagne coupe to make it easy to drink (and for visual appeal).  Add a few mint leaves if you want to be extra fancy!
39. Strawberry Smash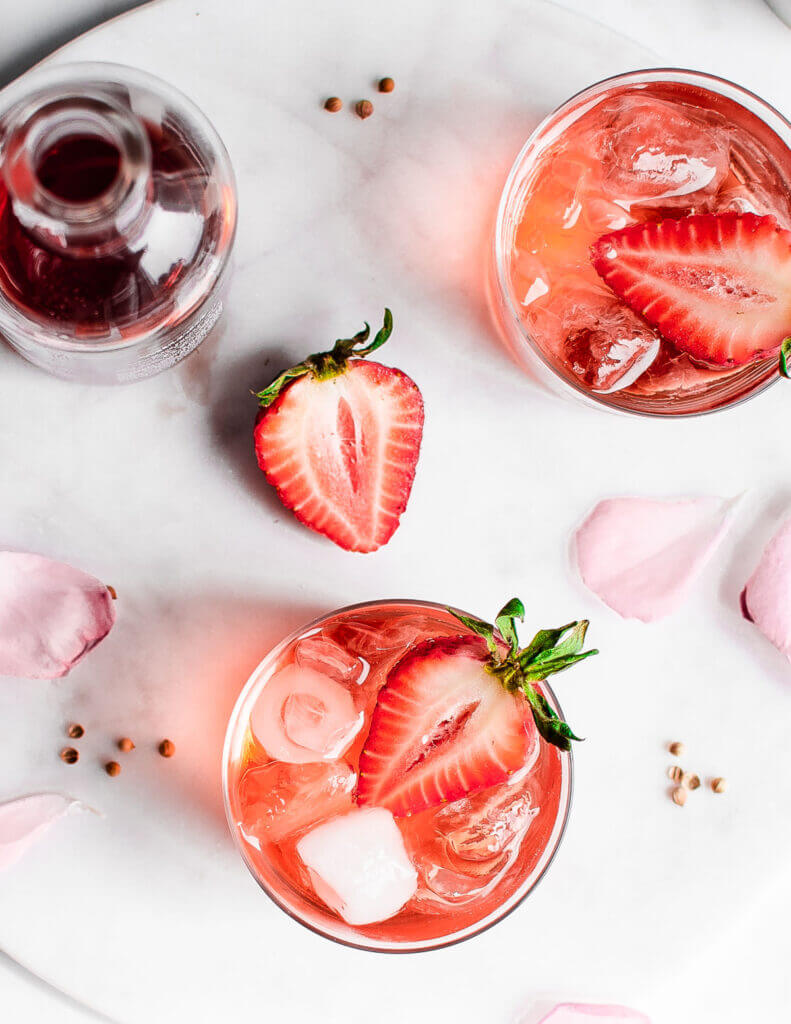 A Strawberry Smash is a complex, interesting, amazingly flavorful cocktail--but it really is easy to make.  Rosé wine, fresh rose petals, and muddled strawberries all contribute to the gorgeous color of this pink cocktail.
40. Pink Grapefruit Rosé Sangria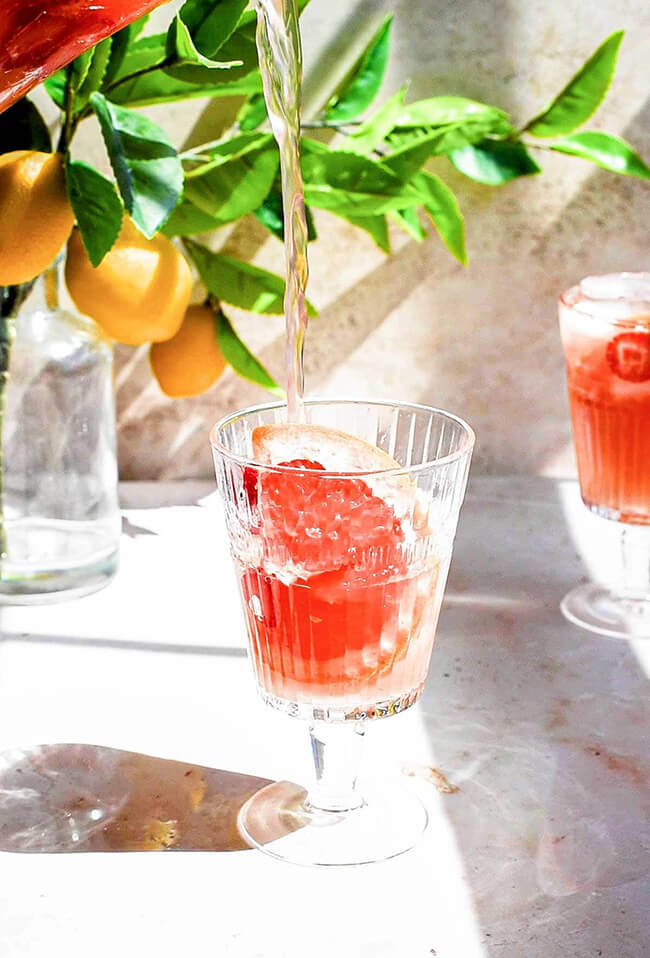 Rosé Grapefruit Sangria has a stunning pale pink color, and bright grapefruit flavor from fresh grapefruit juice and Giffard Grapefruit Liqueur.  
Rum makes delicious cocktails!  And when you use white rum, it's easy to use this tasty spirit to create beautiful pink cocktials.
41. Lava Flow Cocktail
Mix rum and strawberry puree with a tropical pineapple and coconut base and you get a Lava Flow, an incredibly delicious, creamy beverage.  All I need now is a chair on the beach!
42. Pomegranate Mojito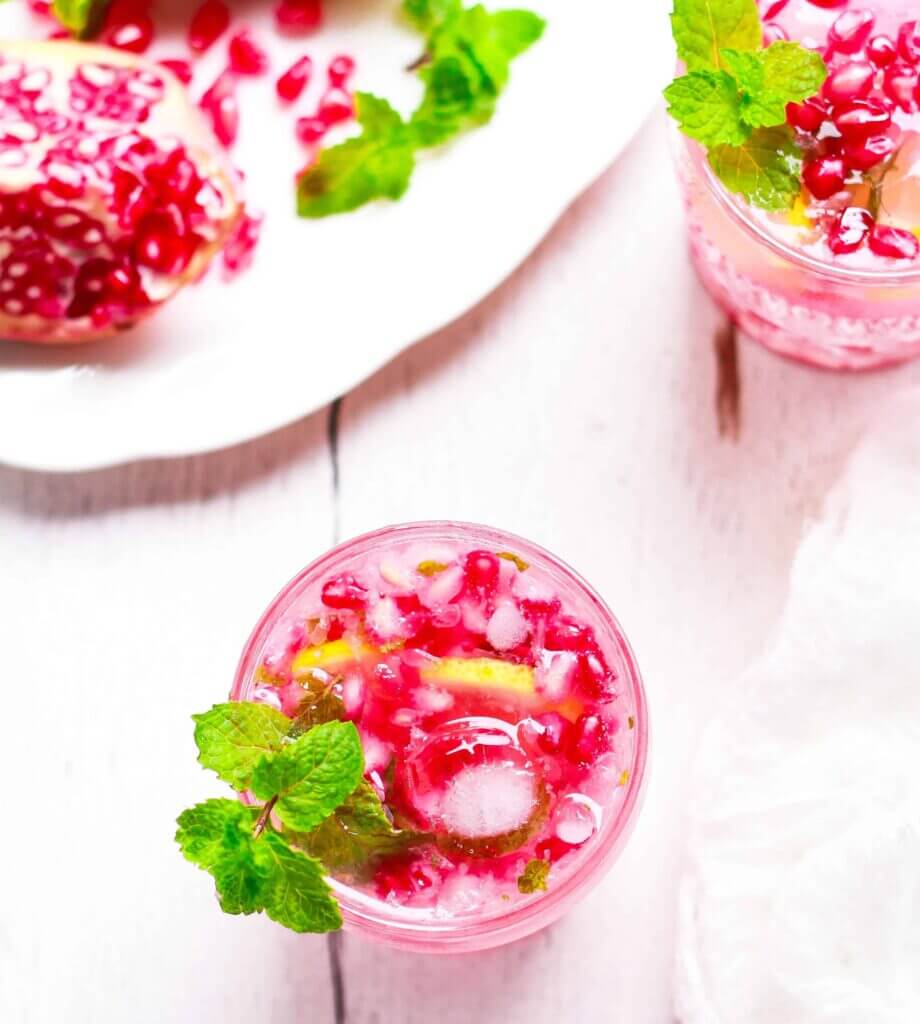 Pomegranate arils get muddled along with classic mojito ingredients to make this stunning pink pomegranate mojito.
43. Shirley Temple Black Cocktail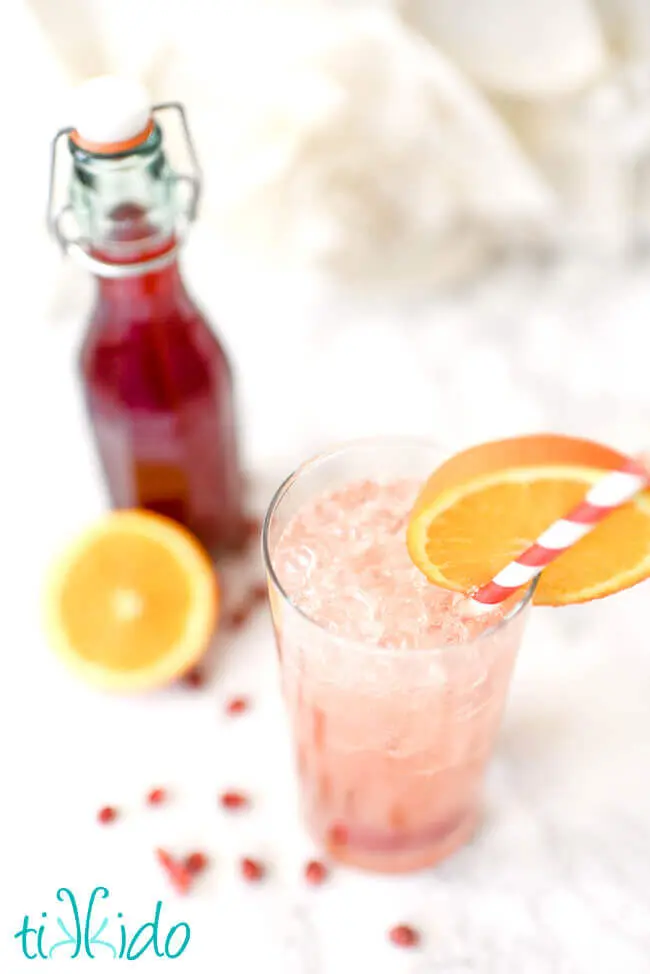 A Shirley Temple is the original mocktail, but a Shirley Temple Black cocktail is all grown up--an alcoholic drink with all of those same delicious flavors.
44. Pink Flamingo Punch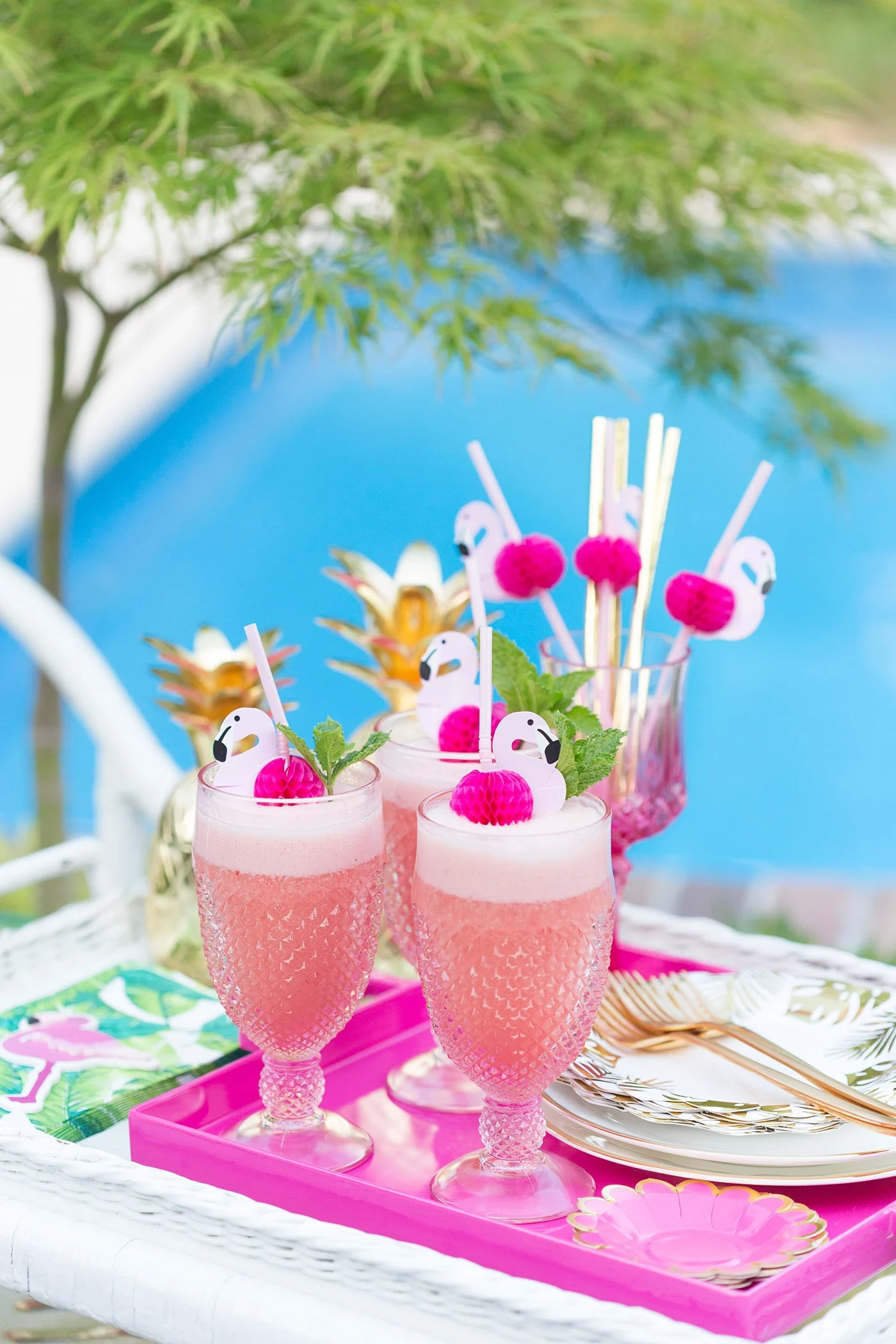 Pina coladas get a pink twist with the addition of ruby red grapefruit juice, strawberries, and watermelon. Pink Flamingo Punch is gorgeous and delicious! And how cute are those flamingo straws?
45. Cupid's Cocktail Recipe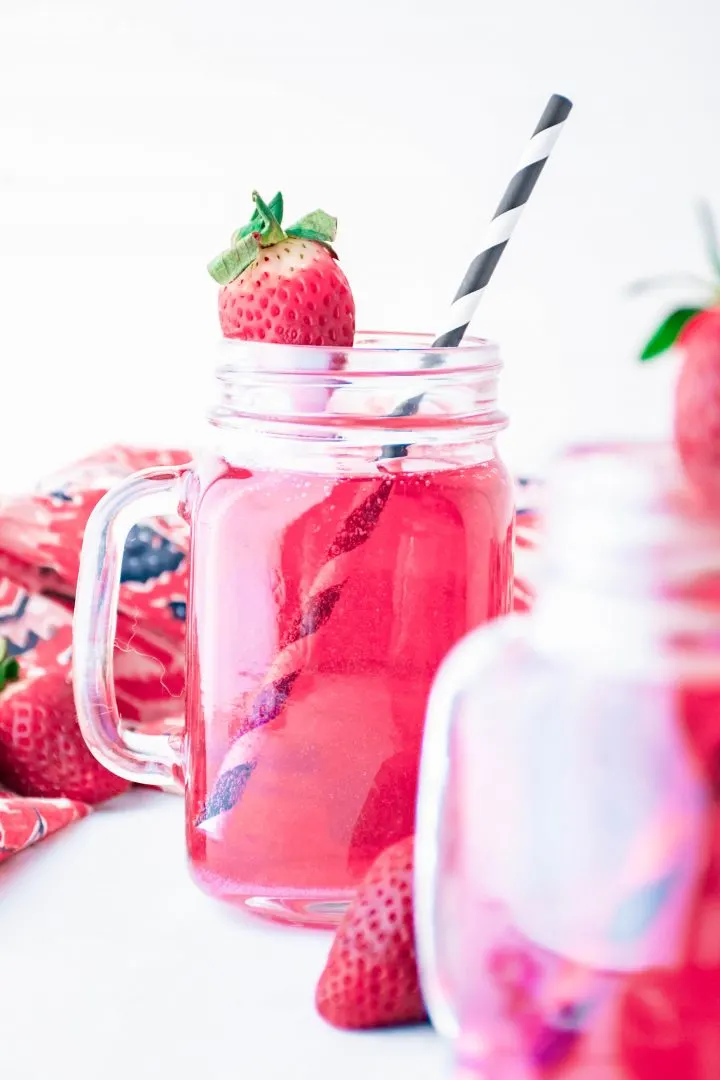 The Cupid's Cocktail is made with both regular white rum and strawberry rum.  Lemon-lime soda and grenadine finish off this bright pink, tasty cocktail.
46. Citrus Island Guava Cocktail
The Citrus Island Guava Cocktail is made with mango rum and Bundaberg Guava soda.  If you can't find the soda, you can use any guava juice and soda water instead.
47. Strawberry Sour Candy Cocktail
Do you love sour candies?  You're going to love this Strawberry Sour Candy Cocktail!  Made with strawberry rum and strawberry schnapps, this is a sweet-tart cocktail you'll love.  I especially love the sour candy sugar rim!
48. Watermelon Mojito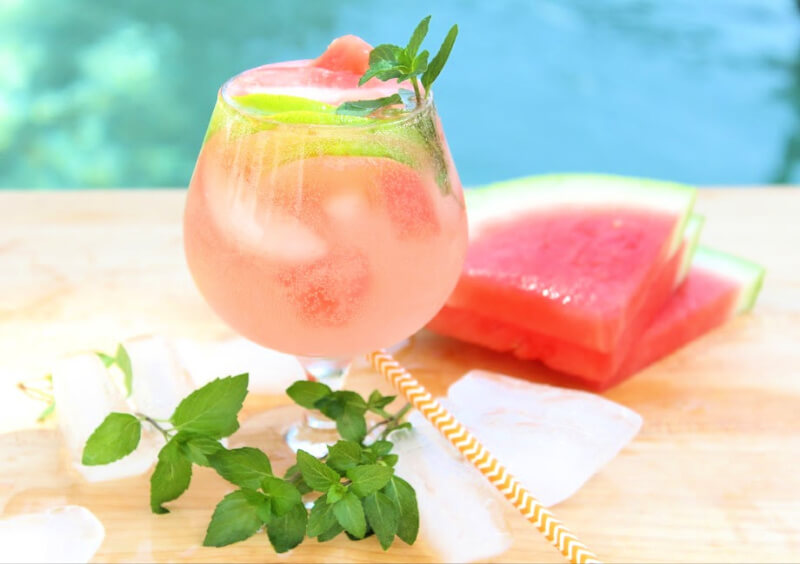 It doesn't get any more summery than a Watermelon Mojito!  Now all I need is a pool.
Bourbon is a barrel-aged American whiskey with a golden color, so you might not think of it immediately for making pink cocktails, but check out these beautiful bourbon cocktail recipes.
49. Summer Buffalo Cocktail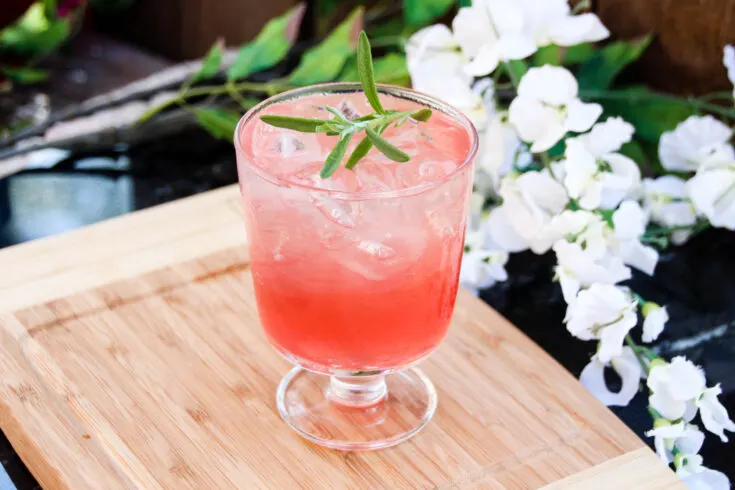 Cranberry lemonade gives this Summer Buffalo Cocktail its gorgeous pink color, and the tartness of the juice plays beautifully with the complex sweetness of the bourbon.
50. Raspberry Bourbon Smash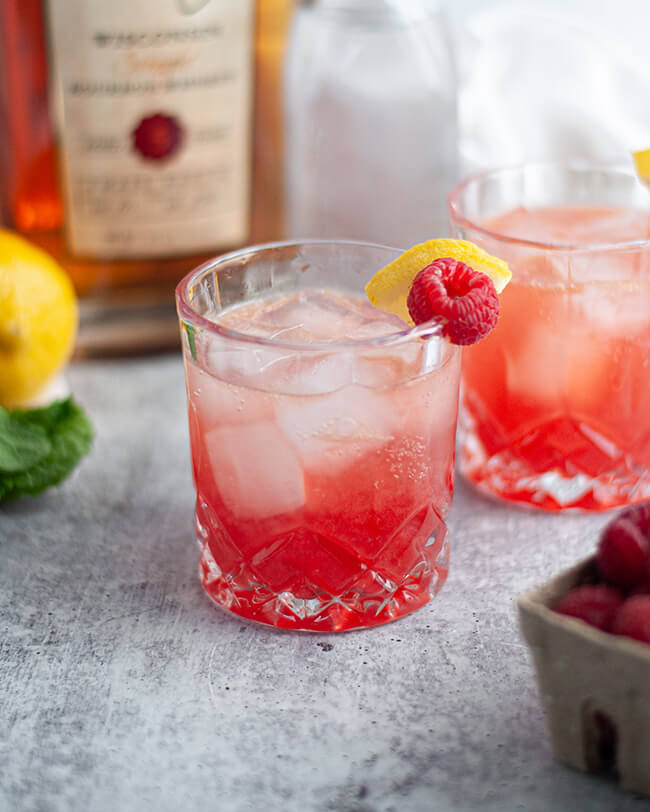 This raspberry bourbon smash recipe is the ultimate fruity and refreshing bourbon cocktail. Quick and easy to make, and darn delicious.
There are plenty of other liqueurs mixed in all of the cocktails above, but this section is all about those spirits taking center stage.
51. Chambord Frozen Lemonade
Slushies can be sophisticated!  Chambord frozen lemonade is a magnificent, grown up frozen drink.
52. Chocolate Covered Strawberry Cocktail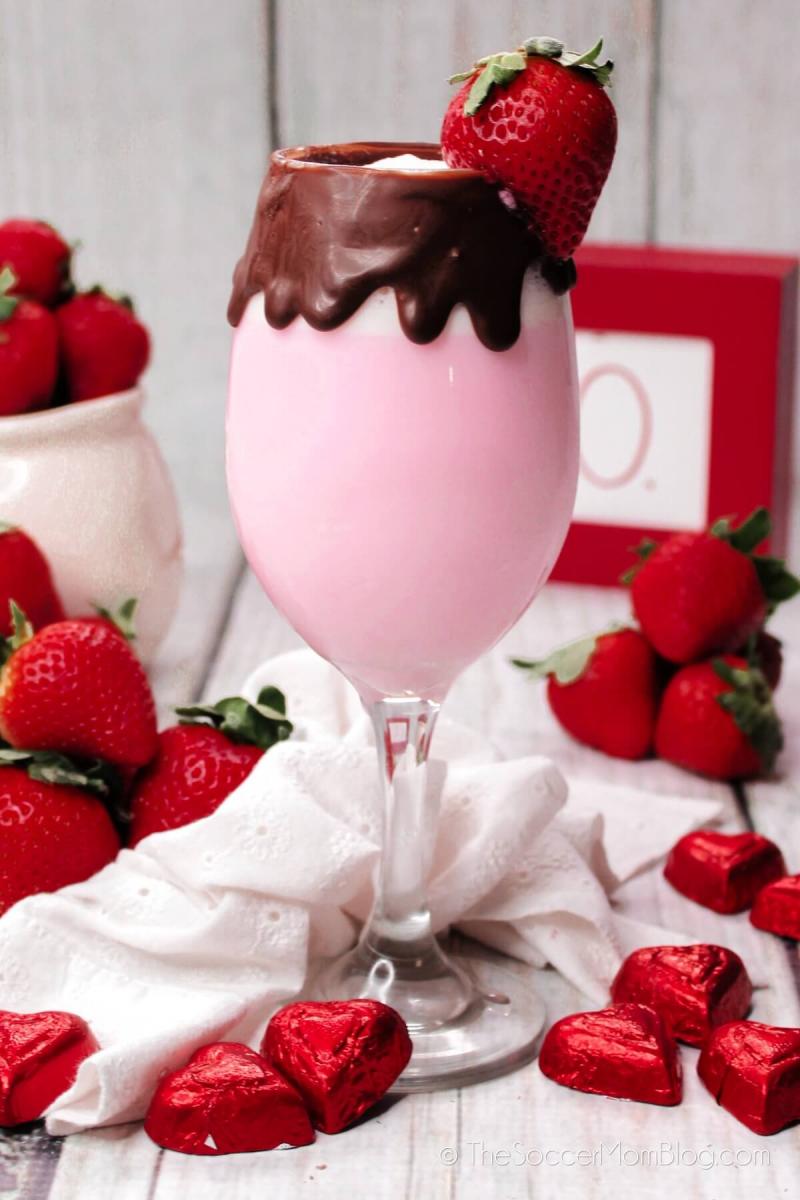 Do you love chocolate covered strawberries?  Then you're going to love this Chocolate Covered Strawberry Cocktail made with White Creme de Cacao and Baileys Strawberry and Cream liqueur.
53. Pink Squirrel Dessert Drink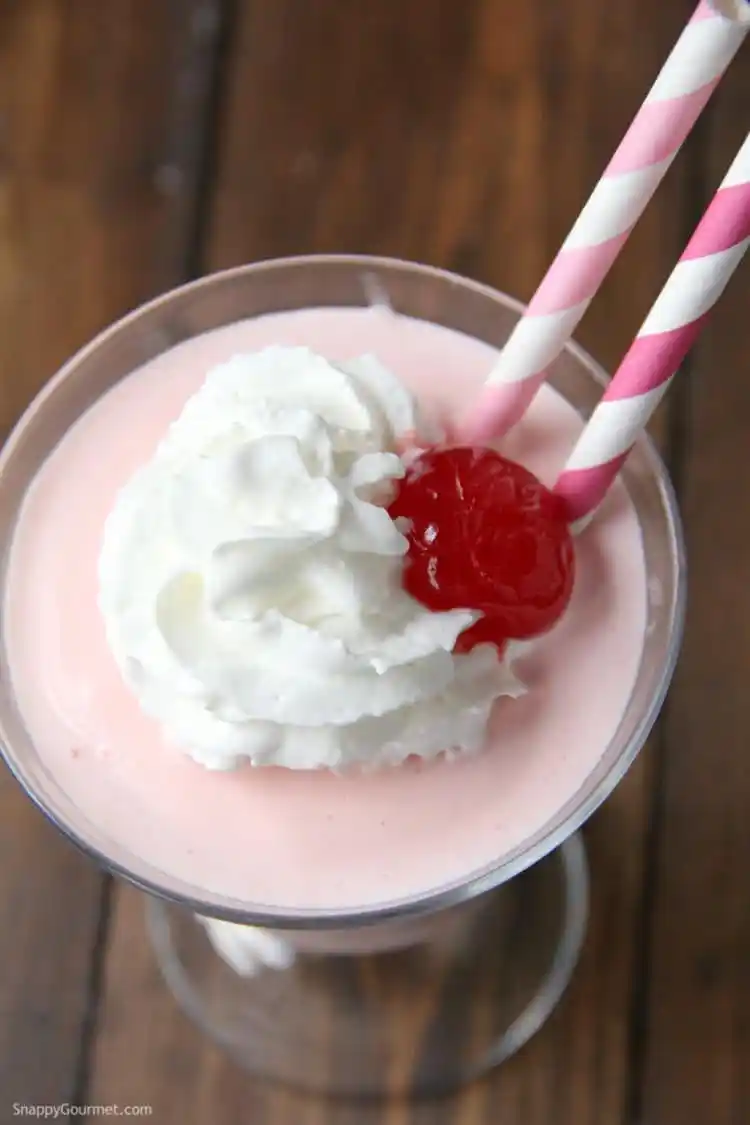 The Pink Squirrel cocktail is as much a dessert as a drink.  Think alcoholic milkshake made with Crème de Noyaux and Crème de Cacao.  It was invented at Bryant's Cocktail Lounge in Milwaukee, Wisconsin, and remains a favorite in the upper midwest.
54. Red Velvet Martini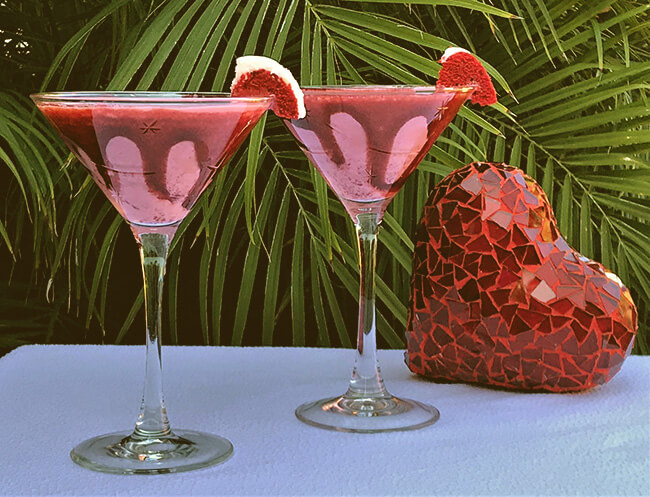 Do you love red velvet cake?  Then you're going to love these red velvet martinis, made with Baileys Red Velvet Liqueur.
55. Rhubarb Pisco Sour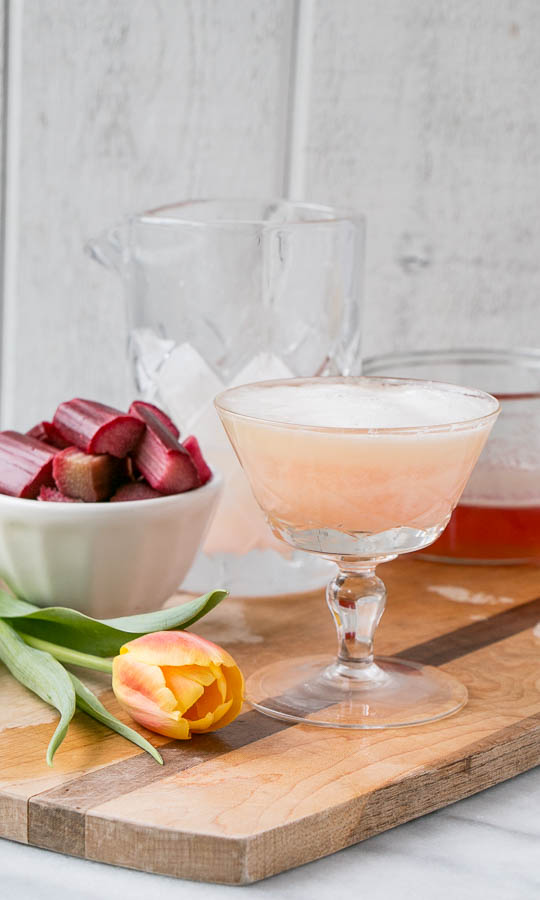 Pisco is a south American brandy made from grapes, and it works wonderfully with tart rhubarb in this Rhubarb Pisco Sour recipe.  The more red your rhubarb is, the darker pink your finished cocktail will be.
What pink drink is your favorite?
Other Cocktail Recipes You Might Like: