Printer-friendly version
My daughter just turned nine, and this year she requested a wolf themed birthday party.  I'm not sure where her passion for wolves came from, but it's strong and persistant.  She decided almost a year ago that her next party would be a wolf birthday, and she never strayed from her request.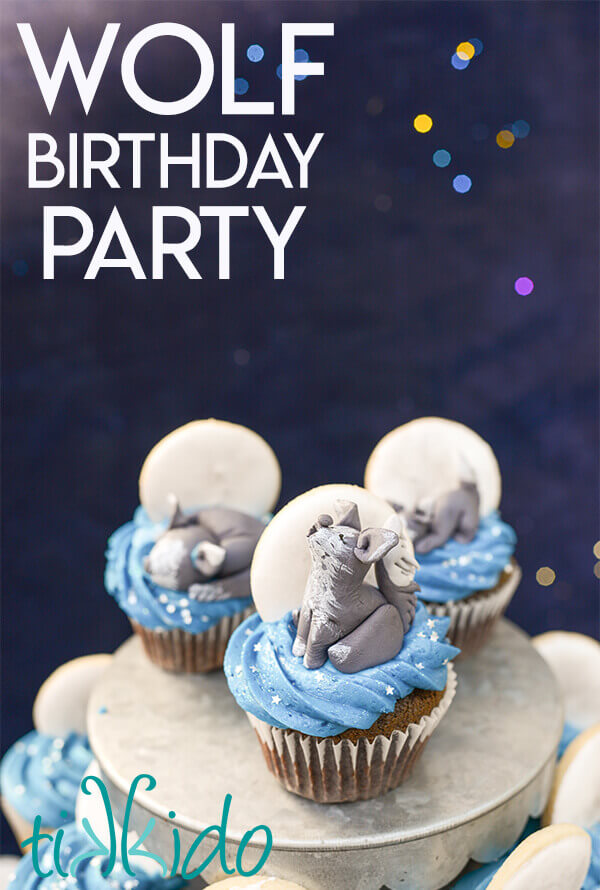 I love that my kids have so often chosen party themes that you can't find supplies for in the local Party City.  I love getting to be creative and crafty!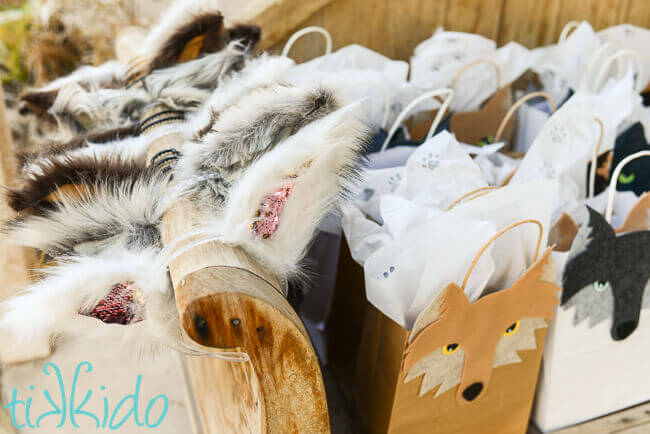 Each kid at the party (and some of the adults) got a pair of wolf ears to wear.  Niamh requested tails for everyone, too, but I didn't have enough time to make that happen.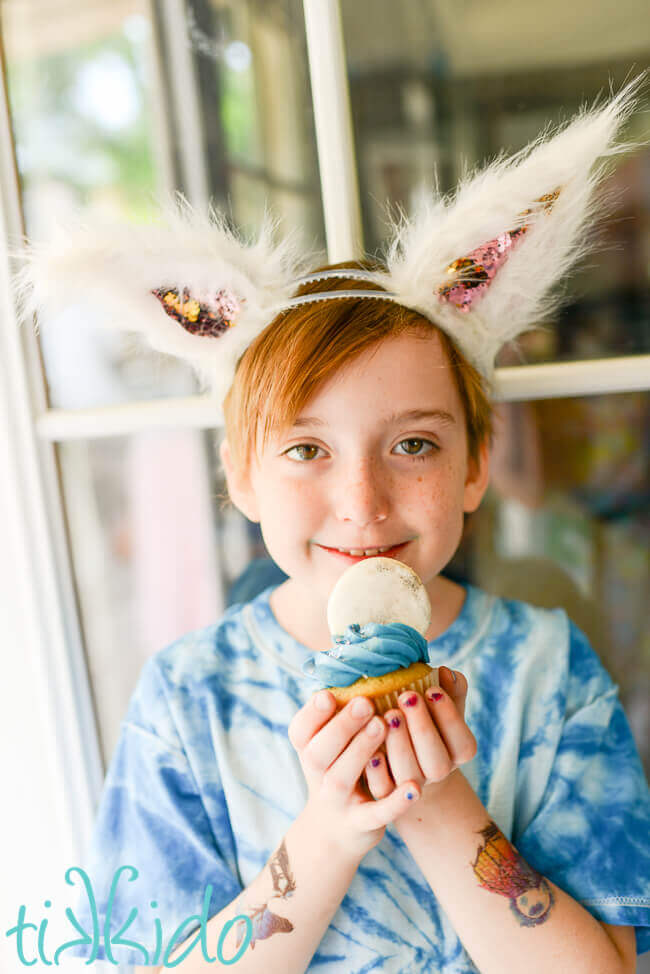 Niamh asked for special ears with mermaid sequin fabric in the centers as a special birthday-girl treat.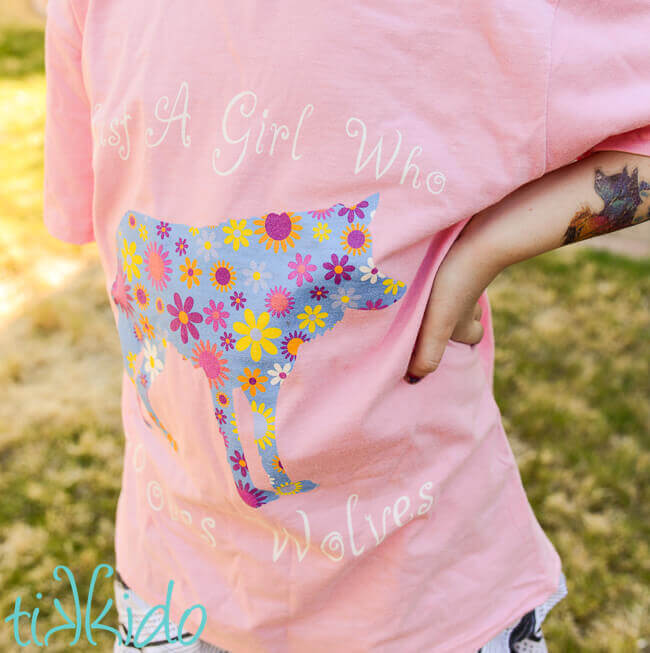 Grandma and Grandpa sent the birthday girl this wolf shirt, so of course she wore it for her party.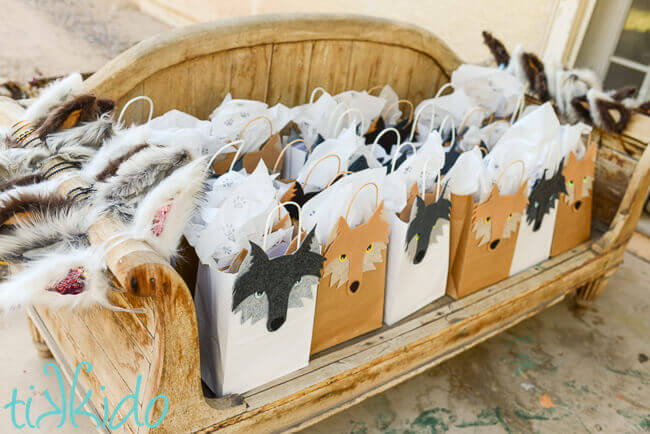 One day I'll get around to refinishing this old love seat, but for now, it's perfect for holding wolf ears and wolf goodie bags!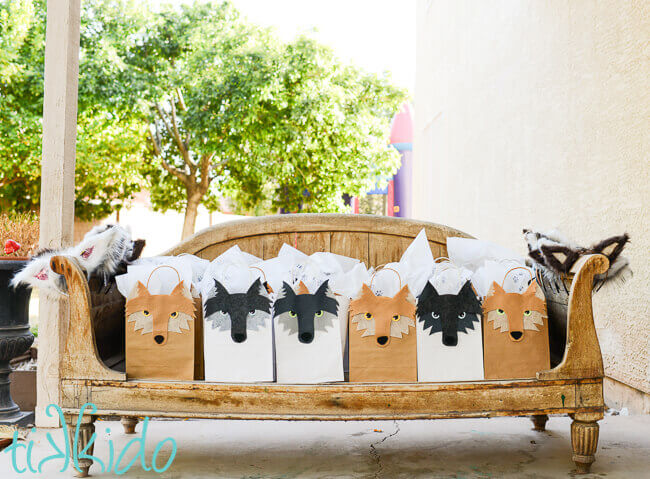 Inside each wolf gift bag was a wolf notebook, matching pen, wolf temporary tattoos, and a small paw print self-inking stamp.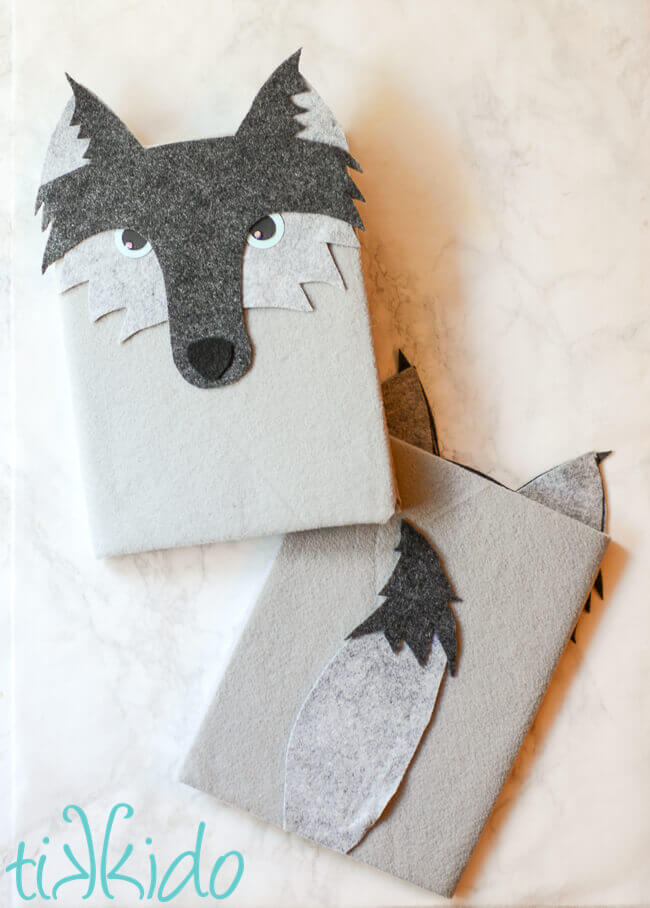 I spent less than $3 on each child's party favors.  Man, I LOVE giving great, unique party favors without spending much money!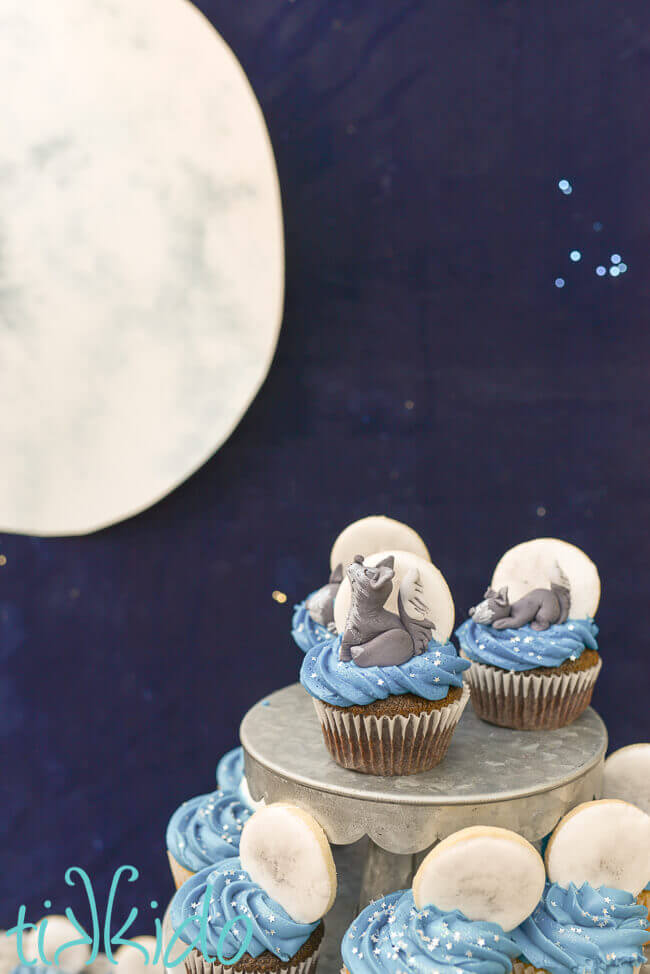 I planned this whole party in about two days, so I didn't have time to make a big fancy cake.  Cupcakes are easier to serve, anyway, and I made some fun special wolf cub gum paste toppers, and full moon cookie toppers for the rest of the cupcakes.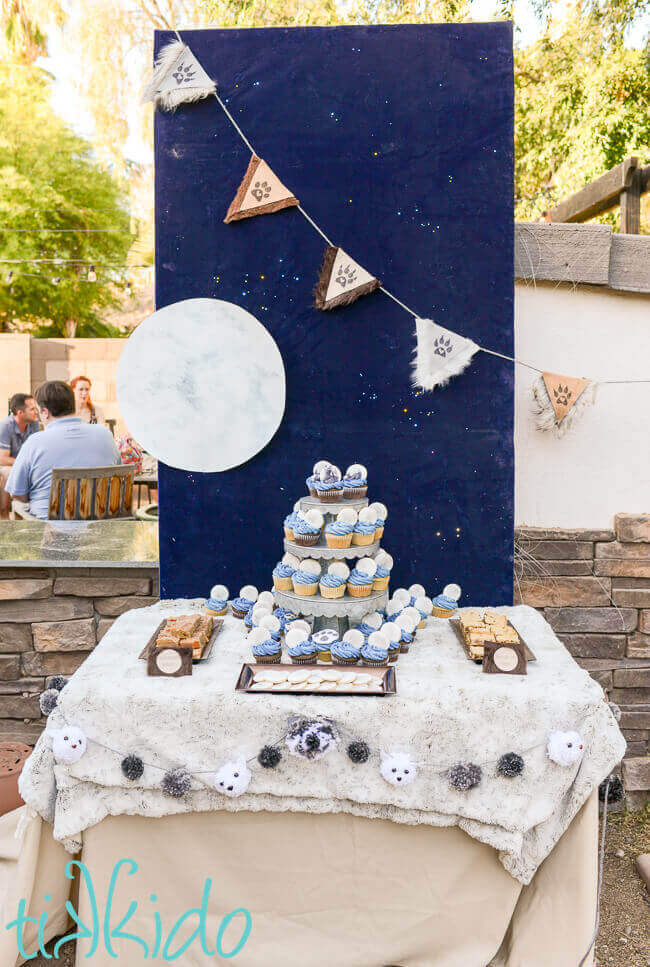 Do you recognize the LED star ceiling panel backdrop?  I've used it twice before, in the Star Wars party for Pottery Barn Kids, and for my older daughter's Firefly birthday party.  I love being able to recycle large party props!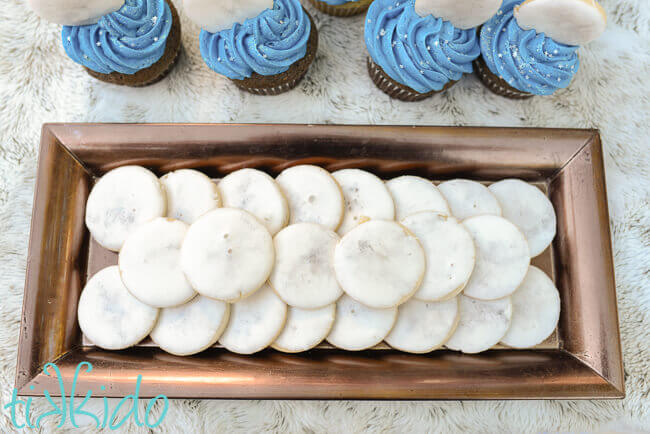 Full moon sugar cookies (just like the ones on the cupcakes.  I used this technique to decorate the cookies (you won't believe how easy it is!!).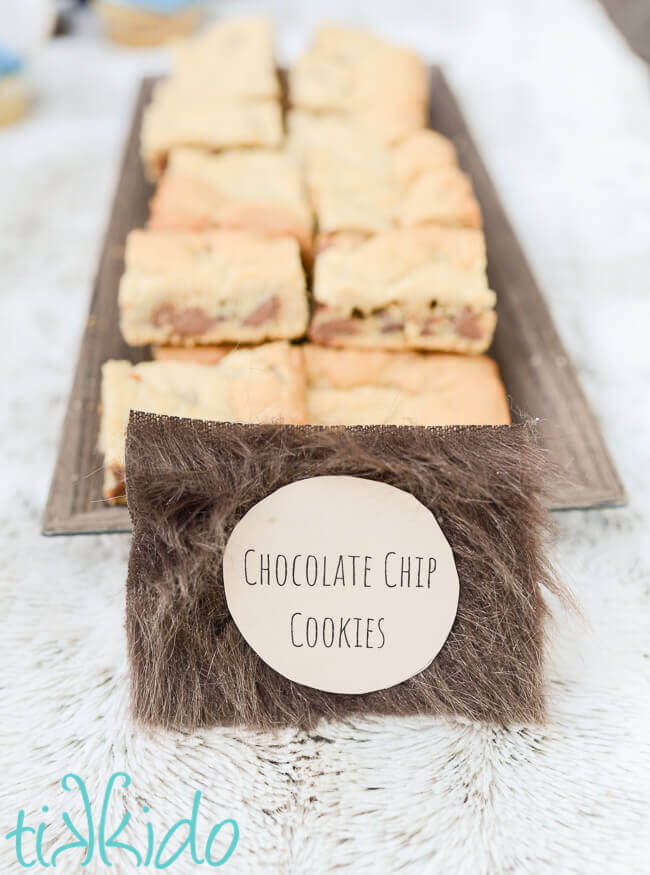 Bar cookies are the BEST, aren't they?  Fast, easy, and so delicious.  I like their texture better than scooped cookies, too.  I used this recipe for the chocolate chip bar cookies.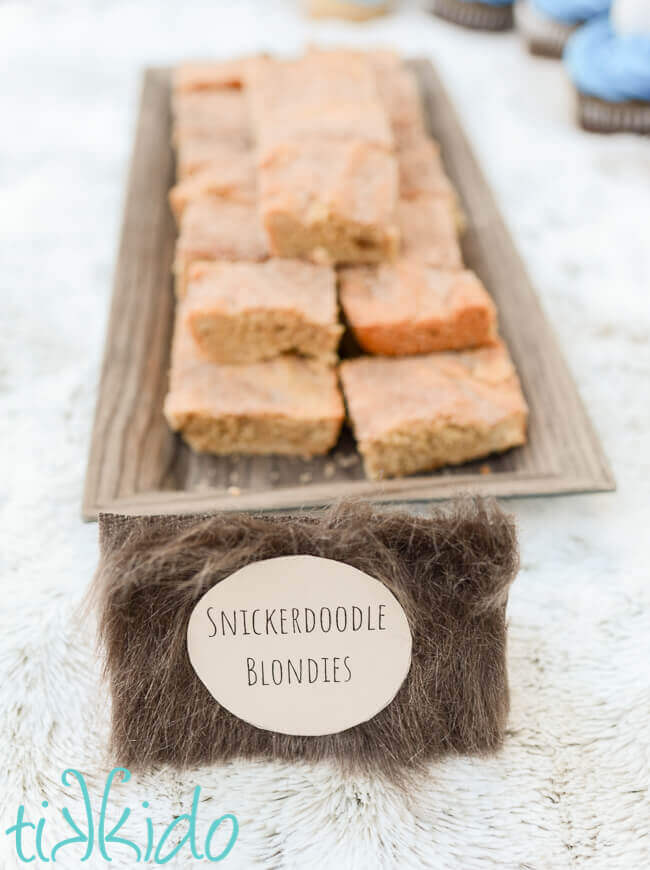 Some people don't like chocolate.  (I know!) . But EVERYONE loves snickerdoodle blondies.  These bar cookies made one child declare, "you have magical powers over food!"  They're that good.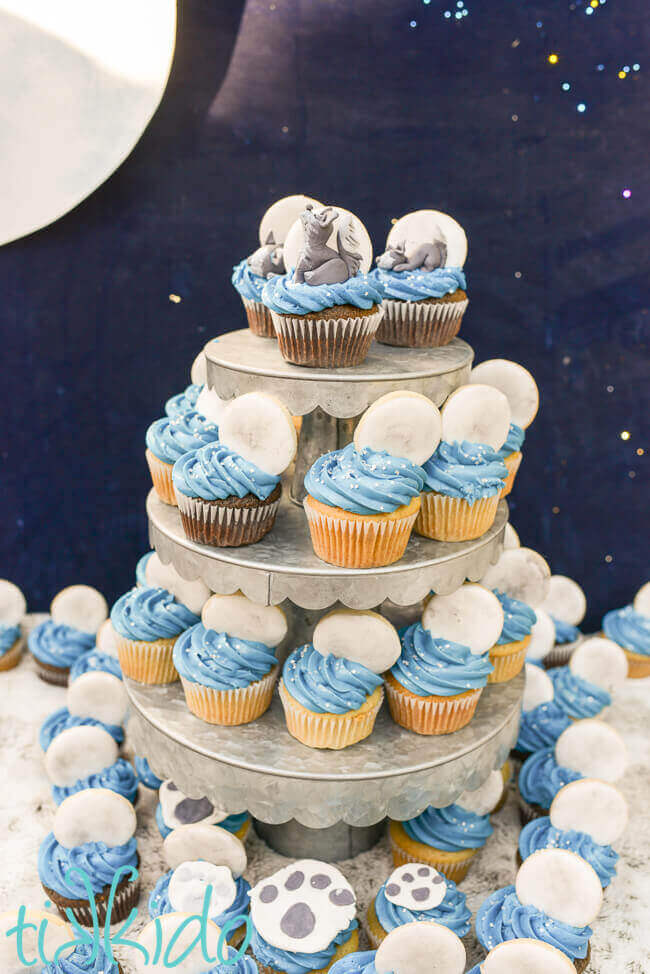 My 8/9 year old daughter loves to help me with party planning, and made some darling wolf paw cupcake toppers.  Of course I had to actually use them!  I love a fabulous, well-designed party as much as anyone, but encouraging my child's creativity and enthusiasim and making her feel valued is so much more important than perfection.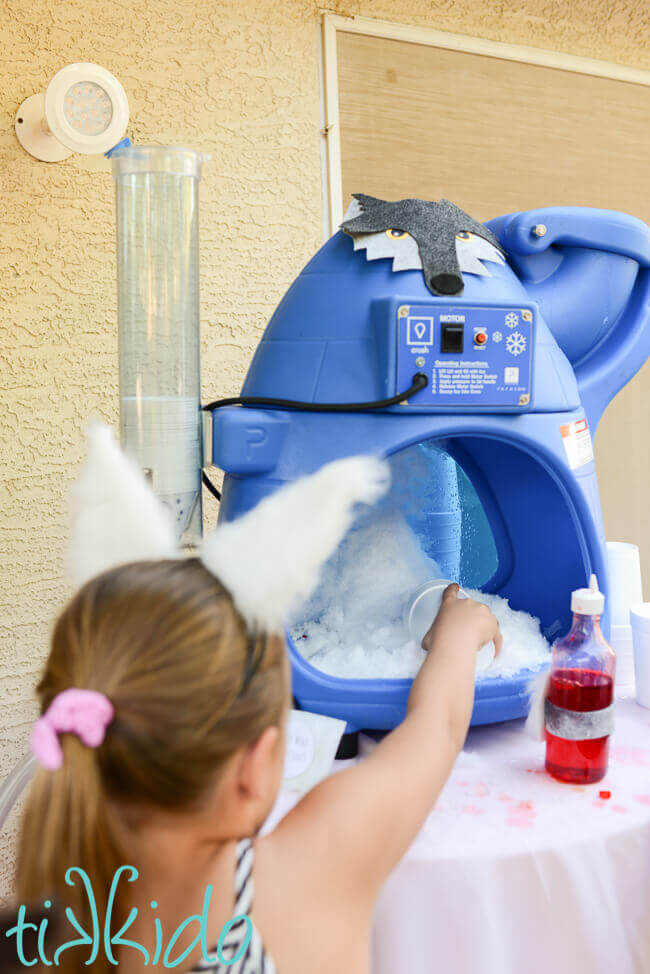 I generally make the kids wait until dinner is eaten (pizza from our wood fired pizza oven) and happy birthday is sung before diving into the dessert table, but I do like to give them a little something to act as a distraction until that time.  This year, I rented a snow cone machine along with the bounce house.  Arctic wolves love snow cones; it's a scientific fact, I'm pretty sure.
We had classic Blue Raspberry and Tiger's Blood flavors that came with the snow cone machine, but I also made a couple of my all-natural, 100% fruit snow cone syrups, too.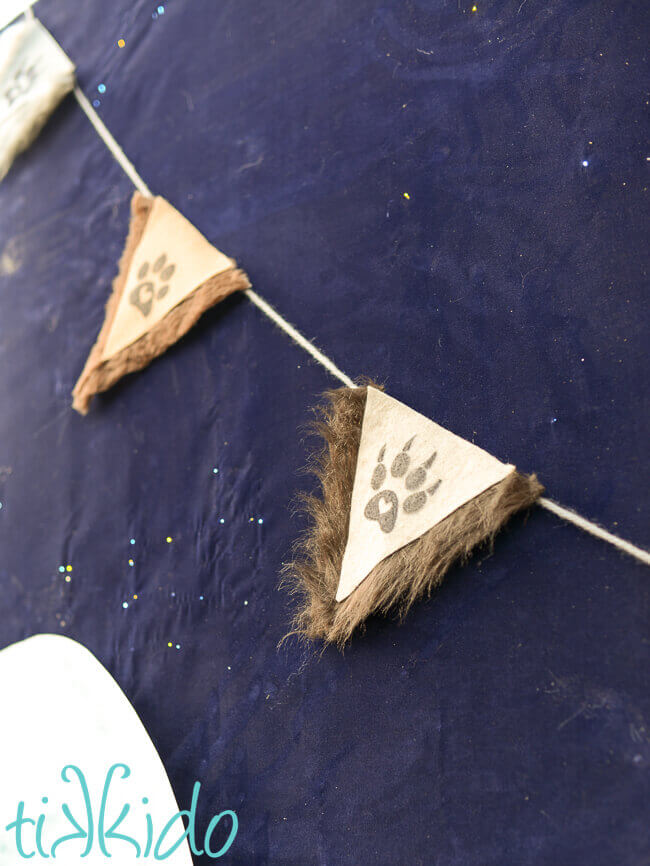 I made some furry wolf paw garland for the party.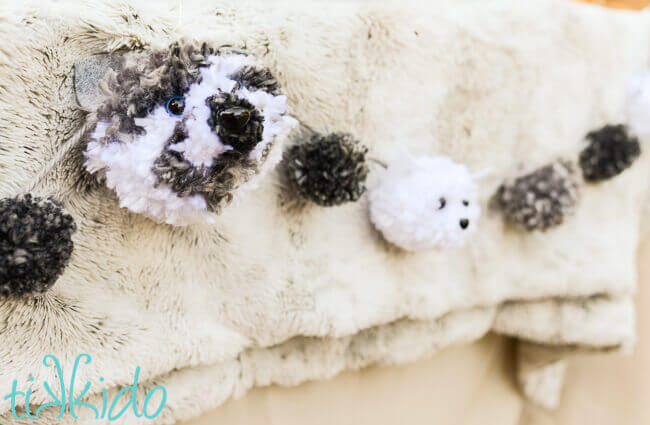 And this pom pom wolf garland.  I LOVE how this turned out!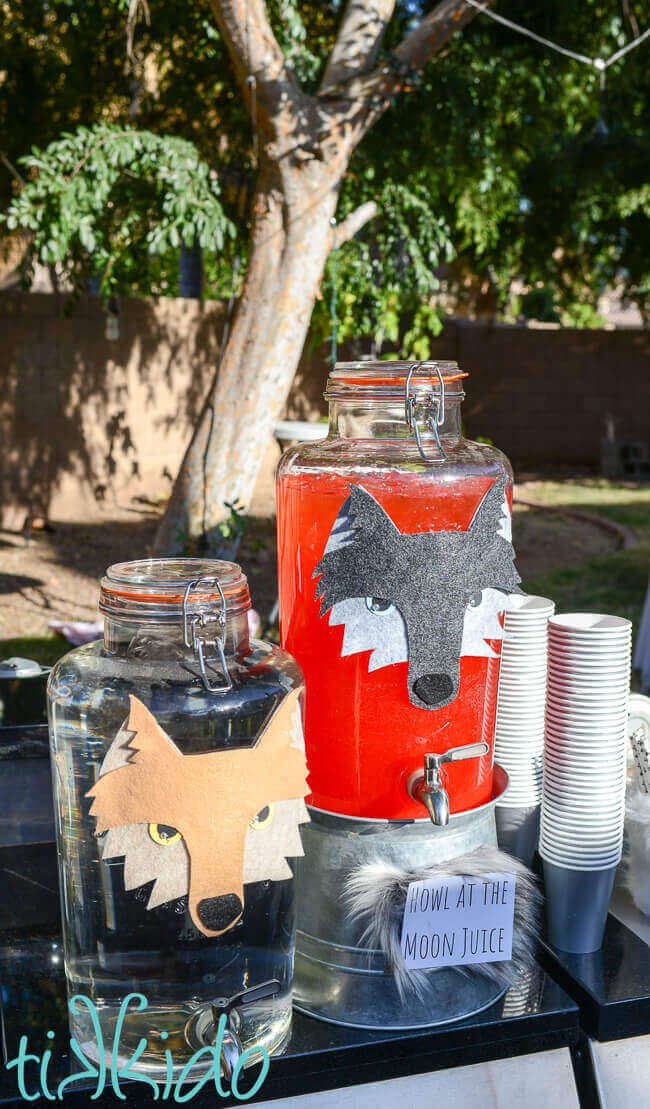 I ended up making too many of the wolf faces for the gift bags and notebooks, so I had fun finding ways to incorporate them into the party decor around the yard.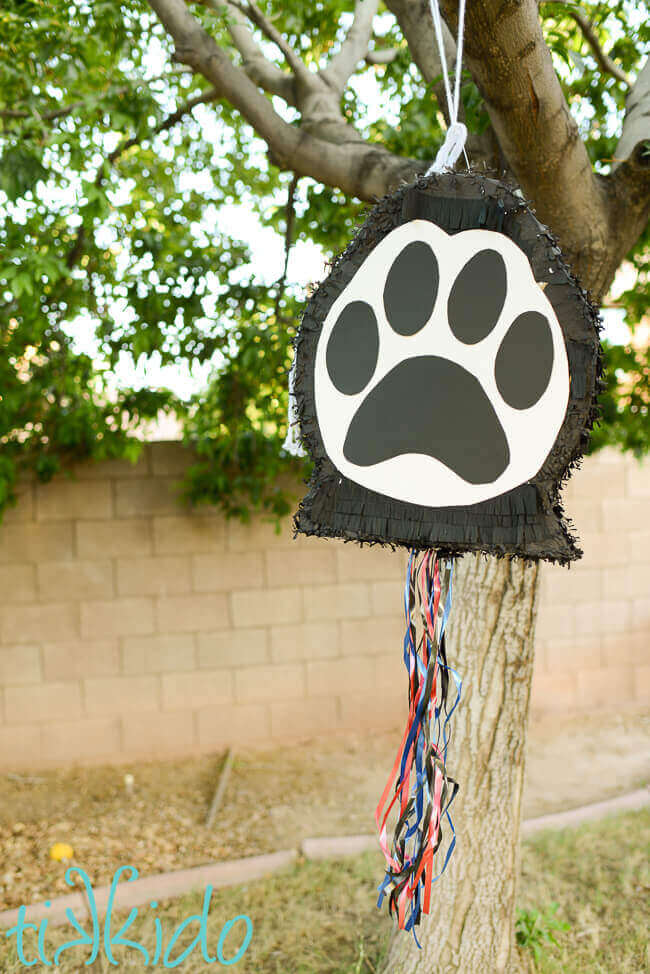 Would you believe that this pinata started out as a Star Wars pinata?  It did!  I'll show you how I repurposed it in the next few days.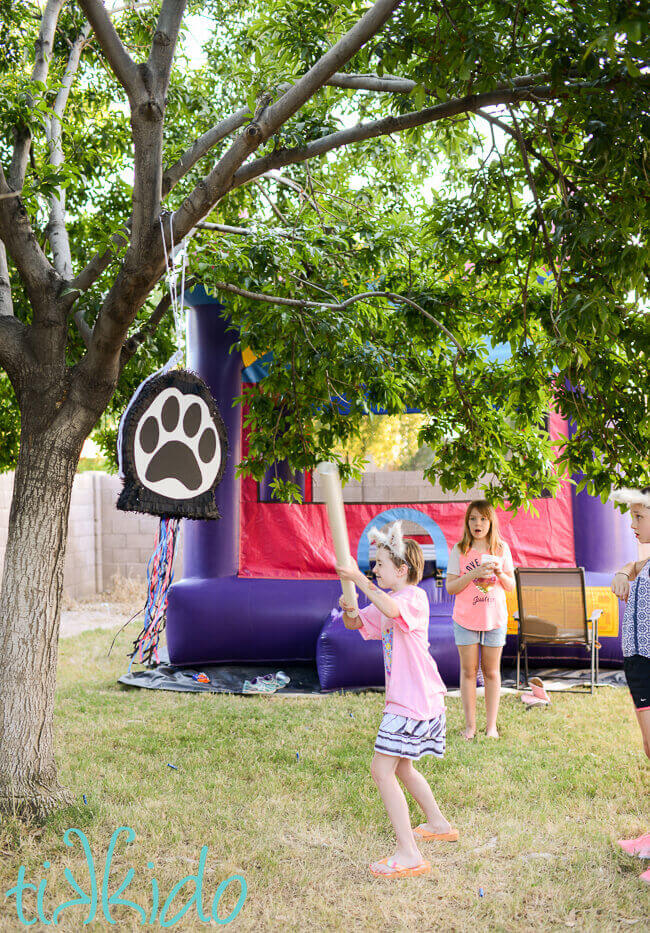 Why is it that I always wait until the day of the party to realize that I don't have a proper stick for hitting pinatas?  I always end up rummaging around in the garage for something that will work.  I think this length of PVC pipe did a rather smashing job, myself.  (Sorry, I couldn't help it.)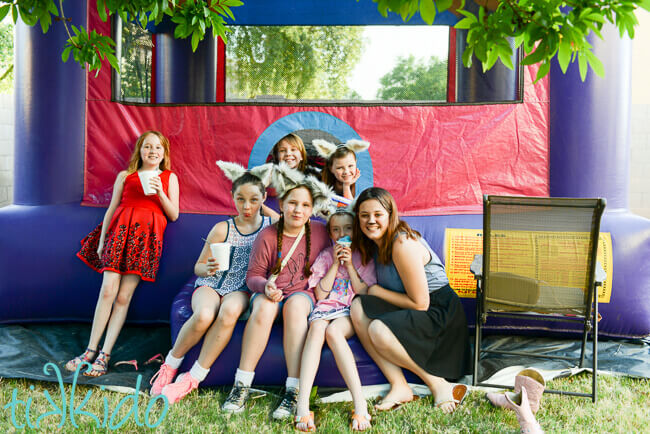 A bounce house is compulsury at our birthday parties.  Just like our amazing friends.  Happy birthday, Niamh!